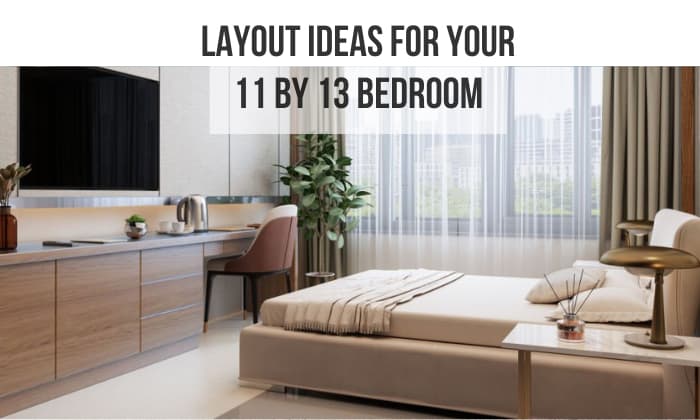 An 11 x 13 bedroom is a decent room size that can accommodate a California or standard king-size bed. The bedroom is one of the essential parts of a house because it is where you rest at the end of the day; it might be from work or school. You need to make it a comfortable, accessible, and safe place.
So, if you're looking for ideas for your 11 x 13 bedroom layout or other dimensions, I'm here to help you. Since makeover and designing is always fun, let's learn more about them and see what we can do with these ideas.
Layout Ideas for Your 11 by 13 Bedroom
Before everything else, you'll need to find out what you want to do with the bedroom. There are quite a few things you can add and mix up in your bedroom, but to summarize are two options for bedroom design layout to your 11 x 13 bedroom; Formal and live-work.
Formal – The formal set-up is more of a classic one that focuses more on the bedroom itself.
Live-work – the live-work set-up goes for a multi-purpose that utilizes every corner of the bedroom that you can use for other purposes like a study area, workspace, or space for storage.
List of 11×13 Bedroom Layout
Check out the suggestions below as we show you ideas of both formal and live-work design layout options.
1. Classic Neutral Design
This layout design usually consists of white walls, windows, neutral color bed covers, carpets, rugs, paintings, and furniture. Here are some recommend neutral color blends to achieve that relaxing vibe:
Wood Tones
Mixed Neutrals
Black and White
Greige (Gray and Beige)
Warm Neutral Tones
Monochromatic
2. Built-ins and Greenery
This bedroom layout saves you some space because of the built-ins – either a dresser or a shelf, and the greenery makes the room airy and healthy. Here are great plants for bedrooms you can choose from:
Rubber Plant
English Ivy
Chinese Evergreen
Lavender
Snake Plant
Areca Palm
Dieffenbachia
Lady Palm
3. Minimalist Design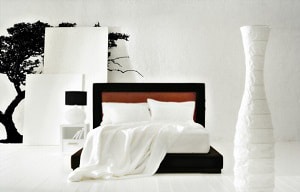 The minimalist design layout is one of the most popular designs nowadays since it is aesthetically pleasing to the eyes and focuses on simplicity and clear visuals that create a soothing atmosphere. Here are decor ideas for your minimalist bedroom layout:
Minimalist furniture (e.g., minimalist bedside table lamp)
Mirrors
Black and White Contrast
Minimalist Artwork
White Sheer Curtains
Monochrome Color Design
4. Symmetrical Design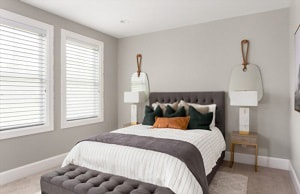 Symmetrical design is widespread in interior design because it creates a harmonious balance and proportion that brings calmness to the whole room. You can attain a symmetric structure with these tips:
Make a focal point
Balance the visual weight
Proportion furniture and fixtures
Pick an appropriate color
5. With Study/Work Area
This layout idea is perfect for you if you want to be practical and use your bedroom space well. Working/studying and resting can be equally balanced. Here are tips on how to successfully layout a bedroom with a study/work area:
Put a division between bed and study/workspace using a curtain
Good and sufficient lighting
Consider getting a multipurpose furniture
Other Bedroom Dimension: Bedroom Layout Ideas
Since there are different bedroom dimensions and layouts, you'll need to know more about your bedroom to work things out, especially in furniture layout that plays a big role in your layout or if you just want to alter and do bedroom configuration for an upgrade. Here's what to look at;
1. 12×12 bedroom layout
A 12 x 12 bedroom is one of the standard-sized bedrooms alongside the 10 x 10 ft size bedroom. Some people may have a hard time layouting this since its square, but here are ideas for you to consider:
With walls of closets
With a wall of windows
With one window
Two doorways and a closet
Wall of cabinets and windows
On the other hand, here are designing tips for a 12 x 12 ft bedroom:
Study the floorplan to visualize your layout idea
Make the bed the focal point
Choose space-saving furniture and fixtures
Good lighting
2. 9×12 bedroom layout
Others consider this bedroom size a small space, but there are ways to manage and improve on what bedroom space you have. Here are layout and design ideas that will help you:
Use the furniture with the same size scale of the room to save more space
Make a scale plan to arrange the small-sized furniture to fit your room, window placement, etc.
Choose light color to avoid feeling suffocated and messy
Consider getting multifunctional furniture to save space
3. 10×12 bedroom layout
Just like a 9 x 13 bedroom layout, 10 x 12 is a typical size for a rectangular master bedroom for an apartment. To help you with your layout, here are furniture and design ideas to keep in mind.
01 For Furniture:
For a 10 x 12 master bedroom, you can go with a full-size bed but with a simple headboard or footboard.
If you want to maximize your space, get a sleeper sofa or a convenient chair bed.
02 For Design:
Beachside-inspired Design
Soft Neutral Theme Color
Dramatic Modern
Natural Earthy Design
Boho
Dark Wood Decor
4. 14×16 bedroom layout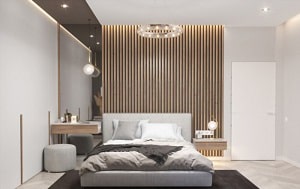 14 x 16 ft is the average size of the master bedroom layout – a bit bigger than other bedroom sizes to make sure there is enough space for the bed and other furniture.
Since this is commonly the biggest bedroom and you have room to spare and want to do some extras, you can go with this idea: the bedroom with a couch layout.
How Should Bedrooms Be Arranged?
When we talk about bedrooms, it doesn't just mean the mattress. The bedroom has many elements you need to consider when arranging it. Here's a list of what you need to narrow down to help you make your ideal bedroom arrangement.
Bedroom size
Architectural elements (windows, cabinets, doors)
Purpose (Formal or Live-work)
Symmetry and focal point
Furniture placement
Lighting
The mood you want to create
Frequently Asked Questions
What is the recommended room size/s to fit with king size bed?
The room size recommendations for a king-size bed to fit in is 10' x 12', which is the minimum, and up to 13' x 13' if you want or need an allowance to add furniture.
How many square feet is a 13 x 11 bedroom layout?
A 13 x 11 bedroom layout is equivalent to 143 square feet. To calculate, you can just simply multiply the width by the length to get the equivalent of square feet.
What are the don'ts when you layout a bedroom?
Here are the don'ts you need to know that may save you from doing something wrong when you plan your bedroom layout.
Do not paint your wall with striking colors
Don't pick a bed that is bigger than the space you have
Do not block natural lighting source
Do not overmatch your furniture
Do not put too many unnecessary things or accessories
Conclusion
Arranging and designing are always part of the process when it comes to layout. It is essential that they communicate and complement one another to achieve that ideal layout you are planning about.
Now that I listed all the information you may need, I hope you find this article helpful when preparing for an 11 x 13 bedroom layout or other bedroom layouts.