While most wouldn't consider a 12×14 bedroom to be particularly large, it's still spacious enough to be a functional sleeping quarter. That said, you may want to plan out a simple bedroom layout to keep the space from feeling cramped.
What would be the best 12×14 bedroom layout so you can maximize your space? Read on to find out more about simple yet beautiful bedroom placement ideas.
List of 14×12 Bedroom Layout Ideas
1. Green-themed and nature-oriented bedroom
One of my favorite 12×14 bedroom designs is to incorporate shades of nature into the color palette for a relaxing atmosphere. To complement the scheme, wood tones are absolutely necessary. That's why I'd recommend choosing a wood floor, nightstand, and bed.
Personally, I'd paint the wall by the headstand a dark, dramatic green, whereas the ones by its side should be a more subtle hue, such as light sage. That said, having a large window and plenty of sunlight would also help keep the space bright and airy.
In any case, have two wall sconces on either side of the bed for an atmospheric, intimate, yet luxurious feeling in the room. To avoid overcrowding the space, you should place a single nightstand on only one side of the bed, which should be placed in the center.
2. Rustic nature with a modern vibe
Ideal for a 12×14 and 12×15 master bedroom, this scheme also relies on colors usually seen in nature. However, instead of mainly relying on various shades of green, this layout favors earthy tones mixed with neutral hues.
Again, we'd recommend adding yellow wall scones to amp up the intimate ambiance. Nonetheless, it's also a good idea to opt for a hanging bulb and rustic pottery to put on the nightstand by the bed.
As for bedding, choose patterned materials for more cozy and down-to-earth feelings. You can add a cabinet if you want, but I personally prefer a house plant.
3. Bright and futuristic minimalism
Anyone who likes to keep things modern yet simple will fall in love with this master bedroom layout. The idea here is straightforward: you're to minimize furniture and knick-knacks inside the room; complicated patterns should be off the table as well.
In this scheme, our motto is "less is more,"—meaning you can actually create a visually impressive room with simple white walls, bedsheets, and pillows. Note how there's a bold, rectangular-shaped line behind the bed, keeping the room from looking dull.
You can add paintings for more visual interest, but steer clear from anything too complex—a blank canvas or single-line drawing will work best.
Don't forget to keep the room well-lit, preferably with natural sunshine. Equally important is keeping the room tidy; otherwise, the sense of minimalism will be ruined.
4. Bohemian bedroom style
For a small bedroom layout with king bed that will instantly capture people's attention, why not follow a Bohemian design scheme? With its cozy and lived-in vibes, I'd also recommend this layout to people seeking a 14×14 bedroom interior design.
For your information, this style is all about incorporating handmade decorations, such as rattan furniture or Macrame wall hangings, with natural elements like plants. Combined with a low bed, these elements will evoke a laid-back and free-spirit feeling.
Although bright colors and bold patterns work well for this style, so will a mixture of neutral and warm hues—my favorite combination. For instance, in the picture below, we opted for a warm white color palette accented by a rattan basket, light brown pillows, and a green houseplant.
Speaking of plants, note that these elements are must-haves in your Boho bedroom. Some of the best candidates are succulents, cacti, alocasia, maidenhair fern, golden pothos, and calathea.
5. Multipurpose bedroom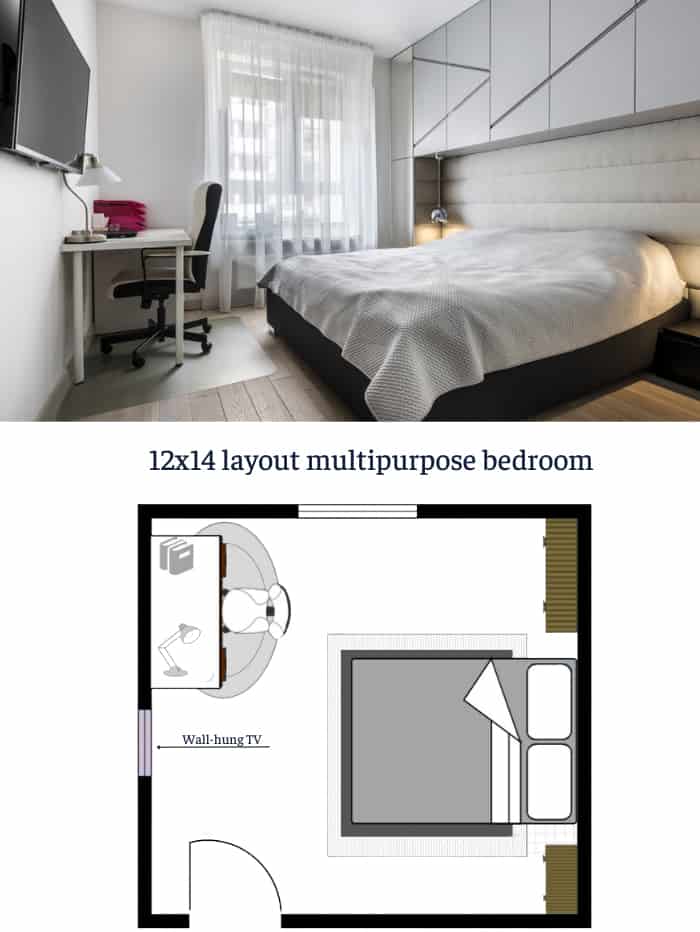 Even if you're a little short on space, your bedroom furniture layout can still include a small bed and table. And with a wall-hung TV, you can have a bedroom that can serve multiple purposes – from sleeping or watching TV to working.
To maximize your floor plan, feel free to include overhead bedroom cabinets and floating shelves. Of course, you can choose any style you like, so long as it doesn't clash with your existing decor. In this case, we were aiming for a modern aesthetic, so we picked ones with minimalistic design, featuring only clean lines as accentuation.
This bedroom layout also suits mid-century modern aesthetics. You can achieve this by adding teak furniture, along with metal/glass accents and bold complementary hues. Forgo anything too frivolous – sleek lines would be a far better option.
6. Luxury master bedroom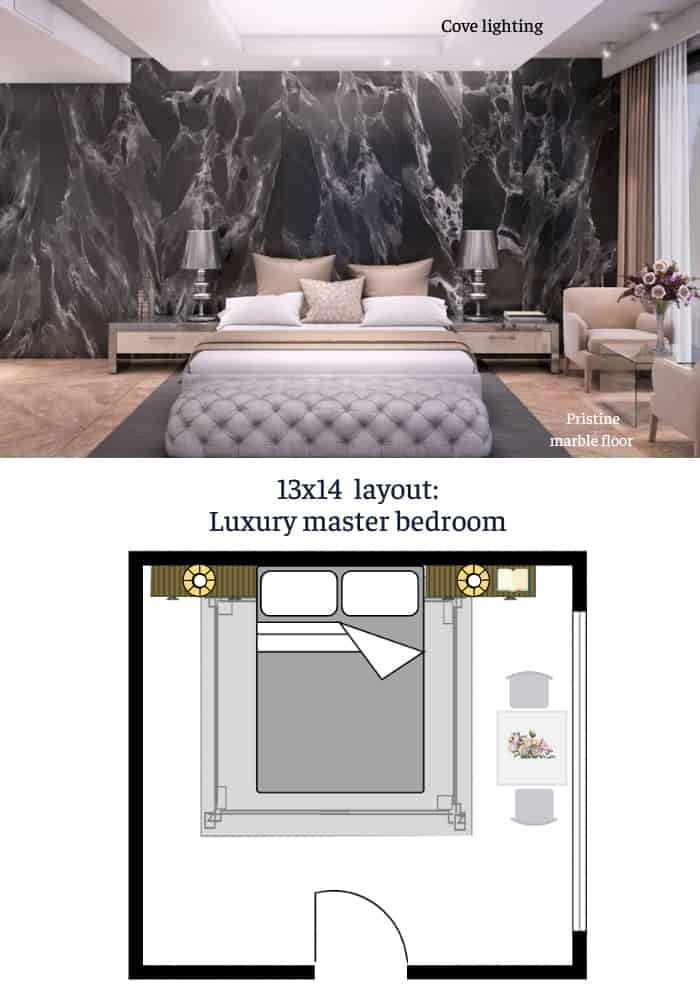 With the right elements, you can turn a room, no matter how big or small, into a luxurious space. For instance, a pristine marble floor would make your bedroom look brighter and more elegant, provided that you don't mind the installation cost and regular upkeep.
In addition, I'd incorporate velvet accents around the room to add texture and enhance the luxurious vibes of the marble floor. Another indispensable element is cove lighting to breathe life into your ceiling design and make the space seem larger.
Don't forget to add one nightstand with a lamp on each side of the bed. And as we're designing a fancy space, a wall-mounted TV and wardrobe are absolutely essential—just place them on the opposite side of the bed.
In general, this fancy design would also suit larger bedrooms, making it one of the best candidates for 13×14 bedroom ideas.
7. Bed-and-nightstand-only layout
There's nothing wrong with minimizing furniture as much as possible. After all, this will make your room look even more spacious and tidy, especially if you don't have the time for regular cleaning and maintenance.
For this layout, you'll only need a bed and a nightstand. As natural lighting is a must-have, there should be one to two large windows. These will keep your room feeling fresh and comfortable, as well as improve your sleep quality.
Another great thing about this scheme is that you can still make the room feel lived-in, even if there's not much in terms of furniture and decoration. For instance, neutral color-blocked curtains can subtly lend personality to the minimalistic space.
With how simplistic this design layout gets, it'd suit smaller rooms, such as ones with dimensions of 12×13, as well.
Another layout you can refer to: 5Best Design Ideas for an 11 x 13 Bedroom Layout
FAQs
What are some bedroom layout tips?
How you design your bedroom will depend a lot on your preferences and the room's dimensions. However, there are a few pointers to improve your results:
Always start with the bed first—the positions of everything else should be based on it.
The bed should never block the window or any other sources of light. If possible, place it against a blank wall and/or where you can have a clear view of the outside.
If possible, try to go for a symmetrical layout around the room's centerpiece, which is usually the bed.
No matter what design you're going for, you must always make sure that the room doesn't look This means you may have to get rid of a few decorations, knick-knacks, or even a piece of furniture.If organizing a room seems hard, think about the essentials for your bedroom. Also, try walking around the space to see if there's anything in the way – note that there must be a 2-foot clearance around the bed.
How to style an oddly shaped bedroom?
When your bedroom is oddly shaped, things will get a lot trickier, as the awkward angles or sloping walls make it harder to place the furniture. Below are a few tips that might help you:
You should also start with the bed placement first.
Choose rugs as big as possible to keep the room feeling grounded. Combining several rugs to conform to the shape of the room would also help.
All the walls must have one single color – only go for an accent wall if you're confident with how it'd turn out. A better option would be to incorporate numerous textures around the room for more visual interest.
Some oddly-shaped rooms, such as T-shaped ones, may seem sharp. To make them easier on the eye, put furniture in the sharpest corners. If nothing fits, consider opting for custom-made furniture.
If the room is particularly large, you should divide it into smaller sections for different purposes, such as sleeping, working, lounging, etc. You can check out the T shaped bedroom layout below as an example.
Conclusion
As you can see, with the correct floor plan, you can fit several pieces of furniture into a room without cramping it. So with our 12×14 bedroom layout guide, we're confident that you can turn your bedroom into a luxurious or multi-purpose place with ease.
When planning out your bedroom, don't forget to take lighting into account. Aside from ceiling lights, which shouldn't be too intense, you should incorporate task, ambiance, and decorative ones as well. In addition, warm white lights with a 2700K color temperature would be best.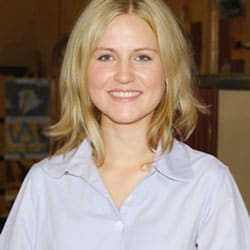 Hi, I am Roseanne Jones, an aspiring home designer that wants to make you feel more at home with your new house.With nearly five years of redecorating old residents and arranging new ones, I am confident that I can give you the best advice on your lovely place.