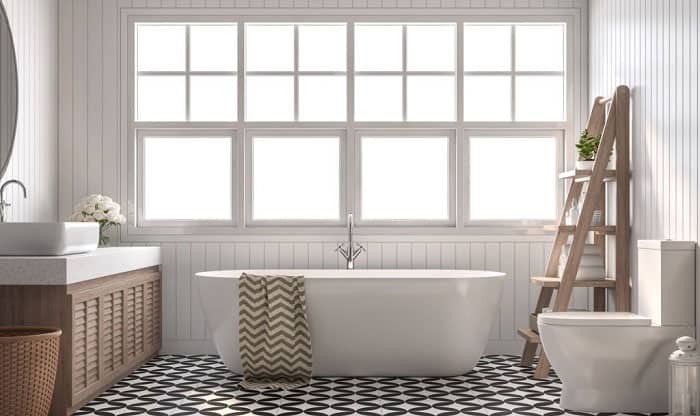 When asked which room in the house is people's favorite, most families would respond with the kitchen. How about the most crucial room in the house? That is your restroom. This room is likely the most visited in your house as it is the first room you go to when you get up and the final place you visit before heading to bed.
Accessing a warm and comfortable bathroom first thing in the morning may help set the pace for the entire day, allowing you to wake up fully. When redesigning the bathroom, you must understand why it's such an essential space and why you might want to take its style thoroughly. As a result, this post will present some suggestions to design an 8×8 bathroom layout for your home.
Bathroom Dimensions
It's a vital step to understanding what you need and how big the bathroom is before moving on to bathroom design. The smallest size is generally 15 feet wide, including a basin and a toilet. A shower requires at least 30-36 square feet to be built, and a complete bathroom with both a bathtub and a shower requires at least 40 square feet. Let's look at the section below to learn more about precise measurements and designs for various sized bathrooms.
The dimensions of your shower may vary, but the most compact bathroom will be somewhere between 26-30 square feet. A tiny bathroom with an average of 84 square feet and a walk-in shower begins at roughly 36 square feet.
A functional bathroom includes a bathtub, a basin, a shower, and a toilet. It is only called a full bath if it has the following four elements and is normally 36-40 square feet in size. While 6×10 is regarded as the average size for a full bathroom, 10×12 and beyond can be enormous.
A master bathroom is often a fully-equipped bathroom that is substantially larger to accommodate more space and things. In most cases, master baths are linked to a master bedroom. The average size ranges from 40 to 100 square feet, while a big master bathroom might have an area of 110-200 sq ft or more.
8×8 Bathroom Layout With Tub
In this first 8 x 8 bathroom design, the countertop across is positioned on the wall, opposite the tub. A broad walking path might also be added in the middle in this style. However, it is a bit uncomfortable to use. The toilet is placed in the center of the doorway, making it less aesthetically appealing.
To avoid being irritated by seeing the toilet straight away on entering the bathroom, you can switch the bathtub and toilet's positions, putting the tub in the middle instead. The design of this bathroom is a combination of gentle white and peaceful green, which can help you feel more relaxed while having a bath time. Generally, green is a highly adaptable color that works well in both modern and traditional bathrooms.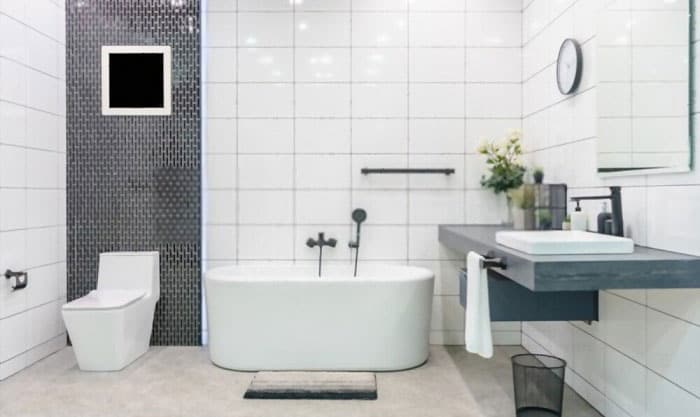 The opposing wall design is the next arrangement for an 8×8 bathroom with a tub. This style normally requires more space, but it has a much more expansive design. It will cost more because there is more plumbing installation and overall floor space, but it will provide more options for how you use the space.
8×8 Bathroom Layout With Shower Only
If you are on a tight budget or just simply not interested in having a bathtub in the bathroom, a nice shower still gives you a sense of relaxation after hours of working or studying. Some people may also think that a bathtub may take up too much space in this 64 square foot bathroom, and its bulky appearance would make you feel constricted. Hence, the area seems far less cluttered if you only have a toilet, sink, and shower.
Layout 1
A bathroom in which the shower, toilet, and sinks are all located on the same side is one of the most common choices for an 8×8 bathroom layout with a shower only. As shown in this image, the shower and vanity are positioned on the same wall and facing the door. This not only saves money on plumbing but it also ensures that the first thing you notice when you enter your toilet isn't always the toilet.
---
Layout 2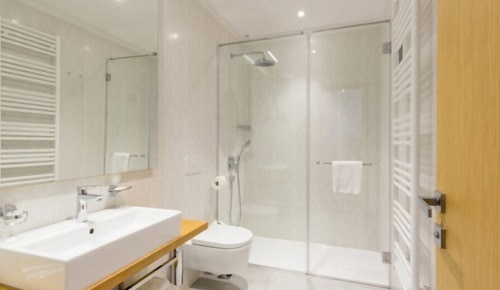 Bathrooms using wall-mounted materials have been gaining ground these days. A toilet and sink that are both wall-hung have been utilized to give the impression that the space is larger. It lets us view the floor tiles beneath the toilet and sink, which creates a broader line of vision as well as gives the impression that the space is wider. Furthermore, there is no stand, tank, or visible piping, so wall-hung systems reveal a more cleanable surface area, allowing less opportunity for germs or dust to gather.
Furthermore, check our tips on way to tile shower niche without bullnose here!
---
Layout 3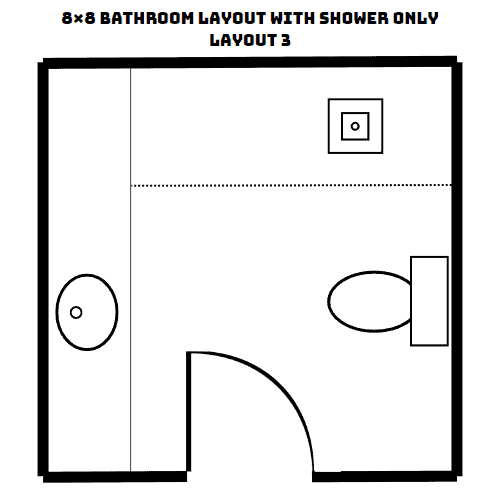 In this 8 x 8 bathroom design, a shower area has been created at the end of the area, which is the narrowest wall, using a glass shower screen and wet room floor instead of a shower tray. The basin and vanity shelf are installed in front of the little hung toilet, optimizing storage while maintaining a sense of spaciousness.
---
Layout 4
This bathroom includes a corner-standing shower, which gives the illusion of additional space. The shower is in front of the sink, whereas the toilet is in the center of the room, protected by the door. Although the wall-hung basin frees up extra floor space, storage is still accessible on the wall shelves, particularly behind the mirror. Specifying this type of lavatory will give a modern yet practical washroom option if you want to create a stylish and elegant design. Wall-hung toilets are available in various forms, from round to square, and there are solutions for every construction project and budget.
---
Layout 5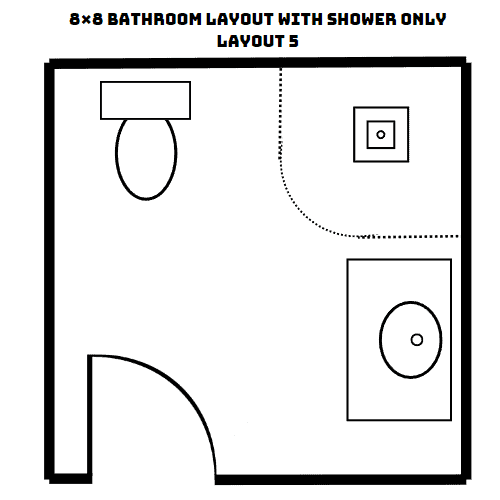 Even though some people prefer to have curved small shower enclosures that fit wonderfully in tiny bathrooms, their size does not reflect their style. There are many various types of corner enclosures available, in a range of shapes and sizes. Still, if you truly want to maximize your bathroom space, a curved enclosure is your best choice.
---
Layout 6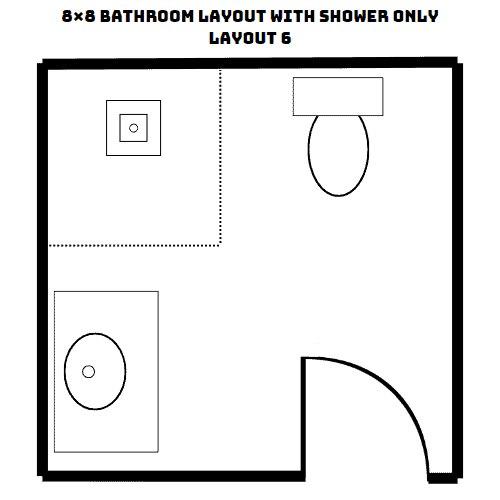 A corner shower with the sink next to it is a popular configuration for industrial designers. You'll have plenty of room on the other side of the bathroom this way. The toilet and shower are next to each other, as illustrated in the picture below. This provides adequate counter space as well as space for a mirror.
8×8 Master Bathroom Layout
Layout 1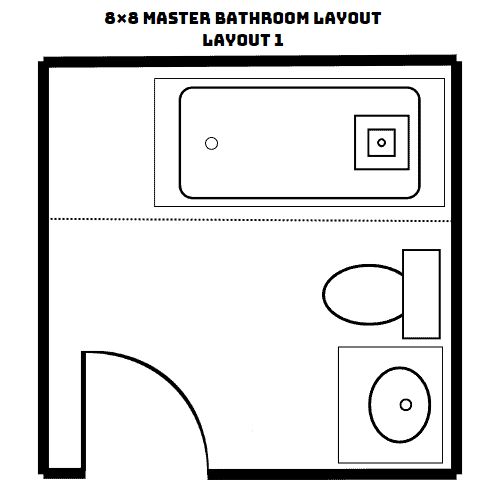 A spacious bathroom design with a detached shower and bathtub is ideal for a personal residence. If you don't have enough space for both a shower and a freestanding tub, an arrangement like this shows that you don't have to give up those extended soaks. Create a ceiling shower instead, and tile the area behind your tubs so it can serve two functions. A medium-sized bathroom with only a soaking bathtub that can quickly convert to a shower when needed. In other words, this bathroom features a standalone tub that can be changed to a shower in the future.
---
Layout 2
This bathroom is capable of allowing both a shower and a separate tub. A big resting tub serves as a main point in the bathroom, offering the area a luxurious feel.
---
Layout 3
The main concept features are the luxury freestanding tub and the glass door walk-in shower. This is an excellent master bathroom plan for two people to share since it has a double vanity opposite the walk-in shower area and bathtub. You can also use a conventional glass shower door for a more cost-effective solution. Also, learn more about glass shower door size here.
---
Layout 4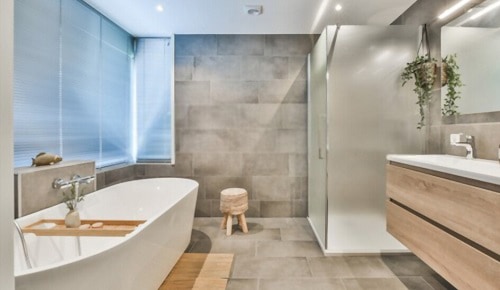 The shower and bathtub are built opposite from each other as opposed to being next to each other in the prior configuration. Along with its adaptability, wood may quickly fit any bathroom décor style, from rustic to minimalist. Bathroom vanities and storage cabinets made of wood have long been classic, and they work well in any setting. You may choose from stained or painted wood or even kitchen cupboards for your bathroom.
---
Layout 5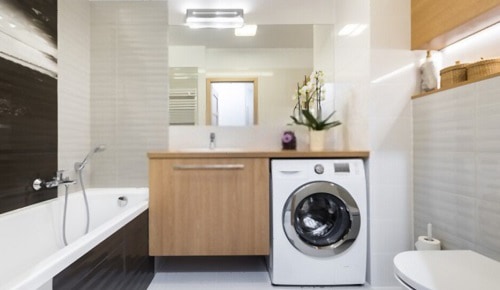 Last but not least, the floor plan 8×8 bathroom layout with a washer and dryer is never out of date. This bathroom has made brilliant use of space, fitting a washing machine, a basin, a tub with a showerhead, a storage unit, a countertop, and a mirror into a compact space. The corner bathtub allows the user to stand and approach the tub, while the fitted shelves and cupboards make use of any additional space. If you want to optimize the utility of your 64 square feet bathroom, this is a great arrangement.
Conclusion
A beautiful, well-designed 8×8 bathroom layout can be the product of careful planning on your own. Make cautious about drawing out the right plan ahead of time so you can identify any problems that may occur.
All of this is achievable with appropriate preparation, whether you want a double sink, complete shower enclosure, or more storage space. Have you found this post useful? If so, please kindly leave a comment below and share it with your family and friends.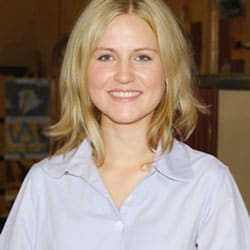 Hi, I am Roseanne Jones, an aspiring home designer that wants to make you feel more at home with your new house.With nearly five years of redecorating old residents and arranging new ones, I am confident that I can give you the best advice on your lovely place.