It's quite a challenge to keep up with the fast pace of modern home styling trends.
Along with these trends are, of course, the obsoletion of some traditional decorations. While staring at that boring table of yours, you can probably think, "are tablecloths out of style?
Well, hear us out when we say tablecloths and runners will always be in style, especially if we know what to do with them. They can definitely vibe with your preferred interior design!
Are Table Runners Out of Style?
No, tablecloths are not of style. They probably did not catch your attention upon visiting someone's home. Still, they definitely added great ambiance or color to the overall look of their home.
Based on the research in the image below, the linen market has significantly increased from 2015 to 2023. This means that a lot of people purchase tablecloths each year.
Hence, the same research predicted continuous growth in the table linen market until 2025.
You can also see in that graph that out of all the tablecloth materials, markets mostly produce cotton material.
Tips for Using a Tablecloth to Style a Table
You may need to decide whether to consider a tablecloth or no tablecloth at all. Here are some tips you would want to consider when using a tablecloth to have that gorgeous table setting:
---
Tip#1: Pick appropriate designs for your theme
When selecting tablecloths, make sure to consider first your preferred design. Here are some suggested tablecloth ideas for your theme:
Coming from the style itself, minimalist, go for a plain sort of tablecloth so it will keep the whole ambiance of the room and kitchen.
The tablecloth will not add much visual design since, most of the time, it calls for using neutral colors of linen.
If you are an old-school or vintage-style fan, old-fashioned tablecloths are definitely for you.
Most of these tablecloths are either crocheted, floral, or have geometric and abstract designs.
Are lace tablecloths out of style? NO! If the vintage is more like a classic vintage, believe us that lace or crocheted tablecloths are for you.
If you are into flowers, use a floral tablecloth on a plain table or a minimally designed room. Make sure not to choose overly decorated walls, carpets, or curtains, as this can contrast the design of your tablecloth.
If your house is oddly plain, but you are not into flowers, use tablecloths with geometric or abstract designs. This can add lively and complementary colors and designs to your home.
Go for the bold and bright tablecloths if you like retro style. Most of these designs contain a checkered design or straight, diagonal, or zigzag lines with more than one color.
Make sure to consider the retro color palette of your home to prevent mismatching colors, which can hurt the eyes.
Crocheted tablecloths, gold or silver-lined runners, tablecloths with intricate patterns, or silk tablecloths are the best for a palace-like home style.
These types of tablecloths will elevate the table into an expensive-looking one, especially when paired with silver or goldware, vases, and many more.
Following the current trends, people usually opt for aesthetically pleasing designs. Hence, make sure that your chosen modern tablecloth color will complement the theme of your home.
Go for less decorated tablecloths, such as those with neat linings, minimal ruffle decorations, and bold yet not bright colors. This will improve your table without adding too much visual look and texture.
Also, consider getting a tablecloth with attached decorations.
For example, a minimalist bohemian-styled tablecloth without too many linen designs but has tassels at the end adds a lowkey accent to the table setting.
---
Tip#2: Include centerpieces and other accessories
The tablecloth alone can already reduce the table's simplicity, but adding accessories or centerpieces is recommended.
One of the standard table decorations is a clean vase of natural or artificial flowers. Make sure to choose flower colors that are suitable for your table theme.
For example, choose dried flowers instead of colorful blooming flowers if you are going for a rustic theme.
Moreover, you can also add candles, cloches, shells, fruit baskets, or even hanging centerpieces such as a chandelier or hanging vase to make the tablecloth look modern.
---
Tip#3: Try tablecloth skirting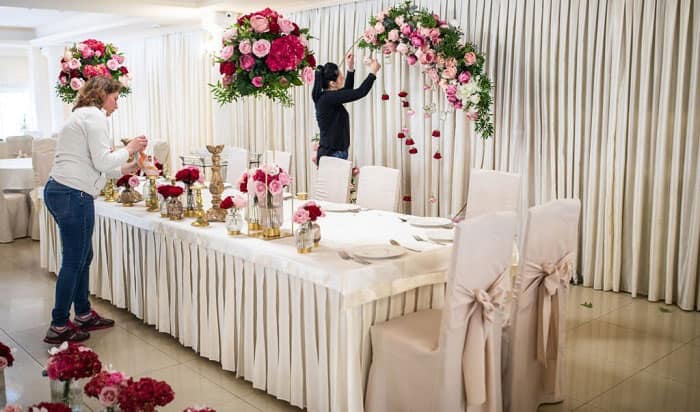 What to prepare: Pins, Tablecloth, Ribbon or Laces, and clips or velcro.
If you are designing a table for an event, you would not want to miss doing table skirting to achieve a good table look for the guests.
The most common pleats are bow tie, box, continuous, or shirred. Meanwhile, you can also include tablecloth decorations in your skirting techniques, such as pearl laces, tassels, and gemstones.
Situations to Use a Tablecloth
Wondering where and when to use a tablecloth? Here are the situations when you'll definitely need a tablecloth:
1. Elevate the setup
Basically, you often use tablecloths to improve the table setting – at events, during picnics, and at home. Tablecloths help the table to have a look that complements the design of the whole set and creates a welcoming ambiance for the guests.
Also, if you want to add liveliness to the setup, add a colorful tablecloth instead of painting the walls or installing bright curtains.
2. Cover flaws
Tablecloths can also help the table still serve its purpose regardless of visible damages such as scratches, stains, or minimal cracks.
3. Protect the table's material.
Tablecloth is also used to protect the table's materials, especially the dining room tablecloth.
It creates a surface that can catch spills and reduce direct heat damage. This can help the table itself lengthen its life span.
Moreover, it can also prevent scratches, tiny cracks from fallen kitchenware, and fingerprints.
Things to Consider Before Buying a Tablecloth
Despite having the urge to buy decorations for the setup you are excited about, we want to make sure that you will avoid being indecisive and committing mistakes as much as possible.
Keep in mind these guidelines when purchasing a tablecloth:
1. Ideal for the occasion/event.
You should consider your tablecloth design to complement the color palette or theme of the setup to have an excellent outcome.
Designers frequently skirt large tablecloths in formal events to provide a pleasing and elegant ambiance. Meanwhile, if it is just a casual dinner, table runners and tablecloths that can cover the surface are already enough to set the mood.
2. Correct size
Tables come in different sizes and shapes. Hence, not all tablecloths are appropriate for every table. Indeed, shaped tables require shaped tablecloths as well.
You must also remember to measure the table itself. Just because you know your table needs a runner does not already mean you can grab a runner and go. Know the measurements so they can match your table.
3. Durability
Picking slightly thick and high-quality material will ensure the long shelf life of your tablecloth.
Polyester, cotton, and linen materials are one of the trusted materials you can use.
FAQs
Popular tablecloth styles
Some popular tablecloth styles nowadays are shaped tablecloths, such as rectangle, round, and square, dry bar covers, table runners, overlays, fabric rolls, and table swags.
You may try styling some alternatives to tablecloths, such as bed sheets, curtains, placemats, beach towels, scarves, blankets, and many more.
Should I leave a tablecloth on the table every time?
It depends. If the tablecloth serves as a decoration for the table or protection from dust, food drops, or any stain, you should leave it every time.
However, if the tablecloth is made of sensitive material and you use it for occasions, leave it only sometimes as it is prone to damage and can easily have stains.
It is also not advisable to leave a tablecloth, especially table runners, every time whenever kids are around. They might end up pulling the cloth and messing up the table decorations.
Tips to keep a tablecloth clean
Immediately wipe them whenever there are spills so they can't cause further discoloration or permanent stains on your tablecloth.
If you plan to wash the tablecloth, do not use a machine and detergents as much as possible. This might damage the tablecloth material. Instead, brush it with a soft brush and mild soap to remove the stain.
When drying, hang it under the sun and avoid using dryers.
The usage of starch is optional before storing it. Just add starch to the rinsing process. As to the ratio, follow the indicated ratio on the packaging.
If you prefer not to starch your tablecloths, you may proceed to fold it and store it in a cabinet.
Conclusion
The next time you ask yourself, "are tablecloths out of style?" Indeed, your answer would be a straight no. Tablecloths might be a product of the old days, but these can still be improved to match this day's trending themes.
Of course, the tablecloth's price does not diminish its value. Inexpensive tablecloths could still elevate your table setting.
Never hesitate again. Add that tablecloth to your shopping list, and enjoy your next cozy dinner with your family, friends, or even yourself alone!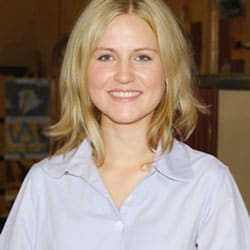 Hi, I am Roseanne Jones, an aspiring home designer that wants to make you feel more at home with your new house.With nearly five years of redecorating old residents and arranging new ones, I am confident that I can give you the best advice on your lovely place.