Finding the right art piece for your living room can make a difference to the room's atmosphere. There are many other reasons why you should consider getting one. It is also equally important that you know its placement.
Wall art over sofa proportion size is where it starts since it usually makes an excellent focal point in the living room.
For your information, the golden thumb for the size of art above the sofa should be ⅔ the width of the couch to look balanced. But to know more, here is more art above the sofa and other placement ideas for you to learn about.
Design and Proportioning: Size of Art
Art can take many forms and shapes that can leave you thinking, how do I choose artwork for my sofa or couch, and how do I proportion it? Here are some guides to give you the ideas you are looking for.
1. Art behind couch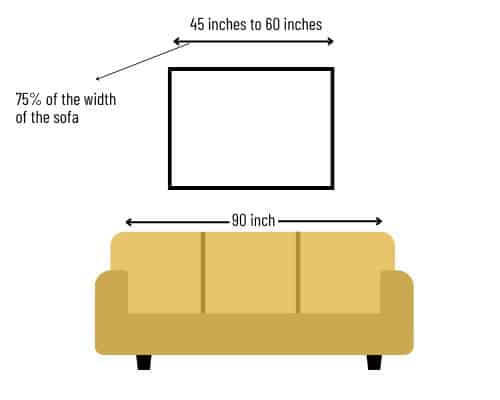 There can be many art options like 3D decors, prints, mirrors, and paintings you can put behind your sofa/couch. To proportion, the art should be at least 75% of the width of the couch or sofa.
For example, If you have a 90 inch-width sofa (standard size), you'll need at least 45 inches to 60 inches width of artwork to proportion to your sofa.
Wall set decors such as metal images and sentences, disc displays, and intruding animal shapes are great ideas to consider. Go with something that fits the color of your sofa and the room's overall vibe.
2. Wall art over the sofa
If you want a more straightforward and classier look, you can do one large piece of art over the sofa, like a large painting but not more extensive than the sofa. With this, you can easily proportion your art and furniture by putting it at the center of your sofa.
Such artwork can be done by a professional onto either ¾ or the whole wall behind your sofa if the sofa width is pretty the same as the wall's.
You can choose to create textured art on a wooden wall if your sofa and living room are of monochrome color. Plus, it is less of a hassle since you get to pick one art.
3. Art over couch/pictures over couch
Art pertains not only to paintings and portraits; it can also be photographs or pictures you can work over your couch.
Making a gallery wall is another way to wall art over the sofa, which is a great way to fill the space above your sofa. It can be a combination of various pictures and prints aligned well to create a good harmony above the couch.
The size of wall art above the sofa may depend on the size of your couch/sofa since the art needs to be ½ or ⅔ width of the sofa to make it proportionate. Also, make sure to add the frame size to your overall art size and add at least 4-inch space between each art or picture.
4. Above couch art
There are many options on what artwork above couch to choose from. It is whether to add texture, color, or variety.
Multiple artworks (hanging two pictures above a couch or three pictures above a couch)
Bright abstract art
Large ornate mirror
Plates with patterns
Wall Sconces
It is best to arrange these arts according to the golden thumb rule of proportioning art with a couch or sofa, which is ½ – ⅔ width, to keep everything leveled and balanced.
Wall Art Size Calculator
What is a wall art size calculator? Such a calculator can help you to find the right and appropriate size of the art you need to fill in your space. You can input the dimension of the space you want to cover and the wall art size calculator will help you figure out the art size for your space.
Depending on the position of your art, the width and height of your wall, you can refer to this general calculator by Franklin Arts to determine the size of your artwork: Wall Art Size Calculator.
Frequently Asked Questions
Should you hang a picture on the sofa?
Pictures hanging over the sofa aren't that popular, but they can be in one of your list of options. For example, you can add scenic shots with a background story as personal touches to make it more interesting for your guests.
Can you hang more than one piece of art on the couch?
Yes, you can hang more than one piece of art. It is advisable to coordinate each work of art as if it is only one with a 3 to 6 inches (the ideal) interval spacing to create harmony and balance.
Should art be central on the wall or sofa?
You should hang artwork at the center of the sofa or furniture to achieve a balanced look in the room. But if you're going to put artwork on a bare wall, you can centralize it with the wall.
How tall should a painting be on your couch?
You can put it 8 to 10 inches above your couch, and the goal is not to look like it's just floating above. You should also consider placing art at an eye level for better access.
Is it okay for art to be wider than furniture?
Since size matters when it comes to this, the answer is no. The only acceptable width is either ½ or ⅔ size of the furniture because too much of that can be overwhelming to other furniture.
How to arrange art on the wall when the couch is not centered?
When your couch is not centered, you should focus more on the above center of your couch/sofa (not the wall) because that's where you put your chosen art.
What is a sofa-size painting?
Sofa-size paintings are large paintings and also have some different dimensions that are commonly used in living rooms or over the sofa. According to Richard Gitelman, the primary purpose of sofa-size painting is to cover large spaces on walls or above the couch, focusing on the size and not much on the art itself.
What are the most popular paintings to put over your sofa?
Since we know all about art above, over, and painting behind sofa/couch ideas and how to proportion them, let's talk more about art.
Accordingly, there are no specific popular paintings for over-the-sofa display, but there are certain themes or styles of images that most people use in their living room or sofa, and these are the main options;
Minimalism – if you want a minimalist style, you can go with abstract painting, cubism, black and white photographs, and simple posters.
Classic Style – You may go with classical paintings, portraits, and panoramic landscape pictures. It is best to put it in a golden frame for a more classic and elegant look.
Loft – Similar to minimalism, black and white photographs, posters, cubist portraits, and maps can make a loft-style look. It is suitable to decorate with light bulbs to emphasize the art.
Scandinavian Style – Scandinavian design goes for a minimal, simple, sleek, airy, and light. Paintings of landscapes and animals in gentle colors are suitable for this kind of Style. You can work it with plants and nordic style furniture.
Conclusion
Mostly sofas or couches are placed in the living room, where you receive your guests, so you need to think about being presentable and comfortable through design, art, and arrangements.
After what we discovered, consider that your art over sofa proportion each other since they can be an essential part of your home to connect and complement other furniture. Also, be mindful of what artwork you choose to keep balance and harmony inside your home.
For more tips about living room decor, visit the following articles to find out our unique ideas: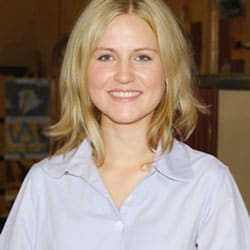 Hi, I am Roseanne Jones, an aspiring home designer that wants to make you feel more at home with your new house.With nearly five years of redecorating old residents and arranging new ones, I am confident that I can give you the best advice on your lovely place.