Modern life frequently needs a space that serves numerous functions. Bedrooms, for example, can commonly serve as places not only for sleeping but also for working, resting, and relaxing. Whether it is the master bedroom, a child's room, a guest room, or a smaller bedroom, the size of the room must be enough for the bed as well as a little area for additional storage.
Moreover, creating a pleasant and livable bedroom with minimal space is simple with some beautifully designed furniture. As a result, this post will offer you the average bedroom size, additional size possibilities, and some decorating suggestions.
Average Dimensions Of a Bedroom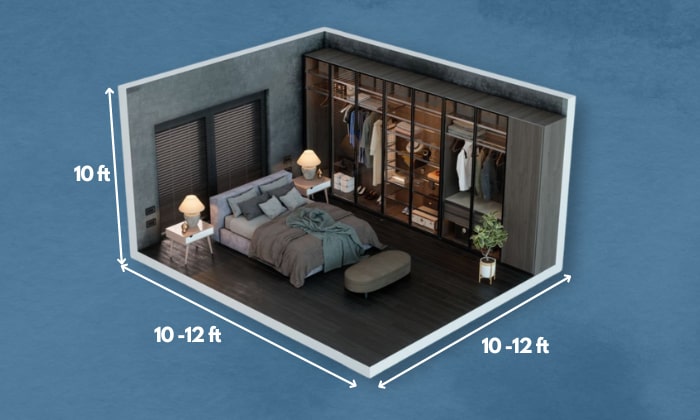 A bedroom's size is typically determined by the overall square footage of your property. Bedrooms in larger homes are often bigger than those in condominiums, flats, or bungalows. As the size grows, there is more space for closets, a desk, or a dressing table, making a decent bedroom size. If you want to design and create your own home or completely modify an existing one, you may customize your bedrooms to meet your needs.
The typical bedroom size is roughly 132 square feet and can contain a queen-size bed, however, some bedrooms are significantly bigger than 144 sq ft. A standard bedroom size adequately fits the living space's requirements. It may not be large enough to accommodate a king-size bed, and it may be entirely occupied if you choose to install one, but it still brings a great sleeping time for you every night. In most situations, engineers and architects keep the floor-to-ceiling height around 10 feet. This is because the average human height is around 5.5 feet, and when we lift our hands upwards, we are roughly 6 feet 6 inches tall.
What is in a standard-sized bedroom?
Standard bedrooms, which are often built for children or youngsters, feature just the most basic facilities, such as one window and a wardrobe. You should have enough floor space to put in a rug, bedside tables, extra bookshelves, and even a small bathroom. It should have at least two power outlets and a heating or AC system capable of maintaining a temperature of 68 degrees Fahrenheit (20 degrees Celsius) or above. Even though these rooms are smaller than master suites, they demand nearly the same facilities.
Minimum Bedroom Dimensions
The minimum bedroom measurements are determined by the clearance, a closet, desk, and bedside table. The main rule of thumb to remember when designating space for a typical bedroom is that it should be at a minimum of 120 square feet in size to comfortably contain a full-size bed. Furthermore, the bedroom's minimum ceiling height shall not be less than 7 feet 6 inches (2.3 meters) calculated from the top panels to the floor.
What is in a minimum-sized bedroom?
Your bedroom glass windows must cover at least 8% of your floor surface, with 50% of that area opening. Since walk-in wardrobes and huge furniture may not be feasible, you can choose furniture with built-in drawers and storage areas. The size of your bedroom is smaller than normal, so you can also install double-duty equipment or wall-mounted furnishings for ease.
Average Master Bedroom Size
Remember that you'll spend most of your time unwinding, recovering, and sleeping in your master bedroom. As a result, it's critical to find the best size and environment for your needs and interests. The average dimension of a typical master bedroom is 14×16 ft. It might be bigger, but 224 square feet is the very lowest amount. This ensures that a king or queen bed may be easily fitted in the bedroom while providing sufficient storage space.
However, you may always choose a larger master bedroom. Larger options often have 16×20 feet of each size available. This dimension can offer a space measurement of 300-350 sq ft. For instance, a master bedroom can be approximately 17 feet broad by 18 feet long. Adding more space might be advantageous since it allows you to include the extra furnishings you like. It will also allow you to make way for more storage areas.
When you think of a master bedroom, you generally think of a husband and wife or partners who sleep in the same room with their bathroom. That's what a master bedroom is designed for, thus, it has particular features. This section is distinct from the rest of the house so that the spouse does not have to use the central bathroom with other family members. Although this division may appear unnecessary, it is required since these houses are intended for nuclear families, meaning that the master bedroom is for the parents. The other restroom and bedrooms are for their children, and even if this isn't true in your house, that is what the home's purpose was.
What is in a master bedroom?
Master bedrooms are frequently spacious enough to accommodate more than just a normal bed, wardrobe, and drawers cabinet. They frequently combine a vanity, a small chat space, or a perfect couch for napping or reading a book. In many buildings, the master bedroom will include an extra closet. A dressing room is frequently used as a connecting area between the bedroom, the bath, and the shower space in master suites. The major purpose of the bedroom is to provide a safe refuge or sanctuary for the household's heads.
Standard Bedroom Layouts
1. Queen bedroom
Queen Bedroom Configurations are design principles for organizing bedrooms that are based on the typical measurements of a Queen Size Bed. Sufficient clearances should be allowed around all 3 sides of the bed that are not touching the wall when arranging bedrooms. Bedrooms featuring Queen beds must have a minimum requirement of 106 square feet, which is around 9.8 m2 for a bed with clearance, and a maximum area of 128-131 square feet or 11.9-12.1 m2 for clearance with closet and desk, which is an ideal design for standard bedroom size.
2. Individual bedroom
Flexible individual bedrooms are excellent ideas for designing a single bedroom that is adaptable to various arrangement circumstances. Flexible bedroom floor designs, which are often concerned with space planning efficiency, should include bed sizes in the smaller range. These bedrooms should have a floor plan space of at least 140 square feet or 13 m2.
3. Twin bedroom
Similarly, twin bedroom layouts are suggested design rules for organizing bedrooms that are based on the conventional size of a twin bed. Since twin beds are frequently used in shared children's rooms and small floor designs, various bed sizes may not be available. Twin beds measure 75 feet (191 cm) in length and 38 feet (97 cm) in width.
Tips to Make Your Bedroom Look More Spacious
Arranging a tiny bedroom can often be a problem since you're working with a tight area. Still, we've got a few wise pieces of advice on how to maximize the room you have to assist you in giving the appearance of a larger place. The best part is that the key to effectively making small-space living bigger can be easier than you believe. It all comes down to deceiving the eyes into seeing greater space by exploiting three simple concepts: size, lighting, and movement. If you wish to have a master-sized bedroom, but all you have is an average size of bedroom, be prepared to give your tiny bedroom a very modern and spacious remodel. After seeing these gorgeous modern bedroom ideas, you won't be able to resist!
1. Low furniture with legs
Establishing the perception of extra space is all about creating a sense of openness and mobility. Furniture that is lower to the floor will give a sensation of openness in a room simply because they leave more room above them. In the bedroom, pick a bunk bed or even try to lay a mattress flat on the floor.
However, your bed can be a bit filthy if you put your mattress straight on the floor. In this case, streamlined furniture lets light and airflow not just over but also beneath and around it so that it seems to float in space. A pallet style, for example, would be extremely cost-effective, fast to build, clean, and quite elegant. It'd also be a terrific way to get some interesting bedroom concepts using wood!
2. A mirror reflects greater space
Small areas need to include the concept of employing mirrors to generate a larger sense of openness. They do not just reflect light, but they also mirror the sight, fooling the eye into seeing larger space.
3. Install shutters instead of curtains
Even if the curtains don't cover the entire window, they prevent the eyes from taking in the scene outdoors. You can use shutters or lightweight shades for privacy. Avoid heavy materials and textiles that absorb light and weigh down your space if at all feasible. Linen is an excellent example of lightweight fabric. If you must have drapes, utilize a tension rod that goes far beyond the window frame, allowing you to reveal the window.
Related: Check out the 5 best places to put a bed in a room with windows here.
4. White or pastel wall paint
Similar to any other space, the color scheme in the bedroom determines the entire ambiance and surroundings. It may also create the appearance of space, give depth, and even introduce warmth into the room to make it more comfortable. Paint your bedroom white or a pastel hue to open up the space and make it appear spacious, bright, tranquil, and quiet. The cloud-like appearance is only accentuated by painting the walls and ceiling the same color of white. It also blurs the borders between the wall and the ceiling, leading your attention to move upward and making the ceiling appear taller.
5. Focus on big furniture
You don't have to adopt simplicity to have a fashionable and contemporary bedroom, but minimizing the quantity of material can greatly simplify your aesthetic. Instead of many little accessories, concentrate on significant pieces, such as a TV, desk, or bed.
6. Place accessories on the wall
The more items, things, and patterns in the room, the more chaotic it will appear. Hence, mounting them on the wall is the ideal approach to have enough facilities without placing them all on the floor. As an example, consider lighting. Lamps that attach directly to your headboards and have hidden wiring are ideal for a contemporary look while generating a romantic atmosphere.
7. Utilize storage space
Store items out of sight to contribute to the peacefulness of a bedroom, and the space will look more spacious and quiet. Choose a bedside table with drawers to keep books, skincare products, and eyeglasses within access but out of sight. You can also buy a covered table or a small dresser with drawers for added storage.
Conclusion
In cities and other places, the normal average bedroom size in an apartment might vary. It also varies on whether you purchase a luxury house or a standard-sized flat. Bedroom sizes are substantially smaller in urban centers than in less populated locations.
Since the bedroom is where you start and finish your day, it should not look claustrophobic or messy. Consider the bedroom size when developing or purchasing a home so that you can easily arrange your furnishings neatly and fashionably in this area. Have you found this post effective? If yes, please leave a comment below and share it with your family and friends.
Related: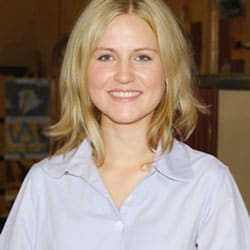 Hi, I am Roseanne Jones, an aspiring home designer that wants to make you feel more at home with your new house.With nearly five years of redecorating old residents and arranging new ones, I am confident that I can give you the best advice on your lovely place.