One thing that you will notice once you lay your eyes on a kitchen is the backsplash. It is typically seen on the kitchen counter. The backsplash is functional and adds a visual appeal to your home.
The most commonly used backsplash is the tiles. But, there are other backsplash alternatives to tiles, appealing and useful too.
In this article, we would like to present some unconventional backsplash ideas that can make your kitchen more beautiful and clean. Let us explore them now.
List of Backsplash Alternatives to Tiles
Option 1: Glass Panel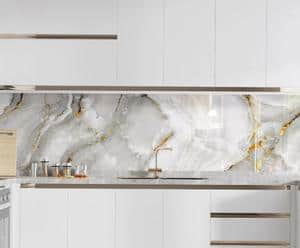 The glass panel is one of the stylish backsplash options other than tile. This backsplash does not only create a contemporary kitchen design but also can make your kitchen clean always.
It is because the glass is easy to clean and of low maintenance. Another advantage of using a glass backsplash is that it is resistant to mold and unable to create a stain.
Also, it is perfect for the small kitchen because it provides a vision of more space. It can also create a sparkle in your kitchen because it reflects light.
Option 2: Brick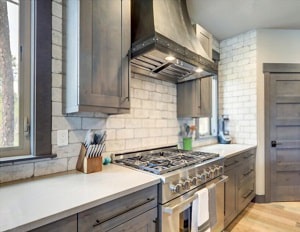 If you like a solid and durable backsplash, the brick is suitable for your kitchen. Brick is known for its durability and classic looks.
It is one of the kitchen backsplash alternatives that is safe because it is resistant to fire and pests. Also, it is free from contaminants.
What we also like about the brick backsplash is that it makes your kitchen elegant with its classic look. You may choose the traditional and rustic red or white brick backsplash for a modern touch.
Option 3: Wood
Wood backsplash creates a warmer and minimalist look. It can be a stunner and indeed add beauty to your kitchen.
You may opt for solid wood, plywood, laminate, or real wood. However, you must choose high-quality wood for a longer lifespan and easy maintenance.
You may also choose reclaimed wood, which looks classic in a kitchen design. Besides, this type of wood is durable too.
For real wood, you may apply oil for protection. It is also best if you treat the wood first to protect it from water damage and stains.
Option 4: Peel-and-Stick Tiles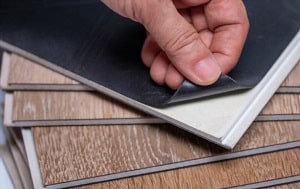 Peel-and-stick tiles are cheap backsplash alternatives. They are made from metal, vinyl, or glass. These pieces have a self-adhesive backing that can be attached to any surface for easy installation.
Also, they come in various designs. If you want your kitchen appealing, you may choose peel-and-stick tiles with beautiful patterns and colors. They are not permanent too, and you can easily remove them.
You can save money and time with this backsplash alternative. And if it is best for those who are renting houses.
If you have a low budget for backsplash, the peel-and-stick tiles are perfect for your kitchen.
Option 5: Stainless Steel
Another stunning tile backsplash alternatives is the stainless steel backsplash.
This material is also durable, tough, and water-resistant. It can resist heat and stains well, which makes it suitable to be installed in our kitchen.
We think that stainless steel is one of the best backsplash alternatives. This is because it is 100% non-porous, and bacteria cannot seep.
It is hygienic and suitable in the kitchen. Besides, it can last for many years.
Also, stainless steel can make your kitchen appear bigger because it reflects and absorbs light. If you have enough budget for a backsplash, stainless steel is ideal.
Option 6: Stone
For a homey and cool feeling, you may opt for a stone backsplash. This backsplash will make your kitchen unique and can add value to your home.
The stone backsplash is durable and strong. It can be rustic, matt, or polished.
You may also choose the natural stone, which can lessen stress as it is one of the elements of nature. Your kitchen will surely have a cozy and relaxing environment.
However, its installation is quite costly, which we think is the only downside of this backsplash. But, still, you can save money because it can last for a long period.
Option 7: Brass
Do you want a unique kitchen look yet astonishing? If yes, then add a brass backsplash.
It makes your kitchen high-end. This backsplash is aesthetically appealing and very hygienic, similar to stainless steel.
It is because it is non-porous and has antimicrobial properties. That is why it is perfect in the kitchen.
Also, it is easy to maintain and clean. Simply use ½ cup of dishwashing liquid, 2 cups of warm water, and a microfiber cloth to clean it. Then, dry it with a clean cloth.
Meanwhile, the copper backsplash is quite expensive. But, it's worth a buy.
Option 8: Granite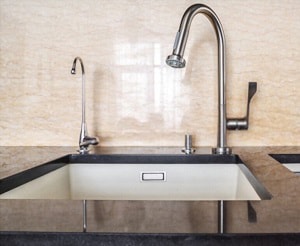 For a luxurious kitchen look, why not opt for a granite backsplash, which is one of the kitchen backsplash ideas not tile. Choose from its various beautiful shades and wavy surface patterns.
What we also like about granite backsplash is its durability and strength. Besides, it is resistant to acids and high temperatures, which makes it suitable for the kitchen.
Also, granite has a smooth surface, which makes it easy to clean. You may grab a microfiber cloth with granite cleaner and wipe it.
Option 9: Wallpaper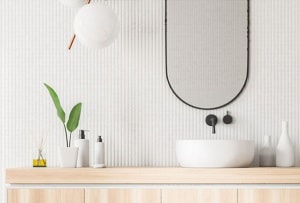 Wallpaper is not only an economical yet beautiful kitchen backsplash but also suitable for bathroom backsplash. You may blend your countertop finish or shower tiles with an appropriate wallpaper design.
Besides, they have several designs that you can choose from. Many of the wallpaper today are durable and easy to install. They stick firmly to the wall, and some of them are waterproof.
The advantage of using wallpaper is that you can easily remove it if you want to replace it with another design or a more permanent backsplash.
Wallpaper is also self-adhesive like the peel-and-stick tiles. It can add colors and texture to your kitchen and bathroom.
Option 10: Concrete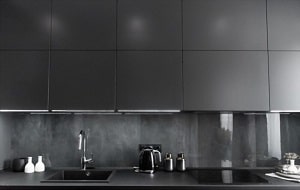 Concrete is one of the alternative backsplash materials. A concrete backsplash may look chic when combined with a concrete countertop and copper or brass accessories.
Your kitchen will have that contemporary and modern look. It adds to the depth of your kitchen decor and texture too.
A concrete backsplash is also ideal for minimalist and industrial home interior designs. One of the advantages of using concrete is that it is not costly. You can also combine it with a variety of decors or accessories.
It is easy to clean and maintain. Besides, it is durable and heat-resistant.
Do You Really Need a Backsplash?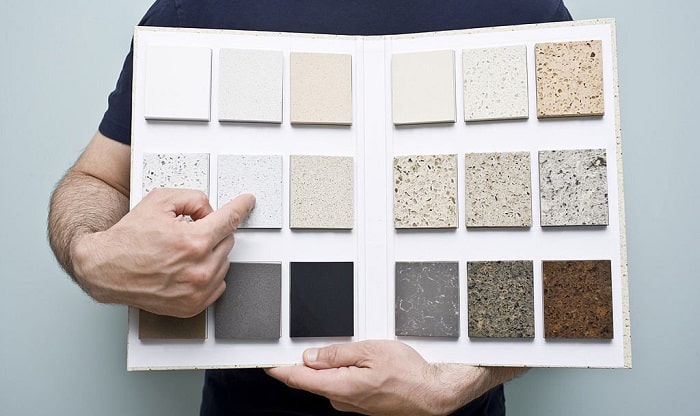 Yes, you need a backsplash because of the benefits that it can provide to your home, especially to your Kitchen and bathroom. Backsplash can add beauty to your home. Here are some of the reasons why you need a backsplash:
1. Easy Maintenance
Stains are usual in the Kitchen. They stick to kitchen walls and countertops and are difficult to remove.
You can easily clean and maintain your Kitchen when you have a backsplash. Simply get a microfiber cloth, wet it with water and a drop of dishwashing liquid, and wipe your backsplash.
2. Added Protection
Backsplash can protect your Kitchen from water damage. However, the presence of mildew and mold can damage your kitchen walls.
Hence, with the provisions of backsplash, it can seal off the wall and protect it from water damage. Also, it can help maintain the durability and quality of your Kitchen.
3. Improve the Value of Your Home
Buyers often look at the Kitchen or bathroom. And the backsplash can make your Kitchen or toilet attractive and functional.
With the backsplash, the value of your home will rise. If you tend to sell your house, you can increase the selling price because of some of your home amenities, including the backsplash.
4. Prevent Pests
Pests such as insects may creep into the cracks of the walls of your Kitchen. Having a backsplash can prevent unwanted pests because it seals and segregate the kitchen walls.
5. Enhance the Personality in your Kitchen
Backsplash improves the visual appeal of your home. It also adds a personal touch. As mentioned above, the backsplash comes in various materials with different patterns and colors that enhance your kitchen interiors.
Conclusion
These backsplash alternatives are the best options for replacing the tile, which is a popular backsplash. You may choose any of these materials that are suitable for your home interiors.
Indeed, you will have a unique and appealing backsplash that can heighten the beauty and value of your home. Also, always maintain and clean your backsplash for longer use. Hence, you can save money and time.
Read more: The kind of backlash that goes with taj mahal quartzite.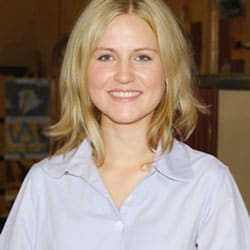 Hi, I am Roseanne Jones, an aspiring home designer that wants to make you feel more at home with your new house.With nearly five years of redecorating old residents and arranging new ones, I am confident that I can give you the best advice on your lovely place.