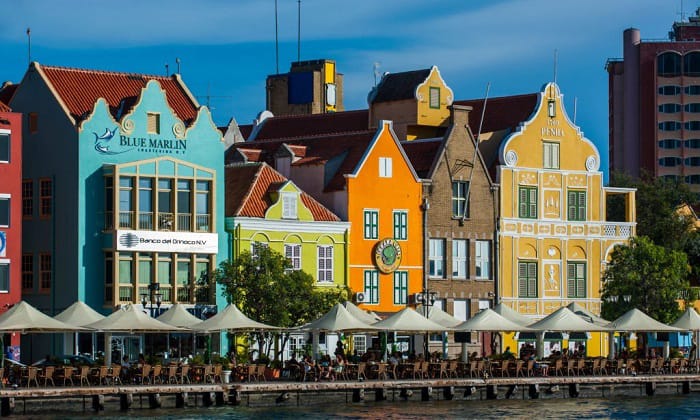 Are you looking for inspiration in deciding on your beach house exterior colors? Your color selection will not just reflect your aesthetics, and it will also give personality and energy to your beachside home and its surroundings.
Read on to explore common choices, including pure white and cobalt coastal colors, bright pastels, natural wood hues, bold primary colors, and even black exteriors.
9 Colors Ideas for Beach House Exterior
1. Coastal Colors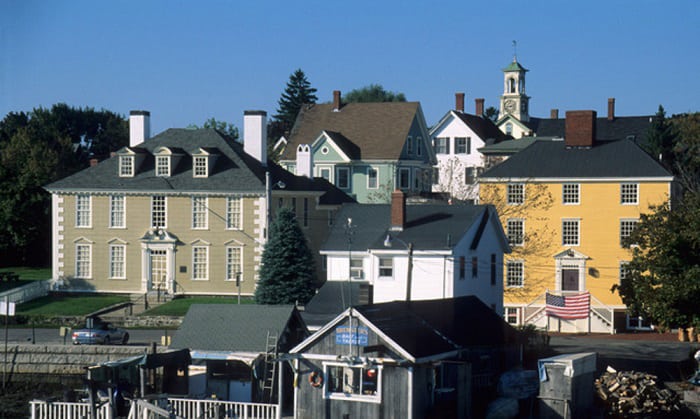 Probably among the most popular in nontropical coastal locations such as the US West and East Coast, many modern colors for beach house exterior play around with:
Muted blues
Greys
Taupe
Moss green
Pale yellows
Pale pinks
The hues are reminiscent of the color of sand, overcast skies, vegetation, and soft colors during sunsets. They create a very gentle and quiet atmosphere with minimal use of bright tints.
An example is a combination of taupe for the walls, white details on the windows and posts, topped with a dark steely grey roof color. The use of neutrals results in a very modest and subdued look.
Soft tints of pinks and yellows are also combined with white trims and lighter grey roofing. The overall look is harmonious, using muted colors that convey calmness, vitality, and reliability.
In the Scandinavian coastal areas, one will find more dark-colored coastal house exteriors. One particular combination is the clay-colored roofs partnered with dark colors on the facades with white trim and windows. The house exteriors come in:
Dark green
Dark blue
Dark grey
Black
These can be seen in the traditional wooden houses in the small island village of Marken in the Netherlands. They show an interesting combination of the traditional (in the tile roof) and the modern (dark facade colors). The stark hues also evoke stoicism, strength, and ruggedness.
3. Pure White and Cobalt Blue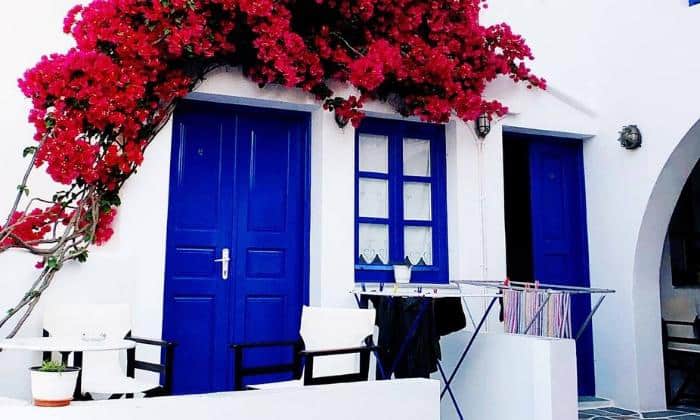 The Santorini Island of Greece boasts a distinct architecture of whitewashed buildings with cobalt blue or dark sapphire doors and windows.
These coastal exterior colors have a uniquely Greek character and even match the colors of the national flag.
The shades of blue mimic the vast expanse of sea and sky surrounding the island. Combined with the pure white, these houses on the seaside cliffs radiate tranquility and simplicity.
This is a bright color palette, although still somewhat classic in using just two hues. The brightness adds energy to the overall look.
This color scheme appeals to those with somewhat minimalist tastes and a preference for clean designs on their beach house exterior. The accent of dazzling blue on a pure white structure is the main focus of the eye.
4. Mediterranean Style Colors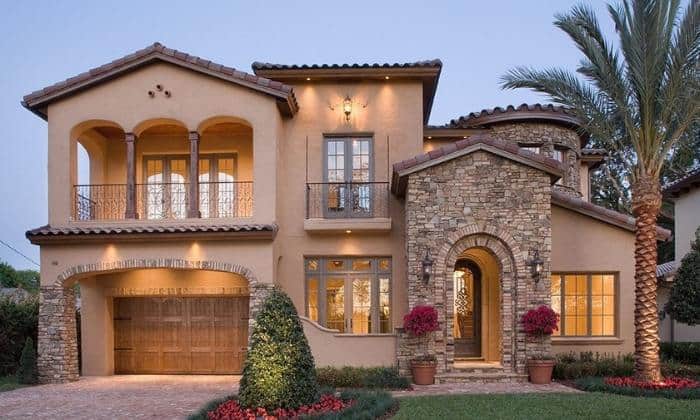 Traditional coastal homes in Italy and Spain usually have very warm, neutral, or earthy colors. The typical exterior house colors are reflections of the rocky hillsides, golden fields, and sunny skies of the area. Typical combinations are:
Red or rust (on the roofs, tile or terra cotta)
Yellow ochre
Tan
Burnt orange
The colors are low-key and create a very pragmatic air about a house. The earth tones exude comfort, ease, and welcoming quality. The hues do not call attention, because traditionally the detail on the stucco walls and metal works would provide the highlights or accents to the facade.
5. Bright Pastel Colors
Pastel pink, baby blue, lemon yellow, and lime green can also work as coastal exterior house colors!
A baby blue facade with cream window trimmings and a clay roof is one combination that exudes youth, playfulness, and cheer.
A pastel pink facade with white window trimmings and clay roof is a more feminine color scheme while still providing that warm and cheerful energy.
Lime green with white and clay is a refreshing look, cooling to the eyes.
According to folklore, the choice of bright colors for coastline communities was intended to help guide fishers of the olden days back to shore in the darkness of night.
In modern times, the pastels are more likely aesthetic choices intended to add cheer and light to the appearance of a coastal home.
You can see this rainbow-colored bright pastel color palette in the Caribbean Island of Curacao, which is recognized as a Unesco World Heritage site.
Lively pastel-colored coastal homes and huts can also be found in the UK, Italy, France, and Australia.
6. Natural Wood Hues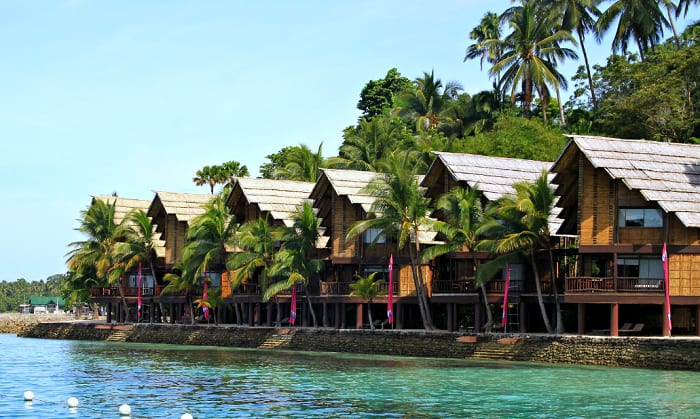 Asia's tropical beach sides also have their own look regarding beach cottage exterior colors.
In the Philippines, traditional construction using indigenous materials such as bamboo, palm or coconut leaves, and timber lend a monochromatic look that combines various natural wood hues.
Using these materials keeps a beach house cooler since wood and light sidings will not absorb heat like concrete and allow better ventilation.
Beach cottages built with these materials would be solidly in the brown palette, with hardwood components in the deeper brown shades. They also have bamboo and palm leaf components in the lighter copper shades.
There are rarely any accent colors on the cottages. This color scheme on the tropical beachside can be described as blending in with the surrounding natural beauty rather than seeking to contrast or stand out against it.
We can find modern beach house exterior colors still utilizing the natural wood palettes but incorporating new materials and additional colors.
The hues of bamboo, hardwood and light materials continue to provide that relaxed and homey look that is uniquely tropical.
7. Bold Primary Colors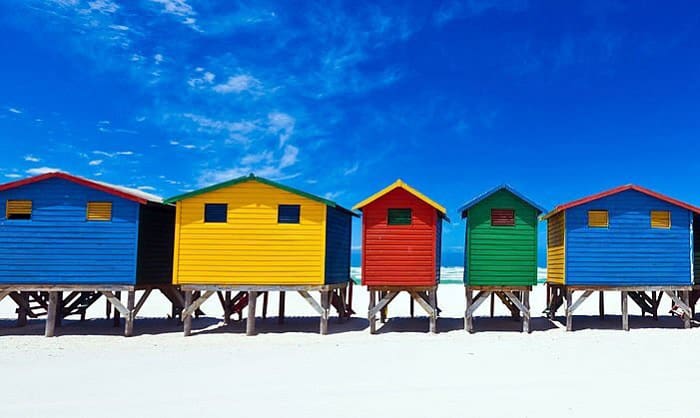 Beach house exterior paint colors can be bold primary hues – blue, yellow, red, and even secondary color green!
A combination of three basic colors on the house can achieve a very solid and vibrant look. The contrasting colors on the walls versus the roof, windows, and door creates visual interest.
For example, the walls can be blue, with yellow windows and a red roof accent. Red walls with blue windows and yellow roof trim are another combination.
The bold primary colors would be well suited to a simple and symmetrical beach house design where blocks of contrasting colors can be put side by side.
This color scheme would also best suit a beachside location with white sand and a fairly plain landscape. The colors will pop and create an attraction.
This is a color palette to project confident and exuberant energy. This will certainly call attention and invite a lot of photo takers.
The Muizenberg Beach Houses in Cape Town, South Africa, exemplify this color scheme. Its iconic look is a top Instagram favorite and has appeared in various magazines and travel brochures.
8. Black Coastal Homes
Probably the rarest, and yet they still exist, are the black beach homes. There are some in Australia beach sides, and some in Europe, such as the Faroe Islands.
The trend to build all-black exteriors is sometimes due to aesthetic and style preferences. It offers a very sleek, modern, and mysterious look.
But some houses are black due to trends in sustainable methods for house construction like "shou sugi ban" which produces blackened wood.
The black coastal home can be very imposing and dramatic yet also projects a certain desire for privacy and seclusion. Given the intensity of a black exterior, there is room for including accents such as white, red, or wood tones on roof trims or windows.
Due to the tendency for black to absorb a lot of heat, this would not be suited for very hot locations.
9. White and Light Brown
A white exterior color with wood accents are a fresh and modern combination. The look is very clean and light. The white attracts natural light and makes the structure more expansive. The brown wood details give an organic touch to the facade, adding a bit of warmth.
If you want your beach house to have the look of a refreshing oasis, crisp white and light brown hues would be a great bet.
Conclusion
Beach house exterior colors are as varied as your mind can conceive. We looked at many distinct color schemes that can inspire your selection. For instance, you can go with classic coastal colors that offer a casual look. It's also nice to have a pure white and cobalt blue suit with a minimalist vibe and exude tranquility.
Choices vary from Mediterranean colors to bright pastel, natural wood hues to bold primary colors, and more.
This is certainly not an exhaustive list, but hopefully enough to get you started. Enjoy beach house color shopping!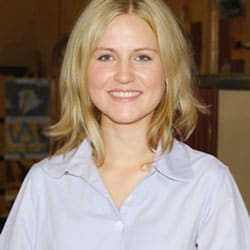 Hi, I am Roseanne Jones, an aspiring home designer that wants to make you feel more at home with your new house.With nearly five years of redecorating old residents and arranging new ones, I am confident that I can give you the best advice on your lovely place.