The front door makes a big design impression as the entry to your home. Not only is it a portion of the house you see and use countless times a day, it is also one of the first things guests notice when they come by. A magnificent front door has the potential to change your facade and internal area by improving air ventilation.
As a result, it is important to know how to mix and match colors for your home. This post will provide you with the 8 best front door colors for gray house as well as their value.
Gray House Door Color Ideas
Undoubtedly, the appearance of your door is crucial. The size, age, and design of your home may all play a role in selecting which color and style would work best. It's also worth thinking about what messages you want your front door to send to others.
Although some homeowners want a dramatic accent, others prefer a more modest style. These eight alternative front door colors will look well with your gray exterior, ranging from basic to vibrant.
1. Gray house & Gray front door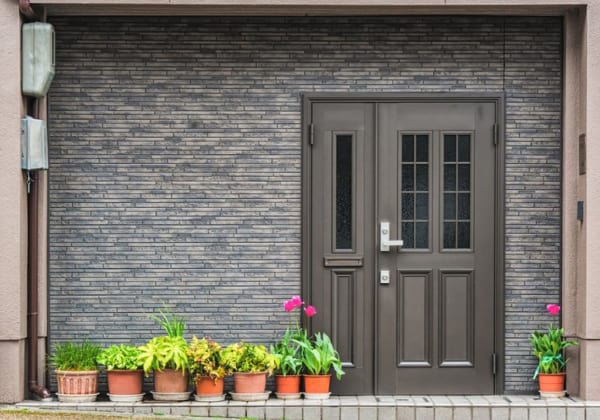 This popular and contemporary color is one of the greatest front door colors for grey houses, whether you choose a mid-toned gray or a subdued shade. Some individuals may be reluctant to pick gray for their front door because they believe it would appear too dark but this is not the case.
The medium gray door displayed below is the perfect complement to the light gray home. The dark gray entry door gives your home a very sophisticated and attractive look while the medium gray complements well with the light gray house. Plants may also be added to your gray façade as a beautiful finishing touch to liven up your front porch.
2. Gray house & White front door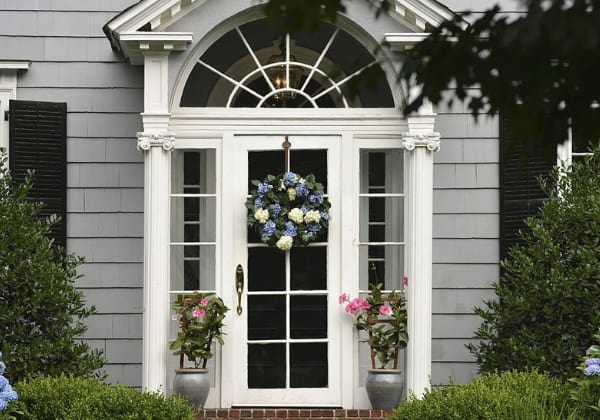 Although white may seem like a simple option for a gray home and a tan house, it is a clean and stylish hue that never goes out of fashion. A white front door may stand out on its own or with any dark color as a complementing color. Gray and white combine well for your home's doorway and exterior wall.
This color scheme has created a professional yet basic style that is highly adaptable. Surprisingly, white is one of the nicest front door colors for a gray house with black shutters since these three colors may give your home an elegant appeal without being too bright.
Furthermore, as you might expect, a white door represents purity, history, and elegance. If you prefer a classic design or want to keep your gray property appearing beautiful, you can consider painting your door white. Some individuals recommend having your doorway painted white to "start over" if you are seeking a new beginning or have recently gone through turning point in your life, like a marriage, a newborn child, or a new career.
3. Gray house & Black front door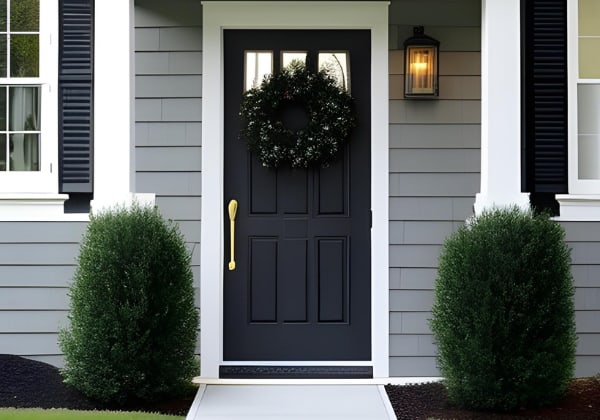 With the appropriate colors to complement it, black can be a remark itself. When there are several contrasting colors in the entrance or exterior of your house, black and white are always wise options.
Black has long been linked with opulence and dignity. Pick a black front door if you intend to draw attention to it. As a subdued background, this hue looks fantastic next to gray siding since the gray color will highlight the black. By painting your entrance door black, you can add depth to the shade and make it look more vibrant.
4. Gray house & Brown front door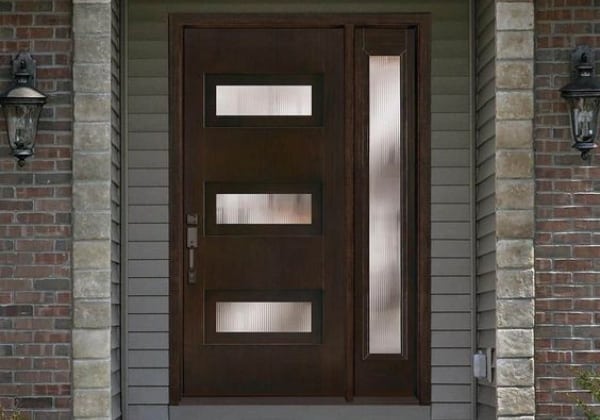 Brown has numerous characteristics, but in terms of home décor, it conveys simplicity and warmth. A brown front door is an excellent way to make a house comfortable and welcoming, and it sets the tone for your small residence. If you want, you can have a brown front door made of real wood. These doors accentuate both modern and classic exteriors. Natural elements, such as actual hardwood doors painted in brown, may enhance even the most sophisticated houses.
If your front door is not constructed of solid wood, though, you may always paint it brown. This warm neutral color will go well with any rustic tone to create a beautiful effect. In this example, the light brown front door, which is contrasted to dark gray siding shines as the main focus of this property.
5. Gray house & Yellow front door
For front door colors for a grey building, a cheerful, brilliant yellow coupled with gray walls and white decor creates a stylish atmosphere. Admittedly, yellow is a vivid hue that conveys a carefree spirit. It promotes wellbeing and may have an energetic impact, making it an ideal color for a gray building's front entrance. Similar to any other shades, you can repaint your front door in a single day if you become bored of it.
Furthermore, yellow can instantly cheer you up. Brilliant yellow is one color that jumps out against gray siding. Getting accustomed to this color might be difficult, especially if you've never considered such a strong tone for your front entrance. However, incorporating a vibrant hue of yellow to your gray exterior may truly establish the mood and atmosphere.
6. Gray house & Orange front door
There are several degrees of orange, therefore you don't have to go with a bright, eye-catching pumpkin color. A softer and more delicate shade of orange for the door might give your gray home a green tone. Despite its association with Autumn and Halloween, orange can be a joyful, classy hue for doors when matched with the correct companions.
As this image shows, gray may give a variety of styles depending on the accessories you choose. The orange of the door, for instance, makes the gray appear more greenish in some circumstances. Hence, orange and other bright colors appear to be ideal front door colors for dark gray houses.
7. Gray house & Red front door
In a historic native American tradition, a crimson door indicates "welcome." If a household had this front door color, visitors who are tired when riding horse and carriage would know that the house was a nice spot to stay. In other words, they'd be allowed to stay the night here.
A red front entrance has long been associated with passion, energy, power, and expressiveness. It enhances the appearance of a property and attracts attention to the home's entry, where visitors are greeted.
There are practically thousands of gray siding shades and red doors to pick from, but thankfully, most of them complement each other, making it difficult to go wrong with this combo. Don't forget to think about all of your accessories. Red is a prominent tone, so be cautious of the colors that surround it.
8. Gray house & Blue front door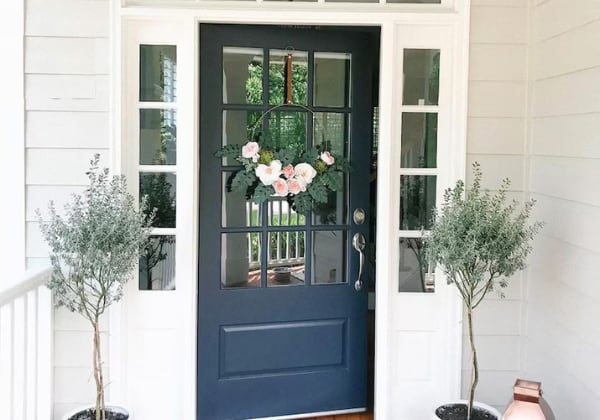 Blue is believed to be one of the best cool front door colors for light gray houses and other color houses like white or blue. This adaptable hue works well for a front door, especially when combined with gray siding. The combo of sky blue and light gray provides a seaside atmosphere; however, you can also use different blue tones for your gray sidings, such as turquoise, teal, or navy.
You should not be reluctant to have a gray house with a blue door. It is also an excellent hue for the entrance door. The ice coldness of a light blue accentuates gray's lovely softness, which makes it appear more chilly and warm. The nicest thing about light blue is that it may bring out the undertones of gray, allowing it to be different in various settings.
Check this short video out to get a better view for your front door colors.
Conclusion
The front door serves as the main point of nearly any design whether you are looking for a house that is contemporary, playful, or rustic. With so many wonderful options and designs to select from when deciding on the ideal exterior door colors for a gray house, surely you will be able to find a color for your final dream space.
Before choosing the best front door colors for gray house, consider other factors, including the roof, window, and gutters. Was this article useful? Please leave your thoughts in the comment section and share this with your friends and family.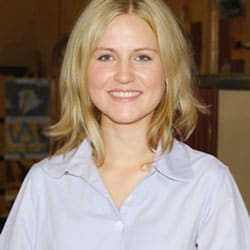 Hi, I am Roseanne Jones, an aspiring home designer that wants to make you feel more at home with your new house.With nearly five years of redecorating old residents and arranging new ones, I am confident that I can give you the best advice on your lovely place.