Blue can be the first color that comes to mind when someone mentions relaxation and tranquility. Since this color screams a pure calming vibe, many people love using it as the main character for their bedrooms.
According to a 2018 study, the color blue creates more calming effects on one's brain — so soothing that it can allow your mind to sleep harmoniously through the entire quiet night.
If you are wondering how to achieve this relaxing vibe in your room, check out this article as it offers the best blue two colour combination for bedroom walls!
Bedroom Walls Color Combinations
If you want a stylish yet alleviating bedroom, paint two colors with blue as the other shade to have an excellent option in emphasizing elements and creating different vibes.
Considering that, here are some of the best colors that will complement your blue bedroom walls in 2023!
1. Sky Blue and Royal Blue
Painting your accent wall a brighter shade of blue and the rest a darker shade of blue allows for a more sophisticated appearance. It also creates a soothing space that is easy for the eye to look at before sleeping.
In this instance, you can use sky blue for most parts and add royal blue with the details, bedroom items, and furniture.
2. Blue and Dark Blue
You can worry less about being monochromatic because blue shades can do wonders when matched magically. Like the previous color palette, combining a regular blue color with a darker one mixes two different vibes.
First, the dark blue palette gives way to a sleek, modern feel. Meanwhile, the lighter one creates a warm and cozy feeling in your bedroom.
3. Coastal Blue and Coral Pink
Feel an island vibe as if you are under the beautiful sea with a coastal blue and coral pink bedroom wall. The former color gives a youthful flavor, while the latter matches it perfectly.
If you wish to add more aesthetic details to the bedroom, you can put any white furniture or item. That would be like a white pearl in your sea!
4. Blue and Black
When we speak of a classic bedroom wall colour combination, the first color palette that comes to mind is the blue-black mix. It is a popular color blend among people who like dark-colored rooms.
In addition, a room decorated in blue and black is lively and vibrant. These hues complement a white ceiling, making your space feel even more alive.
5. Dark Blue and White
Matching dark blue with white is a simple two colour combination for bedroom walls. While white is a neutral color representing innocence, purity, and serenity, adding blue can give more vibrance to it.
This color palette also suits living spaces or bathrooms. Not to mention that painting white stripes with blue paint can work wonders!
6. Blue and Yellow
If you plan to paint your children's bedroom, opting for a blue and yellow color combination is an excellent choice. It is a unique match that brings out a cute vibe to the space.
Moreover, sky blue and bright yellow can maximize the room's size, making it look more spacious and less packed. On the other hand, dark blue and mustard yellow is a chilly yet warm color palette that provides a tropical island vibe.
7. Blue and Red
Getting a bucket of blue and red paint can be your best friend if you want to have a bold and striking bedroom wall. This color combination can denote passion and energy. Also, blue brings coolness to your place, while red adds warmth, thus creating balance.
In these cases, a lighter shade of blue works best with red. If you only have navy blue paint, you can match it with a cherry red one.
8. Cerulean Blue and Sandy Beige
Combining cerulean blue with sandy beige is also an advisable choice because using light colors can make your bedroom bigger or more prominent.
The former shade can give way to a relaxing and calming vibe, while the latter complements it perfectly. Together, they make a space that can improve one's mood at any time of the day.
9. Cobalt Blue and Silver
Are you looking for a modern yet classic feel? A color palette consisting of cobalt blue and silver can be what you are searching for today!
The sparkling shade of silver livens up your bedroom once combined with cobalt blue. You can add white furniture and green plants nearby to complete the look!
Check these photos below to provide you with more ideas.
10. Mint Blue and Gray
Gray is a neutral shade, but mint blue can match it exceptionally! These colors bring out an industrial touch that looks calm, modern, and serene.
Moreover, this color palette can give you a premium style that looks professional once paired with the best set of modern-styled furniture.
11. Midnight Blue and Emerald
Who's in for fairy tales and magical nights? Here comes midnight blue and emerald for an ethereal bedroom vibe!
Aside from that, this color combination makes way for an intimate space suitable for sleeping after a tiring day. It also provides a cozy and relaxing background for talking to your friends!
12. Denim Blue and Citrus Orange
Denim blue and citrus orange suit those fond of bursts of colors that create a creative and bold style. This bed room 2 colour combination provides positivity and delight because the former shade represents warmth, sunshine, joy, and enthusiasm.
13. Sky Blue and Pale Peach
Get ready for a fabulous, modern, and elegant bedroom because sky blue and pale peach can make it possible for you! These light colors aim to create a relaxing space while emphasizing other elements in your place.
This bedroom paint two colors will also work like magic if you use it in any part of your house!
14. Sky Blue and Rust Brown
While the other color palettes are suitable for walls, this one differs. It is best to use sky blue paint for the walls, while the cabinets, chairs, beds, drawers, and other furniture fall into rust brown.
Even though some people may find it odd, this combination fits study areas and bedrooms. Here are sample images to help you gain more ideas!
15. Dark Blue and Hot Pink
Dark blue makes a bubbly vibe, while hot pink screams fun. However, these shades are best for a single wall or portion of your bedroom.
For instance, you can put this combination between neutral-colored portions. You can also use a pink wall with blue furniture or vice versa.
Conclusion
Planning the color palette of your personal space is a long road, but you can always choose the best blue two colour combination for bedroom walls to make things easier.
You can choose from different shades like sky blue, royal blue, and dark blue without worrying too much because you can pair them with many colors on the wheel!
Hopefully, this article has given you numerous ideas to spice up your bedroom. Once you have chosen the one you prefer most, you can start painting your space to create the most relaxing yet aesthetic place in the house!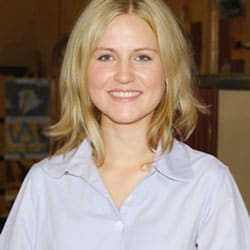 Hi, I am Roseanne Jones, an aspiring home designer that wants to make you feel more at home with your new house.With nearly five years of redecorating old residents and arranging new ones, I am confident that I can give you the best advice on your lovely place.