Incorporating a breakfast bar into your kitchen will create an ideal place to grab a snack and chit-chat with your family and friends. Before installing this welcoming hub, you first need to take the breakfast bar dimensions into consideration.
The standard heights for breakfast bars are 30", 36", and 42", with the last one being the most common. The depth should be 24". For every seat, there needs to be a 28" width of bar space and at least a 30" clearance behind the stool.
There are still many nuances you need to keep an eye on. Read on to learn more about the dimensions of your breakfast counter.
Recommended Kitchen Breakfast Bar Dimensions
Breakfast bars can be installed almost anywhere in the kitchen, from peninsulas to kitchen islands. You can also adjoin the hub to your countertop or opt for a freestanding option.
But before implementing your breakfast bar ideas, check out the kitchen bar dimensions to see where you can put it.
1. Standard Height
How tall your breakfast bars are can affect their placements. Whereas breakfast bars with the same height as kitchen counters create a seamless flow, a disparity in height will mark the two areas as separate.
In terms of height for breakfast bar, 30 inches would be shorter than most kitchen counters. You should place a bar with this measurement across from the counter to create a clear distinction between the eating and meal prep space.
I would recommend this height of breakfast bar for households with the elderly and small children, as they will have no trouble getting in the lower stools. Wheelchair users will find this height most accommodating as well.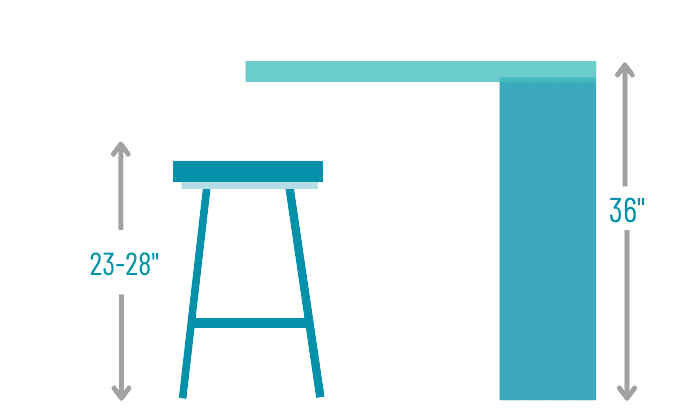 As it shares the same height as most kitchen counters, a 36-inch bar is typically called counter-height. Because this dimension cannot separate prepping and eating space, most would make it an overlapping breakfast bar for a more seamless flow.
While this breakfast bar counter height can make a room seem more spacious, it also leaves messes on the kitchen counter in plain sight. This means you'll need to clean the counter regularly unless you want the clutters to be a thorn in your side as you eat.
This is the most common breakfast bar height as it has the most visual appeal. Taller than kitchen counters, it's normally positioned to face them. The disparity in height keeps the mess on the working counter out of sight when you're having your meal.
Also known as bar height, this standard option is ideal for people who want to be able to eat while standing. Therefore, if you want the breakfast bar to double-act as a serving counter for appetizers and snacks during parties, 42 inches will be the best choice.
One notable downside to this setup is that it's too tall for those in a wheelchair. In addition, as seats for a 42-inch bar need to be at least 29-30-inch tall, small children might have difficulties climbing onto the chairs.
2. Standard Width
To determine the ideal breakfast bar width, think of how many seats you intend to place there.
A minimum of 24 inches (61 cm) is required for each seat; otherwise, you'll be constantly bumping elbows with the person next to you.
Increase the minimum width to at least 26 inches (66 cm) for stools with arms.
If your kitchen is spacious enough, consider leaving 30 inches (76 cm) per seat for optimum comfort.
An alternative for small kitchens without space is breakfast bars that let two people sit face-to-face. This option requires a mere 16 inches (41 cm) of minimum width. However, it'd be hard to expect a 16-inch bar to feel comfortable.
3. Standard Depth
Excluding the overhang, a standard bar should have a 24-inch (61-cm) depth to let you easily reach across the table. While 24 inches are the bare minimum for comfort, you can reduce the depth to as little as 18 inches (46 cm) to fit into tight places.
With the knee space taken into account, you need an overhang depth of at least 12-18 inches (30.5-46 cm). While this measurement can go lower, do not decrease it to any less than the bare minimum of 8 inches (20 cm).
As a rule of thumb, the shorter your breakfast bar is, the larger the bar overhang dimensions should be. The minimum overhang depths for table height, counter height, and bar height are 18", 15", and 12" (46, 38, and 30.5 cm) respectively.
Don't neglect your family members' height either, as taller people will require more legroom, which equals a bigger counter seating overhang.
Walking clearance refers to the space between the bar and the wall (or cabinet) behind it. If you don't have enough space for optimal walking clearance, a 30-inch distance might suffice. However, aim for the optimal range, which is 36-42 inches (91-107 cm).
For wheelchair users, it's best to go even higher, around 60 inches.
4. Breakfast Bar Stools
All your hard work will go to waste should you select incompatible stools for your breakfast bar. In order to pick the right seating, you have to think about the breakfast bar measurements.
Most stools are designed to go with a 42-inch bar top. The heights of these seats range from 29 to 32 inches (74 to 81 cm). Averaging around 23-28 inches (58-71 cm), seats for counter-height bars can be slightly harder to find.
In households with a significant gap in family members' heights, adjustable seats might be a better option. Just keep in mind that the standard gap between the bar underside and the seat can't be less than 10" (25.4 cm) and more than 12" (30.5 cm).
Read more: Bar height for counter 48 inch.
FAQs
What is the standard overhang for a breakfast bar?
The ideal overhang size can depend on your bar top height, the space available in the kitchen, and the overhang material (a heavy top without support might collapse).
The most ideal size for an overhang ranges between 12-18 inches (30.5-46 cm). You can go for smaller overhangs to save space, but it cannot be less than 8 inches deep.
How much knee space is required under the island?
The standard knee space will vary based on how tall the island is, as the higher the bar, the more you can stretch your knees instead of bending them.
Overall, for a 30-inch table-height breakfast bar, the required knee space is 18 inches. A 36-inch counter-height top needs 15 inches of knee space, whereas a 42-inch bar-height island only calls for 12 inches.
How far can a supportless breakfast bar countertop overhang?
This mostly depends on how heavy the material is, but most overhangs need to have at least 70% of their total area supported. Generally, the lighter the overhang, the farther it can go without support.
Are breakfast bars out of style?
Unfortunately, some would say that breakfast bars are indeed out of style as most people nowadays prefer open space. However, this doesn't necessarily mean that kitchen bars have outlived their usefulness.
All things considered, breakfast bars offer many merits, such as more prepping space or a place for kids to do their homework while you cook. And as mentioned, breakfast bars are a fantastic spot to grab a quick meal or share a snack with your loved ones.
So in short, do not let the fact that breakfast bars are no longer trendy put you off installing one in your kitchen.
Conclusion
To determine the breakfast bar dimensions, you need to think about factors such as the available space, desired aesthetics, number of seats, and your family members' height. Once you get that down, you'll only need to follow the standard requirements.
Now that you've learned the ideal breakfast bar measurements, I hope you can achieve your dream kitchen soon. Let me know if you still have any unanswered questions.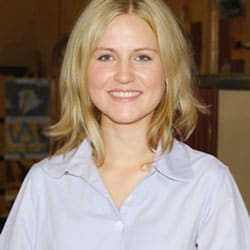 Hi, I am Roseanne Jones, an aspiring home designer that wants to make you feel more at home with your new house.With nearly five years of redecorating old residents and arranging new ones, I am confident that I can give you the best advice on your lovely place.