A bathroom rug is not only functional, but it can complete your bathroom interior design. Selecting the perfect color for your bathroom rug will make your bathroom beautiful and welcoming.
Indeed, bathroom rugs come in various styles, textures, and colors. Maybe you are wondering which one you choose and what color it will be.
In this article, we would like to share some tips on how to choose bathroom rug color. Let's dive into them now.
6 Creative Tips for Bathroom Rug Color Ideas
Tip 1: Coordinating Bathroom Rug and Accessories for a Perfect Match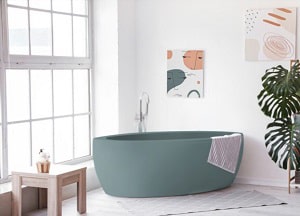 The color of your bathroom accessories, such as soap dispensers, toilet bowl rug, wall art or framed pictures, toothbrush holders, fragrance candles, or diffusers, can guide you in choosing the correct color bath mats.
For example, if the color of your toothbrush holder, soap holder, and framed art has shades of teal, then you can incorporate dark teal bathroom rugs.
Also, if you choose a textured or printed bath rug with design, you may opt for a two-color rug like dark teal and white. This rug color may also blend well with a white bathtub, vanity, toilet bowl, and light or neutral-colored flooring.
As a result, your bathroom interior looks cohesive, cozy, and inviting.
Tip 2: Consider the Design of Your Home Interior Style
The style of your bathroom usually blends with your overall home style.
For instance, if your home and bathroom have a minimalist style, choose a rug of the same type. Often, it goes together with neutral colors such as beige, brown, black, gray and white.
You may take a look at these photos with grey bathroom rug ideas that are harmonious with modern and minimalist bathrooms.
Meanwhile, if you have a vintage style or traditional bathroom interior, you may opt for a bright color rug such as red. Or you may have a carpet for the bathroom floor, such as the Persian carpet.
Tip 3: Considering Style, Color, and Texture for Bathroom Flooring
The rule of thumb is when you have a light-colored bathroom floor, then you have a dark-colored bathroom rug, and vice versa. As seen in the photo above, the bathroom floor is a light brown tile and a dark brown bathroom rug.
Everything looks harmonious together with the other accessories in shades of brown.
Another example is this bathroom above with shades of black and white flooring. The white bathroom rug complements the bathroom floor well with the dark-colored flooring.
This goes the same with the wooden flooring. You may opt for light-colored bathroom rugs, which are unified with the color of the wood grains.
Tip 4: Creating the Desired Ambiance for Your Bathroom
If you want a kid-friendly bathroom, you may opt for a colorful bath rug or striking colors such as orange or dark pink. These colors are warm and may have a cheerful ambiance.
Meanwhile, if you choose to have a spa-like feel and luxurious bathroom, opt for bathroom rugs with neutral colors such as pale green, brown, and beige. If you like a cool and clean atmosphere, you may opt for white or gray bathroom rugs.
For a bathroom beachy or natural feeling, the perfect match for this color is the shade of blue or green. A modern flair will go together with a white and gray bathroom rug.
Tip 5: Take Into Account the Size of Your Bathroom
Light colors can make a room spacious and brighter. Meanwhile, dark colors can make a room feel smaller. This may apply in choosing your bathroom rug.
Take a look at the photo above. The bathroom is small, and as you can see, it has a light-colored bathroom rug the same color as the bathroom fixtures. It makes the room larger, cozy and vivid.
Colors such as white, beige, light brown, and light gray can make the room bigger. It also maximizes the effect of natural light.
Check this guide to know more tips about decorating an 8×8 bathroom layout.
Tip 6: Determine the Color of Your Bathroom Wall Finish
The color of your bathroom rug should have continuity with the colors of your bathroom wall, fixtures, and bathroom accessories.
If you have a two-tone marble wall finish, you may also opt for a two-tone color bathroom rug, as seen in the photo above.
If you have a printed wallpaper with shades of blue, then choose light blue colored decorative rugs for the bathroom that blend well with your wallpaper.
In one instance, if you have a dark-colored wall tile, you may opt for a dark color bathroom rug. But, it complements well with light-colored bathroom flooring.
FAQs
Do bathroom rugs have to match?
Everything coordinates and can make your bathroom look harmonious, calm, and pleasant. Besides, it makes the room declutter and tidy.
Therefore, we think those bathroom rugs that match the color of the bathroom walls, flooring, fixtures, and bathroom accessories are a good idea.
How many rugs should go in the bathroom?
You can have two or three bathroom rugs. Locate one bathroom rug in front of the shower or bathtub and the other in front of the sink.
Meanwhile, if you have a big bathroom, you may place the third rug in the middle of the bathroom.
What materials are the bathroom rugs made of?
Bathroom rugs can be constructed from nylon, cotton, polyester, bamboo, and chenille. The most common bathroom rug material is cotton.
Meanwhile, the most durable is polyester, which is ideal for high traffic. Nylon is also durable and good for non-slip.
Bamboo rugs are affordable and attractive. And the chenille is very porous, which is best for those bathrooms that are always wet.
Conclusion
The color of your bathroom rug can make your bathroom homey and appealing. It also creates a perception of your bathroom.
To help you choose the right shade to compliment the space of the room, consider the tips above on how to choose bathroom rug color.
Also, make sure you clean your bathroom rugs often to prevent molds and mildew from growing in your bathroom.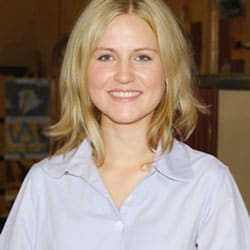 Hi, I am Roseanne Jones, an aspiring home designer that wants to make you feel more at home with your new house.With nearly five years of redecorating old residents and arranging new ones, I am confident that I can give you the best advice on your lovely place.