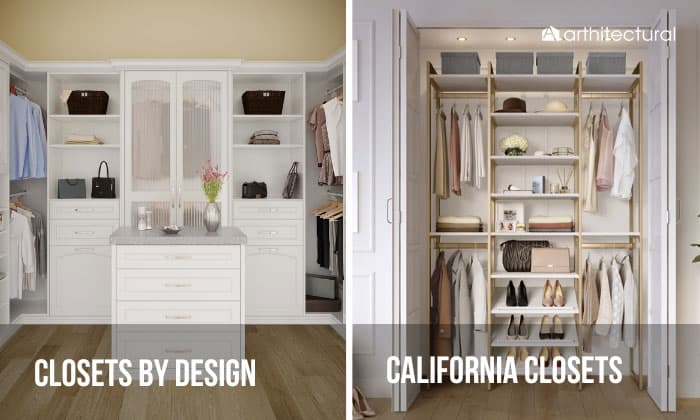 If you've ever searched for reviews of the best closet design companies, chances are you'll come across two brands—Closets By Design vs California Closets.
While you can say that these two companies are functionally the same – helping you to remodel and reorganize your closet, they also differ in many ways, such as style collection, options for customization, price range, etc.
So, which is better California Closets or Closets By Design? Read and find out!
Closet By Design
California Closets
Founding year
1982
1978
Number of locations
60
155
Style collections

Everyday
Classic
Regency
Brio

Modern
Contemporary
Transitional
Traditional
Luxe
All White

Finish collections

Solid Colors
Wood Grains
Textured

Classic White
CC Lux Mattte
CC Specialty™
CC Wood Grain™

Cost per linear foot
$150 to $400
$175 to $350
Warranty
Lifetime warranty for installation and materials
Lifetime warranty for installation and materials
What Are They?
1. California Closet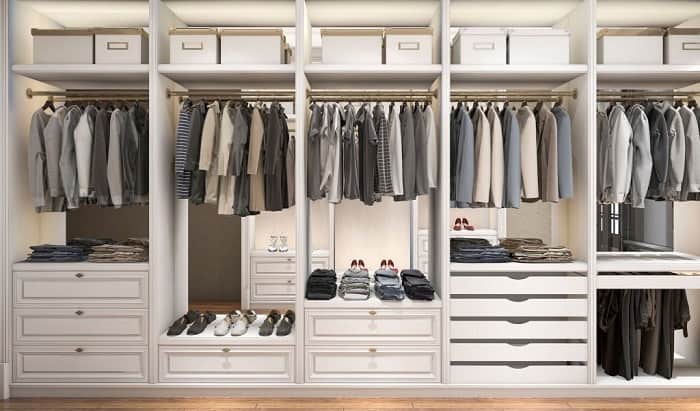 Founded in 1978, California Closet is a company dedicated to top-tier space management and custom closets. It covers a wide range of niches, such as reach-in, walk-in, wardrobe, and kids' closets for bedrooms.
The company also offers storage solutions for other areas of the house, like the workplace, living room, garage, and kitchen pantry.
At the time of writing, California Closet has over 100 locations all over the world. It is a subsidiary of one of the biggest property service providers in the field, as far as North America is concerned.
2. Closets By Design
Compared to California Closet, Closets By Design was founded a little later — in 1982. The company's focus is also on space management, providing space optimization and custom closets for various rooms around the house.
As of now, Closet By Design only has 60 locations, most of which are in the US. Some exceptions include outlets in Toronto and Vancouver, Canada.
California Closets Vs Closets by Design – a Detailed Comparison
1. Style collections
Style-wise, California Closets offers 6 options:
Modern: easily identifiable with its neutral color scheme and minimalist styles. It features clean lines and rich wood hues, which are complemented by aluminum accents.
Contemporary: also following a minimalist style, the Contemporary collection stands out with its European-inspired Virtuoso scheme. One key feature of this style is its dramatic lighting and glossy door exteriors.
Transitional: a great choice for people who love neutral with warm accents, this style features Fascia molding and Shaker-style doors. As for the drawer inserts, they can be made of either glass or resin.
Traditional: what's noticeable about this style is its conservative color scheme, featuring hues such as dark gray, white, black, dark brown, and indigo blue. The closets are designed with Fascia molding, traditional-styled doors, and unique hardware.
Luxe: with its unique hardware, metal accents, and leather surfaces, this style is ideal for people who love a sense of luxury in their homes. It also relies on artificial lighting to improve functionality and glamor notes.
All White: as is indicated in the name, this design style utilizes mainly white and metallic accents for a pristine monochromatic scheme. Similar to the Luxe collection, it calls for lighting to accentuate the aesthetics.
As for Closet By Design, it has four collections:
Everyday: this style is as simple as it can get with its clean lines and modern design. It calls for 0.75-inch-thick panels for an organized look that won't cost an arm and a leg.
Classic: similar to the Everyday collection, it features half overlay doors. However, instead of straight edges, the Classic style stands out with its soft edges and timeless elegance.
Regency: a symbol of sophistication, the Regency style is characterized by its dark wood hues, such as polished mahogany, rosewood dark red, or umber rust. The thick 1 ⅛" panels also add to the schemes' luxurious accents.
Brio: I'd recommend this style for anyone who wants luxurious wooden notes in their house without sacrificing real trees. Its increasing popularity is partly due to how it can fit into modern and traditional design schemes alike.
2. Finish collection
Truth to be told, California Closets is pretty diverse with its finish collection.
Classic White: White is either used as the main color scheme or accent hues.
CC Lux Matte: Its creamy-toned surfaces don't scratch or smudge easily. Available options include Deep Pond, Morning Light, Dove, and Cinder.
CC Specialty™: The brand's trademark finishes that mimic items such as linen. Four options are available: Bianco, Shadow Black, Washed White, and Linen.
CC Wood Grain™: These finishes allow your furniture to resemble real wood materials. You can pick among Natural, Misty Orchard, Grigio, Quiet Grove, Cool Avenue, Ash, and Siena.
Closet By Design, meanwhile, only has three finish collections: Solid Colors, Wood Grains, and Textured.
3. Custom variety
Both Closets By Design and California Closets offer options for customization. This means they will measure your space and take into account what you want to store. Only then will the companies move on to discussing what styles or details you'd want.
If choosing California Closet, aside from the style and finish collections, you'd get to customize your storage areas by picking accessories, decorative hardware, lighting, doors, and drawers. Just note that these will bump up your bill.
Closet By Design also lets you handpick design elements, such as the styles for doors/drawers and handles/knobs. By upgrading the colors and design, you'll also increase the Closets By Design cost.
4. Cost and affordability
Is Closets By Design expensive?
Compared to California Closets cost, Closets By Design price is more expensive, but not by much. Its walk-in and reach-in closet has a price range of $150 to $400 per linear foot, while California Closets price caps at $350.
Just note that these are rough estimates without any added features taken into consideration. These two companies cater to individual needs, so the pricing will ultimately depend on how you customize your storage space.
With personalization and installation, average cost California Closets is $1500-$5000, although something like a Level 4 closet can have a starting cost of $11,000. As for Closet By Design pricing, the range is around $1000 to $50,000.
If the high cost puts you off, you can consider some cheaper alternative to California Closets and Closets By Design. For instance, ClosetMaid, EasyClosets, and Elfa Closet all let you design your storage space without breaking the bank.
5. Warranty
For customized closets, the two companies share a similar warranty policy, which covers any flaws in material and installation. However, damages stemming from customers' handling or worn-out signs from long years of usage are not parts of the policy.
6. Pros and cons
 
Pros
Cons
California Closets

Allow customization
Up to 6 style collections
4 diverse finish collections
Let you pick accessories, decorative hardware, lighting, doors, and drawers
More than 100 outlets around the world
Lifetime warranty for installation and materials

Closet By Designs

Customized storage space
4 style collections
3 finish styles
Let you select styles for doors/drawers and handles/knobs
Lifetime warranty for installation and materials

Expensive
Fewer outlets and mostly US-based
Tips to Choose a Suitable Closet for Your Home
Whether buying ready-made or custom closets, here are some tips to help you choose the best one:
Determine how much free space you have. If possible, go for closets that reach all the way to the ceiling to maximize storage space.
Your closet's style should not clash with the pre-existing interior design.
The closet should cater to your personal habit. This means its layout should allow you to easily reach items you use most frequently.
Don't overlook closet doors. You can choose whichever one you like, but remember that certain designs, such as hinged ones, will require clearance.
A built-in mirror will help you check your outfit before going out.
Your closet should have at least one hanging rail, shelf, and drawer.
The closet must be resistant to mold and mildew.
Frequently Asked Questions or Helpful tips
Who does the best custom closets?
Both California Closets and Closets By Design are fantastic when it comes to custom closets. They both take into account what you need to help you achieve your dream closets.
Other than that, you can go for EasyClosets if you want to customize and build your own wardrobe.
Which is better: Closet World or California Closets?
If I had to pick between California Closets and Closet World, I'd definitely choose the former for its better product quality, pricing, and customer service.
What are the best materials for a closet?
You definitely would never go wrong with melamine and wood as they're both beautiful without sacrificing durability. Between the two, melamine is more durable, affordable, and resistant to water, mold, and mildew.
Conclusion
I'm certain that after reading this Closets By Design vs California Closets comparison, you've already known which one you like better. Ultimately, I'd say that this is a matter of preference, as both companies offer excellent service with their premium storage space solutions.
If you're still sitting on the fence, try both companies' free consultant services—it'll definitely help you decide which one is a better fit for your home.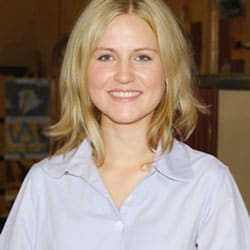 Hi, I am Roseanne Jones, an aspiring home designer that wants to make you feel more at home with your new house.With nearly five years of redecorating old residents and arranging new ones, I am confident that I can give you the best advice on your lovely place.