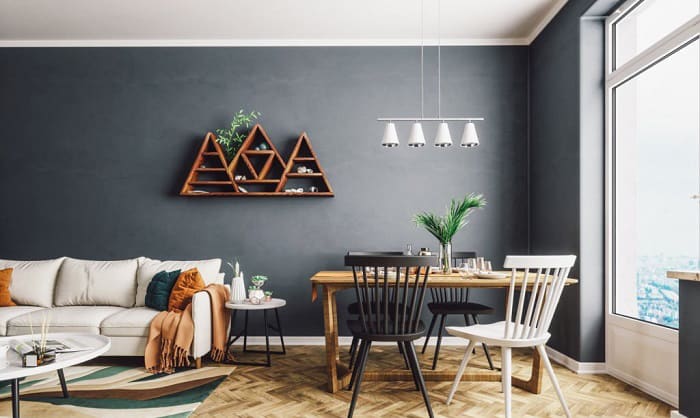 Charcoal Gray is a popular interior decor color. Its image is gradually changing from that of a boring dark color to a trendy, comfortable, and modern look. In a brilliantly colored space, a splash of charcoal gray can add contrast and weight. Furthermore, charcoal gray might also work nicely in a monochromatic atmosphere.
Charcoal Grey is indeed a stylish and convenient shade. White, yellow, rust orange, teal, blue, blush pink, and red are colors that go with charcoal gray.
Colors That Look Good With Charcoal Gray
Even though gray is considered neutral, it frequently has undertones that impact color temperature. Gray with brown or beige undertones seems warm, but gray with blue or green undertones appears cool.
On the other hand, Charcoal gray is a lovely color, yet it's dark enough to appear black in some conditions. Thus, it balances the temperature of a room.
Are you going all out with the charcoal gray? Here are a few colors that work well with it.
1. White
For a modern or minimalist look, white is a simple color to combine with charcoal gray. Because charcoal gray is so near to black, you may want to mix white with it to give an extra drama to your solid color.
Choose one of the colors to be the base color and use the other as the accent. It is because mixing two colors in the same amount might result in a jumbled mess.
For instance, choose charcoal gray as one of your furniture colors. Then, throw a modest splash of white, such as white pillows and blankets.
In the same way, you can also opt to pick charcoal gray as the color of your walls, then use white curtains on your windows. This will result in a minimalist yet stylish environment.
2. Yellow
The use of contrasting colors is always a good idea. Take, for example, yellow. It is a vibrant, enticing color that adds a pop of color to any surface.
You may be doubtful, but believe me when I say that charcoal gray is a good match for bright colors such as yellow. They appear to be different, yet when put together, they look fantastic.
Moreover, yellow is a good palette that goes well with charcoal gray. For example, a charcoal gray living room with accents of yellow produces a minimalist yet trendy ambiance in any area of the house.
3. Rust Orange
A charcoal grey or dark grey bedroom is popular these days because they provide a relaxing and pleasant effect while beautiful and stylish. On the other hand, combining it with warm tones like rust Orange offers a vintage and uplifting tone.
Warm tones are solid colors, and they look good with charcoal grey because of its vibrance and intensity, which stimulates a cheerful and welcoming environment.
Decorating and adding dashes of rust orange to your bedroom may also give it some sense of style. Also, although they are both solid colors, they complement each other well and create a soothing and restful ambiance.
4. Teal
In an area such as the living room, a combination of charcoal grey and Teal is particularly appealing. It has a natural appearance and gives off a fresh vibe.
This combo is also notable for its simple yet stylish look. This is the color combination you want to see after a long work day. As a result, mixing charcoal grey and Teal in a space may be a terrific way to create a relaxing environment.
Furthermore, Charcoal grey is a hue that balances Teal, making it look calmer rather than an intense color. The combination also creates a neutral atmosphere, which means you can add more designs and styles to your space.
5. Blue
As previously mentioned, the charcoal grey colour is an excellent match for lighter hues, giving a more subtle contrast than white. The color combination of charcoal grey and blue is always a match made in heaven. They are a perfect combo and look stunning together.
Placing blue bedding in a gray wall bedroom is one of the many ideas you can do to achieve a lovely mix of charcoal gray and blue. In doing so, it will provide a relaxing environment.
6. Blush pink
A dark charcoal paint colour will give your room a sophisticated and calm look if you like blush pink but don't want it to feel too clean and plain. Charcoal grey is strong and dark, whereas blush pink is light and lovely. This indicates that they are well-balanced despite their differences in shades.
If you enjoy stylish and pastel hues, this is the perfect color combination. Create a pair of blush pink chairs or couch for a dark grey house to add a pop of color while maintaining a chic and cozy vibe.
Related article: list of colors that match with pink.
7. Red
Depending on the particular shade chosen, different combinations of red and grey generate varied impressions. A primary red calls for a vibrant and alive atmosphere. But a deep red is radically different, making a strong and bold impression.
Charcoal grey and red may appear to be overpowering, because of their strong tints. But if the appropriate hues are chosen, the red can compliment the grey color and make it work.
It's a simple but effective method to make a space more vibrant and eye-catching, and it only takes a small amount of accent color.
Frequently Asked Questions
While we often think about using bright colors and straying from our preferred neutrals, charcoal gray is still one of the best choices to pick.
We'll look at some of the most frequently asked questions regarding charcoal gray.
Is charcoal gray a warm color or a cool color?
The distinction between warm and cool charcoal gray is one of the concerns of many. Warm grays have yellow, red, or brown undertones, whereas cool grays have blue, purple, or green undertones.
However, depending on the base hue, charcoal gray can appear cool or warm, and when matched with a range of styles, it becomes a neutral tone.
Charcoal gray can be used in several ways, depending on your preferences. For instance, you might love a charcoal grey dark grey bedroom with the right color combination.
What is the meaning of the color "charcoal"?
Gray is a classic and useful hue frequently related to negative impressions such as sadness and sorrow. However, the color charcoal gray evokes strength and elegance. Also, it shows a fashionable hue.
In other words, a charcoal gray color is not as strong as black and not as clean as white.
Is charcoal gray a decent choice for house interiors?
For your home's interiors, charcoal gray has a relaxing and beautiful impression. However, some interior designers believe that gray will go out of trend in the next few years.
To avoid an out-of-style interior, combine the charcoal gray with other hues, particularly those listed above. If you want to go with gray walls, choose a contrasting hue for your sofa, drapes, and other furniture.
As a result, charcoal is ideal for any home design. It's a versatile hue that works well in any modern setting.
What colors do not complement gray?
I'm pleased to say that practically every color looks well with charcoal gray. It's a tint that's equally as neutral as black or white. So, you can pair any color with charcoal gray.
However, avoid making chaos by mixing all different hues with charcoal gray in the same amount. The key to achieving a sophisticated appearance is to adjust and mix nicely. Choose a base color and then choose accent colors that match with charcoal gray.
This method can also be used to avoid an excessive amount of charcoal gray in an environment. Use blue, white, and a touch of green to keep a pleasing color scheme. Warm colors like pink, yellow, and orange can also create a lovely combination with charcoal gray.
Why is charcoal gray popular?
The color charcoal is ideal for house decor. It creates a relaxing environment and adds accent color to life by providing a neutral, minimal background. That's why this specific gray tint has recently become quite trendy.
Conclusion
A neutral hue like charcoal gray is ideal for your interior house designs. It blends well with colors such as blue, teal, yellow, white, red, blushes pink and rust orange. By following the rule of thumb in combining colors, you can create an elegant and beautiful atmosphere for your home.
You'll have no trouble establishing a warm and peaceful atmosphere for your interiors now that you know all the colors that go with charcoal gray.
Do you know other colors that go well with charcoal gray? Feel free to share it with us.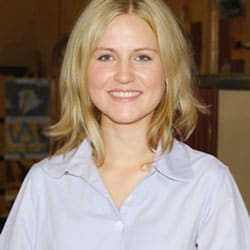 Hi, I am Roseanne Jones, an aspiring home designer that wants to make you feel more at home with your new house.With nearly five years of redecorating old residents and arranging new ones, I am confident that I can give you the best advice on your lovely place.