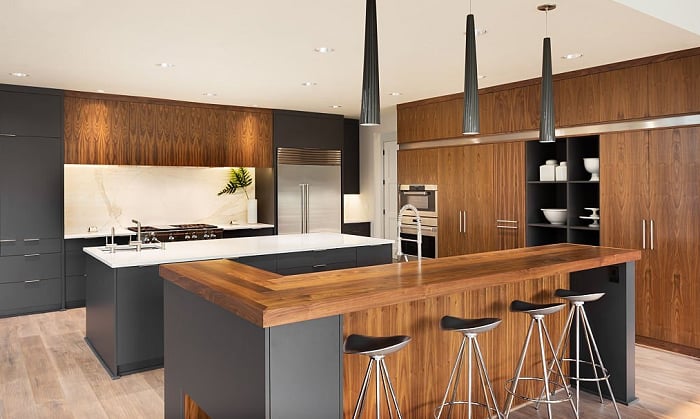 Maple wood often has strain streaks on its natural color, either a deep brown or a light reddish-brown on the whitish and yellow hue wood. Brown is classified as a neutral tone, which indicates you have a wide range of alternatives when selecting colors to compliment your maple woods.
But do you know the colors that go with maple wood? Indeed, many colors could be combined with maple wood color, but generally, it can be paired with any similar neutral colors such as pink, gray, and white and pastel colors like brown, blue or yellow.
Read on as we discuss what colors go with maple wood in detail.
Color Palette Colors Go With Maple Wood
Maple woods, specifically maple cabinets, have become a household trend in the 1990s, so it's no surprise that its classic look is making a big comeback nowadays.
With that, many of us contemplate between various popular kitchen paint colors with maple cabinets. Well, consider something light or soft to bring out the warmer feel of maple wood. If you want to establish a strong atmosphere, go for something brighter and more vibrant.
So, what color compliments maple cabinets? Here're your best options.
#1 Pure White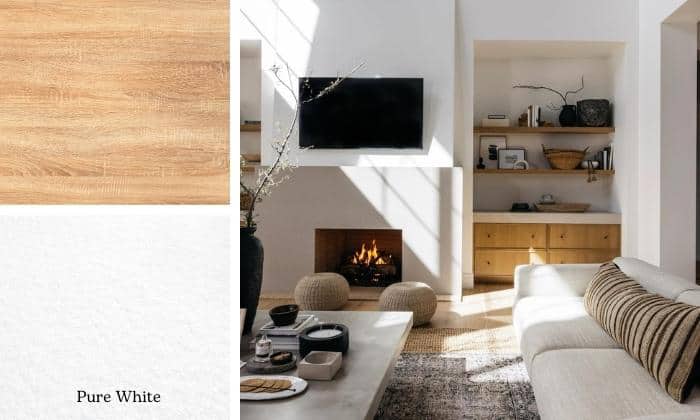 White works best with dark maple cabinets. When you use some white furniture or wall tiles with maple kitchen cabinets, you will fruitfully hit two birds with one stone: first, you will establish a balanced and cozy perfect blend, and second, you can make the place look more spacious.
Just keep in mind that white walls may appear to be sandy, creating a more homey look, but you will love it!
#2 Turquoise
A cool spring water-like shade sets up a soothing contrast to the warm honey color of the maple wood. It flawlessly emphasizes the consistency and harmony of modern homes.
You can minimally add gray or white accents or copper and bronze accessories to give it a natural and classy environment.
Read more: List of complementary colors to turquoise.
#3 Light Gray
To blend with your maple cabinets gray walls are one of the best options. A light gray with silver-gray undertones will give your kitchen a refreshing background that will complement the warm wood color of your maple cabinetry.
You can use accents such as decor items or titles with green or darker tones to enhance the overall look.
#4 Light Blue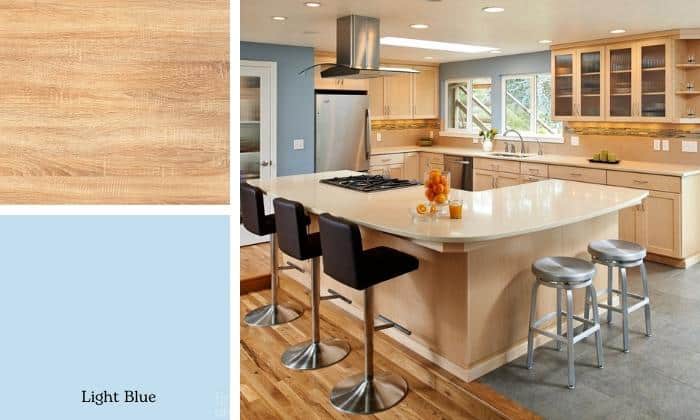 Are you into minimalism and a lover of a loft aesthetic? Finding a suitable background color for your maple cabinets may be more difficult than a soothing light blue with a striking gray undertone.
Therefore, light blue is one of the pleasant paint colors for kitchen with maple cabinets. Warm wood shades will establish a remarkably gentle color balance rather than contrast.
Just add stainless steel hardware and appliances, and experiment with a few black details, and you wouldn't be surprised if your kitchen is acknowledged as the sleekest among your friends.
#5 Pale Yellow
In Benjamin Moore's San Mateo Beaches palette, it is a naturally soft color with a striking sandy undertone.
If you are into the concept of a full look in your kitchen, you will most likely not overlook such a wall paint to pair with maple colors.
One benefit of this combination is that you can choose accessories in both cool and warm colors, depending on your kitchen's color palette.
#6 Mint green
To many's surprises, green in different shades can go well with maple wood, creating a rather nice contrast with the warm wooden color. So besides bright green, mint green can be a good pick.
Also, this color flooring goes with maple cabinets.
Many of us contemplate various popular kitchen paint colors with maple cabinets. Consider something light or soft to bring out the warmer feel of maple wood. If you want to establish a strong atmosphere, go for something brighter and more vibrant.
#7 Dark blue
If you may have noticed, we have primarily discussed light colors of paint so far as a background for maple woods. This is not to say that the dark color scheme should be overlooked.
Wall paint colors for light maple are usually dark ones. Thus, an actual dark blue color, for example, will produce an amazingly elite and wealthy counterpoint with light and warm wood tones.
This is the perfect way to turn your kitchen homey while also looking pretty elegant.
#8 Black
If you want to achieve a daring and sophisticated look, you can never go wrong with black.
With the perfect stain on your maple cabinets, the appropriate stone, and the proper finish on the rim of your countertop, it can match up well with a woodsy or classical design.
If your maple cabinets are dark, consider how dark a black backsplash can create the room's look. It would help if you had better lighting to complement that out.
As you find the right hue of black, this is one of the best colors that match with maple wood.
#9 Desert Tan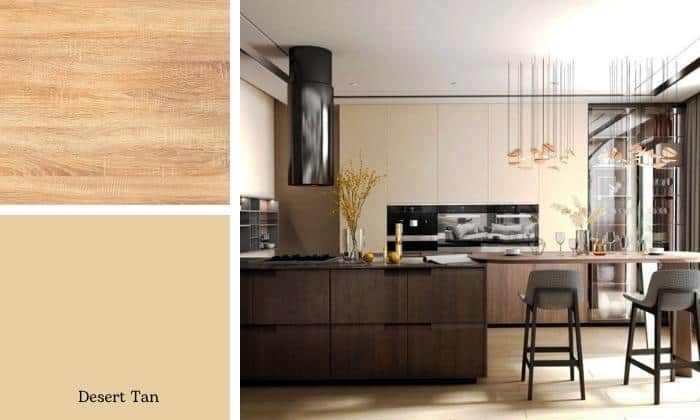 Desert Tan is a light brown color with hot yellow undertones. Many people believe that this color is best suited for maple kitchen furniture because it is close to the natural wood color while also being deeper, more refined, and warming.
This wall paint is ideal for making a kitchen with such a cabinet look intact and harmonious.
#10 Pastel Pink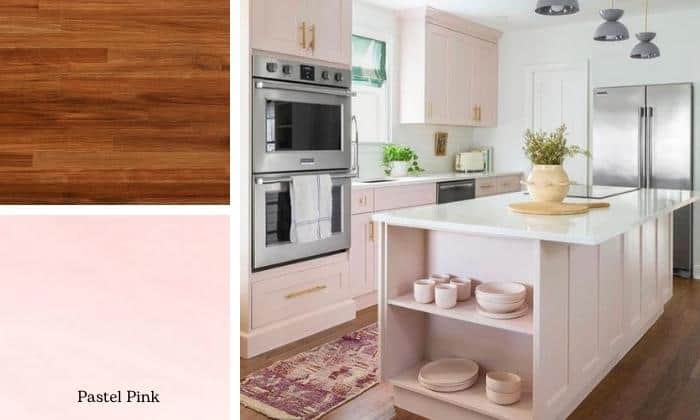 A gently cool and warmly light pink will favorably enhance the same reflections in the vague color of the maple wood, giving the place an even more contemporary feel.
In this case, the designers propose going as far into a coldish color scheme as possible, complementing the combination of the pastel pink background with your maple furniture.
Tips for Choosing the Right Colors
There are numerous complimentary paint colors with maple trims and maple cabinets, but choosing the right one can bring out the tone of the maple wood color.
Tip 1: Know the undertone of your maple wood
The overall color palette of maple wood ranges from rich, bluish browns or dark reddish to muted orange or brighter yellow tints. Knowing the wood's undertone can help you choose the best suitable base color that will enhance your maple cabinet.
When selecting the base color, consider the dominant color in the trim, wood fixtures, or built-ins.
Tip 2: Understand the color and its visual aesthetics
When choosing a color palette for a culinary interior with wood fixtures, you must first know how the color wheel works because it will help you to consider whether the wood is blue or yellow-based.
You can then choose complementary or similar colors from the color wheel to contrast the wood color. Natural maple with yellow highlights, for example, would look great with brighter colors.
A color scheme from the blue side of the color wheel with such a green undertone, on the other hand, will provide a daring, contrasting impact.
Tip 3: Show your style
Color schemes for your kitchen are a subtle way of expressing your personality, so match your kitchen color schemes with maple cabinets that best compliments your style.
Remember to start with contrasts, like pairing something light with something dark when choosing your color range. Consider adding something vibrant to your room to add energy and color.
Where do you want these colors to go?
If you prefer light-colored walls, add color to your accessories, furnishings, and rugs. Make sure your colors, particularly the stronger ones, are sharp, and the lines are smooth. Gentler, neutral shades must be considered if your style is more modest.
Frequently Asked Questions
Before we end this post, let's answer some of the most frequently asked questions about maple woods briefly.
Is wood flooring complementing maple cabinets?
Yes, natural hardwood floors compliment maple cabinets, as well as adding hardwoods in darker shades can add depth to your kitchen.
Choose painted or stained hardwoods such as oak and hickory in the brown spectrum for a more sophisticated look.
Choosing hardwood floors that suit the cabinets and those with neutral or darker undertones are all good choices for maple cabinets.
What counterpart's color goes best with maple cabinets?
Always go for neutrals if you want to achieve a simple yet classy vibe in your kitchen. White, black, and gray are your best options.
But if you want to go for a strong and playful statement, don't be hesitant to choose bright colors.
Regardless, the kitchen is the heart of your home, so choose what best describes your personality and stick to your maple kitchen cabinet ideas.
Conclusion
There is no one-size-fits-all answer to picking wall colors that go with maple wood. It all depends on the motif of your room, your kitchen appliances, the vibe you want to achieve, and most importantly, your preference.
Paint Color for your home is a very personal choice, so trust your instincts and start making it a room you will enjoy.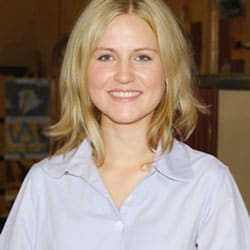 Hi, I am Roseanne Jones, an aspiring home designer that wants to make you feel more at home with your new house.With nearly five years of redecorating old residents and arranging new ones, I am confident that I can give you the best advice on your lovely place.