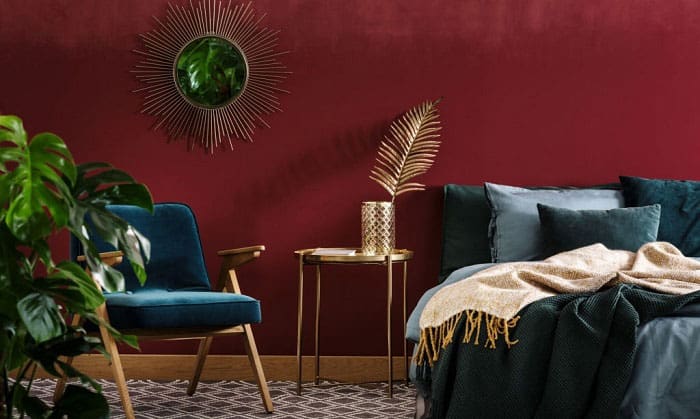 Generally, maroon is said to represent passion and conviction. Since it is a bright shade of red, it is thought to increase a person's strength. This hue is frequently used in restaurant decor, menus, and logos to enhance customers' hunger as well.
Furthermore, maroon has a variety of applications in home decoration and in fabrics. If you're wondering how to pair maroon with other colors, this article will show you ELEVEN finest colors that go with maroon and meaningful historical stories behind them. We will cover:
Colors That Look Good With Maroon
To guarantee that you balance maroon appropriately in a room, consider these 11 colors that match maroon perfectly with their appealing meaning listed below.
1. Maroon & Blue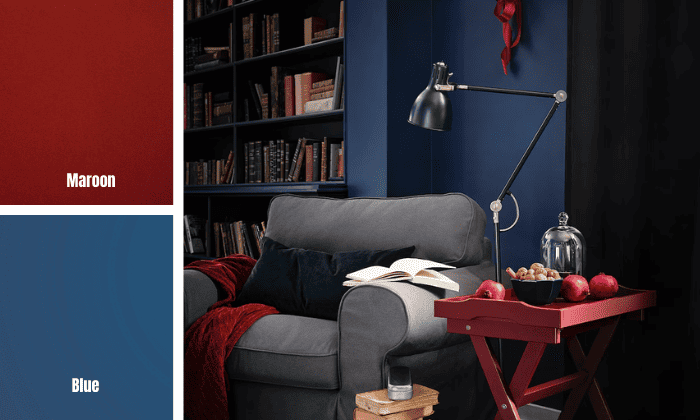 Blue is a shade that has long been connected with monarchy, art, military, economics, and nature, making it a versatile color. These colors mix well and may be utilized on the outside or inside of a structure.
In a room, maroon and blue look great together. Since maroon is a deep, dark hue, it should be paired with lighter or cooler tones like blue. For the basis of the space, choose a blue wall color. After that, you can add a couple of maroon accessories or soft furnishings such as beds, toss cushions, or carpets.
2. Maroon & Teal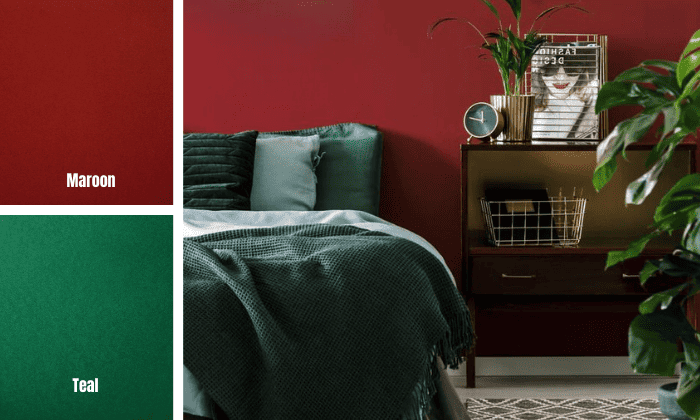 Similar to blue, teal color goes good with maroon. Teal mixes the relaxing aspects of blue with the energizing features of green. It is a reviving and invigorating hue that also denotes open communication and clarity of mind. Teal represents the eternity of the sea and sky to Buddhist monasteries, while it is the color of sincerity and trust to Egyptians.
As you know, teal contrasts effectively with brilliant white and coral, as well as cream, and pink. It also highlights metallic hues like silver and gold. Because of how flexible teal is, it can be a perfect choice for your maroon interior as well.
3. Maroon & Green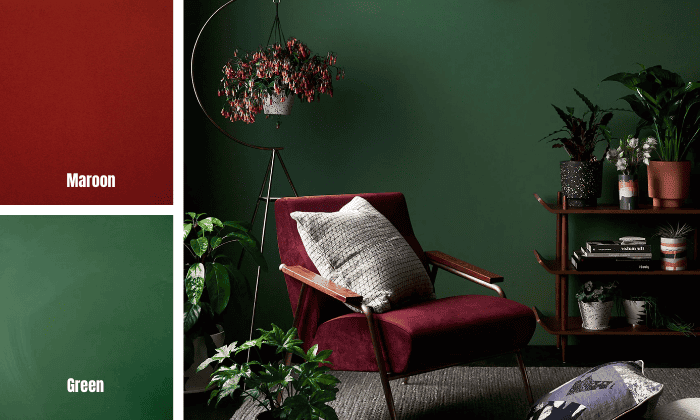 As maroon and green are complementary hues, they are frequently used together in traditional settings. Nevertheless, based on how they are paired and where they are used, this couple may also be seen in a more contemporary context.
When compared to lighter colors of green, bright green complements the depth of maroon ideally. Additionally, a neutral hue or gold accent provides a little liveliness. This beautifully separates the heaviness of the maroon and green pairings.
Also read: Top 10 colors that compliment sage green.
4. Maroon & Purple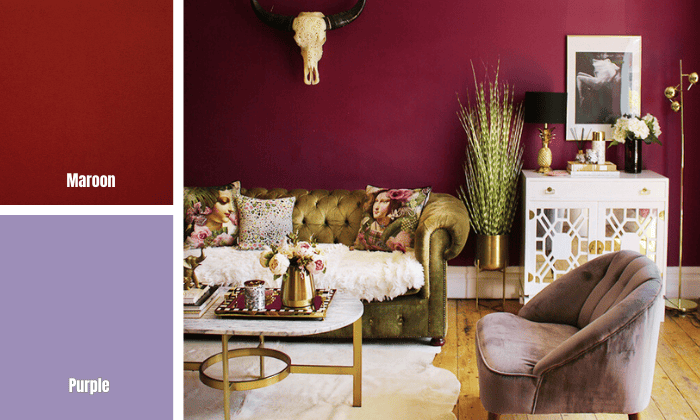 Purple is a color that combines blue and red, and hence falls between the two on the color wheel. Purple can be in many different tones based on the proportions of the two fundamental colors, such as violet and amethyst.
It is generally connected with monarchy and elegance and symbolizes a mysterious or spiritual character. Darker colors are frequently associated with richness or wealth, whereas lighter colors are more romantic, tender, and even nostalgic.
These two hues are a bold combo since they are both dark and brilliant. Having said that, they work nicely together since maroon seems to have a slight purple undertone. Maroon and purple color schemes are great for designing your home, weddings, hairstyle, and even nails.
5. Maroon & Pink
These two tones are for the daring trendsetters who are eager to break all the norms. These combinations are bold, and when matched, they create a powerful and feminine appearance that is trendy and unique.
Alternatively, if you want to soften the tone, mix maroon with light or pastel pink. This is a fantastic choice, especially for interior design. Although they both seem to be strong colors, the pink color matches maroon nicely. Set up maroon curtains and complement them with a pastel pink accent carpet or throw cushions.
6. Maroon & Red
Red is an opulent shade with an even more rich background. As mentioned above, red is associated with strong emotions ranging from passion, devotion, risk, or warmth to love, passion, and desire.
Because they are in the same color palette, it is smart to choose brighter colors such as red to contrast the depth of maroon. Maroon and red are found combined in designs like classic carpet patterns. Oriental carpets provide an excellent basis for both traditional and more modern environments. If you want to bring color and depth to more neutral areas, use a rug with both more intense reds and maroon.
7. Maroon & Gold
The color gold, named for the noble item, is associated with wealth, prosperity, accomplishment, and victory. It is also connected with monarchy, richness, and money. Gold may also be welcoming and playful depending on how it is applied and which colors it is paired with—for example, maroon or burgundy.
When it comes to home decorating, this is one of the most dazzling artworks. Because these two hues are both bright and warm, a neutral color would be the ideal choice to calm them down. Use gold for your essential equipment and lights, then a splash of maroon for your soft furnishings. Next, add some more white or beige throw pillows if you want. Finally, you can enjoy a perfect royal design.
8. Maroon & White
Another color that compliments maroon is white. This is an achromatic color, which means it is a color without any shade. It has long been a part of painting, culture, and tradition. White is a sign of virtue, spirituality, purity, and respect. It is the traditional hue of bridal garments in Western civilizations, representing purity and innocence. But in many Asian customs, white represents sadness, sorrow, and loss.
Maroon adds warmth and comfort to white, resulting in a harmonious combination. Bring maroon to your areas where white is dominating to add warmth and depth. You can also consider maroon mixes in cushions, blankets, and soft furnishings. This provides a clean and polished environment in the area while retaining the room's energy.
9. Maroon & Black
Black, similar to white, is an achromatic color with a lengthy history of use and significance that persists into the contemporary day. Throughout most of history, black has been identified with evil such as the underworld in Greek legend, sorrow, despair, and gloom. Nevertheless, in Ancient Egypt, it was associated with security and prosperity.
From time to time, the significance, application, and perception of black changed. Today, black is a symbol of elegance and minimalism. Both black and maroon have a lot of depth. You can use white for the wall, black for the gadgets, and maroon for smaller accessories to harmonize elegance and fashion.
10. Maroon & Grey
Gray is a color that combines black and white. It is timeless and flexible, making it an excellent match for a wide range of hues. As a result of its association with gloomy days, however, it is not the most cheerful color. Nevertheless, gray is frequently used in interior design to produce a modern and unique atmosphere.
Maroon, like bright color, pairs nicely with gray, which is a neutral cooler tone. This is because the stronger tones in maroon are beautifully matched by deep hues like grey. For a splash of color, add maroon elements like side tables and throw cushions to your rooms with charcoal gray or furniture. Last but not least, grey is one of the best maroon colors that go with burgundy thanks to its deep tone like maroon.
11. Maroon & Brown
Although most people don't like brown, it is a shade that may be seen in both nature and daily life. Brown dominates the environment in all of its diverse tones, from human eyes to the bark of trees. Several people enjoy the comfort in the elegance of brown thanks to its all-natural and earthy feeling. It also complements every hue, including maroon, because we can see in the wide variety of colors found in the flowers and plants around the planet.
As a relatively warm color, brown often combines nicely with all colors, making it a safe option. For example, you can place a brown couch in any living room. In addition to being a shade that goes with almost every other color, brown exudes a calm and sophisticated vibe.
Maroon Colors Definition
Maroon is a reddish crimson hue derived from the French word marron, which means "chestnut." One of the French equivalents for "brown" is "marron." There are several definitions of the color maroon according to various dictionaries. With its rich red tone, maroon might sometimes appear close to brown.
Maroon is often confused with the color burgundy even though they are created from two quite distinct color combinations. While they both have red, they are distinguished by various follow-up hues: maroon being a mixture of red and brown and burgundy being a blend of red and purple. Take a look at this picture to see how burgundy looks.
1. The Significance Of Maroon
Before choosing what colors go well with maroon for your home interior, let's take a look at their meaning first. There are 5 common beliefs about this shade listed below.
1. Passion and energy
Maroon is a red tone that is linked with ferocity. Red can be associated with passion, affection, aggression, power, and threat. However, due to its more subdued tone, maroon is less likely to generate a strong impression.
2. Embrace and affection
When people are in the atmosphere of maroon, they tend to feel protected. This lovely color embraces everyone and does not accept intolerance. If something is missing in your life, the maroon color can help encourage you to find or get it back. You'll undoubtedly benefit from the warmth that this color generates.
3. Peaceful atmosphere
Maroon might evoke sentiments of spirituality, intelligence, or tranquility because of its relationship with Buddhism. Besides, this color is related to the cooler months, as leaves can turn maroon once the seasons shift.
4. Festival symbol
Maroon is a popular color for many important occasions, like Christmas and Valentine's Day. At Xmas time, maroon can be used to symbolize Christ's blood. It is an innately romantic hue, so it's no surprise that it's associated with Valentine's Day. Thanksgiving is also identified with maroon because it highlights the harvest spirit that Thanksgiving is famous for.
5. Contemporary impression
The last meaning of this color is its modern attraction. Hence, you can use maroon to create a sophisticated look or vibe. Maroon is regarded as a powerful and competent color because of its deep shade. It lends a classy feel to any area. While the color maroon is popular among adults, it is not too attractive to youngsters.
2. How to Mix and Match Maroon in Interior Design
Maroon is a wonderful choice for walls in places that need to be warm and inviting, such as a lounge or dining area. To stimulate hunger, business owners usually add maroon accessories in the kitchen or their dining area. Furthermore, to bring a stunning contrast to your kitchen cupboards, maroon paint is used instead of white or black.
Maroon is frequently seen in ancient carpets, which have been integrated into both traditional and contemporary environments. You can also bring some maroon accent pillows and blankets to give an impressive appeal and comfort when your room is in a neutral environment.
Take a look at this short video to get a better idea of your maroon home layout.
Conclusion
Maroon is classified as one of the more distinctive tones with an immensely strong personality. Its positive characteristics are gentleness, ambition, and inspiration.
You've probably learned about the numerous colors that go well with maroon and their meaning via this post. Was this content on colors that go with maroon useful? If yes, please leave your views in the comments and share them with your friends and family.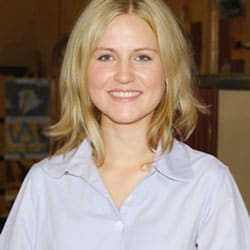 Hi, I am Roseanne Jones, an aspiring home designer that wants to make you feel more at home with your new house.With nearly five years of redecorating old residents and arranging new ones, I am confident that I can give you the best advice on your lovely place.