In today's hectic lifestyle, sage green brings about a sense of tranquility that not many colors can mimic. Perhaps due to this serene quality, sage green has taken the world of interior design by storm.
However, this calming effect can be ruined if you pair sage green with the wrong shade. This is why it's of utmost importance that you pick colors that go with sage green. Keep on reading to find out the TEN best sage green color combos for your house.
Ten Beautiful Colors That Match With Sage Green
Depending on the shade of sage green, you can pick a corresponding color to match. Thanks to its neutral nature, you can incorporate sage green into virtually any style, including minimalism, nature-oriented design, or Scandinavian schemes.
1. Traditional Sage Green And Light Shades Of Grey
Sage green and grey is a perfect color combination that offers a sense of calmness and gentleness. No matter what light shade of grey you're going for, it's still guaranteed to let the calming green shine, thus ensuring that your place is anything but dull.
One of the best ways to utilize this charming combo is to apply it to a kitchen color scheme. By pairing pale gray walls with silvery green cabinetry, you'll turn your kitchen into a warm and welcoming space that looks clean and tidy.
2. Rustic Sage Green And Honey Yellow
Yellow, a color of sun-kissed beaches and bright summer, is one of the best sage green complementary colors. It balances sage green's coolness and lends an exhilarating vibrancy that will immediately elevate the room's ambiance.
If you feel this color palette is a bit too bold, you'll find that a pure white ceiling and light wood floor can soften the combination. Another way to subtly combine sage green and yellow is by opting for decorations made from copper, brass, or gold.
For example, in a living room with sage green walls, a table with brass frames is usually enough to offer a glamorous flair. Likewise, a golden-finished bed frame can instantly add luxury and charm to the bedroom without overwhelming the green sage.
3. Silvery Sage Green And Muted Red
For a striking focal point, combine muted red and sage green. When paired together, these two contrast colors create an exciting dynamic that livens up the room. The marriage between these hues is indeed an embodiment of sophistication and style.
In most cases, it's best to pick red furniture in contrast to sage green walls and let the color pops speak for themselves. Painting the room with both red and green can be a recipe for a color clash and steal away the highlights of the space.
4. Deep Sage Green And Wood Colors
Sage green is a color of nature and harmony, so it only makes sense to blend in some wood tones for an earthy vibe. Regardless of what your home's design is, be it traditional or contemporary, you can't go wrong with this timeless sage green color combo.
In general, most earthy tones match with sage green, which means you can add some clay pots or stone statues alongside the wooden furniture to enhance the aesthetics. It's also not a bad idea to throw in a sage green area rug or some greenery for extra effects.
Read more: Top 10 colors go well with maple woods.
5. Light Sage Green And Warm Terra Cotta
Admittedly, terracotta is often not the first thing anyone will think of at the mention of warm colors. Nonetheless, it still possesses an earthy warmth that makes the green more soothing. It's a simple but effective combo that works in almost any room.
Suffice to say, sage green and terracotta can make you feel like you're one with nature. A bedroom with this color scheme and an additional splash of dark brown is a superb place to get away from the hustle and bustle of life, especially on rainy days.
Light sage green and terracotta also belong in the kitchen. The rustic look of terracotta flooring contrasts nicely with the modern flair of sage green cabinets. If possible, select slick black countertops for a bold fashion statement.
6. Verdant Sage Green And Pink
One thing I like about pink is that any shade of pink can look good with sage green. To be more specific, pairing sage green with hot pink will result in a softer and more feminine look, whereas the verdant green can lend some warmth to lighter pastel pink.
To make this look work, you should opt for saturated sage green, which appears whimsical yet calming when placed beside the pink. Apply this to a bedroom or living room, where you can easily incorporate velvet or brushed brass for a glamorous space.
Also read: Color ideas for pink and green.
7. Pastel Sage Green And Onyx Black
A prominent combination such as sage green and black is exactly what you need to give a space personality and an industrial glamour. Even only a sprinkle of black against the grayish-green can proudly put the modern flair on display.
Accent colors such as black act as a backdrop so that the star, sage green, can draw the attention of the beholder. As eye-catching as this pairing is, it never gets overwhelming. Instead, its laid-back charm is so therapeutic it'll put you right at ease.
Those who seek to integrate a homely vibe into their interiors might want to include some wooden furniture. A cozy fireplace, for instance, is a fantastic centerpiece to this trendy sage green and black combo.
8. Vibrant Sage Green And Pure White
When you're unsure as to what colors go with sage green, white would be an attractive option. A color closely associated with innocence and enlightenment, white evokes a high contrast to the sage green, making the interiors look lighter and brighter.
With this classic color blend, there's no need to worry that the look will go out of style. White and sage green match so well that they exude a timeless aura, allowing you to combine the two colors seamlessly for an absolutely gorgeous living space.
9. Matte Sage Green And Twilight Orange
If you want to mix warm colors with sage green, orange is another viable option you shouldn't overlook. As orange is a color of enthusiasm and energy, it imparts an impression of levity and joy that can easily get you pumped up.
Another reason orange is among the top colors that compliment sage green is that it can smooth out sage green's somberness. In other words, orange is a flawless harmonization for anyone who feels that sage green is a tad too cool.
There are two main approaches to this color scheme. The first one is to sprinkle the occasional orange-shaded decorations for beautiful summery highlights. However, adventurous souls might prefer a fun tropical vibe by setting up orange as the main lead.
10. Pale Sage Green And Royal Blue
Luscious royal blue is the way to go when you want a sophisticated yet striking contrast to the pale sage green. Azure blue lightens up sage green in comparison. Its pleasant tones present an elegant and refined look that can surely draw people's eyes.
Similar to sage green, blue denotes calmness and tranquility. As blue symbolizes the open sky and the vast expanse of the sea, it'll bring nature and a sense of freedom to your home. This is why blue and green make such an impactful fusion.
Slipping some rose-colored details into this combo is a dazzling strategy to show off your quirkiness. Even with a hefty amount of pink, the scheme will still retain its fancy look while subtly giving visitors a glance at the house owner's personality and taste.
Conclusion
Although sage green possesses an undeniable allure, it might not be able to stand out on its own. Only when you pair it accordingly with colors that go with sage green can this beautiful shade flaunt its aesthetic appeal.
Have you found your favorite sage green complementary colors? I hope this post helps finalize your choice for a nice interior decor.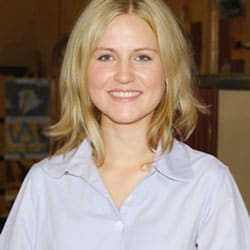 Hi, I am Roseanne Jones, an aspiring home designer that wants to make you feel more at home with your new house.With nearly five years of redecorating old residents and arranging new ones, I am confident that I can give you the best advice on your lovely place.