One of the easiest ways to bring a natural look and subtle warmth to your interior is by incorporating beige carpets. This timeless neutral can appear great in a wide range of color palettes, making it a foolproof choice in various house decor schemes.
There are certain colors that match beige carpet so perfectly that you'll wonder if they're born for each other. Here are the best wall paints and color furniture for beige carpet with pictures as examples.
Best Colour Schemes With Beige Carpet for a Harmonious Design
To achieve a harmonious color palette, you'll have to pay attention to both the furniture and wall paint. Allow me to walk you through what furnishings and color walls go with beige carpet.
Paint Color
1. Gray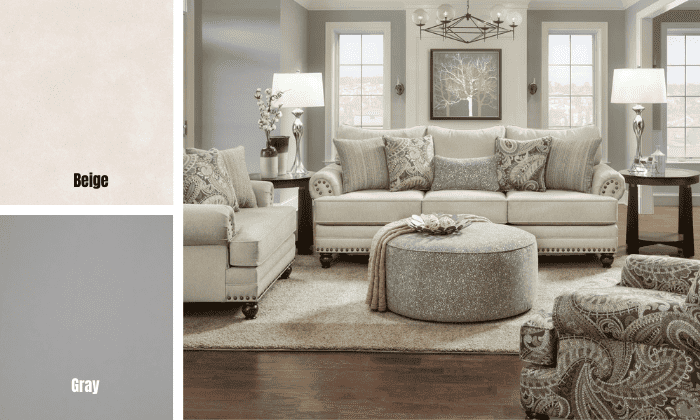 Contrary to popular belief, a color palette consisting of two neutral tones doesn't equal a bland room. Beige carpet grey walls are living proof of that, where the gray's crispiness uplifts the beige's warmer undertones, resulting in an open and inviting room.
Don't be afraid to blend bright accent colors to bring visual excitement to the room; they won't ruin your palette's cohesiveness. A navy blue wall decoration, for example, will add a lovely finishing touch to your neutral color scheme.
Earthy tones can help a room with beige carpet grey walls feel more grounded as well. Try placing a tan sofa in a living room with beige carpet to pull together a charming look.
2. White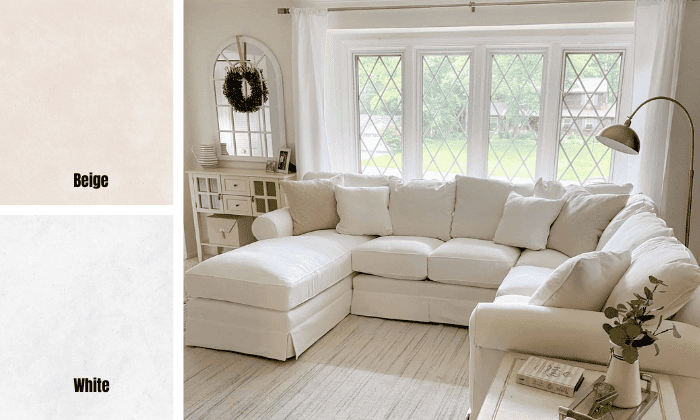 An excellent color for rooms with plenty of natural lights, white best complements darker beige carpets. The flood of sunbeams, crispy white walls, and minimalistic geometric decor are three necessary elements for a beige-carpeted room to feel lively and airy.
Nonetheless, it'd be better if you avoid the beige carpet white walls combination if your rug is on the lighter end of the spectrum. The indistinguishable tonal similarities might make the room's features seem vague and indistinct.
3. Green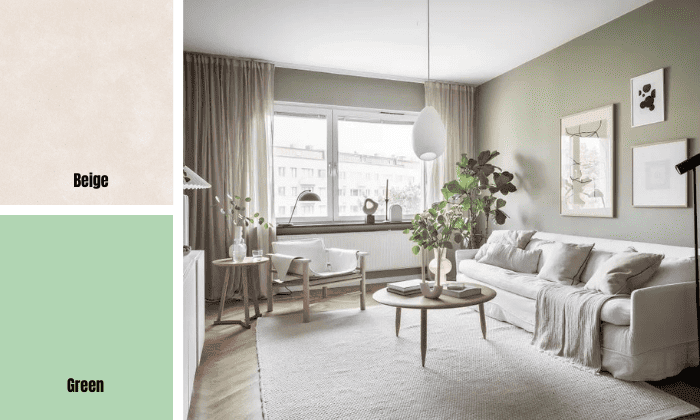 Light green is another fantastic beige carpet wall color you need to try out. Similar to light gray and white, green can lend a cool touch to contrast the warm undertones of beige carpets.
To accentuate the carpet and wall colour combinations, consider placing some plants around the room. It's also a good idea to fuse various shades of green to achieve a visually striking space.
You can further enhance this nature-oriented vibe by pairing green colour curtains with beige carpet. While jade and olive greens are the two most suitable shades for this forest theme, I don't see anything wrong with going for other hues.
4. Blue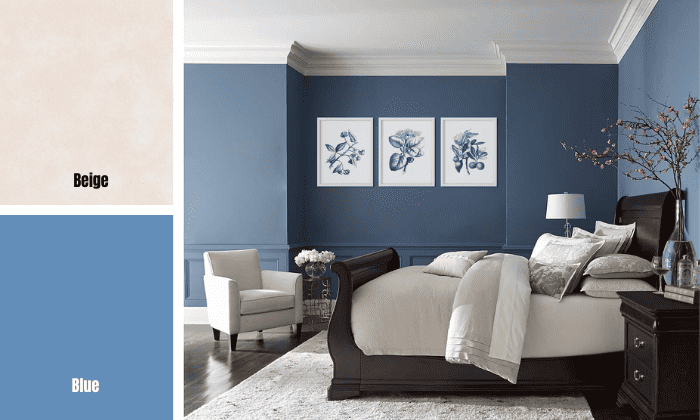 For cheerful color schemes with beige carpet, blue is your best choice. With its cool tones, blue offers a charming variance in your design. While not overly audacious, this vivid splash of color still stands out enough to be one of the must-try living room ideas.
To better decorate with beige carpet and blue walls, pepper in some pristine white furnishings. The vibrant pop of color against the cool blue and warm-neutral beige will keep your room from feeling dreary.
5. Pink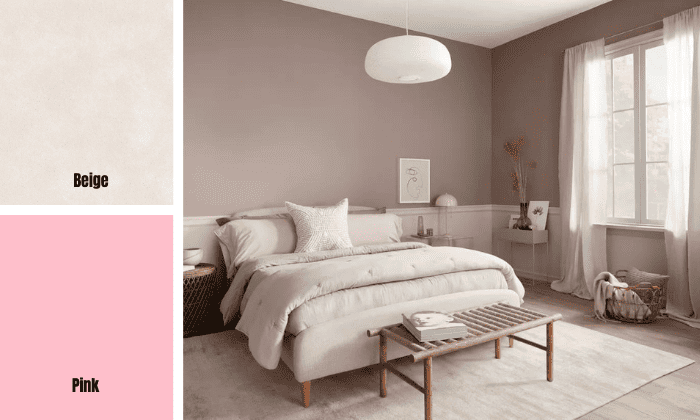 Considered by some to be a bold stylistic choice, pink offers a lovely feminine charm. The juxtaposition between the playful pink and more serious beige makes for an interesting dynamic you can't quite tear your eyes off.
The pink color paint goes with beige carpet best when there's a wood floor added to the mix. I also suggest melding various shades of pink accessories and furnishings to lend more depth and dimensions to the room.
Furniture Color
1. Brown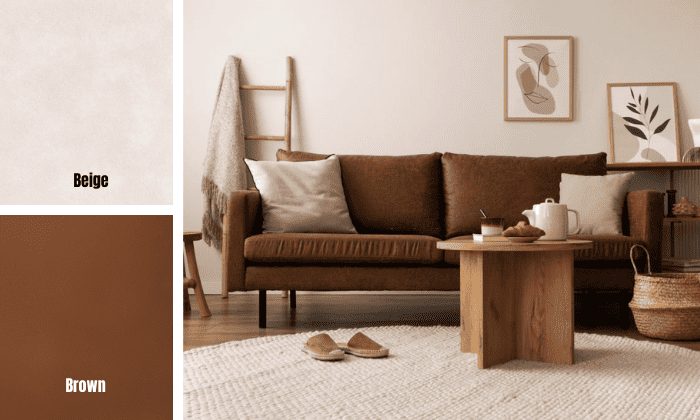 Let your beige carpet be a fun canvas for bolder-colored furniture. A rich brown couch will stand out against the lighter shade, yet at the same time, it ties together the color scheme. This results in a cohesive and inviting design that borderlines on perfection.
Brown is also one of the best colours curtains with beige carpets. Combine these two shades with wood furniture to bring a sense of coziness to bedrooms. However, in living rooms, it's better to sprinkle in some metallic accents to brighten the space up.
Should you feel this monochromatic approach is a bit too uninspiring, blend in some bright accent colors such as yellow throw pillows. Pastel blue is also a great choice of color, considering that it can tone down the browns' and beige's warmth.
2. Wicker Tones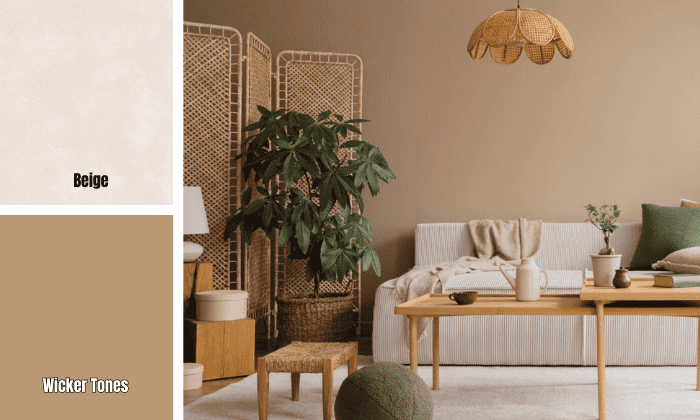 Wicker-toned and rattan furniture is a natural fit in beige-carpeted rooms with green curtains. Even with the curtains taken out of the equation, you'll still get a woodsy and down-to-earth living space.
Again, plants are a vital component here, especially if you decide to forgo the green curtains. Some lush indoor plants will help you nail the fun tropical look while providing the room with refreshing air.
3. White Furniture With Copper Accents And Beige Curtains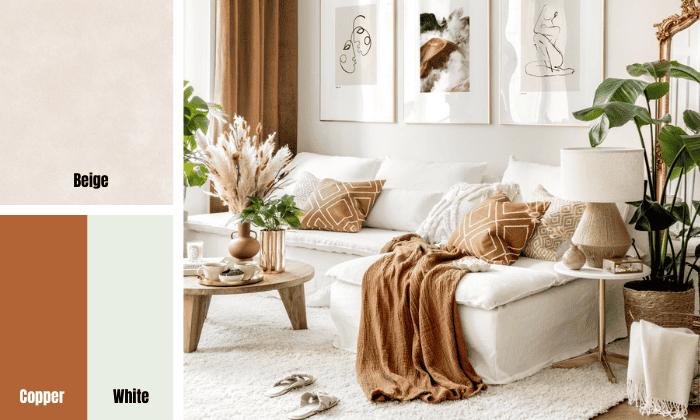 When all else doesn't seem quite right, white furniture is the most reasonable choice. This timeless color would be a beautiful addition to your room, guaranteeing that the space looks modern, bright, and aesthetically pleasing.
For this combination, I suggest opting for similar colours curtains with beige carpets for a uniform appearance. Don't forget to incorporate some dashing gold accents here and there to achieve that enviable luxurious color scheme.
However, if you prefer your interior design with a warmer shade, brown accents would be a worthy alternative. A few dark brown throw pillows will provide exciting aesthetic contrasts for some bold yet welcoming living room ideas.
4. Chartreuse
Chartreuse furnishings are a lovely option for those who are going for a warm and vibrant color scheme. Thanks to the lively pop of color and the ensuing natural vibes, the room will seem noticeably more cheerful and welcoming.
Other than the four colors mentioned above, there are notable alternatives such as black, gray, tan, and cream. Furnishings of these colors will all complement your beige carpet splendidly.
FAQs
What Effect Does A Beige Carpet Have On The Size Of A Room?
This mostly depends on what shade your beige carpet is:
Light-toned beige carpets give the illusion of space, thus allowing the room to seem bigger.
Darker beige carpets, especially those that seem borderline brown, ground the space and thus give the impression that the room is smaller and cozier.
Should The Carpet Be Darker Or Lighter Than The Walls?
Either is fine. Just ensure that there's a clear tonal distinction between the carpet and the wall to prevent your room from coming across as ill-defined.
A good rule of thumb to achieve optimal visual appeal is the carpet should be two shades either darker or lighter than the walls. The rest depends on your personal taste and what ambiance you want.
Other than how a carpet's shade can affect your room's size and feel, you might also want to consider your cleaning habits. If you don't sweep the floor or wash carpets often, go for dark beige to keep the stains and spills better hidden.
What Are Some Ways To Decorate A Room With Beige Carpet?
As beige is a neutral color, there are plenty of ways to go about decorating a room with this shade. Depending on what mood you want to set, possible approaches can range from bright neutral schemes to contrasting color coordination.
Add an area rug if you want to blend in more pops of color. It's also a great strategy to cover the barren floor between the carpet and the wall.
Bright-colored furniture can be a fantastic centerpiece to beige-carpeted rooms. It'll break up any monotony one might get from a neutral color palette.
Keep the room bright with proper lighting and colorful throw pillows (or accessories).
Wall molding or styled bookshelves with mesmerizing accessories make an impressive focal point for a visually compelling room.
What Colour Curtains Go With Beige Carpet?
White, gray, beige, and brown are the four best color curtains for beige carpets if you want a cohesive and neutral scheme. While the first three options evoke a crisp and bright room, brown curtains offer a charming coziness.
Bright-colored curtains are a seamless match with beige carpets as well. Lush green, light pink, twilight orange, and rich red are four complementary colors you should not overlook. Their clear contrast against the beige carpet is anything but boring.
Conclusion
While there are plenty of colors that match beige carpet, it takes close scrutiny to come up with a harmonious yet eye-catching color palette. Don't just pay attention to the wall paint—furniture and curtain colors are equally important too.
A good way to start planning out your color scheme is to decide on what vibe you want first and then go from there. As long as you have a clear view of what you want in mind, I'm certain you'll be happy with the results!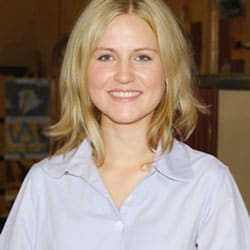 Hi, I am Roseanne Jones, an aspiring home designer that wants to make you feel more at home with your new house.With nearly five years of redecorating old residents and arranging new ones, I am confident that I can give you the best advice on your lovely place.