Glass doors are popular because they can complement any type of building, especially private properties. The natural lighting provided by the open space also makes cramped rooms look noticeably bigger.
However, glass doors may make you self-conscious and uncomfortable. And I'm certain no one likes to feel exposed and vulnerable within their own home. That's why we're going to talk about how to cover glass doors for privacy and learn more about it.
6 Ingenious Ideas to Improve Your Privacy for Glass Doors
Privacy is one of the essential aspects you need to consider for your home. It gives you a comforting and relaxing feeling – knowing that you are safe from prying eyes.
That's why glass doors may be a bit of a problem but luckily, every challenge has a solution. So, here are some glass door privacy options that will help you achieve that privacy you want which you may use as privacy ideas for glass front doors.
Since front doors are the main entrance of a house, let's find out more about some glass front door coverings that will help you decide what is best for your own home. Also, provide you with other front door-covering ideas to choose from.
Method 1: Painting glass door for privacy
Glass paint can also be used as front door covering ideas. Here's a guide on how to properly apply glass paint:
What to prepare:
Glass paint (acrylic enamel/solvent-based/paint recommended for glass)
Gloves
Paintbrush
Cloth
Soap
Applicator sponge
Sanding paper
Primer
Step 1: Clean the surface/glass
Wear gloves to avoid leaving fingerprints, then clean the glass with soap to remove dirt, grease, and dust. Wait a few minutes to dry then proceed to the next step.
Step 2: Sanding
Non-porous materials like glass may have difficulties retaining color. Scrub the glass with sandpaper so that paint can stick to the surface better.
Step 3: Spraying the Primer
By adding primer, it'll make sure the paint effectively stays and you can achieve better results.
Step 4: Painting the glass
Using your chosen pattern, trace it with your chosen paint and paintbrush. Depending on what kind of glass paint is, make sure to follow the instructions in the packaging to achieve the best result.
Step 5: Baking (Optional)
Some glass paint needs to be baked to achieve a good and durable finish on your glass. But you can also choose glass paint that doesn't need baking.
---
Method 2: Covering Glass Doors With Fabric
Since this is the most used and convenient to install, there are many ways and kinds of fabrics or curtains you can use as glass door cover ideas or privacy ideas for your glass front door.
Curtains are the most traditional covering that homeowners choose since they are easy to find and come in a wide variety of designs. There are also many types of curtains to look at, such as panel pairs, window scarves, single panels, or curtain liners.
While we're at it, here are some quick steps on how to install front door privacy curtains on your glass doors:
Step 1: Measure and Mark
Use a measuring tape to determine where to install the curtain rod.
A good rule of thumb is that the rod brackets need to be 4-6 inches above the door's top. Make sure the brackets are tall enough that the curtain will hover over the floor.
Likewise, leave a distance of 4 to 10 inches on each side of the frame, depending on how far you want to draw the curtains.
Step 2: Screw for curtain brackets
Place the brackets on the spots where you marked from the first step and mark again where the screws should be drilled later.
If the curtain rod is too long, an additional bracket in the middle will be necessary to support the weight.
Step 3: Install Curtain Brackets
If you can't find studs where your brackets would be, you'll need to drill drywall anchors into the wall first. Otherwise, you can skip this step.
Use a power drill to create pilot holes in the walls, then screw the brackets into place. However, don't tighten the screw just yet.
Step 4: Check Alignment
Make sure everything is aligned and balanced using a carpenter's level. After that, tighten the screws for your bracket.
Step 5: Add your curtain
Add the curtain to the rod and then place the bar onto the previously installed brackets.
---
Method 3: Glass Door Privacy Film
There are 6 types of privacy film you can choose from for your glass door:
Patterned Film: this may be a creative idea since you can customize the pattern you can apply to your glass door.
Frosted Glass Film: a popular choice in homes and offices since it can complement any space.
Architectural Film: can be used for both decoration and function since it blocks UV rays and looks good.
Textured and Gradient Film: very pleasant to the eyes due to the soft and gradient effect.
Perforated Vinyl Film: commonly used for commercial purposes (advertising, branding, and marketing).
---
Method 4: Glass Door Privacy Screen
Privacy screen doors may be a good choice if you want more security and fewer bugs coming in and out of your home. These are some different types of front door privacy screens.
Retractable screen doors
Security screen doors
Hinged screen doors
Magnetic screen doors
---
Method 5: Front Door Shutters
If you are looking for a simple and easily maintainable covering for your glass front door, this one is perfect for you. You can also easily customize the color with paint to match your idea or theme for your front door.
---
Method 6: Use door shades
You can always install one single shade to cover your glass doors, either classic top-down style or bottom-up pieces. Style-wise, there are also multiple types of shades to choose from:
Roman Shades – perfect for high ceiling houses but may be pricey.
Sheer Shades give off an elegant vibe and are perfect for a hotter climate.
Pleated Shades – an accordion style that can be used for illumination and darkening.
There you have it, an array of glass front door privacy solutions for your front door privacy problems. These options may also be applicable as sliding glass door privacy ideas also.
Frequently Asked Questions
How do you cover glass windows for privacy?
There are many ideas to cover door windows to choose from like draperies, window valance, beaded curtains, shades, blinds, window film, and window panels. These options are also applicable as back door window covering ideas.
How to cover glass cabinet doors?
There are 4 simple ways to cover glass cabinet doors; using window film, fabrics, wallpaper, and scrapbook paper. All you have to do is stick those behind the glass cabinet doors and you're all set up.
What can I put on my windows so I can see out but no one can see in?
There are two options for this:
Mirrored window film: it boasts reflective properties that make it impossible to see through from the outside.
Black window film: blocks the view from the outside completely but you can still see from the inside.
How can I cover a large window cheaply?
There are multiple affordable ways to cover your large window: fabric tie-up shades, paper pleat shades, fabric panels, matchstick blinds, fabric tie-up shades, window film, and used window treatments.
Conclusion
Regarding ideas on how to cover glass doors for privacy, always consider your preference and interior decor aesthetic. It's important to make sure the new glass door covers do not look out of place when compared to the rest of your decoration.
I hope that this article will be helpful. Feel free to share your results with me.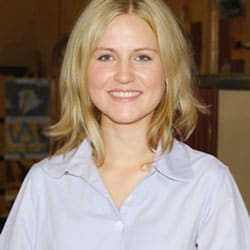 Hi, I am Roseanne Jones, an aspiring home designer that wants to make you feel more at home with your new house.With nearly five years of redecorating old residents and arranging new ones, I am confident that I can give you the best advice on your lovely place.