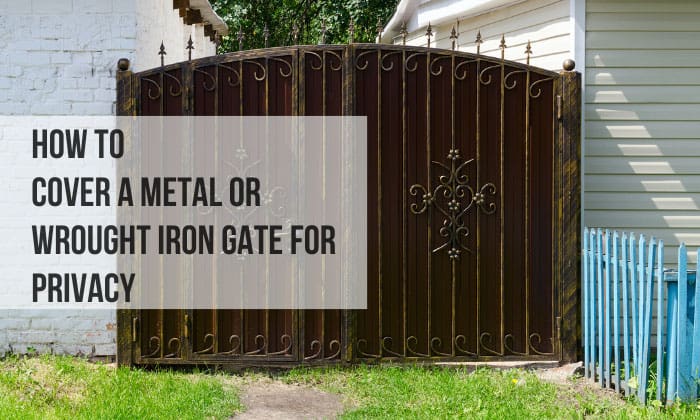 Metal or wrought iron gates are known to have a European-style look where the metals or the materials used are bent to create the final look.
Although these gates provide intricate visuals for the design of the house, security, and privacy issues might still arise – issues that this article can definitely help you with.
Worry less about your thought of needing to install a new gate because all you need to know is how to cover a metal or wrought iron gate for privacy. Embrace that style of yours as you learn in just a few minutes of reading!
Ways to Cover a Metal or Wrought Iron Gate for Privacy
Here are the different ways you might want to consider to cover a metal gate for privacy. You can choose the right type of screen or method of covering while building your gate.
Method 1: Cover with screens
Among the list of easy wrought iron fence privacy ideas, the use of screens is popular among people seeking to redecorate their homes.
You can attach fabric, mesh, bamboo, or corrugated metal sheets for the gate. Each type of screen has its own benefits, making them the most convenient choice for most homes.
Method 2: Use custom wooden plank
If you prefer wood finish fixtures in your home, this method of utilizing wooden planks for your iron gates will provide you with complementing exteriors.
However, this method can be more complicated compared to other gate-covering ideas. But since it provides aesthetics, privacy, and security, it's definitely worth considering.
Before installing, you can paint or stain the wood panel according to your preference.
After which, you can breeze through screwing or nailing the wood into the gate as long as the measurements are tailored to your gate's dimensions.
If you are not into screens, consider adding decorations instead.
One of the refreshing and trendy decorations nowadays is nature-themed decorations. It can also add vision privacy to your gate and provide an aesthetically pleasing and refreshing view!
01
Use live greens to cover up
If you have a green thumb or prefer something nature-themed on your property, then you can make a wrought iron fence private using natural plants.
There are several kinds of plants to choose from, so you may pick whichever suits your preference, knowledge, skills, location, and climate.
Common plants used to give privacy for the iron fence are climbing roses, privets, buckthorn, oleander, rockrose, cherry laurel, clematis, and wisteria vine.
02
Opt for faux/artificial plants
While the real ones are great options for covering your metal gate, only some have a green thumb for efficiently growing live plants. You can use artificial plants instead.
Although they are made out of plastic, they still give a picturesque touch to your gates; without the need to take care of and maintain all those shrubs and vines.
Unlike live plants that wither eventually, faux greens do not fade nor stain, given their plastic material. So longevity is guaranteed with this method.
What Kind of Privacy Screens to Use for Your Gate?
Of course, upgrading comes with varieties to match your preferences. Here are the typical kinds of privacy screens you might want to consider:
1. Fabric screen – There are available fabrics specifically intended for metal gates; and they come in various colors. So it's assured you can find one that complements your preference.
Furthermore, it provides vision privacy for people, and is very easy to install – especially for people who want to have iron gates with privacy screen immediately.
Make sure that the fabric screen you will purchase is durable enough for outdoor use. You can opt for synthetic fabrics made from high-density polyethylene (HDPE) materials for guaranteed long-term use.
Basically, all you have to do is to buy a fabric screen with the exact measurement as your gate and install it using zip ties without even uninstalling your gate.
2. Mesh screen – this type of screen is just like the fabric screen, except it uses a privacy mesh cover for the gate instead of a fabric cover. This is made of steel, aluminum, or plastic material.
The mesh screen would make the wrought iron fence more private due to its thicker material as compared to the fabric screen. It can also prevent foreign materials and tiny insects from entering the gate.
3. Metal screen – this is a screen that provides better security and privacy for the iron fence as it can make the gate more robust than its original version.
Installing metal gate covers is easy to do separately. Attach the metal sheets onto your gate and fence with the screws and brackets, and you're basically done. Corrugated metal panels are recommended since they are relatively cheap and easily accessible.
You can always refer to professional help to install metal privacy screens for gates.
4. Roll bamboo screens – Using bamboo rolls as cover for your wrought iron gate and fences can definitely help you take your gate aesthetics up a notch. This is another easy method to ensure privacy.
Bamboo is known for its strength and durability. So you are assured this is a long-term and cost-efficient investment for your home's privacy and aesthetics.
Start installing the bamboo screen by leaning the roll onto your gate and fence. Proceed to unroll and spread the bamboo to cover all parts you want.
While holding the unraveled bamboo roll against the fence, you may now drill and screw it in place. Make sure it is screwed securely.
Steps to Install Screens
What to prepare:
Sheets/panels (of your chosen material)
Zip ties (for mesh or farbic sheets)
Welding machine (for metal sheets)
Measuring tape
Here are more detailed steps when installing your wrought iron gate with privacy screens:
Step 1: Obtain gate measurements
When obtaining the gate measurements, the usage of a measuring tape or a metric tape would make your job a lot easier instead of using a meter stick or a ruler.
Make sure to measure all the way around, especially for those who have a double-sided gate.
Allow a little bit of allowance when measuring to ensure that it is not too tight so that it will still allow the gate to open easily, even when the screen is attached.
However, do not allow too much allowance as you would not want to waste too many materials.
Step 2: Spread out the screen
Unroll the screen and spread it into your gate. Make sure to flatten your screen into your gates to avoid getting wrinkled texture, especially when using fabric screens.
Step 3: Secure the screen
Mesh and fabric screens are simple to secure. Make sure to use durable zip ties to prevent it from quickly snapping out and getting the screen flown away.
Meanwhile, since metal screens provide better security and privacy, the installation process is more complicated than the other screens.
First, you have to remove the gate from where it is being attached to. Then, install the metal screen using a welding machine. After securing the metal screen's installation, you may now attach it again to its original place.
FAQs
What is a privacy screen?
A privacy screen covers the gates to provide better security and privacy. This is commonly used as a wrought iron gate or driveway gate privacy screen, especially for those who feel like someone is trying to spy on or steal from them.
The importance of privacy gate
The primary importance of privacy gates is that they act as a shield for your confidential and personal activities from the wandering eyes of the people around you.
Moreover, wrought iron gates are known to be an easy way for people to enter the house as they can use the gate's design as something they can step on.
Installing gate covering sheets will prevent this from happening and make your gates much more durable.
Conclusion
The intricate design of a metal or wrought iron gate undoubtedly adds more value to your home.
However, the more you add pleasing designs to your home, the more it also attracts spying eyes and the attention of thieves and other lawbreakers. Aside from this, it can also be easily entered by pests, dust, and small insects.
Hence, knowing how to cover a metal or wrought iron gate for privacy will definitely give you a worry-free life while maintaining that classy look for your home.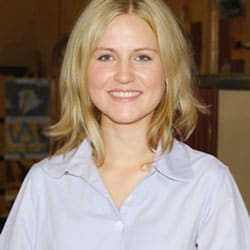 Hi, I am Roseanne Jones, an aspiring home designer that wants to make you feel more at home with your new house.With nearly five years of redecorating old residents and arranging new ones, I am confident that I can give you the best advice on your lovely place.