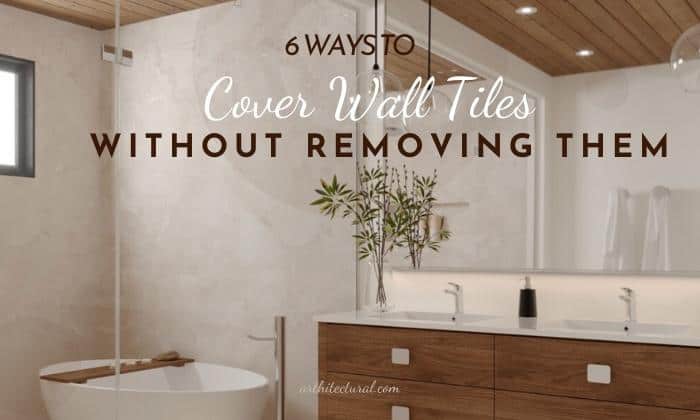 Let's face it – no matter how well you maintain your wall tiles, they're bound to deteriorate as time passes. And when their former beauty slowly turns into an eyesore, it's only natural to find ways to rectify the issue.
While many would replace the old surface with a new one, others can find this process quite a hassle. Then, how to cover wall tiles without removing them? Is it possible at all?
Fortunately, it's not that hard to cover ugly bathroom tile. Read on to learn more!
Best Ways to Cover Wall Tiles Without Removing Them
1. Tile Stickers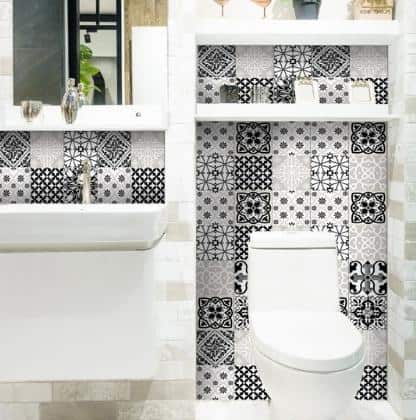 When you don't have time for a labor-intensive project, tile cover up stickers are the quickest solution. They're also ideal for concealing only a few specific tiles, making them an ideal alternative for those who don't need to disguise the whole wall.
As the bathroom is an environment with high moisture, you should select products specified to be waterproof. In addition, they need to be covered with a laminated layer for a longer lifespan.
It doesn't take much effort to cover tile in bathroom with stickers, which really explains their allure. You don't need to be particularly crafty for this project either; just wipe the surface with a clean cloth and attach the sticker to the tile. A spritz of water may aid adhesion as well.
The only requirement is that you're careful enough not to leave any air bubbles under the sticker.
2. Wallpapers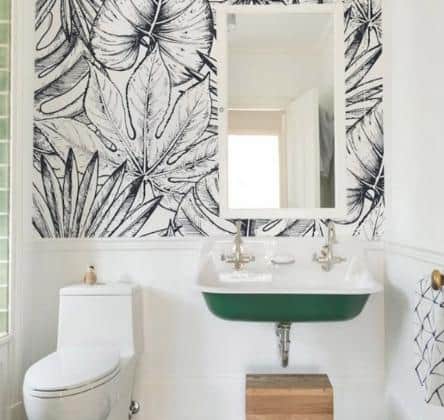 Wallpapers are the most economical options to cover ceramic wall tile that will guarantee a complete transformation. They're also ideal for rental residences that do not allow any permanent changes. Follow these steps to apply them:
Select the wallpaper/sticker that you want to apply. Remember that it must be able to withstand excessive moisture. Personally, I'd recommend paper-backed, fabric-backed, or solid vinyl.
Scrub the tiles clean. There should be no dirt or grime, which might affect adhesion. In the worst-case scenario, dust may even form unsightly lumps that create an ugly appearance.
Stick lining papers to the tiles for a smooth surface.
Submerge the wallpapers in water according to the time specified by the manufacturer.
Drape the sheets inward to "book" them.
Place the decorative panels onto the wall and use a straight edge to smooth them out until no bubble is left.
If necessary, trim the tile covering sheet for a perfect fit.
Coat the panels with decorative varnish and seal every gap to further waterproof them.
Wallpapers are also a viable choice should you intend to update kitchen tiles. In fact, they're suitable as kitchen backsplashes too, provided that you install an additional tempered glass panel as well.
3. Shower Liners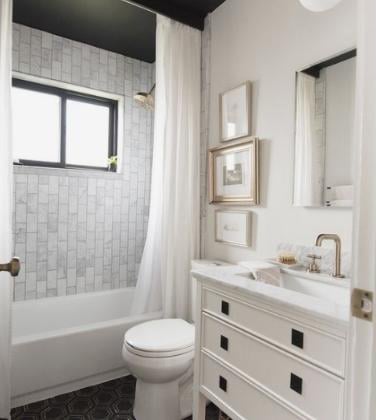 If the damage isn't that noticeable, I'd say that you can simply use shower liners to cover tile. The only downside is that they can only fit either your shower stall or bathtub and not the entire bathroom.
Basically, shower liners consist of two main components – a hanging rod and a curtain. You can choose whatever curtain you want to fit in with your bathroom decor; just be sure it's resistant to mold and mildew. Replace the fabric every 6 months as well.
To set up your shower liner, follow these steps:
Step 1: Pull some ringer hooks through the holes on the liner/curtain.
Step 2: Then, attach the liner to the curtain rod using the rings you put in place. Just pull the rings apart and snap them around the rod.
Step 3: As for the rod, place it onto the wall, making sure both ends reach the edge of the wall. Afterward, rotate the heads of the rod clockwise to tighten it.
4. Wall Panels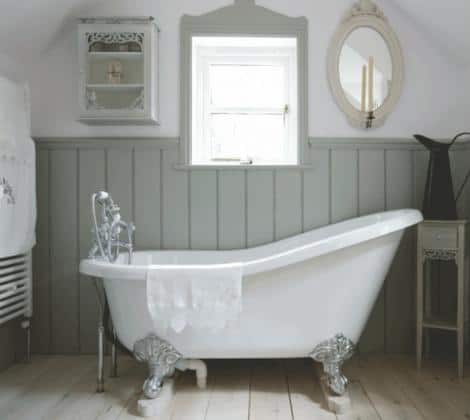 If you're afraid that the high humidity will ruin the wallpaper, I suggest that you cover bathroom wall tiles with panels. As they are impervious to moisture and water, it's perfectly okay to use them to cover shower tile – the most likely place to get splashes.
Moreover, since wall panels are grout-free, they save you from a huge hassle. Plus, you won't have to worry that water will seep into the grouts, promoting mold growth and causing further damage.
Another reason I find wall panels fantastic tile cover up ideas is that they are a breeze to install. Excluding curing time, the overall project will only take 1-2 hours of your time – a bargain for busy individuals who want to update their old bathroom.
You can try looking up tile covers B&Q offers to get an idea of what panel patterns are available.
As for installing these items, you can check out this video. In brief, the process involves cutting the panel down to the appropriate dimensions, applying caulk to it on all sides, and attaching the panel to the wall.
Wetwall™ Water-Proof Shower Wall Panels — DIY With April Wilkerson
5. Tile Paint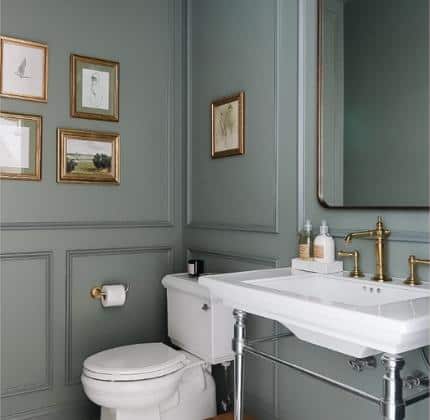 Another great idea to update bathroom tile without replacing is using waterproof paint. This way, you can add an exciting splash of color to your old bathroom walls without spending a fortune.
In addition, if you can spare the time, you should also consider painting over the floor tile for a complete transformation. As long as the color is waterproof, there should be no problem.
While you can apply the paint directly to the tiles after sanding and priming the surface, I suggest covering the wall with a Magic Tile covering kit first. It'll provide a smooth and clean surface with excellent adhesive properties for the new pigment.
As it can take up to 2 days for the Magic Tile layer to cure and 4 hours for one layer of paint to dry, you can expect that this project will span days. Again, you can skip Magic Tile, but only if the surface is not severely cracked or chipped in the first place.
6. Quick-setting cement
Those who love the alluring aesthetics of an exposed concrete wall will find quick-setting cement one of the best tile cover up ideas. In this case, all you have to do is spread the concrete mix over the entire surface.
If applied correctly, the quick-setting formula will offer a durable surface that can last for very long. In other words, cracked and chipped walls will be the least of your concern. Its water-resistance nature is also a desirable trait in a humid environment like the bathroom.
Note that this task requires a crafty hand and quick reaction, as the cement sets very quickly.
Why Cover the Tiles Instead of Changing Them?
To start off, replacing new tiles means grouts are still present. They are very hard to clean, not to mention that water might seep into the grouts and promote mold.
Furthermore, the cost of replacing can be higher than covering the old surface. For instance, wall panels are usually more affordable than new tiles.
Lastly, some alternatives provide a wider range of stylistic choices. To name an example, wallpapers and stickers are available in many colors and decorative patterns, thus making it easier for customers to find one that suits their taste, no matter how unique.
FAQs
How do you cover up ceramic tiles without removing them?
Overall, there are 6 main ways to cover up ceramic tiles:
Applying tile stickers
Utilizing wallpapers
Adding shower liners
Installing wall panels
Painting the tiles
Quick-setting cement
However, you can also consider installing a shower or tub surround. Like the shower liners, this kit will only conceal the walls around your shower stall and tubs, but it'll protect the surface most likely to come into contact with water.
Beadboard wainscoting is another noteworthy alternative if the tile coverage is only from the waist down. The installation isn't a very challenging task, especially if there aren't many obstacles in the bathroom, so you can cut down on the overall costs.
How can I cover old tiles cheaply?
Although painting is a cost-effective choice for covering old surfaces, I personally find backsplash stickers the cheapest option. Another point in their favor is the wide variety of colors and patterns, making it easier for you to update kitchen tiles.
How do you update your bathroom tiles without removing them?
For an economical approach, I'd recommend cleaning the place and then decorating the tiles with waterproof paint. This should give the bathroom a completely new look without costing an arm and a leg.
Again, decals can come to your rescue. Whether it's a complete renovation or simple spot repairs, stickers will update and upgrade your bathroom. Just make sure you choose the correct size for the tiles.
Can you put peel and stick wallpaper over tiles?
Due to their adhesive nature, you'll have no trouble putting peel-and-stick wallpapers over tiles. That said, for best results, the wall needs to be smooth in the first place – this is why we recommend adding lining papers prior to applying wallpapers.
In addition, don't forget to always ensure the surface is spotless. Not only can dust tamper with the glue, but it can also form lumps that will stick out like a sore thumb.
Conclusion
How to cover wall tiles without removing them? Well, there are many options for you to choose from, be it something as simple as tile stickers or a more elaborate project such as painting.
In short, there's no need to stress over unsightly tiles; with our suggestions above, restoring your bathroom to its former glory is not outside the realm of possibility. Try out our tile cover up ideas, and let us know if you're pleased with the results.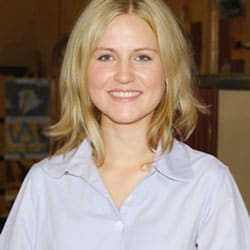 Hi, I am Roseanne Jones, an aspiring home designer that wants to make you feel more at home with your new house.With nearly five years of redecorating old residents and arranging new ones, I am confident that I can give you the best advice on your lovely place.