Split-level design refers to houses with staggered floors. The open-space living arrangement, charming as it can be, often has an outdated vibe. Suffice to say; the 1940-1970 flair might not be the best fit for modern homes.
Fortunately, your split-level house doesn't necessarily have to come across as old-fashioned. In this article, we'll show you how to decorate a split level home to renovate and modernize the place.
Fantastic Ways to Update Your Split Level Home
When it comes to split level house design ideas, you can classify them into two categories: exterior and interior decoration. With these ecommendations for an upgrade, your house will undergo a complete transformation.
1. House Exterior Decoration Ideas
1. Repaint The House's Exterior
Older homes tend to be painted with colors such as yellow, pale blue, tan, or muted brown. While these colors look appealing, they usually give your house an outdated feel.
Instead, pick saturated colors such as jewel-toned paint for your spit level home renovation. For a more neutral but modern aesthetic, consider a combination of black matte (or gray), wooden tones, and glass doors.
Don't forget to pay attention to the roof's color as well. Ensure it lends enough offset to the house's paint for a captivating visual contrast.
2. Install Trims
A budget-friendly option among spit level home addition ideas, installing trims to corner boards and soffit is an easy way you can give the house a modern touch.
To enhance the soffit trims' aesthetic values, you should paint them a contrasting hue compared to the siding. The bold accentuation will certainly impress anyone who sets their eyes on your house.
3. Invest In A Front Porch
Does your house's front feel bland and lackluster? Consider adding a front porch to the entryway. And if you've already had one, it's time to renovate it for a more stimulating look.
A good rule of thumb is to never leave the porch barren, which can defeat the whole purpose of adding a front porch. Add a small table and two chairs to make the area look more enticing. During nightfall, a ceiling light is a must-have for an inviting charm.
It's also a good idea to utilize many colors and textures to achieve a stunning front porch. Try to incorporate various materials like metal panels, stone, wood, etc. to give the space a more impressive appearance.
4. Renovate The Lower Facade
Tiles, bricks, and stucco can be the culprit behind your split level home's outdated feel. If you're going for a more contemporary look, you need to opt for alternatives such as stone or cedar clapboard.
However, should you like the old aesthetic enough to keep it around, figure out how to accentuate the look. For instance, consider adding on to a split level home with a landscape or a staggered garden with colorful flowers.
5. Touch Up Your Garage
An updated split level home should have a fashionable garage, which is usually the first thing people notice when they pass by your house. Change the garage door into something more contemporary with clean lines and minimalistic color schemes.
Other than the door, the garage's walls will need renovation as well. The easiest strategy to let the garage stand out is to give a nice contrast to the main house with different materials or finishes like stones, bright paint colors, etc.
6. Make Changes To The Windows
Double-front windows sometimes can come across as cramped or out-of-place. To rectify this, frame them together with a decorative panel in-between to make the windows seem more like a cohesive unit.
If you have the budget for a more elaborate split level home decoration, switch to windows without grids. A popular choice for modern interior design nowadays, this window style can give the illusion of longer walls.
Read more: Standard height of the window from the floor
7. Add Columns
Columns don't always have to play a supporting role. You can turn them into a vital part of your home design by selecting visually striking columns to highlight the entry. You should also think about getting a glass front door for a modern split level entryway.
8. Go For An Elevated Ranch Style
Ideal for those who want a closed-off ranch, this design features a beautiful grass lawn and an elevated walkway. The raised steps will give a sense of depth and dimension to your split-level home for a more impressive appearance.
2. House Interior Decoration Ideas
1. Build Storage Shelves In The Foyer
One of the must-have split level home addition ideas, a storage shelf in the entry hall will give you more room to store your knick-knacks while accentuating the space. A simple picture frame or a cute plant will make an otherwise plain wall eye-catching.
In a similar vein, you can turn the entry stair's steps into drawers where you can store shoes. This will free up your entry hall, allowing the storage shelf to be the focal point.
2. Get A Wall Mirror
Other than storage shelves, a wall mirror or a painting can be the perfect split level house decorating to leave a lasting impression on your guests too. If you're going this route, add in a quirky sculpture or two to enhance the artistic flair
3. Renovate The Stairs
With how much of an impact a flight of stairs can have on your design, you might want to update it into something more striking. For instance, you can decorate the stairs with bright or multicolored paint for a pleasant visual contrast.
For a more thorough split level home renovation, opt for a floating staircase with glass panel railings. This stylish combination will free up your home, allowing it to appear brighter and more spacious.
4. Choose Uniform Color Palette
Take a look inside split level house, does the color scheme look like it's cluttering up the place rather than accentuating it? If so, it's time to repaint the house.
Ideally, the wall and trim paint should go with the furniture. For the best results, you can learn more about the 6 major interior color schemes, which include monochromatic, complementary, split-complementary, tetradic, triad, and analogous.
5. Install Skylights Or Solar Tubes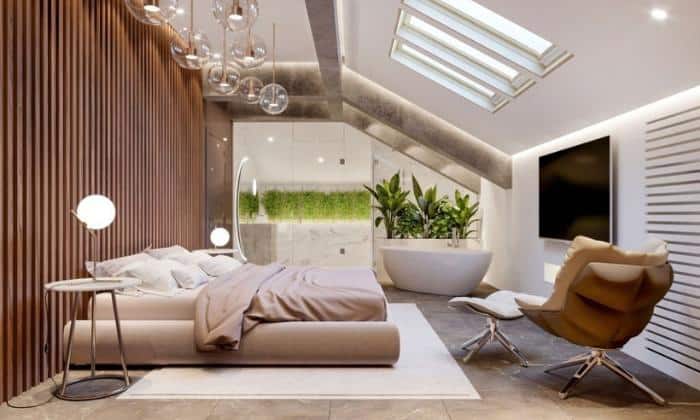 When evaluating various level home addition ideas, you need to find a way to add either a skylight or solar tubes to your house. Better ventilation aside, these two will flood your place with more natural lights, making it look more spacious and inviting.
6. Go For Custom Lightning
If skylights and solar tubes are out of the question, additional artificial lighting can be a good alternative. Consult experts to see which custom lighting works best for your place. This way, you'll get to brighten up the house with beautiful, decorative fixtures.
7. Install A Fireplace
If your home feels like it lacks a proper centerpiece, maybe a fireplace is what you're looking for. Think of what to put on two sides of the fireplace to accentuate its appeal, the resulting decoration is certainly nothing to scoff at.
8. Change The Ceiling
For split level homes with high walls, tray ceilings can be a subtle yet effective decorative element. As they can add a note of luxury to your room, you might want to accentuate the ceiling with glamorous decor such as amber lampshades.
Vaulted ceilings are another worthy option. They might not boast the same impressive height as tray ceilings, but they can still lend a sense of space to your room by reflecting the lighting.
9. Make The Living Room More Inviting
It's not uncommon for split level dining and living rooms to be combined into one. While this allows you to maximize your space, it might make the shared areas seem cluttered and uninviting. Here are a few tips to address this problem:
Use rugs to distinguish one area from the other.
Determine which part of the room should be the focal point and arrange the furniture accordingly.
Try to visualize different furniture arrangements to see which one looks the most spacious.
Choose a cozy sofa for the living room and decorate it with throw pillows.
When picking furniture for a split level living room, go for modular furniture, which ensures rearrangement is a breeze.
Install more windows in the kitchen.
 Conclusion
By now, surely you've got a good idea as to how to decorate a split level home, be it interior or exterior renovation. From picking the right paint to installing light fixtures, there are a lot of options for you to turn your home into a little paradise.
Before you begin your decorating project, try to visualize how you want the house to look. Don't be afraid to get a little creative by adding bold elements. Have fun decorating, and remember to share with me your results.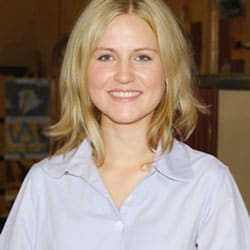 Hi, I am Roseanne Jones, an aspiring home designer that wants to make you feel more at home with your new house.With nearly five years of redecorating old residents and arranging new ones, I am confident that I can give you the best advice on your lovely place.