Wall arts are one of the best and easiest ways to bring style to your interior. With how many creative ideas there are to hang these printed frames, the only limitation for wall decoration is your own imagination.
However, one of the first obstacles you'll encounter when mounting the photo is finding the right hook or adhesive. If you're not sure what to pick among the different types of picture hangers, we've got you covered.
Most Popular Options of Picture Hangers
1. Conventional picture hanging hooks
These picture hanging types feature a J-shaped hook to mount the frame and a nail to keep the hardware fixed to the wall. Occasionally, you'll see hooks that also come with a movable screw, allowing you to adjust the fixture without removing it completely.
Depending on the specific model of picture hooks, the number of nails may increase up to 3. Generally, the bigger the hook and the more nails there are, the more likely the hanger can handle heavy frames.
Installing this hardware is rather straightforward, considering that the process mostly involves driving the nail(s) through the wall. For particularly heavy frames, you'll have to hammer the nail through the stud.
One downside of this picture frame hanger is that it's not suitable for plaster walls due to how the nail can splinter the surface.
2. Tremor hooks
Designed to be earthquake picture hangers, tremor hooks may look similar to picture hanging hooks at a glance. However, the former also features a spring loop to ensure that the picture doesn't bounce off when a severe earthquake hits.
As tremor hooks need nails to adhere to the wall well, you can imagine that they aren't ideal for plaster walls either. In addition, the majority of tremor hooks you can find on the market will only support up to 75 pounds at most.
3. Dual head picture hangers
These wall hangers have a similar look to pin tacks; however, they have another small head on top where you can mount your picture. As such, you can loop a string, D-rings, or use sawtooth picture hangers with these wall tacks.
The best thing about these nails is that they are very easy to install. All you require is a hammer to drive them through the wall. While the damage is usually minimal, these double-headed nails aren't compatible with plaster.
The good news is dual head picture hangers are quite sturdy, so you don't have to worry about your picture suddenly falling off the wall.
4. Command hooks/Command strips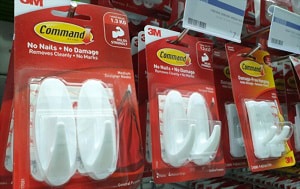 With the Command hook and strip, the installation process can't get any easier. These no nail picture hangers don't require drilling or screwing to the wall, so you don't really need any specialized tools.
Command adhesive can be mounted without nails, so they're ideal for plaster walls as well. In addition, they can also stick to various other surfaces, such as trims and decks. One of the few places you can't use Command products is bare bricks.
Both Command hooks and strips come in various sizes – the larger they are, the more weight they can hold. For instance, a Jumbo Command hook has a weight capacity of 7.5 pounds, while a Command strip can handle up to a whopping 16 pounds.
It's essential that you pay attention to the hook/strip weight capacity; otherwise, the picture will fall off. Note that you can't use multiple Command items to hold a frame heavier than the recommended weight.
5. D-ring picture hangers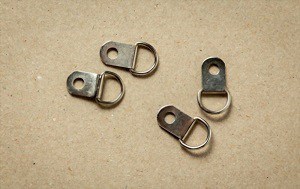 Most ideal for hefty frames, these heavy duty picture hangers are actually installed onto the back of the photo. Due to this, they are exclusively for wooden frames.
With how this picture frame hanger is installed, there should be hooking nails on the wall. This means precise measurement is necessary so that the nails are in the exact place as the D-rings. That said, you can connect the loops with a wire for easier hanging.
Despite the somewhat difficult installation process, D-rings are still a popular option. The main reason can be put down to how they can minimize forward tilt in pictures, provided that you place the rings way up high on the art frames.
A common variation of the D-rings is the triangle ring. Despite the apparent difference in appearance, these two varieties are functionally similar. There's also the strap hanger, which can handle pictures as heavy as 200 pounds and is often used with D-rings.
6. Screw eyes
This type of round hook for back of picture frame is typically installed on both sides of the picture. Then, you're supposed to tie a heavy-gauge wire to these two loops and mount the thread onto a wall hook. Therefore, screw eyes are ideal for large frames.
As straightforward as these screws seem, there are a lot of things you need to keep in mind. Failing to pre-drill the frame can also damage it beyond repair. Similarly, a screw too small or too large can splinter the wood frame. Ideally, the screw should enter the frame fully.
7. French cleats
Ideal for particularly large and heavy frames, this type of picture hanging hardware features two interlocking horizontal pieces for the wall and the photo. While they might sound complicated, these flush mount brackets make hanging and removing pictures easy.
French cleats are usually made from wood or metal, with the latter being a more ideal option for those who want the picture to lay flat against the wall. This is because metal wall hangers are considerably thinner.
Generally, French cleats need to be at least half as expansive as the picture is long. For instance, if your picture spans up to 120 inches, the cleats should be 60 inches long. That said, aim for brackets that are around ¾ the picture's width.
An aspect I particularly like about these brackets is that their Light Cleat profile is suitable for metal frames. If you're looking to hang your bulky metal frame, make sure you get this type and not Z-bar and Flare cleats.
FAQs
How do you use different picture hangers?
The correct way to use picture hangers will depend on what type you have. Before mounting them, always check whether they can actually support the picture weight first.
Then, you need to identify whether the hanger is to be mounted to the wall, the frame, or both.
Common wall-mount brackets include conventional and tremor hooks, dual-head hangers, and Command hooks.
Some hardware types that you'll need to attach to the frame are D-ring hangers, strap hangers, and screw eyes.
French cleats and Command strips are to be mounted on both the wall and the picture.
To hang a picture, you'll need hardware for both the wall and the frame. For instance, D-rings need a conventional hanging hook as well — you can't choose one and leave out the other.
What do you use sawtooth hangers for?
Sawtooth hangers are used to hang pictures. To use them, you're supposed to attach the brackets to the back of the picture's frame. You'll then mount the jagged edges onto the nails affixed to the wall.
While most sawtooth hangers are designed for lighter and smaller pictures, you can find products that can support up to 250 pounds. So if your photo is on the heavier side, make sure to check the hanger's weight capacity first.
How do you hang a picture with a J hook?
Hanging a picture with a J hook is actually very simple; all you have to do is follow the steps below:
First, mount brackets onto the back of the picture frame. In this case, we'll be using a ring hanger to minimize forward tilt.
As I've pointed out, D-rings should be in the exact same place as the wall hook, so be sure to measure carefully. Note that D-rings should also be positioned roughly ⅓ from the top of the frame.
From these measurements, mark where the hook needs to go on the wall.
Place the J hook onto the wall with its tip touching the mark. Then, make another mark for where to place the nail for the J hook.
Hammer the nails with the J-hook attached into the correct position.
Hang the picture.
What is the strongest picture hanger?
The crown for the strongest picture hanger belongs to the French cleats, with hardware products that can support up to a whopping 750 pounds. After all, these wall hangers are designed specifically for large and hefty items.
Aside from French cleats, D-ring strap hangers are also quite powerful, being able to handle roughly 200 pounds. And while the majority of sawtooth hangers are quite weak, you might stumble upon a Mega profile that can hold up to 250 pounds.
Conclusion
By now, I hope you know what to pick among the different types of picture hangers. Remember that they should be able to hold the printed frame's weight, and they need to be compatible with your wall as well.
Have fun decorating your beloved home's walls.
Hanging a picture is also a creative way to cover the holes in the wall that you can refer to.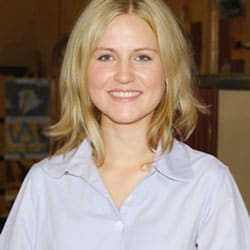 Hi, I am Roseanne Jones, an aspiring home designer that wants to make you feel more at home with your new house.With nearly five years of redecorating old residents and arranging new ones, I am confident that I can give you the best advice on your lovely place.