Home is truly where the heart is. Besides the people you create memories with under the same roof, what makes your house yours is how you style it.
Green is a complex color. One of its most dashing shades is emerald green, which embodies a medium-light to-dark intensity of the said color.
Lucky you, we have found the perfect conversation piece that adds character to your entire area — an emerald green velvet sofa. Read the following emerald green sofa living room ideas for everything you need to know about styling decoration, hacks, and more!
List of Emerald Green Sofa Living Room Ideas
With vintage finds and trends returning like a time machine, homeowners opt for colors and furniture pieces that are gallant and quirky to spice up their living rooms.
As the shades become popular, every homeowner should try incorporating them in their homes.
Emerald green, apart from the sceneries of nature that it is commonly associated with, also strongly symbolizes wealth, stability, dominance, popularity, health, and harmony.
With that, we've prepared a list of decorating ideas you might want to try with your green couch.
1. Try M.E.G.: Modern and Green Tones
If you're already tired of the "modern aesthetics" of your living room, the ideal way to revamp it is through a pop of color.
Here's an eye-catching L-shaped and velvet-textured green, the deep-shade sofa is shown in an open layout of the living room.
Simultaneously, it features a kitchen with matching green bold color walls and marble countertop stones.
The modern green sofa living room is also an incredible design for a beach house.
Accordingly, if you have a scenic view of the ocean, we suggest adding a huge plant with large leaves — could be an indoor or outdoor one — to blend with the nature-like feels of your sleek green couches.
Of course, a little art piece with a splash of green won't hurt.
To establish better harmony in your dream home with the vibrant colors of the green living room, you can also add a few pieces of furniture. Here's some suggestions:
An irregular-shaped coffee table
A black velvet carpet to match the texture of your sofa, vases, and drapes.
A neutral-colored rug – a trick we'll always live by!
2. The Darker, The Better
We specifically curated this style guide for readers looking for dark green sofa living room ideas.
With this, you could level up the angst of your home decor by putting a different shade of emerald green wallpaper in the whole space of your living area.
You can also put a huge indoor plant to balance the complementary colors present in the room.
Make sure to place the furniture beside a window allowing natural light to come in.
To balance this, you can also add dark-colored printed carpets or paintings that you would want to spend time appreciating while comfortably sitting on your beautiful green couch.
Also read: 15 best living room window styles in 2023
3. Live by the 3Cs: Chic, Comfy and Clean!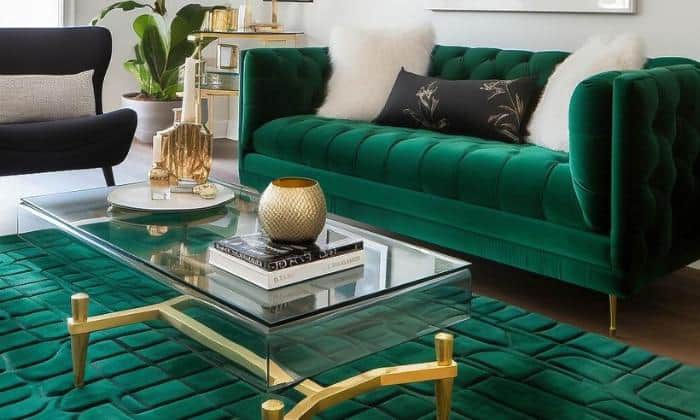 This next idea is for practical homeowners who want multitasking, space-efficient, and stylish furniture.
You can place a cute-sized emerald green sofa bed with clean-looking white accessories, a coffee table, and books. Such a combination can perfectly contrast with the boldness of emerald green.
Adding a few pieces of white pillows or chairs is also a tip to add comfortability and a homey modern mood.
So, when it is your time to host movie or game nights and sleepovers, this emerald green sofa bed is a good lounging area for your guests!
Make popcorn, wear your comfiest pajamas and squeeze into any green shades of a blanket to match. Truly comfortable and stylish in one!
4. Grin On Green Christmas
As the Holiday season approaches, your annual family reunions are just around the corner.
If you'll be hosting this year's Holiday dinners and family get-togethers, this hack is for you!
We suggest you double the Christmas nostalgia through a green Christmas tree with an emerald green couch living room concept, just like our given photo.
Paired with gold decors, statement pillows, and black living room walls, the Holiday season is one for the books. Take your annual family photo in the living room to showcase the beauty of your space! Truly, there is no such thing as too much during Holidays.
5. The Cabin Vibes
If you're someone who likes nature and adventures but would still like to incorporate a homey atmosphere in your living room design, the solid perfect balance of emerald green and earth tones would be your dream vision!
An emerald green sofa will add sophistication and a classic aura to your living room. You can add quirky or plain wallpapers with cool tones of wood browns and emerald green.
We also suggest adding wood furniture like coffee tables and bookshelves for a little something to put your belongings or books in. Lastly, add fresh flowers or real plants to connect to mother nature. Now, that sounds like paradise!
6. Your living room is a canvas, paint that with an emerald green brush!
Concluding our list is a trip back to memory lane with a retro-ish take on the trope of an emerald couch living room.
If your apartment or home has barely four solid white living room walls, you better dress that up with an emerald green sofa and some quirky choices of a unique rug in other colors to add character.
You can also try to add contrasting and bold colors of vintage drapes and statement pieces.
To perfectly match the retro take, invest in a unique wooden table decor where you can put photographs of your loved ones or souvenirs from the places you've already visited.
Homeowners 101: How Do You Style an Emerald Green Sofa?
Apart from emerald, green sectional furniture ideas, we also prepared a list of other items you might want to consider when revamping or decorating your green sofas.
How should you style it? It's simple. Take note of these tips.
1. Asymmetrical or Symmetrical Mirrors
Whether you live in a studio-type apartment or a two-storey house, one thing is for sure, mirror accents can create a larger space illusion, like magic! Plus, having a mirror in your living room is also convenient. We're pretty sure your guests would thank you too.
2. Blankets, Paintings and Pillows
Never leave your walls bare! Display a painting, a movie poster of your favorite, or any photograph. Just keep in mind to maximize the space. The decision to make your house beautiful is all yours!
Besides this, to add to the coziness of your sofa, place numerous throw pillows and a go to sofa rug. You'll never know when you're going to need these intricate details!
3. Bookshelves and Coffee Tables
One word to describe this living room interior design: a classic. These pieces of furniture instantly create a character in the space you have. There is a calming atmosphere that makes you and your guest accommodated, at home and curious.
What Colors Go Well With a Green Sofa?
Given that green is a unique color, a wide range of hues complement it. We gathered the top five colors that go well with green to keep you guided in your interior design planning.
1. Emerald Green and Black
Both emerald green and black perfectly contrast each other's cool tones. Thus, there is no doubt that any decoration in the color black, paired with this shade of green creates a powerful and striking combination. A bold choice and a conversation starter, indeed!
2. Emerald green and brown
Yep, we just couldn't get enough of this decoration, This must be every homeowner's dream. Giving a more natural, environmental, and classic impression, green mixed with brown accents go well on furniture choices, clothing, and home design itself. A stunning emerald couch living room moment!
Related: Ideas for Dark Brown Leather Couch Living Room
3. Emerald Green and Grey
We will never get over the modern edge and classical combination of green and any shade of gray — it could be lighter or darker. This combination creates an impression of intimidation, maturity, assurance, masculinity, and superiority.
This color hue is something that your boss would try in his study room.
4. Green and Pink
We heard you. Of course, pink and green, although seemingly the complete opposite; pink with soft tones and green with cold tones, remain iconic as this combination pictures femininity, nature, confidence, and freedom. Oh, to be 16 again!
5. Green and White
On top of the list are the colors green and white. Your green sofa will be perfectly complemented by the cool and subtle tones of the color white, making the furniture the star of the room, just like in our given photo for your reference.
Imagine white walls complemented with so much color. Do you imagine your living room in that ambiance?
Homeowners' Friendly Guide for Emerald Green Furniture Ideas
We prepared some pieces of furniture that would look best with your green velvet sofa.
1. Emerald Green Wooden Cabinet
You could never go wrong with a lovely wooden cabinet that you may place anywhere inside your home. This is best placed across your green sofa, just before white walls, or a printed wallpaper so that the beauty of the furniture stands as the focal point.
Apart from its dramatic look, it also acts as a storage area for your belongings. A yes, definitely!
2. Dark Emerald Green Armchair With Ottoman
Having your armchair and ottoman in the same color is never too much. Remember to invest in a piece you think you'll thoroughly utilize over time. So, if you're someone who likes to journal, read, watch TV, study, or even work while sitting comfortably, you're gonna want to match your green velvet sofa with this purchase.
Coffee Table Pieces
When you already have a stunning table beside or just in front of your sofa, the next thing you should do is accessorize it. Thus, invest time in finding unique displays or coffee table books. Your living room will be Instagram-ready without even lifting a finger!
Conclusion
It is truly an experience whenever you're revamping or just beginning to style your space. You have to understand what theme, colors, and furniture you specifically want to incorporate in your home. Especially with an emerald green sofa that is a striking and bold choice of piece.
We hope this article was able to deliver substantial tips to cater to your emerald green sofa living room ideas. If we did, please leave a comment and share this through your social media accounts or with friends and family!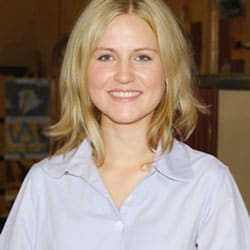 Hi, I am Roseanne Jones, an aspiring home designer that wants to make you feel more at home with your new house.With nearly five years of redecorating old residents and arranging new ones, I am confident that I can give you the best advice on your lovely place.