What's a nice dining room table without comfy and lovely chairs? If you're trying to give your space a creative and unique look, why not consider a mix-and-match approach with these fabric ideas for dining room chairs?
Don't let your chairs be purely functional. Discover the latest upholstery fabric trends with our guides, and learn how to add a subtle but charming touch to your dining area.
Top Dining Room Chairs Fabric Ideas
Whether you're finding dining chair fabric replacements or upholstery material ideas for new dining sets, the suggestions below will help you pin down the best choice.
1. Old Rugs
Just because your old rug has seen better days doesn't mean that you have to throw it away. Simply wash away the stains, trim the threadbare, and you'll be able to repurpose the rug into a beautiful upholstery.
Almost any rugs will look pleasing when used as fabrics for dining room chairs, but Oriental ones would make for the most striking visual effects. In addition, their natural and authentic flairs mean Oriental rugs will never go out of style.
Your old French Aubusson rugs will be the prime candidate for shabby chic designs or dreamy romantic schemes. The antique vibes from these rugs are also a seamless fit in autumnal decors with plenty of exposure to natural sunlight.
For a more contemporary flair, a Native American Navajo or pileless Turkish kilim rug will fit the bill better. Whereas Navajo rugs favor intricate vertical looms with strong geometric shapes, their kilim counterpart stands out with their sharp diagonal patterns.
2. Used Quilts/Quilting Fabric
You can put your old quilts into good use by reinventing them into dining room chair upholstery fabric. Consisting of three layers, quilts are durable enough to hold up quite well for a relatively long time.
Again, you don't need to be particularly picky regarding the quilt's patterns, especially for interior decors that gravitate toward a cozy cottage flair. However, you may want to avoid designs that rely on bright pops of colors, as they might fade in the sun.
As a side note, Pakistani ralli quilts should be your top pick as kitchen chair fabric if you prefer a contemporary look. The stunning patchwork design will bear witness to your exquisite taste.
3. Free Upholstery Samples
There are lots of furniture stores out there that give away free samples, so it wouldn't be that hard to get enough fabric to cover dining room chairs.
If you're lucky, you might be able to get your hands on luxurious ones that might otherwise cost a small fortune. With several samples at your disposal, it'll also be easier for you to gauge which chair seat fabrics best suit your decor.
The two most common types of free upholstery fabric you'll come across are:
Hanging samples, sometimes large enough to cover single chairs.
Folded samples boast a larger size, so you may be able to utilize the fabric to cover chairs as large as captain seats.
Some stores might hand out smaller samples, but it's not the end of the world. You can still discover your inner artist by combining various designs. This is a sure way to get one-of-a-kind dining chairs and make your kitchen stand out.
4. Handcrafted Textiles
While these fabrics might only be found in flea markets, their exotic and unique look make the efforts worth it. From Indonesian batik to ikat, the exquisite hand-dyed fabric can add a vintage touch to many home designs, including transitional and boho-chic.
Due to their colorful and often peculiar appearance, some might think that handcraft textiles aren't suitable as traditional dining room chair fabric ideas. However, these textiles will actually add more styles and dimensions to the space.
Ideally, the fabric should be thick enough for long-term use. What's more, you might want a layer of protectant spray on the material to prevent food stains from ruining the beautiful upholstery.
5. Linens
Far more accessible than other unconventional dining room chair fabric ideas, high-quality linens can be found almost anywhere. Only if you prefer vintage linens do you have to search for them in thrift shops.
The best advantage linen has to offer is its resistance to abrasion. In addition, the fabric is unlikely to fade, even with long exposure to sunlight, which means its diverse and colorful design is more likely to withstand the test of time.
To give your upholstery for dining room chairs a more unique look, consider rarer options such as the luxurious damask. This monochromatic fabric, though possessing an alluring old-world feel, can still be a fantastic accessory to modern dining rooms.
6. Antique Clothing
Do you have a few pieces of antique clothing at home that you no longer wear? If the clothes still look presentable, consider turning them into upholstery instead.
The tricky thing about clothes is that they might not fit the entire chair. Only long garments such as capes or caftans are fit for the task. So it's best to calculate the total amount of fabric required before you start.
7. Leather
One of the reasons leather is a great upholstery fabric for chairs is that it looks great in both vintage and modern settings. What's more, leather is like fine wine – it can age really well and thus never fall out of dining room chair fabric trends.
It doesn't take much effort to clean this material, either. Oftentimes, a wet towel is enough to wipe the chair clean, which is a big advantage considering how the dining room is where spills and stains most likely happen.
Although leather may lose its shine after a while, you can return the fabric to its glory days with a specialized care kit.
8. Vinyl
Vinyl is a great alternative for those who love the sleek appearance of leather but can't shoulder the hefty price tag. Available in many design styles, vinyl is an affordable fabric that can offer a luxurious look.
Similar to leather, vinyl is a non-porous material, meaning it does not absorb stains from food or drinks. The fabric does not require regular maintenance with conditioners to preserve its shine, so it's easier to keep your dining furniture in their top shape.
This upholstery fabric for chairs has a high tolerance for UV lights. As a result, vinyl discoloration is beyond the realm of possibility.
The only two notable downsides to this material are its tendency to crack after a few years and how it can stick to your skin during the summer.
9. Faux Suede
A cruelty-free alternative to leather is faux suede, which offers a similar feel to the authentic material but doesn't cost as much. Just like real suede, this synthetic fabric can bring a note of luxury to your interior decor.
Faux suede's average lifespan is nothing but impressive, making it one of the best choices to reupholster dining room chairs. Its durability and ease of maintenance mean you won't have to change a chair fabric as frequently.
While faux suede can resist stains, you may want to avoid light-colored options, which can't hide blemishes or dirt as well as darker ones.
10. Velvet
Velvet is my go-to recommendation for anyone with durability in mind. Capable of lasting decades, velvet is a fantastic fabric to recover dining room chair seats.
The material won't discolor either, allowing you to admire its beauty for years to come. However, remember to keep velvet chairs far away from direct sunlight.
Unlike vinyl, velvet is extremely pleasant to touch. Cleaning this upholstery material won't pose much of a challenge, since any spills can be wiped away with relative ease.
The factor that might put some people off buying velvet is how much of a dust magnet the fabric is.
11. Satin
Due to its elegant and gleaming look, satin goes well with elegant chair styles. It can bring instant value and sophistication to your dining area. The material's smooth and velvety texture will caress your skin as you sit down to dine.
Nonetheless, satin is notoriously hard to sew, and therefore is not suitable for DIY chair covering ideas. The material will make any attempt to reupholster dining room chairs quite challenging, especially with how hard it is to repair.
FAQs
Tips To Choose Fabric For Dining Room Chairs
In order to identify the most suitable fabric for dining room chairs, you need to keep the followings criteria in mind:
The fabric's color and pattern must complement or match your overall design scheme. Decide whether you want a classic vibe or a more contemporary flair, then choose accordingly.
The upholstery should be both sensually and visually pleasing.
Choose durable upholstery fabric which has been treated to resist friction, stains, and spills. If not, apply a layer of fabric protectant spray.
Favor dark-colored upholstery fabric if you don't have time to clean dining room chairs regularly.
What Kind Of Fabric Do You Use To Reupholster A Dining Room Chair?
Upholstery fabric is specifically designed for furniture and should be your top choice as a replacement for dining chair fabric. Its thickness will ensure that it can withstand heavy-duty use.
It's also okay to use other fabric types to reupholster a dining room chair. However, you should make sure the material is high-quality and durable; otherwise, you'll have to mend the upholstery soon.
How Much Fabric Do I Need To Cover A Dining Room Chair?
Most conventional dining chairs require upholstery fabric with a size of 27 × 27 inches. So for instance, to prepare fabric dining chairs set of 4, you'll need two pieces of 27" x 54" (as upholstery fabric is usually 54 inches wide).
However, it'd be better if you rely on accurate measurements rather than guesswork. Use a measuring tape to determine the seat's side-to-side (width) and front-to-back (depth) distance.
Then, to calculate the amount of fabric required, add 6 inches on each side.
How Much Does It Cost To Reupholster A Dining Room Chair?
The average price for reupholstering is around $150-$300 for each chair. If the chair has complicated trims, the expected range will increase to $350-$700.
Can I Reupholster Over Existing Fabric?
You can, so long as the old batting has always been kept in dry areas. Otherwise, you'll need to strip down the existing fabric to replace the batting first.
In addition, the new fabric's color needs to be darker than its predecessor in order to completely conceal it.
Conclusion
In short, regarding fabric ideas for dining room chairs, the three most important factors to keep in mind are durability, ease of maintenance, and aesthetic values. To decide what upholstery material to get, you need to understand these three aspects.
One final note, if you're covering the upholstery yourself, make sure to wash the fabric before sewing. Aside from removing chemical residues, it'll also prevent shrinkage issues and ensure color fastness.
Finally, I hope you have fun with your upholstering project.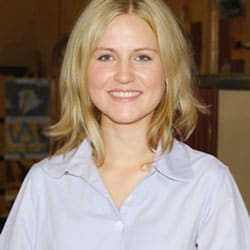 Hi, I am Roseanne Jones, an aspiring home designer that wants to make you feel more at home with your new house.With nearly five years of redecorating old residents and arranging new ones, I am confident that I can give you the best advice on your lovely place.