The front door of every home is an important element for three reasons. It influences the security and insulation of the property. Besides, the front door has a significant effect on a home's curb appeal.
To increase the aesthetic value and make your front door more inviting, color plays an essential role. If you're seeking the best front door colors, this post will present TEN innovative front door colors for a white house that range from cool, neutral, to warm tones, as well as their artistic significance.
Cool Colors
If you want to improve the curb appeal of your property this season, there are several options for homeowners with white painted brick, plaster, or paneling exteriors. Is it better to create a bold impression or to stay with basic blue, green, or purple colors? To answer this question, let's look at the combination of those cool colors with the white house first.
1. Blue front door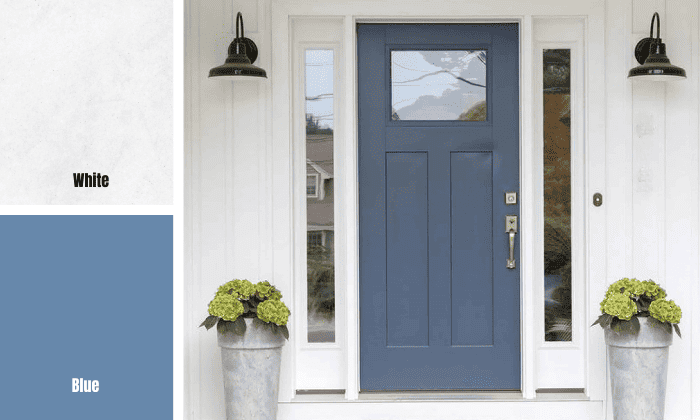 Blue is possibly the most universal color since it may be applied to any exterior or interior color. All colors of blue are attractive, particularly the bright ones like navy and sapphire. To make your white house shine, use a traditional color like blue, a timeless tone that always looks great next to white brick, wood, or plaster exterior. In addition, a seafaring doorway with a navy blue door creates a pleasant atmosphere.
Dark blue will provide your exterior design with a more classic effect. It has a formal vibe that is appropriate for ancient and traditional residences while light blue prevents the room from appearing too gloomy. To update your front entryway, paint the door a light blue color.
The door's shiny glass panes reflect light, adding even more brightness. Bright turquoise and baby blue doors, for example, provide a free-spirited, out-of-the-ordinary impression.
Royal blue is another stunning hue of blue. This vibrantly rich color is relaxing and matches the majority of home colors. It may also be used as an accent when paired with white exteriors. Royal blue is a classic hue for any season, so you can mix and match it with garland or golden equipment.
2. Green front door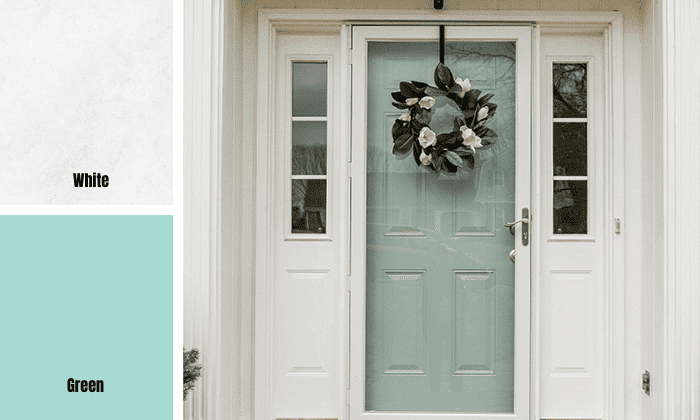 Green is both a welcoming and earthy paint color for the entrance door. Whether the paneling is stone, brick, or wood, a white exterior with a fresh green front door is an ideal combination. The green front door pops out against the plain white façade and matches perfectly with your plants or flowers outside.
3. Purple front door
It's a very aesthetically pleasing choice when paired with white exteriors. This vibrant color adds warmth and energy to a space, but it works best with neutral colors like white or beige. Purple color is a bold option that accentuates gold hardware. Your doorway can be made even more distinctive with this cool tone.
Neutral Color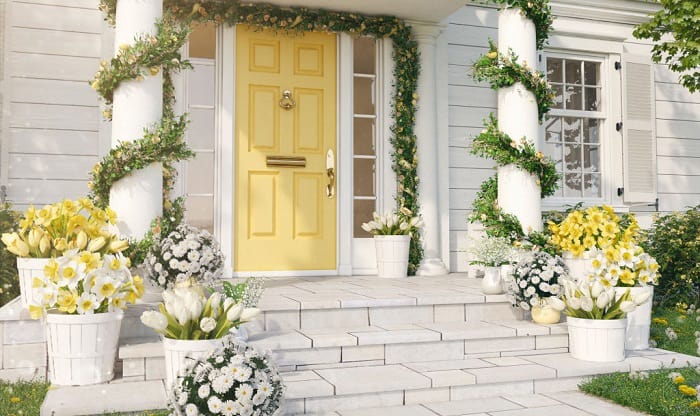 Neutral is the best front door color for white house. You'll have no trouble pairing any of these because they don't compete with others. It can go well with basically everything. Your white wall will appear more spacious, fresh, and breezy with a neutral door.
1. Grey front door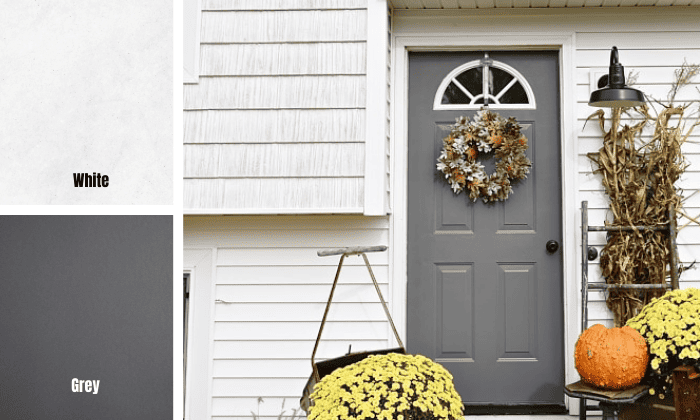 If you don't want to take the risk of painting your front door a bold color, you can try to go with a charcoal gray hue as a more sophisticated option. This elegant neutral color combines with white beautifully, especially on modern exteriors. However, you can also fix the gray color with another color to create a unique effect.
If the bright or dark blue and plain grey are not your styles, one of the best white house front door ideas is silvery blue, such as agave. It may appear warm and cold depending on the white tone, which provides a vintage and unique vibe.
2. Black front door
White house black shutters appear to contradict the concept that window decorations might harm the beauty of today's home exterior design. The right blend of black front door white house gives your home a basic but elegant appeal.
The presence of black shutters in the design isn't just for the sake of matching the black front door. It's more of a complement to the building's classic appearance. As for the function of window shutters, we all understand that they are used to limit natural light and provide privacy. In some situations, they can also improve the security of the place.
3. Wooden front door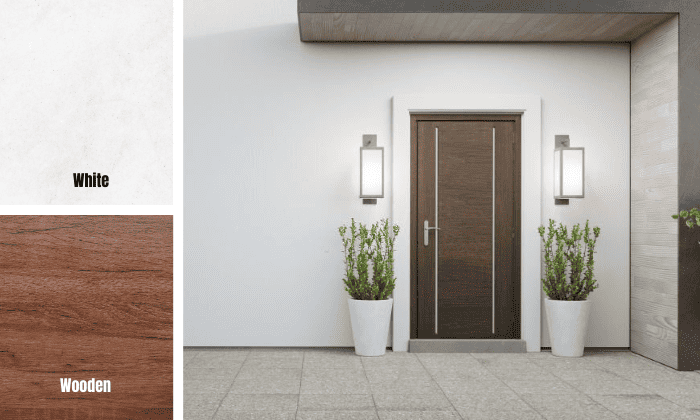 You should explore with more than simply the color of your front door. The door's material might also have an effect. A wooden door, for instance, adds natural warmth to the entrance of your white home.
The rustic appearance of the door suits the house's white façade flawlessly. Wooden or brown is one of the best front door colors for white house with black shutters, since black contrasts beautifully with brown and white.
This wood color also is one of the most favorite tan house front door colors.
Warm Color
A soft neutral color could be used to create a mild contrast. However, there are no restrictions when it comes to painting. This is what makes it so much enjoyable, but also difficult. Don't worry! We can assist you in narrowing down your possibilities.
1. Red front door
The first recommended warm-colored front door for a white house is red. You can try this intriguing shade to add coziness to your front entranceway. In the United States, red has the historic value of indicating that visitors are welcome in houses and apartments. This means that travelers are free to stop for a rest or a meal when the owner's front door is red.
2. Orange front door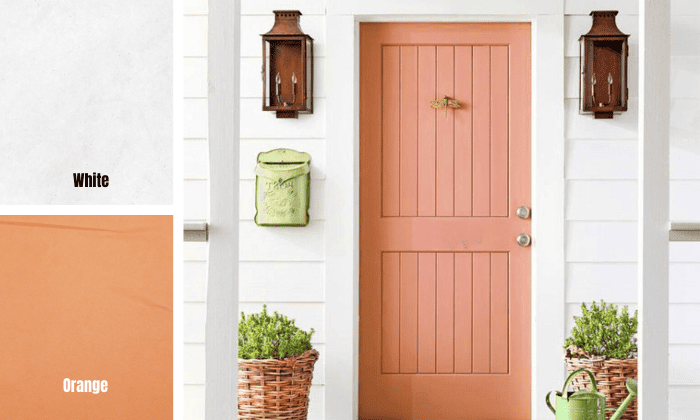 Orange has a feeling of warmth that radiates compassion. This image shows how the shade of orange has altered the white house's entrance. By choosing such a vibrant door color, the homeowners have demonstrated their spirit of adventure.
To avoid looking overly harsh, bright orange will fit with neutral hues, especially white. Orange is a fiery color that denotes enthusiasm, confidence, and energy. Therefore, coloring your front door orange sends a positive message to your neighbors and attracts them to your home.
3. Yellow front door
Since yellow is a sunny hue, it makes sense to use it as the paint color for your entrance door. A light yellow door can brighten up the exterior of your white property and draw attention to the entrance. Regardless of whether you choose a gentle warm tone or a joyful bright one, this eye-catching color is more common than other loud shades.
Light yellow symbolizes the earth's soothing element, whereas dark yellow represents burning. We can also see yellow-green tones in nature, particularly in spring. They're also the color of autumn leaves, while golden yellow is the color of wealth. Because of its brightness similar to orange, it should be paired with neutral colors.
You can also use this color for the yellow house to make a strong impression.
4. Pink front door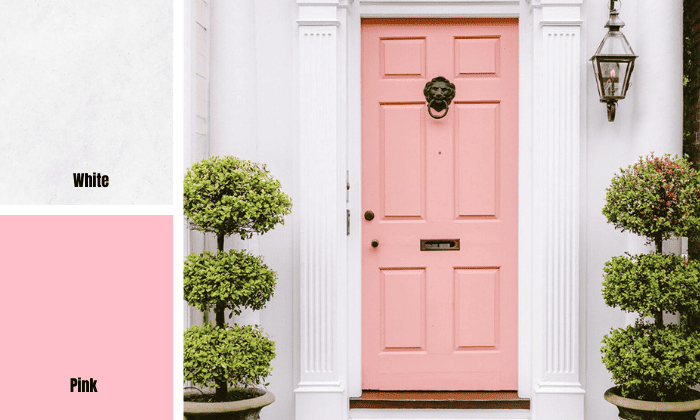 Pinks' rich spectrum exceeds all others in terms of variety and magnetism. Pink expresses itself with enthusiasm, introduces personality into the property, and wraps everything up with elegance. Whether you go for a delicate rose, blush, peach, or hot pink, you'll get the same appealing flash of appearance that we all want now and then.
Conclusion
Color is one of the factors that can show the personality of a person. People's tastes are influenced by their personality, desired outcomes, and home style. Hence, choosing the best front door color for your white siding not just determines the overall look, but also expresses your characteristic.
Remember to pick a color that accentuates your home's accessories, such as porch, shutters, or roof. Was this front door colors for a white house article useful to you? Please leave your comments in the box below, and if you liked this, share it with your family and friends.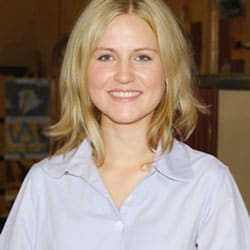 Hi, I am Roseanne Jones, an aspiring home designer that wants to make you feel more at home with your new house.With nearly five years of redecorating old residents and arranging new ones, I am confident that I can give you the best advice on your lovely place.