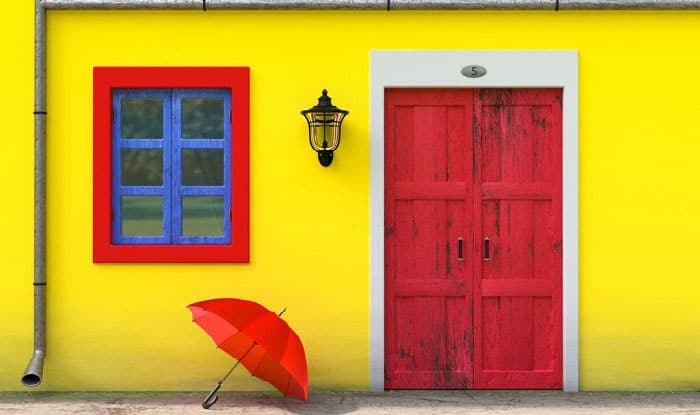 In addition to walls, floors, and furniture, doors play an important role in constructing the personality and impression of an architectural design.
When your house is yellow, you should choose the best front door color to improve the aesthetic appeal of your property. Deciding the perfect front door for a modern house can be challenging, especially with several design options. So, this article will show you a variety of front door colors for a yellow house, ranging from dark to bright.
Dark Colored Front Door
Since yellow is a vibrant color, having dark front doors may help you highlight both the exterior of your house and the entrance. Dark colors are also much simpler to maintain and keep clean, and this is especially crucial for your front door unless you intend to constantly wash it thoroughly every week.
One of the primary benefits of painting your front door a darker shade is that it complements the majority of house designs, from rustic to modern, so you may begin painting with confidence. Your doorway style is even more crucial to ensure that it does not seem out of place. Take a look at several popular front door colors for yellow houses with pictures listed below to get some suggestions before painting your door.
1. Mysterious Black Front Door Color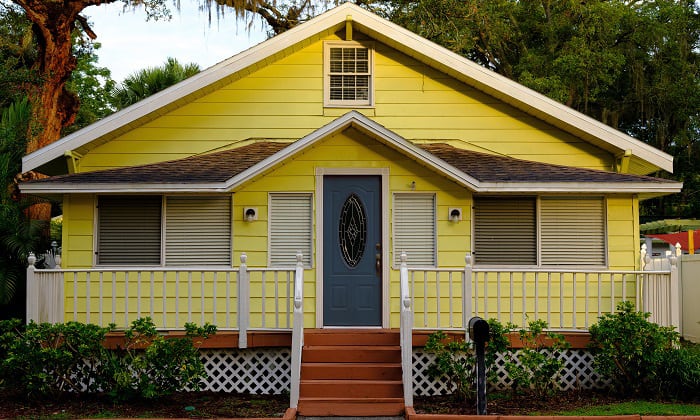 If you want a simple, reliable design with a modern style, a black door is undoubtedly a wise choice. Since it contrasts with the base, this color will draw attention to the entire area. Black is a hue that represents power and discipline, so painting your door completely black will convey to others that you are smart, strong, or forceful.
Despite its neutrality, black may be readily combined with other contrasting shades, including yellow. If you don't want it to seem too out of place, paint the other architectural elements, such as trims or garden beds or simply install yellow front porch light.
2. Dark Natural Wood Front Door Color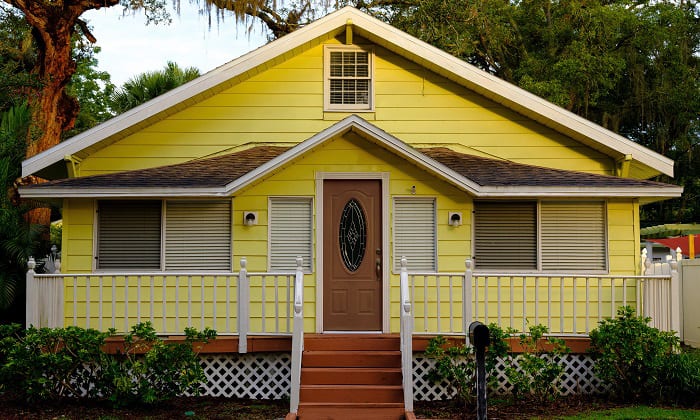 A brown main door in wood, fiberglass, or steel will provide a classic vibe to your doorway. Accessorize your wooden front door with decorations that fits the design and color of your one-of-a-kind house, especially when you own a pale yellow exterior. Although the natural wood color is not as bold as black, your entryway will still be a focal point that draws people's attention.
Wood is still the standard option due to its adaptability, durability, and pleasant nature-inspired appearance. Although it naturally grows and contracts with temperature fluctuations, exposed wood front doors are extremely resilient and create an unrivaled yet soothing appeal.
3. Dark Brown Front Door Color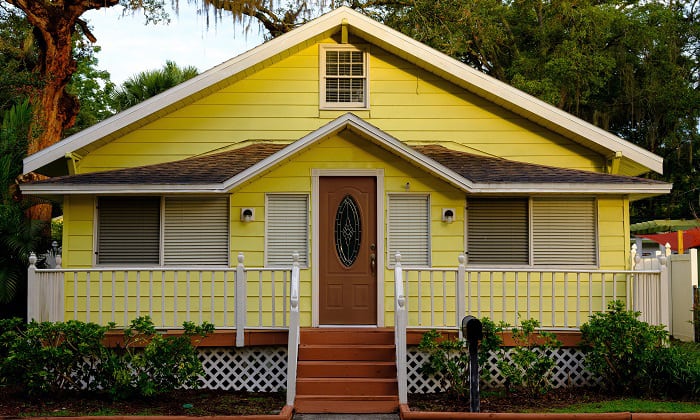 Select a tone that is neither too light nor too dark to help the yellow exterior stand out. You can further finish off the design by placing brown furniture and plants on both sides of your brown hue main entrance. This will give your entryway a classic vibe.
A brownish entryway shines against light-colored facades while simultaneously complementing dark exteriors like red brick or brown paneling. Light brown can represent compassion and reliability, and dark brown indicates introversion and solitude. As a result, it will bring a beautiful, rustic exterior, regardless of the brown hue you choose.
4. Dark Gray Front Door Color
A gray front door is frequently linked with wisdom and dignity, but depending on the shade you pick, it might make your house appear cold. This color shows that you are willing to compromise, but you are also intelligent and sophisticated, staying up to date with new trends.
Accessories that are greenish-yellow or charcoal undertones can be used to match the yellow siding. You can use various gray items, such as curtains or shutters to create an ideal appeal. These will be well-connected to your gray front door.
5. Dark Red Front Door Color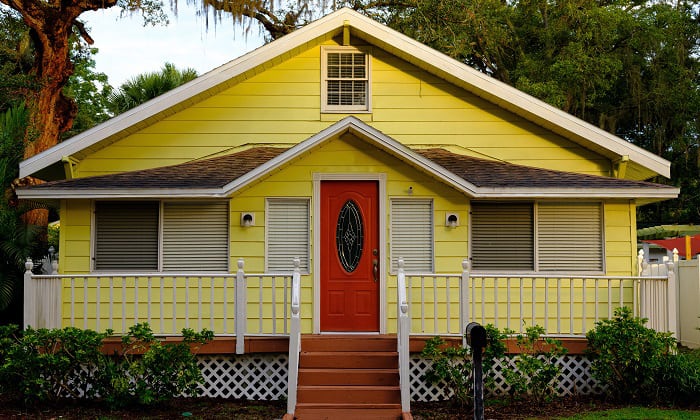 You may have seen many yellow houses with red doors since these two colors offer not only a wonderful visual appeal but also significance. In America, people are welcome at the homes that host a painted red door. In Chinese culture, they believe that it symbolizes luck, health, and well-being. Since the front door is considered the home's mouth, painting it red creates welcoming energy.
Since yellow is so visible, your front door color will definitely influence the overall look. A slightly greenish-yellow siding accompanied by a red door helps establish warm exterior features and great energy.
Bright Colored Front Doors
Vibrant colors may create a great unique style for your home's curb appeal, but you must be cautious when combining them with the shade of yellow you have, especially if yellow is the dominant color in your property. As you know, bright colors may generate an attractive modern entry that alters the front aspect of a property as long as they are used in a balanced manner. As a result, color communicates a significant shift, yet with little investment. Follow the next part for several bright complementary colors and decide what color door for yellow house.
1. Sky Blue Front Door Color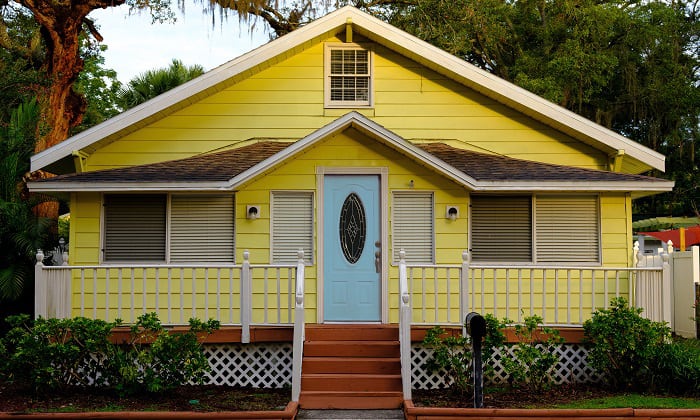 Blue is one of the most preferred front entrance paint colors. A blue main door may represent wealth, and the darker the shade, the more it may reflect a feeling of tranquility, and elegance.
Royal blue might indicate that you are affluent and optimistic, while a powder blue is pleasant and honest. Nevertheless, no matter the shade, a yellow house with blue door will convey a sense of coastal vacation. This is because yellow represents sand, and blue can be either seawater or the sky.
2. Forest Green Front Door Color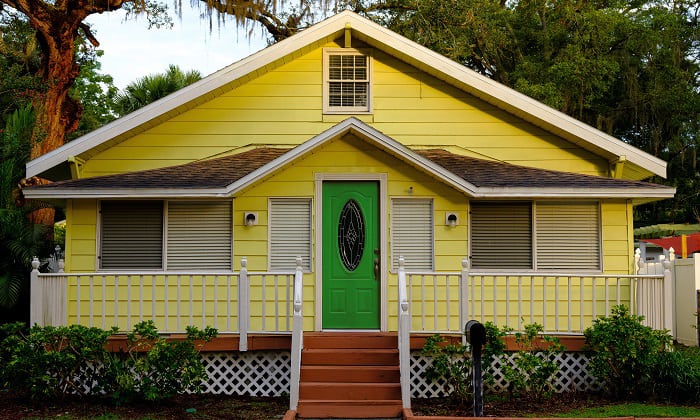 A cheerful green color front door, like the concept of "going green," delivers the message that your house is a haven of health, harmony, and environmental friendliness. You'll create the impression that you live an interesting life if you choose a louder and brighter shade of green door, such as neon green.
On the other hand, a dark green, such as forest green, also known as hunter green, contrasts beautifully with any hue of yellow, particularly bright yellow, and creates a sense of nature right in your yellow exterior. Green is closely connected to yellow since they are in an analogous color scheme. They complement each other well and emphasize the pleasure in the color yellow.
3. Sage Green Front Door Color
This green-gray hue is soothing and close to a neutral tone. Even though only a few people are aware of it, this hue is one of the best front door color for yellow house. Its cool and relaxing tones are ideal for the hot months, but also fantastic for bringing natural light into your house throughout the winter, regardless of whether you choose sage green wallpaper or a front door, and especially if your siding is painted yellow. If you're looking for a hue that falls in between pale green and bright green, this is a terrific choice.
Many individuals match sage green with other equally fresh spring and summer hues, such as yellow, to give their house a more vibrant atmosphere. Meanwhile, others seek peaceful and organic beauty for their yellow home with faint yellow and sage green. This is excellent for householders who want to upgrade their décor but prefer a more eclectic design than subdued and gentle tones.
4. Shining Yellow Front Door Color
As yellow is a striking hue, it is frequently used on compact properties like ranches or bungalows; nevertheless, yellow may also be a beautiful color for Victorians, cottages, and Spanish-style residences. If you love yellow and have already painted your home that color, you may use the same color for your front door without worrying about it being too flashy.
It's also a nice hue for the focal point of your yellow house, which is considered the health region in feng shui, or anyplace you want to create emotions of warmth, collaboration, and wellness. Just keep in mind that you should use a different contrasting yellow color to create a slight effect. For example, a darker shade of yellow door will complement lighter shades or a pale yellow house with a bright yellow front door will create a strong first impression.
5. Pure White Front Door
A white door, as you might expect, represents purity, dignity, and freshness. It's a hue that signifies objects that haven't been touched or damaged. If you prefer classic design or want to keep your property appearing beautiful, painting your door white is an excellent choice as white can mix well with just about any color and elegantly emphasize your primary color.
Moreover, white trims may be a versatile alternative for homes with yellow siding. This relaxing hue is considered classic but elegant among all the neutral hues, so it may provide an appealing contrast with the warm color yellow that distinguishes your building from the neighbors'.
Besides putting a white trim in your yellow home to synchronize with the door color, a white entryway may indicate a simple yet well-organized interior design. This neutral might convey the proper message about you if you prefer things neat.
Conclusion
If the exterior of your home is neutral, a dramatic front door color may give the striking tones that your living area style requires. In general, if the materials around your entrance are dark, go with a lighter front door color, and vice versa.
However, don't be scared to be a little out of the ordinary. Applying the proper shade of color, whether it's a mild saturated pale tone or a brilliant hue, is a simple and effective way to make the front door pop from your yellow home with a touch of charm, charisma, and amusement.
If you want a glossy and shining color for a yellow exterior, the surface area of the door must be smooth, or every flaw will be visible. Was this article on 10 front door colors for a yellow house helpful to you? If so, feel free to leave your thoughts in the comments and share it with your friends and family.
Before you go, don't forget to check related articles: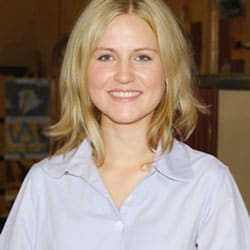 Hi, I am Roseanne Jones, an aspiring home designer that wants to make you feel more at home with your new house.With nearly five years of redecorating old residents and arranging new ones, I am confident that I can give you the best advice on your lovely place.