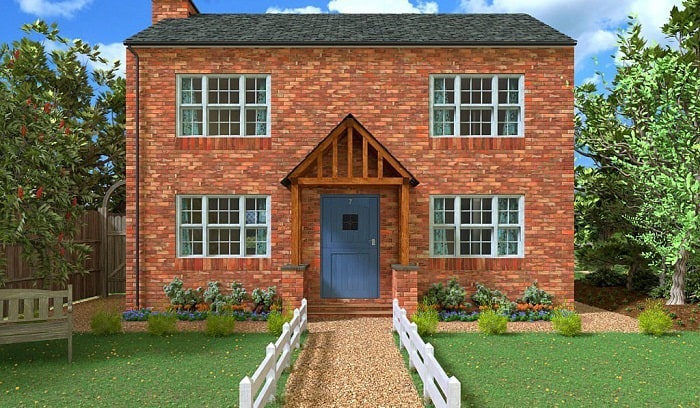 Brick homes have a timeless and classic beauty that makes them desirable to everyone. Having orange brick for your home's exterior can be a status symbol, so much so that homeowners are willing to shell out as much as $7,500 more compared to vinyl, stucco, stone, or wood, just to have that brick finish.
After spending so much on your home's exterior, you would want to get the most out of it by increasing your home's curb appeal. This can be done by picking a good door color.
How to Find Front Door Colors with Orange Brick?
It can be a little challenging to find colors that would pair well with orange brick because it is a natural material with varying shades and tones.
Worry not! We have compiled pictures of the perfect front door colors for orange brick houses to help you choose. Whether you're going for a rustic vibe or a classic theme, you'll be sure to find the right front door color to match your style.
#1 Warm Front Door Colors for Orange Brick Homes
A red-orange brick house is already warm, and you can even make it cozier and more inviting by choosing a warm color palette to go with it.
If you want a traditional look that could certainly stand out, red can be your go-to color. It is a powerful shade that pairs really well with orange brick, instantly providing a nice boost to your curb appeal.
This cheery color matches naturally with orange brick. It is eye-catching and brings joy in an instant. Going for a sunny yellow shade for your front door can be sure to brighten up anyone's day.
A monochromatic color palette is a safe bet if you want your design to be clean and cohesive. Going with orange as your front door would allow your brick house to stand out against the lush green of your lawn and the surrounding foliage.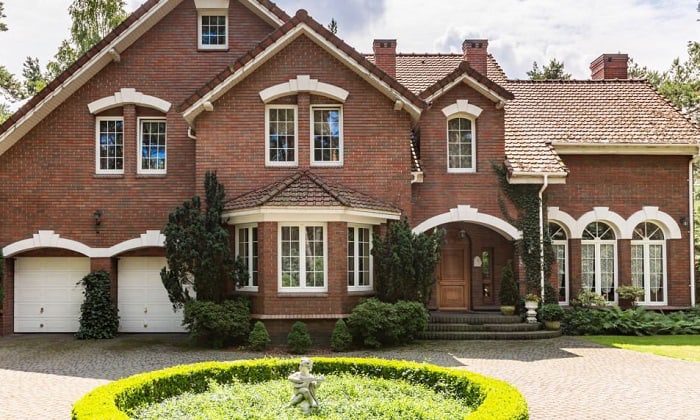 The red and yellow undertones found in wood complement brick nicely, making it a great option for your front door. Although it is subtle and rarely makes a statement, the classic beauty of a wood front door allows you to easily sell your brick home in the future.
#2 Cool Front Door Colors for Orange Brick Homes
The contrast between cool colors and orange brick are aesthetically pleasing because of their positions in the color wheel. Greens and blues are sure to complement the fiery hues of orange wonderfully.
The combination of navy blue and brick is a common sight among colonial homes in Philadelphia. No wonder as this particular shade evokes a classic vibe with shades of patriotism thrown in.
If you'd like to opt for a classic, traditional look, dark green is the way to go. Green's contrast with orange gives it a subtle appeal.
For a zen vibe, the calming tone of sage green works really well. It provides a calming entrance that is still full of character and neatly ties the look of your orange brick facade with the surrounding greenery.
As Pantone's 2022 Color of the Year, periwinkle is very much in vogue. Paired with orange brick, it is a striking combination that provides a fresh, uplifting look to your facade.
#3 Neutral Front Door Colors To Pair with Orange Bricks
If you're still unsure whether going with a cool or warm palette for your front door is the way to go, you can never go wrong with going neutral. Neutral colors are versatile and work well with any shade of orange brick.
Its blue undertones provide a gentle contrast with the bricks. Grey can also be used as a paint color for your trims to accentuate architectural details.
What's more, you can have people debating about the color of your front door. Is it blue? Is it grey? Definitely a conversation starter.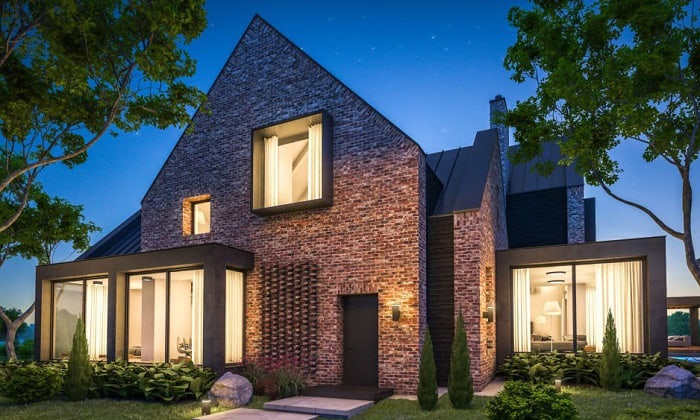 Taupe is probably the poster child of neutral colors. It is a mix of brown and grey and can be warm or cool, depending on whether you have a red or green undertone. As a truly neutral color, it doesn't clash with the orange of the brick but rather, emphasizes its beauty.
#4 Bold Front Door Colors
Looking to liven up a traditional brick house? Sometimes a little experimentation with bold colors is what would bring your home's curb appeal to life.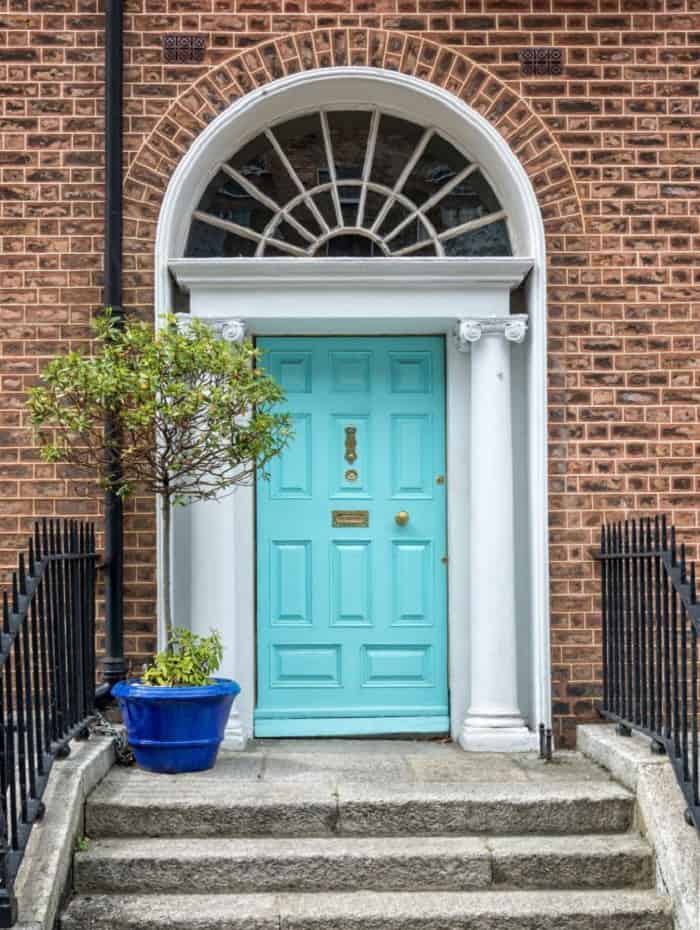 The yellow tones in light or mint green complement the brick, while the blue undertones bring out the vividness of orange. For a modern farmhouse look, consider using this color for your front door and shutters.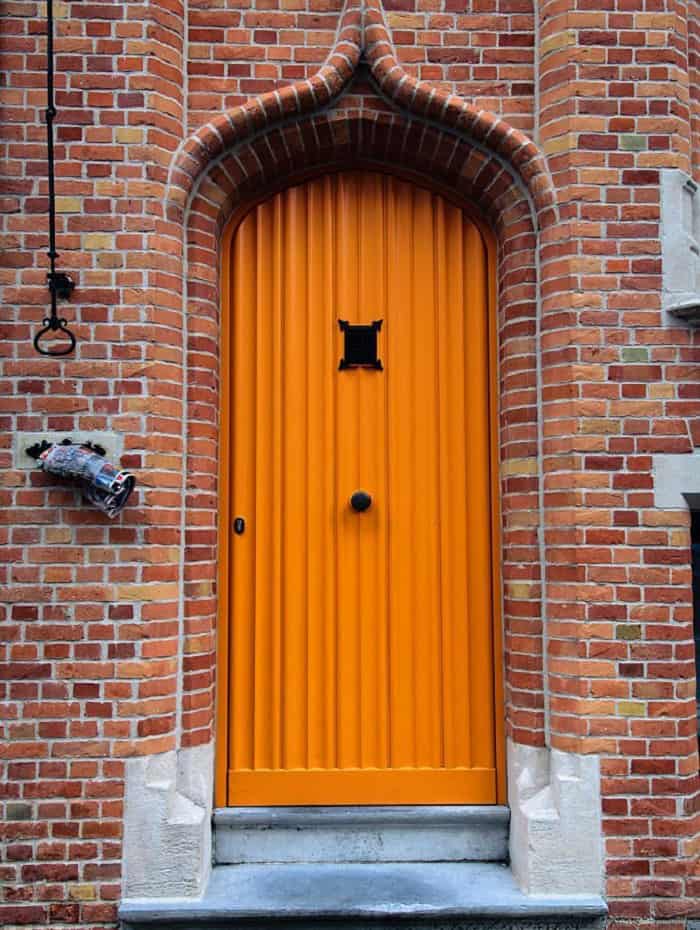 Dare to be bold by using bright orange in your facade. It might look kind of continuous, but it definitely merits a reaction. Many house owners go with a bright orange front door for a gritty industrial look.
If you would like to give your home's exterior a modern update, you can use bright teal for your front door. Its yellow undertones deemphasizes the yellow in the brick, while the blue brings out the red because of contrast.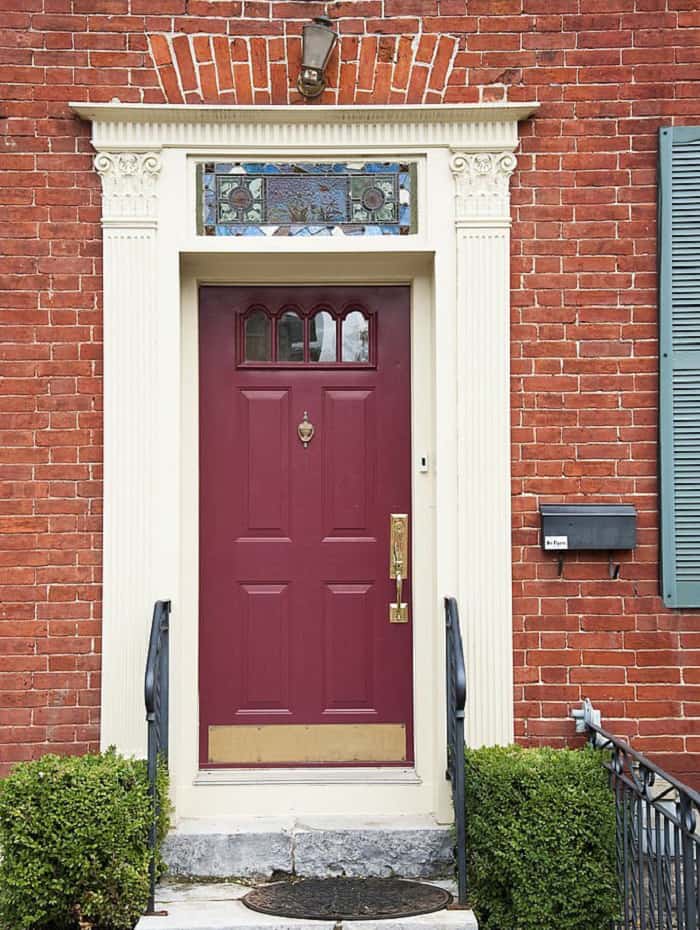 Can't choose between warm and cool colors? Plum gives the best of both worlds and pairs really well with orange brick to boot. Despite not being among popular front door colors, it is playful enough to be bold yet elegant enough to be a classic.
#5 Classic Front Door Colors
While having a colorful front door can be fun, sometimes less is still more. Going with classic colors for your orange brick house can definitely make an impact.
Black is one of the best door colors for your orange brick exterior. It exudes sophistication and never goes out of style. Matching the trim colors with the front door will provide a beautiful contrast with the orange bricks.
Additionally, a black front door can significantly increase your home's value. According to Zillow Paint Analytics, houses with black doors can sell for $6,271 more! That's a spectacular rate of return for a bucket of black paint which costs $100-$400 at most!
If you would like to tone down the orange, you can choose to go with white. It rarely ever clashes with other colors, so you can go with another color for your trim should you desire. White is a great choice for Victorian-style brick houses.
Tips When Choosing Colors to go with Brick
Brick is a natural material, so variations in shades can exist. It is advisable to test the matches in person by comparing the color swatches side by side with the brick. Choosing colors using only photos or your computer screen can be a costly mistake.
Test the color swatches in different lighting. For instance, colors can appear differently in sunny weather compared to when it is gloomy and overcast.
If you're still undecided, you can go around the neighborhood to gather inspiration and to check out what works and what you can improve on.
Final Thoughts
Nearly every homeowner's goal is to have their brick house stand out in the neighborhood and elicit that "Wow, that looks good!" reaction from the neighbors. Choosing the right front door color can certainly help in that regard.
You can choose among a myriad of colors depending on what you're going for–whether it is warm, cool, neutral, or a classic look. Selecting the right front door color depends on the impact you'd want your home to have. Just always remember to match the colors in person and in different lighting to avoid making an expensive mistake.
Which among the front door colors for orange brick houses caught your eye? We'd really love to hear from you in the comments below.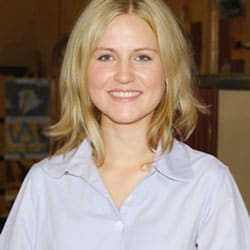 Hi, I am Roseanne Jones, an aspiring home designer that wants to make you feel more at home with your new house.With nearly five years of redecorating old residents and arranging new ones, I am confident that I can give you the best advice on your lovely place.