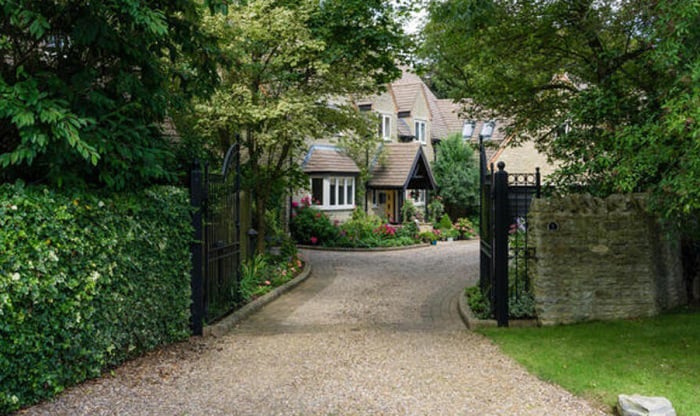 Gravel driveways have such a visual appeal that they can fit into practically any home. From edging to picking the right stone color for a gravel drive, there are a lot you need to be aware of to find the right design.
While gravel driveways might not possess a modern aesthetic like their paved counterpart, their timeless beauty means they're never out of style. Let's discover the top gravel driveway designs with pictures to accentuate your home's curb appeal.
DIY Project Gravel Driveway Ideas You Shouldn't Miss
Gravel is a great option for those who want a driveway with undertones reminiscent of nature. This is why many ideas will play to its strength by combining it with natural elements such as flowers, plants, or mesmerizing rock boulders.
1. Try To Choose Matching Color With The House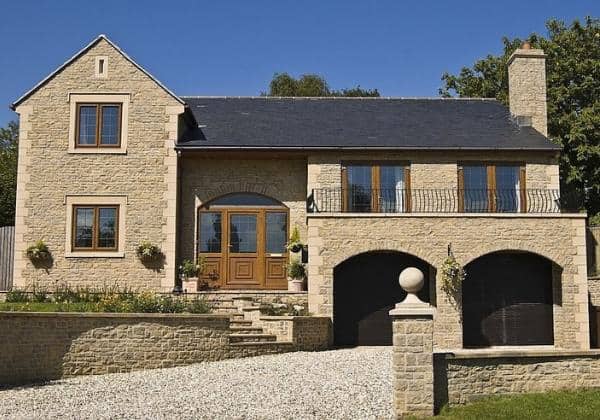 This understandably is not always possible, considering how limited driveway gravel color is compared to house paint. However, you need to at least pick gravel shades that complement your house; otherwise, you're in for a disastrous color clash.
Should your gravel driveway be an exact match to your house, go for a minimalistic scheme. Instead of complex landscapes of colorful blooms, a grass lawn will offer visual continuity and a picturesque setting.
2. Go For Dark Tones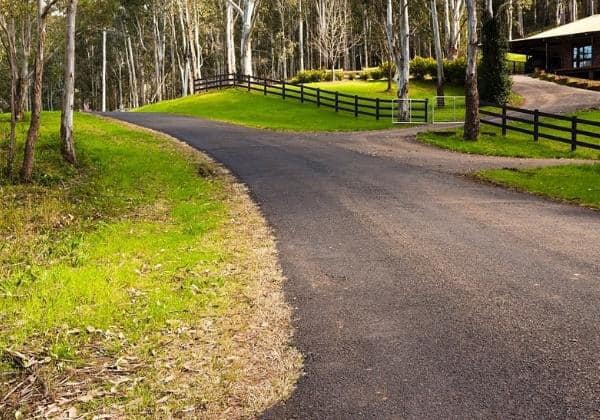 If picking an exact gravel color match for your modern home is impossible, a black gravel driveway may be up your alley. Unlike buff and brown gravel drive, which is often associated with a rustic look, the black pebbles evoke a sleek contemporary look.
To add a finishing touch to the dark gravel driveway, install a series of light stepping stones near the house's entrance. The bright color pop will offer enough offset to tone down the black stones' intensity, while still enhancing their modern appeal.
3. White Stones Are Ideal Too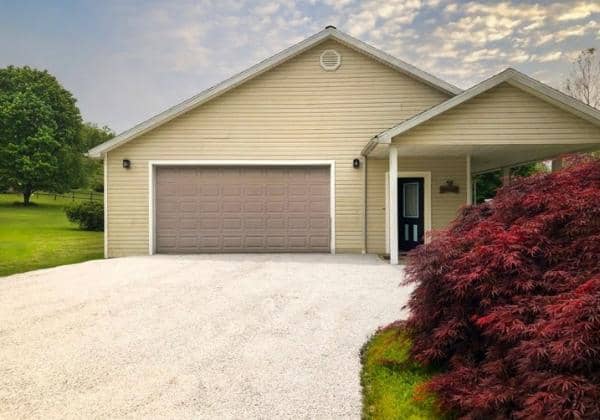 White limestone gravel might be completely opposite to black on the color wheel, but it can still offer an undeniable modern charm. With a beautiful edging as accents, white washed gravel drive will bring a refreshing feel to your driveways.
Compared to black, white has a sense of tranquility that makes it a prime candidate for a beach-inspired design scheme. This is why you'll find coastal plants, large rocks, and driftwood amazing accessories to accentuate a white rock driveway.
4. Build A Stylish Gate At The Entrance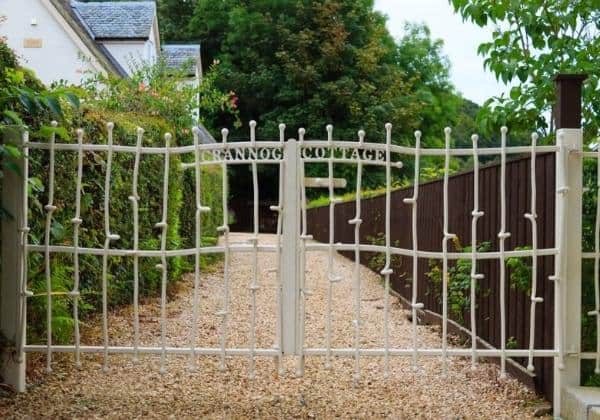 A gate's function doesn't just stop at keeping uninvited guests away, it can also add beauty to your gravel drive.
A wooden gate door, for example, can emphasize the timeless appeal of the stone. Its earthy tones complement the gravel drive natural hues and create a uniform scheme. Pair the gate with natural stone walls, and you'll have your "holy trinity."
5. Construct A Formal Entrance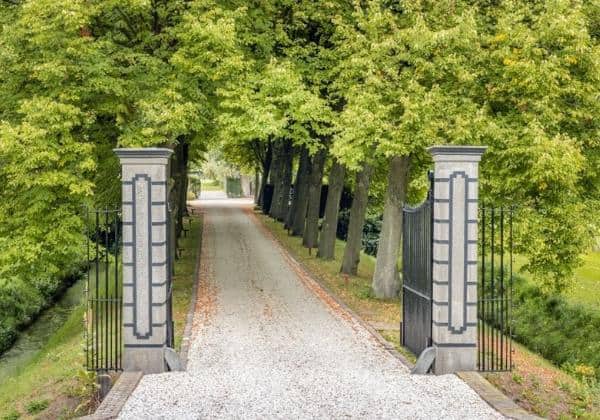 For some people, gates can feel somewhat closed-off, especially in peaceful regions where you don't really need to worry about unwelcomed visitors. In such cases, a formal entrance such as two pleasingly symmetrical columns or a dual stone wall will suffice.
6. Foliage Archway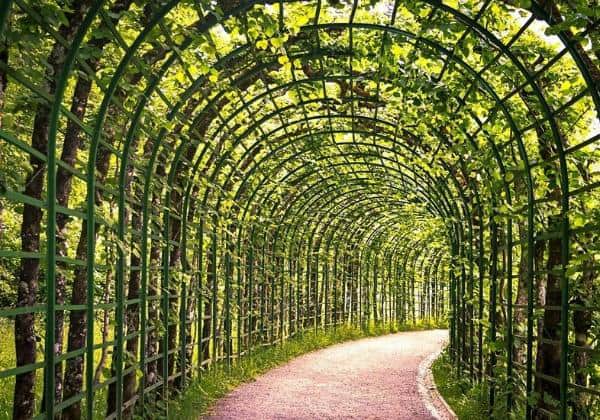 If your driveway is already bordered with green grass and an abundance of flora, a magnificent foliage archway will help you round out the "green thumb" scheme.
A great balance between seclusion and welcome, a foliage archway shows that your driveway is private property, but is always open for guests. Its lush vibrancy will have a huge impact on the ambiance of your space.
7. Edge The Gravel Driveway With Flowers
As small pea gravel already has an innate rustic charm, you can amp up the appeal of this driveway material with small shrubs of flowers as edges. The gorgeous green outline will look particularly impressive alongside a cottage garden.
To minimize the need for gravel driveway maintenance, choose drought-tolerant plants. Then, line the decorative gravel driveway with a rockery and let nature take its course, which will result in a lush moss-covered edge.
8. Install A Low Wall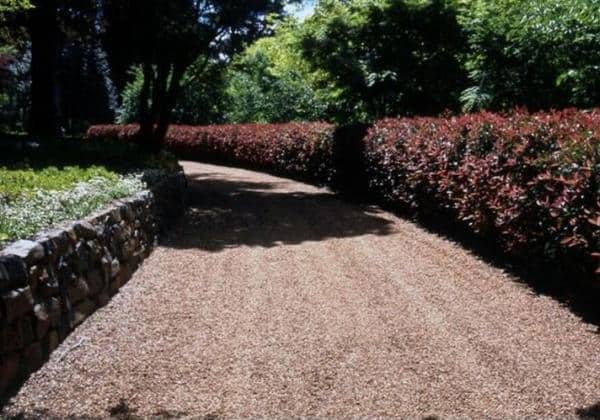 Define the gravel drive path with a low wall, which can make your house entrance a lot more inviting. Some viable material options for constructing the wall include fieldstone, brick blocks, adobe, or poured concrete.
Let's examine the picture above. Here, we use a natural stoner retaining wall on one side and a green wall on the other. The combination results in a charming look that beckons passers-by to slow down and marvel at its architectural beauty.
9. Pick Split-rail Fence For Long Driveway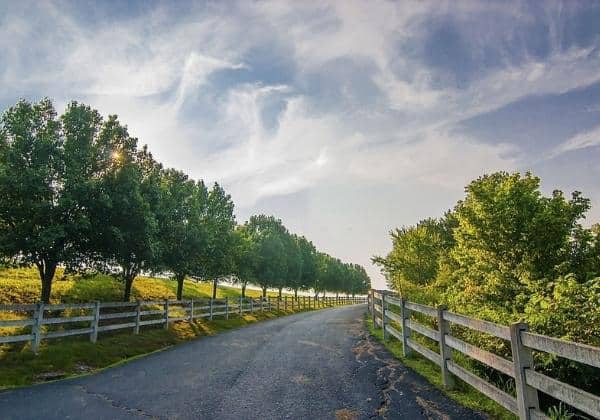 When it comes to stone driveway ideas, split-rail fences are a common choice too. They don't require as much maintenance as a green wall might, and their price is usually lower than a carefully constructed granite wall.
Despite being an economical option, split-rail fences still possess a unique charm that is reminiscent of serene countryside. You'll find that the fence can still be a nice addition to a smaller and shorter gravel driveway.
10. Opt For A Cement Border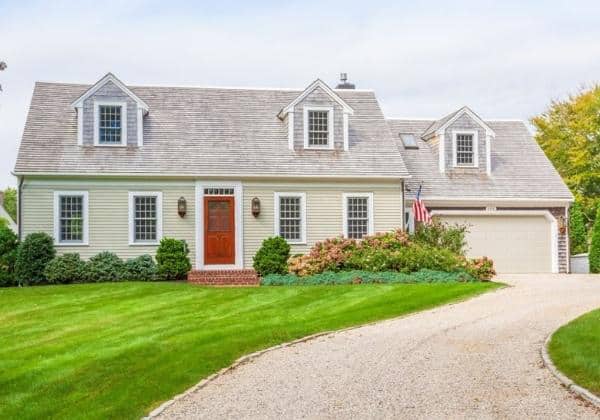 One of the cheap driveway ideas, a cement border edging allows you to keep the grass lawn distinct from the stones. The edge lines might be subtle, but they offer clean lines that make your lawn and gravel driveway seem immaculate and well-kept.
I find this scheme most appealing when the gravel has a noticeably darker shade compared to the neat border edging. For instance, a black gravel driveway will look more stylish with its modern aesthetic when accentuated by a light cement border.
11. Choose Cobblestone For Driveway Edging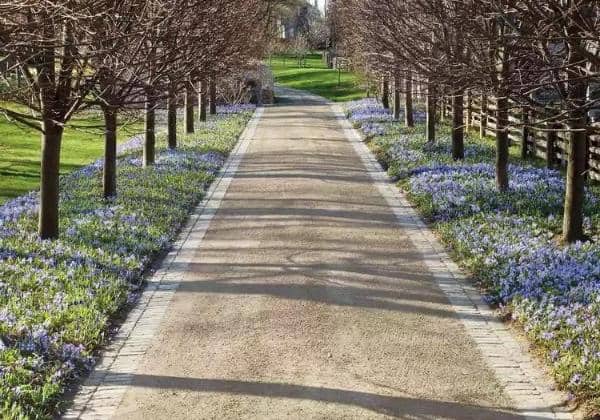 Cobblestone is very common among rock driveway ideas. Its rustic charm and natural beauty allow it to be the perfect edge for gravel stone's timeless allure. This material is also famous for its durability, thus cutting down on the need for driveway maintenance.
My favorite cobblestone edging–gravel driveway combination includes three rows of neatly placed stones to separate the driveway from the lawns. For this scheme, you should choose gravel with a similar color as the cobblestone.
12. Use Transom Pavers To Distinguish The Driveway From The Street
In some cases, the transition from gravel to paved roads can seem rather sudden. For a more seamless shift, tile a transom of pavers between the gravel and the road. The clean border will provide a natural distinction between the two areas.
Another advantage to the transom is that its grooves will ensure your car's tires are clean of gravel before entering the road. As a result, you won't have to worry about unintentionally littering the street with rocks again.
13. Fill Openwork Concrete Pavers With Gravel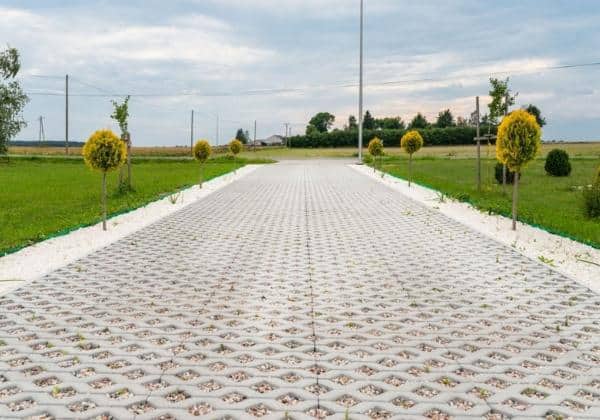 Are you thinking of switching from the openwork concrete stone pavers with gravels? The renovation project might take too much time and money. A better alternative would be to fill the open concrete driveway with gravel material.
Similar to other driveway stone ideas, adding a small lawn grass and a few trees will take the edge off the concrete. In this instance for gravel driveway ideas, towering trees for shades and canopy would be a fantastic choice.
14. Tar And Chip Driveway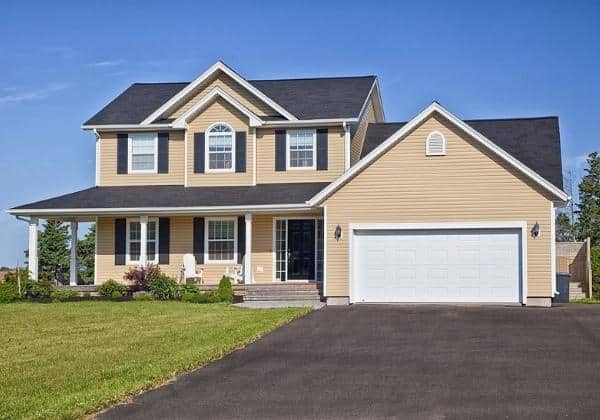 Another creative way to accentuate your curb appeal with gravel is with tar and chip driveway, which features several layers of gravel and liquid asphalt as the main material.
These cheap gravel driveway ideas have a distinct rustic surface, making them suitable for the countryside or suburban homes. Affordable price aside, this gravel and asphalt driveway requires minimal upkeep.
15. Pick Large Boulders For A Stone Landscape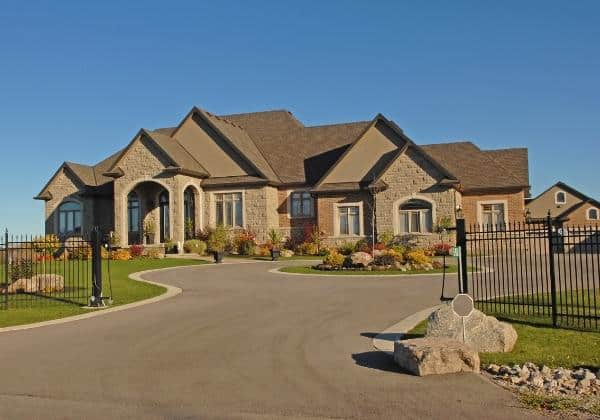 Large boulders are a key to creative gravel driveway landscaping ideas. They're fantastic both as retaining walls and edging borders for gravel driveways. On the higher lawn, you can let your creative side go wide and show off your gardening skills.
The only downside to this driveway idea is the challenge of placing hefty boulders, which require heavy equipment. As such, installing the large decorative rocks as edging is not suitable for DIY.
16. Accentuate A Large Driveway With Flowerbed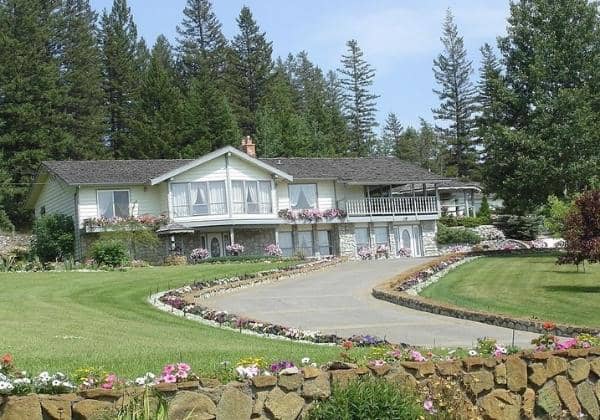 My time as a home designer has shown me that plants can always make a gravel driveway look nice. Be it a circular flowerbed of mixed cultivars or a neat row of matching planting schemes, this combination never fails.
Flowerbeds and gravel driveways might be an effortless match, but it doesn't mean you can pick florals willy-nilly. Decide whether you want to go contemporary with a matching scheme, or flaunt off your creative side with a mix of florals and evergreen grasses.
17. Use A Fountain As A Centerpiece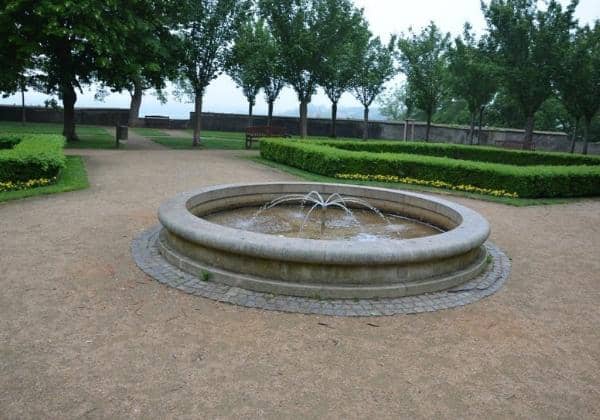 An exquisite decor to cool off the summer's heat, a water fountain brings refinement to your modern gravel driveway. Its majestic beauty will be the perfect complement to your driveways, as it will surely leave a deep impression on all your guests.
Although I usually suggest fountain installation as an alternative for people without a green thumb, you can surround them with beautiful florals. The greenery will further enhance your gravel driveway fountain's grandeur.
18. Don't Forget An Entryway At Your Front Door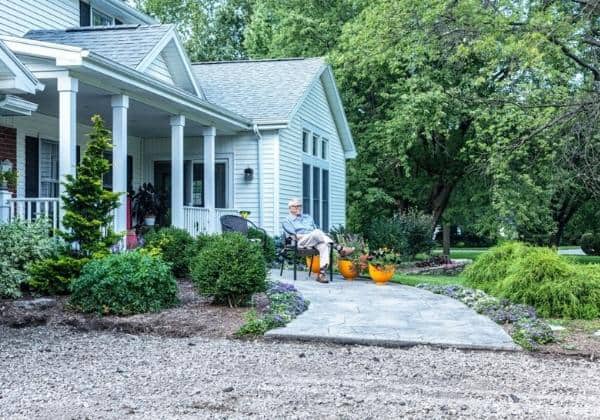 Nothing bespeaks warm invitation like an entryway leading from your gravel driveways to your front door. In this example, the crisp tiles stand out against the paler gravel, which results in a clear contrast that seems to say "Here is home sweet home."
19. Arrange Pot Plants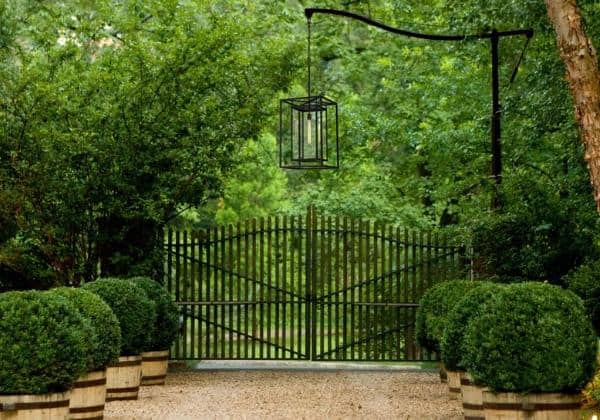 In this hustle and bustle lifestyle, some of us might not have the time to look after an elaborate landscape. In such cases, busy plant-lovers will certainly appreciate gravel driveway ideas with pot plants, which can still offer the same foliage appeal.
20. Laid A Parking Grid To Keep The Gravel In Place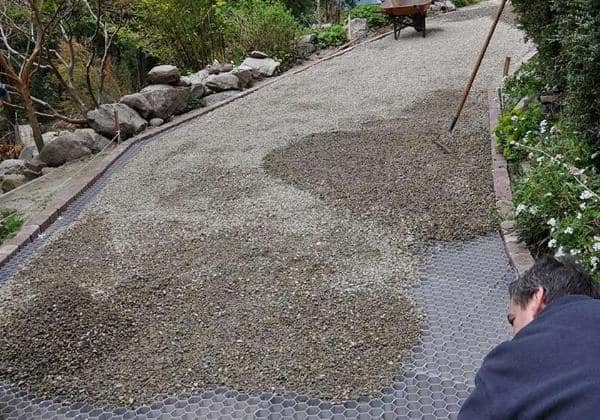 One problem with pea gravel driveway is that it's prone to tire ruts from cars, which can result in a haphazard appearance. While you can rectify this by spreading less than 3 inches of the materials, the best solution would be to lay a plastic parking grid.
Other than pea gravel, a parking grid can minimize the need for raking your loose gravel driveways. If you love a loose gravel driveway for its drainage capability with rain and snow but are put off by the need for regular raking, maybe this will change your mind.
If laid correctly, the grid should be indiscernible – no one will know there's something keeping the gravel in place underneath the surface.
Therefore, it's worth it to spend money (roughly $2-$4 per square foot) on a parking grid to benefit your driveway in the long run.
Conclusion
As passing through the driveway is required to reach your home, it's important to pick breathtaking gravel driveway ideas to leave a good first impression. And what could be more impressive than a beautiful scheme and the pleasant crunching of the stones?
I hope my tips and suggestions have given you inspiration for your projects. Once you're done with the installation, don't hesitate to share your results with us. I await your good news.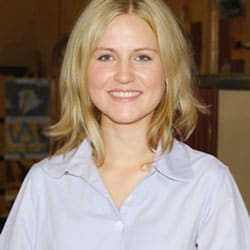 Hi, I am Roseanne Jones, an aspiring home designer that wants to make you feel more at home with your new house.With nearly five years of redecorating old residents and arranging new ones, I am confident that I can give you the best advice on your lovely place.