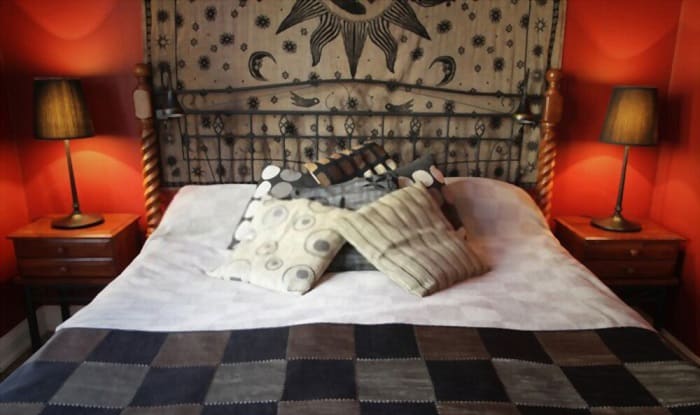 Moving into a new house can be a wonderful experience, but it can also be a stressful time, particularly when it comes to decorating. To make your space appear its best while representing your unique style, hanging blankets is one of the methods to add diversity and aesthetic value to your interior and may help design a space that is more than just ordinary.
You will have a far better chance of success if you prepare ahead and follow the same processes as expert interior decorators. Therefore, this article will provide you with SEVEN simple methods on how to hang a blanket on a wall.
Ways to Hang Blanket on the Wall
1. Nails
Hanging a blanket on a wall with nails is considered the most straightforward and accessible way to create art in your home. To keep them hung where they belong, you'll need to pick the right fastener and secure it correctly. A nail or extendable plastic screw can be used to hang light or medium-weight fabric tapestries. However, a heavy blanket should have additional support by equipment that either connects to the wall studs firmly to the surface from the back.
Materials
A hammer
6 nails
6 plastic anchors
A blanket
Steps to follow
Step 1: Purchase silicone or rubber wall anchors that are designed to fit the nails you have, and check the packaging to see what size screwdriver is needed for the hole.
Step 2: Make small marks on the wall where you would like your blanket hung up.
Step 3: Drill holes through the wall big enough for the plastic anchor to fit in.
Step 4: Use a hammer to tap the anchor into the hole.
Step 5: Tighten the nails into the anchor after inserting them through the quilt. The anchor will expand as the screw tightens, allowing it to grab the hole's sidewalls.
Step 6: For heavy blankets, you may want to insert another screw in the middle to hold it securely.
2. Curtain Rod
This approach is perfect for blankets with a designated gap for a rod. It protects your tapestry from damage and allows you to move it effortlessly if necessary. Moreover, this equipment can assist in hanging heavy blankets or curtains firmly on the wall without drilling any holes. Therefore, a tension rod is commonly used to hang up a blanket on the wall as a window curtain as well. On the other hand, since a tension rod requires two surfaces facing each other, you may not be able to hang your blankets anywhere you want.
Materials
A tension rod
Screwdriver
Screws
Blanket hangers
Curtain tabs
A blanket
Steps to follow
Step 1: You're in luck if your blanket is designed with a rod pocket as you can just install a curtain rod according to the rod's instructions, including measuring, marking on the wall, installing screws and hangers. Finally, you can slide your blanket onto it.
Step 2: If your quilt doesn't have a rod pocket, you may make one using a sewing machine, or you can just stitch it manually. All you need to do is to fold the top edge of the blanket and stitch it together on the back. If possible, you may also want to insert some curtain tabs to hang a heavy blanket on the
Step 3: If your piece is rectangular or exceptionally huge, throw it over the rod to make a mock headboard for your bed or a striking display over the couch. You can also insert some curtain taps for added security reasons.
3. Self–adhesive Velcro Tape
Using adhesive tape is a fantastic choice if you don't want to drill holes in your walls or blanket fabric. Velcro strips are just a few of the wall art solutions available. They will also offer your tapestry a much cleaner and seamless appearance when it is placed since there will be no nails or screws visible.
Materials
3 to 4 velcro strips
A blanket
Steps to follow
Step 1: Mark where you want your fabric to be hung on the wall and the blanket.
Step 2: Apply the adhesive strip to the blanket and the wall.
Step 3: Before hanging them, allow them a few minutes to settle.
Step 4: Finally, take off the other side of the adhesive strip that you've just prepared and stuck it to the wall. It's better to start with the corners and then go around the blanket's
4. Command Strips
If you live in a dormitory or a rental where you are not allowed to leave marks on the walls with nails or paper clips, you can consider this approach. Command strips are ideal for hanging a blanket on the wall without nails or damaging your wall paint. The size of the command strips should be determined by the weight of your blanket. A thin strip, in particular, will not be able to support heavy and larger weaves.
Materials
3 – 4 command strips
Velcro strips
A blanket
Steps to follow
Step 1: Choose a location for the blanket to be hung.
Step 2: Make a mark on the wall where the blanket's two top corners will be.
Step 3: Place the fabric on a clean, level surface, face down.
Step 4: Remove the command strips from their package and set them aside. Pressing the velcro faces of two strips together.
Step 5: Remove one-liners from each of the command strips you've just created.
Step 6: Start from the top corner, attach the strips around the top edge of the blanket.
Step 7: The quilt should be hung on the wall now. Apply significant pressure to the command strips and blanket as they are pressed against the wall.
Canopy beds are currently popular because of their luxurious style, which helps to keep the room warm and private. To create a lovely bed such as a canopy, or cozy sitting space, hang your textiles from the ceiling. Fabric is draped over the top and all sides of these beds. To put it another way, all you have to do now is follow the same steps you would for hanging a blanket on the walls, but this time on the ceiling.
5. Clothespins
The combination of clothespins and command hooks also gives you a modern look for your blanket hanging on the wall. Hanging adhesives are great for lightweight tapestries; if you have a big and heavy one that is thick or rug-like, you may need to choose a more heavy-duty hanging alternative.
Material
3 – 4 Command hooks
3 – 4 Clothespins
A blanket
Steps to follow
Step 1: Make a mark on the wall where your blanket will be.
Step 2: Depending on the weight of the fabric, use standard-sized clothespins or smaller clothespins.
Step 3: Attach one side of the strip's liner to the clothespins.
Step 4: Press the clothespins to the wall for a few seconds to make sure it is stable.
Step 5: Hang the blanket by attaching the clothespins or clips to the upper portion of it, based on the blanket's weight and the clips' strength.
You may also customize your clothespins by painting or decorating them in any manner you like to create a unique look. Or you can use clips instead. This is the best way to hang a blanket on the wall since not only the blanket but also the clothespins reflect your style.
6. Wooden Frame or Canvas Stretcher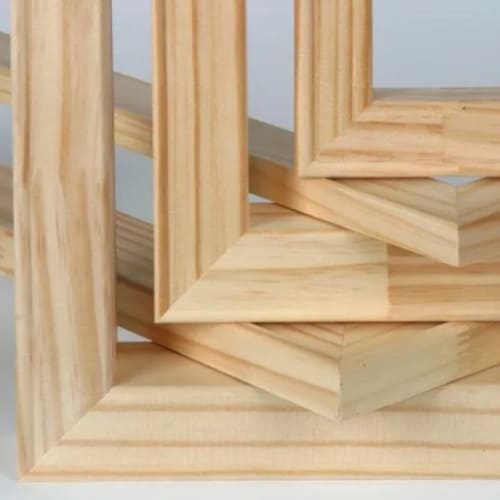 The last method of hanging a throw blanket on the wall is to attach it to a piece of wood. You can stretch cloth over a wood frame or plywood board to create a wall artwork in your own room. The advantage of this technique is that you can either hang it on the wall like a picture or just lean it against a surface by placing it on a dresser, the floor, or anywhere you like in your room. It may appear simple, but there are certain steps you need to follow to hang a picture blanket on the wall.
Material
A piece of plywood board
Clothes iron
Fabric staple gun
Hooks
A blanket
Steps to follow
Step 1: Place the quilt on a dry, level surface, face down the table. If you have an iron, use the suitable textiles setting to iron the blanket.
Step 2: Put the fabric on top of the wooden board. Make sure that its width must be bigger than the canvas stretchers since it needs to wrap over the wood.
Step 3: Stretch and fold the inside edge of the blanket over the frame before stapling it in place.
Step 4: After the blanket is framed, you can attach the pictures to the wall using picture hooks, clips, or holders.
Step 5: If you have durable fabric, around 2 or 3 inches thick, there is no problem stretching it over the canvas. However, if your fabric is light, you might also want to put and pin another piece of cloth to the frame first to keep the wood from showing through.
7. Hanging Blankets on Walls for Soundproofing
If you're searching for a quick and easy solution to soundproof a space, blankets may be the answer. Even a standard blanket should be able to absorb noises and decrease echo. A blanket can be used to cover any surface, including walls, windows, and entryways, as long as it is thick and dense. Cover as much of the window as possible for a full sound-canceling effect. Air gaps are the principal cause of sound leakage via windows, even when closed.
Materials
Nails or a nail gun
A hammer
Strong adhesive
Steps to follow
Step 1: Securely seal the window.
Step 2: Cover the window completely with a blanket.
Step 3: Nail the blanket to the area all around it.
Blankets are a wonderful way to insulate a room because they don't take up as much space as other sound absorption. You may also customize the blankets so that they can blend in with the rest of the room's decoration. Additionally, unlike most other acoustic materials, blankets can be washed easily. They will also absorb approximately the same amount of dust as your curtains.
Take a look at this video if you want a better grasp of how to hang a blanket on the wall for your interior design.
Conclusion
After reading this article on how to hang a blanket on a wall, you should be able to select a nice art solution for your blank wall that won't destroy your blanket and isn't too far out of your DIY ability with this variety of alternatives. You may still contact a specialist to support you if you're worried about doing it yourself.
Make sure that you make a good decision on your blanket textiles, color and texture that best suits your room. Also, they should be kept out of direct sunlight to avoid fading. Have you found this article useful? If yes, please leave a comment below and share it with your loved ones.
Furthermore, I'd like to recommend to you some tips that decorating your wall with curtains if you like: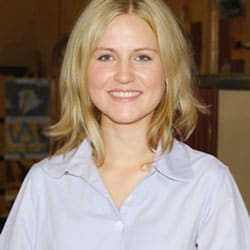 Hi, I am Roseanne Jones, an aspiring home designer that wants to make you feel more at home with your new house.With nearly five years of redecorating old residents and arranging new ones, I am confident that I can give you the best advice on your lovely place.