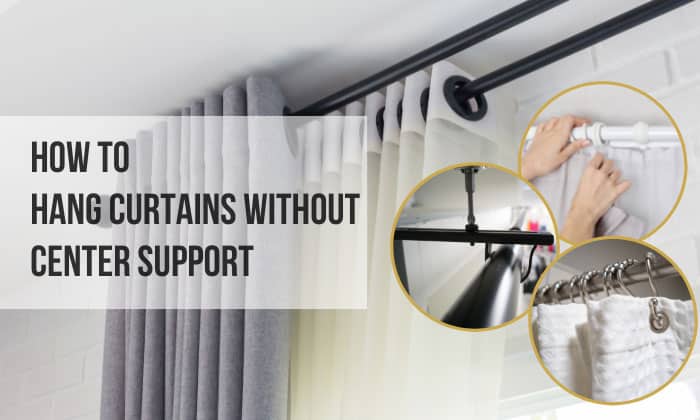 A beautifully hung curtain gives a flowier and fresher look to the home. But behind every flowy hanging curtain is the curtain rod that holds it. So, to keep it stabilized, middle support is necessary.
Without a center bracket, the curtain rod's support system will be weak and the curtain will not be properly placed in the window. Hence, it only looks odd and misplaced.
The question is how to hang curtains without center support. Let's discover some useful tips to hang curtains without rods and hooks.
Ways to Hang Curtains Without a Rod
The best way to hang curtain rods without center support is to find an alternative to curtain rods. But, if there is no alternative found, we can use some ways that do not need any center support. There are a lot of them available on the market. But let's see what's the best we can use.
1. Try Using Magnetic Rod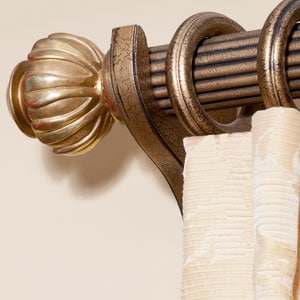 Magnetic rods are one of the most efficient ways to hang curtains without drilling. But because it is magnetic, it can only hold lightweight curtains for your room. This rod is highly used on steel and/or metal doors and window frames that are not used often.
The price of magnetic rods varies depending on the type you are going to buy. Since it is magnetic, you can install the rod by placing it where you want it by sticking it to your wall.
2. Hang your Curtains with Tension Rod
If you are looking for long curtain rods yet don't want to drill your windows, using tension rods is the best option.
Tension rods can be used in different creative ways depending on where and what you need them for. This rod doesn't need any hook or screw to stay in place.
You can use a standard 100-inch curtain rod as your sliding door curtain rod, they are adjustable.
There are designs that allow adjustment from 36 – 72 inches. Longer ones allow 72 to 145 inches extensions. Therefore, you can use it as a room divider, for door curtains, in the shower, and especially to hang curtains.
However, it may be costly when you want it customized.
3. Use Adhesive Hooks to Hang Curtains
Aiming for no-drill curtain rods? Then, try hanging your curtains with adhesive hooks. This method is suitable for narrow windows wherein you won't need any middle support.
Adhesive hooks are versatile and come in different sizes, colors, and styles. If you rent your place, using an adhesive hook will be the best thing for you since it doesn't require so much effort and is very handy.
One thing you must remember is to use a lighter rod here but strong enough to hold the curtains and keep them in place. Some hooks are strong and can carry specific weight, you only need to choose the one that fits your needs.
You have two options when using this method – with a curtain rod or none. Always measure and mark the areas where you will put the hooks before attaching them to the wall.
If you have a rod, hang the curtain on the rod, then secure the rod on the hook. If there is no rod available, you can sew or attach the curtain to the hook using a ring.
FAQs
Do I need stubs to hang curtain rod brackets?
No. You don't need a stub to hang curtain rod brackets. If your wall has no tubs, having a drywall will help your screw hold the bracket and keep it strong.
Curtain rod brackets placement
Looking at an empty window can be so boring and lame. To ensure that your window can have an appealing ambiance, having curtains that are properly placed will do the job for you.
Measure the panel and ensure that the length of the rod has 8 to 12 inches added to it. This way, you will be able to open the window, and the curtain will not be able to hinder the light if you want sunlight.
Place it two to four inches above the window and choose the curtains that you like best. For more guidance on how to hang curtains, click here.
Are there any alternatives to curtain rods?
There are a lot of alternatives to curtain rods. Aside from the adhesive hook mentioned above, these are other things you can use.
If you only want curtains for a pop of color, use an upholstery tack.
Tension cables are another option for a sheer and lightweight curtain.
Another best alternative for curtain rods is hook eye screws.
Furring can also be used when you want your curtains to be kept in place.
How long can a curtain rod be without a center support?
Basically, having an 84 curtain rod or longer requires center support, not just one but maybe two brackets to prevent it from sagging.
If you want a curtain rod without middle bracket, your curtain rod should be between 30 to 36 inches only.
Conclusion
One of the most effective interior designs is having curtains. Not only will it give you a fresher look, but it can spice the room as well. To achieve this, the center's support is needed. Hence, given the information above, there is no more need to ask how to hang curtains without center support.
Now, slay the patio door, curtain rods are no longer a must-have. Give life to your home with fewer worries.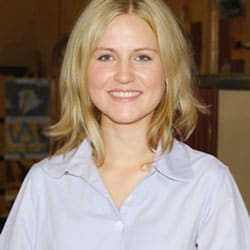 Hi, I am Roseanne Jones, an aspiring home designer that wants to make you feel more at home with your new house.With nearly five years of redecorating old residents and arranging new ones, I am confident that I can give you the best advice on your lovely place.