Mirrors aren't just simply for checking your appearance; they can also be important accessories to enhance your room's appeal. Between framed and frameless mirrors, there's little doubt the latter is more stylish and eye-catching.
However, without protective frames, these reflective surfaces can be quite fragile. As a result, you'll need to be extra careful when mounting them anywhere.
If you don't know how to hang a frameless mirror on a wall, our step-by-step guides on frameless mirror installation will certainly help.
3

Effortlessly Ways to Hang a Frameless Mirror
#Method 1. Using Frameless Mirror Hangers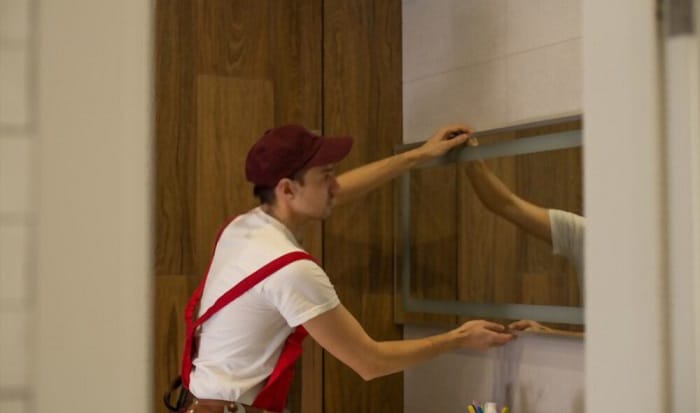 What to prepare
Pipe & cable detector
Long ruler
Pencil
Painter's tape
Spirit level/laser level
Stud finder
Frameless mirror hanging kit
Power drill
320-grit sandpaper
Glove/safety goggles
Step 1: Outline where you need to hang the mirror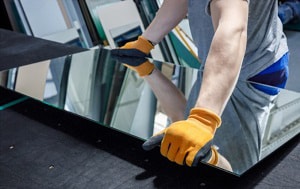 Technically speaking, it's not that hard to mount a frameless mirror. However, careful preparation is of utmost importance; otherwise, you may run into problems such as drilling into internal pipes or uneven hanging surfaces.
Trace a pipe & cable detector along your wall. If the light flashes green without any beeping sound, the location is safe for drilling.
Run a long ruler, preferably one larger than the mirror, along the previously checked surface to ensure it's even. If there are any noticeable bumps, sand them down with 32o-grit sandpaper.
Have another person hold the mirror flush against the wall so that it's at your eye level while you trace its outline with a pencil. Alternatively, you can use painter's tape to mark where the mirror needs to go.
Using either a spirit or laser level, check to see whether your markings are even.
When handling the mirror, remember to wear gloves and safety goggles.
Step 2: Identify the stud locations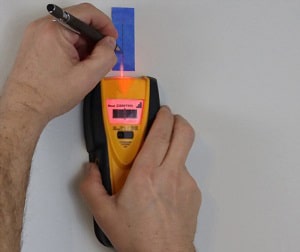 This step can be skipped if the reflective surface is lighter than 20 pounds. However, it's always better to hang a heavy mirror via studs. Otherwise, the hefty weight can rip the mirror mounting brackets off the wall.
Press your finger on the stud finder's button and slowly trace the device across the wall. When the stud finder beeps, it means you've found your stud. You should be able to find one every 16 inches.
Mark the stud's location with a pencil.
If you can't find any stud where you plan to install frameless mirror, consider moving to another location. In case you can't find any studs, consider using a metal toggle bolt for the large heavy frameless mirror, which can hold up to 50 pounds.
Step 3: Install the mounting brackets to the wall
When it comes to the frameless mirror hanging kit, one of the most common varieties you'll find is mounting clips for small glass surfaces.
However, if you plan to mount a mirror to a wall, even when the glass is heavy, I suggest doing so with J channel, which can extend up to roughly 10 feet.
Place the mounting clip so that at least one aligns with the stud. Mark the location of the screws.
If brackets are required on both the top and bottom of the mirror, use a level to make sure the markings are plumb.
Using your pilot drill, make pilot holes where you've just marked. In other words, each hole's depth should be the same as your screws' length. However, its diameter should be slightly smaller than the screws.
Place the mounting clips flush against the wall and fasten the screws tightly.
Step 4: Hang the mirror without frame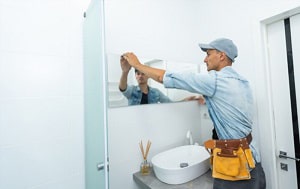 The installation process is pretty much done now. All you need to do is have another person help you place the mirror without a frame in place. Start by positioning the mirror onto the bottom mounting clips first.
As for using J-channels, the process is similar to what we described above. You just need to screw the top and bottom channel into the wall, make sure they are level, then put the mirror into place.
---
#Method 2. Using Mirror Mastic
You can install large mirror on the wall with Mirror Mastic, as long as you make sure there's at least a 6-inch bead for every square foot. Note that it'll be next to impossible to remove the reflective glass once the substance has set, so you need to think carefully before making a final decision.
In addition, keep in mind that the substance doesn't work on all surfaces, such as painted ones, treated wood, or wall covering. That said, this method is suitable for drywall, untreated wood, and metal.
What to prepare
Pencil
Paint's tape
Spirit level/laser level
Mirror Mastic
Mirro-Mastic Bond (or sealer)
Mirror edge sealant
P80-P180 sandpaper
A holding brace
Glove/safety goggles
Step 1: Outline where you need to hang the mirror
This step is pretty much the same as step 1 from the method above. However, as this method allows you to install mirrors without nails and without brackets, there's no need to determine if there's any wire or cable in the wall.
Step 2: Prepare the mounting surface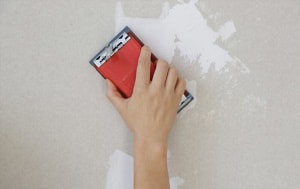 As mentioned above, Micro Mastic doesn't work on painted surfaces, which is often the case for walls; you'll need to make careful preparation first. Even if you plan to hang frameless mirror on door made from untreated wood, there are still necessary precautions required.
If there's any wall-covering, remove it first. Then, use a P80-P180 sandpaper to remove any layer of paint from your wall.
Scrub the surface clean, regardless of whether it requires sanding in the previous step. If you use water for cleaning, make sure the surface dries before moving on to the next step.
Apply a coat of Mirro-Mastic Bond or a sealer to your wall. You can skip this step if the surface is non-porous.
Fix a holding brace or mechanical fasteners to the wall at the bottom of the mirror's outline. The hardware should be secure enough to temporarily hold the reflective glass' weight.
Step 3: Hang the mirror
Spray mirror edge sealant onto the reflective surface to prevent black edges from forming.
Coat a ball-size amount of Mirro-Mastic on every square foot of the mirror– the ball should be 1.6 inches in diameter. Note that the substance shouldn't be too close to the mirror's edge, so leave 2 inches.

For Micro Mastic packaged in a caulk gun, you should apply the substance in straight lines that are 5 inches apart.

Press the mirror to the wall and use enough force so that the Mastic will spread evenly across the surface. Don't forget to wear gloves and safety goggles as you do so, in case the glass shatters.
Remove the holding brace/mechanical fastener.
---
#Method 3. Using Tape
One excellent way to hang a mirror without clips is to use strong, two-sided tape, such as the Fix Pro Extreme Mounting Tape. For this method, the steps are very simple; all you need is a cloth and some adhesive.
Start by cleaning the surface where you intend to hang the mirror.
Likewise, clean the mirror's back with a damp cloth.
Apply the tape to the back of your mirror. For every 1.55 pounds, there needs to be one square inch of tape.
Peel off the protective plastic backing from the tape, and adhere the mirror to the wall.
FAQs
What is the best place to attach a mirror?
A rule of thumb is that mirrors should be hung where they can serve the most use. For instance, it's always a must to have mirrors in the bathroom where the sink is so that you can wash your face, brush your teeth, or shave.
It's also a good idea to attach mirrors in bedrooms or near the entry door. These locations are ideal for trying on clothes or checking your appearance before you go out.
For decorative mirrors, however, you can install them above a table or a fireplace. In long, dark hallways, it'll help if you fix a few mirrors there to brighten up the space.
How to make my frameless mirror look better?
Here are some frameless bathroom mirror ideas you definitely should not miss:
Use sticker decals or etching cream to decorate a frameless mirror.
Adhere some LED lights on the back of the mirror.
Install metal brackets to the mirror's corners for a sleek, minimalistic look.
Place a long wooden board across a round reflective glass to mimic the rising sun.
Install a low-profile shelf underneath large, long mirrors.
Use molding strips to create an eye-catching frame.
Tile the empty space between the mirror and the countertop/sink.
Decorate the surface with flowers and foliage.
Stick small trinkets along the mirror's edge to create a frame.
What is the best adhesive for hanging mirrors?
If you want to hang mirrors without hooks on the back, one viable option is to use Mirror Mastic. In addition, you can opt for Loctite PL 530 Mirror, Marble, and Granite Adhesive.
How to hang a mirror without clips or adhesive?
You can use edge grips. First, place your mirror on the wall and mark its location. Drill some holes for the anchors and push them into the mounting surface. Then, place the edge grips atop the anchor holes and secure these pieces with screws.
Now, all you need to do is set the mirror onto the grips and put the grip caps into place.
Related Tips: A Comprehensive Guide to Fix a Broken Mirror
Conclusion
Regarding how to hang a frameless mirror on a wall, you have 3 main options: using frameless mirror hangers, adhesive substances like Mirror Mastic, and tape.
Personally, I would choose the first option—installing with mirror hangers, as it's more secure. In addition, I can easily fix the nail holes with spackling paste and wood filler. However, I can understand how using Mirror Mastic and tape would be easier and more appealing.
This marks the end of my guide. I hope you're successful with your project.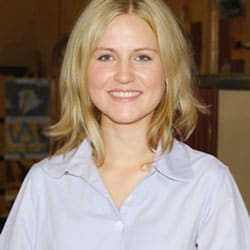 Hi, I am Roseanne Jones, an aspiring home designer that wants to make you feel more at home with your new house.With nearly five years of redecorating old residents and arranging new ones, I am confident that I can give you the best advice on your lovely place.