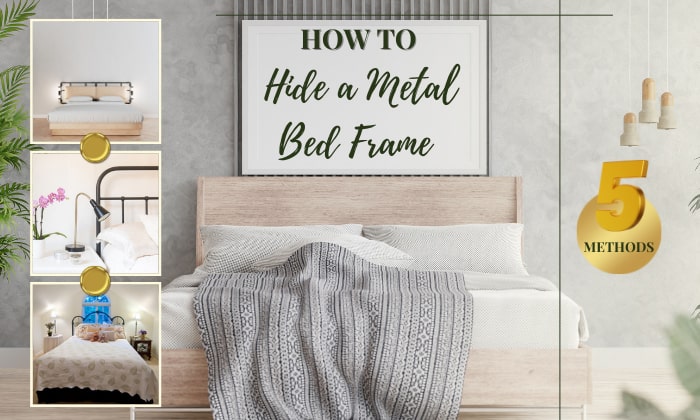 Metal beds may be durable, but they're hardly the most appealing choice for bedrooms. If anything, the plain frame will stick out like a sore thumb among your thought-out decor schemes.
So, how to hide a metal bed frame without spending a fortune? From easy concealment methods to quirky decorating ideas, here are the best ways you can cover metal bed frame.
How to Cover Up Metal Bed Frame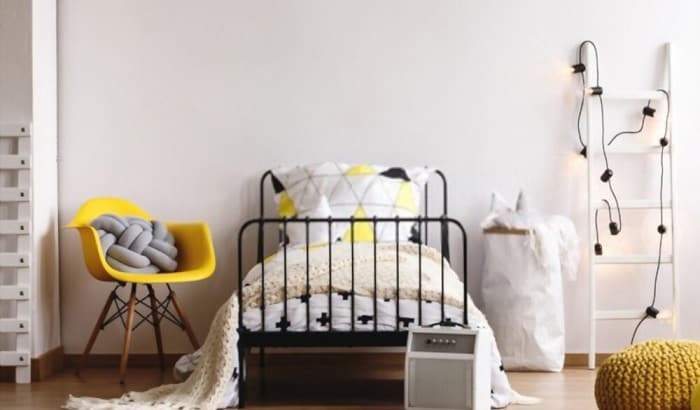 1. Go For A Frame Hide-A-Legs Bed Skirt
Also known as a dust ruffle, a bed skirt is a piece of fabric that extends from the mattress to the floor. As a result, it can effectively hide everything under the bed while adding a decorative element, provided that the fabric look nice and matches the room's schemes.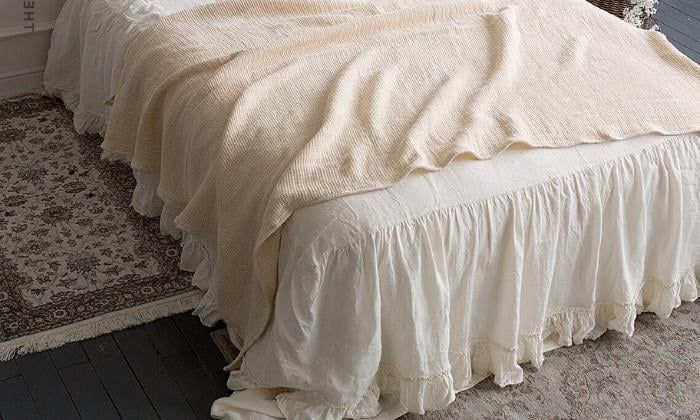 Aesthetics aside, a dust ruffle can act as a protective barrier against dust, so it's a great choice for busy individuals who don't have the time to regularly vacuum under the bed. Let's check out three attractive options for your bed skirts:
This type goes right between the box spring and the mattress. As you need to place the flat sheet attached to the skirt over the box spring, removing the mattress is unavoidable. However, you can rest assured the dust ruffle will remain firmly in place.
An improvement compared to its traditional counterpart, a wraparound bed skirt comes with an elastic band to stay in place. The installation, therefore, would be a lot easier, as you no longer have to lift the mattress up.
Have window valances you no longer use? Or do you have spare fabric that matches your window coverings? Cut them to the size of your bed and attach them with Velcro hook or adhesives to hide the box spring and bed frame.
2. Build A Box Around A Metal Bed Frame
Who says you can't put a metal bed frame inside wood frame? By opting for a box spring cover made with wood, you'll add a unique and elegant decorative piece to the room. This DIY project, of course, requires a crafty hand.
Pick out wood planks for the bed frames. The wood should fit your decor styles and looks luxurious (walnut is a good example).
Measure the size of the bed. This includes the metal frame's width and length, as well as the distance from the floor to the box spring's top. Double-check the measurements to make sure everything is correct.
Alternatively, you can place the wood planks right next to the bed and mark where you need to cut them.
Cut the wood accordingly. Sand the planks if necessary.
Stain the wood (optional).
Screw the wood to the metal frame. You can also use construction adhesive to make sure the wood adheres better.
Unless you have someone's help to prevent the bed from skidding as you drill the wood, detach the frame for easier installment.
One aspect I like best about this DIY bed frame leg covers is that they also allow me to add a headboard to make the bed look even more luxurious. If you also want to put a headboard on a metal bed frame, these wooden boxes will be up your alley.
3. Utilize Oversized Comforters And Large Pillows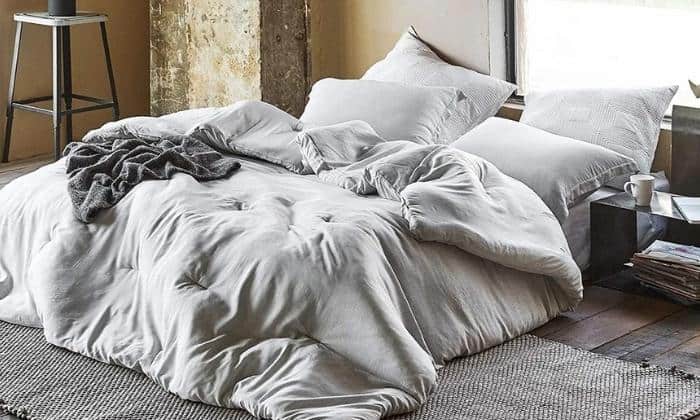 Comforters are an excellent choice for freezing weather, when fluffy bedding is a must-have to combat the cold. While you're at it, why not pick an oversized comforter to cover box spring and metal frame too?
In a similar vein, although there are many differences between comforters and blankets, the latter can be a great substitute to hide metal bed frame legs too. Plus, the thinner fabric will be a better fit in warmer regions.
Comforters and blankets might not always completely cover the legs, especially with larger beds. If this is the case, it's time for bed boots DIY alternatives to complete the look.
For unsightly headboards, large pillows would present a quick and effortless solution. Simply prop a few of these against the headboards, and you'll have a beautiful and comfortable-looking bed.
4. Install Bed Canopy
Although they may seem like a novelty, canopies usually cost very little. Available in many styles, canopy curtains are excellent metal bed frame leg covers that can also add character and a focal point to your room.
The good news is you don't necessarily need a canopy frame to install these alluring drapes. Many bed curtains only require wall hooks. For rooms with a lower ceiling, you can utilize a ceiling peg to hang the canopy from up high.
To effectively hide the metal bed frame, blackout canopy curtains are the best choice, whereas semi-transparent fabrics will certainly leave the imperfection somewhat visible.
5. A Slipcover Will Come In Handy
One of the most notable problems with metal beds is that the unsightly headboards also don't look very comfortable. You can rectify this issue with a slipcover, which can extend all the way from the headboard to the legs to give the bed a homely appearance.
Although slipcovers are suitable as DIY bed frame covers, you can easily find them in most furniture stores. All you need to do is measure the bed first, and the store will inform you of what size you should get.
Putting the slipcover on is rather straightforward. Start by pulling the cover onto the headboard, then slowly fit it along your bed frame. Finally, tug the excess fabric under the mattress, and you're done.
Helpful Tips/FAQs
How to Make a Metal Bed Frame Look Better?
It's not always the bed course of action to hide metal bed frames, especially when you can transform them into something noteworthy. Spray painting, for example, is a great strategy to turn a dull bed into a vibrant pop of colors.
Take the bed frame apart and then wash it with diluted detergent.
Once the frame is dry, scrub it with 150-grit sandpaper to create a rough surface for the paint to stick.
If there's a pre-existing layer of paint, use a wire brush to scrape it off first before sanding.
Wipe or vacuum the metal clean.
Bring the frame out into an open space and prop it against some old crates.
Shake the can of primer paint thoroughly and then spray it onto the metal to help the paint adhere better.
Leave the bed framework alone for 24 hours to dry. Then, continue to apply primer to the framer's other side.
Shake the rust-resistant paint can for 30 seconds before applying it to the metal.
Once the paint is dry, you can either apply another coating or flip the frame over to paint the other side.
Cover the bed frame with fabric
I understand that some of you might be hesitant to make permanent changes to your fancy metal bed frames. However, if you're still up to the idea of decoration, opt for unused clothes or colorful ribbon wraps, which can be taken off with ease.
For this fun project, you'd want to cut the clothes into ribbon-like strips (or you can go with ribbon itself).
Then, cushion the frame with insulating pipe covers to soften it in case someone bangs their head or toes against the metal.
Glue one end of the cloth strip/ribbon on the bottom of the bed's leg to keep it in place.
Start wrapping the cloth strip/ribbon around the bed. Make sure to pull the cloth tight after every round.
Once you're done, glue the cloth strip/ribbon again.
Still want to decorate bed frame more? Add in some artificial ivy vines or fairy lights to create a dreamy bedroom. What's more, you can also consider throwing in some bed boots to add in a note of luxury.
How To Hide My Metal Bed Frame Legs?
The most hassle-free way to cover your metal frame legs is by opting for bed boots. These are made from real wood, ranging from deep mahogany to rich cognac. With such a wide variety of colors, you can easily find what will suit your decor.
Other than that, bed skirts are also an attractive option, considering that they can also prevent dust and termites from building up underneath the mattress.
How To Cover A Bed Frame Without A Bed Skirt?
Go for an oversized comforter and blankets; they should be big enough to drape over your bed frames. To cover headboards, get some plush pillows and prop them against the metal.
What Can I Do To Cover The Bed Frame With Fabric?
Other than wrapping the bed frame with cloth strips, you can also upholster it with fabric. Here's how:
Remove the bed frame to cushion it with upholstery foam. Keep an eye open, though, as you don't want to cover any joints or screw holes.
To make sure the foam stays in place, stick it to the frame with double-sided carpet tape.
Go over the cushioned frame again to make sure the foam sticks well and you didn't cover any important joints.
Stick 1-2 layers of batting on the foam, depending on how fluffy you want the frame to be.
Fold fabric over the bed frame and pull it taut.
Every 3-5 inches, staple the fabric once onto the batting to keep it in place.
Conclusion
When it comes to how to hide a metal bed frame, there are more ways than you can imagine. Aside from keeping the metal from plain view, you can also turn it into a vital part of your decor by transforming it.
Hopefully, we've answered your burning question. If this article sparks any more ideas on how to cover box springs and metal frames, let us know in the comment.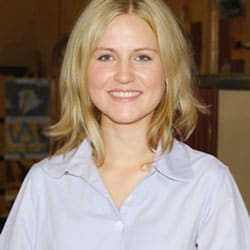 Hi, I am Roseanne Jones, an aspiring home designer that wants to make you feel more at home with your new house.With nearly five years of redecorating old residents and arranging new ones, I am confident that I can give you the best advice on your lovely place.