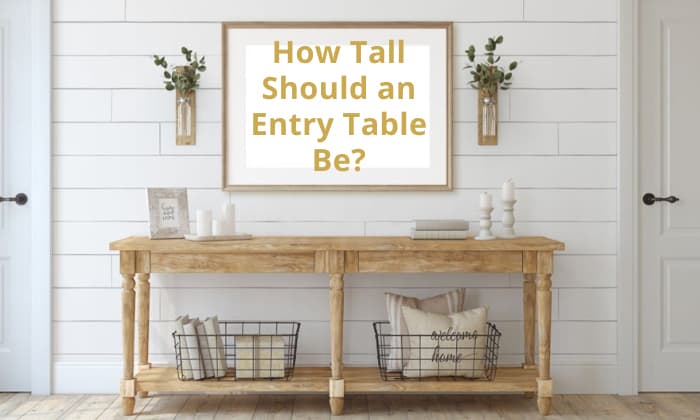 For a house with a hallway or entryway, it is always a good idea to put an entry table (also known as a console table). An ideal entry hall table height is essential if you want to utilize its features and purpose fully. The purpose arrangements and style can emphasize and complement the next room.
The standard or average height of an entry table is 2.5 feet or 30 inches and can go up to 40-inch tall depending on how tall the hallway ceiling is. Homeowners frequently use this standard entry table height to be sure they don't mess up, but they may vary on your space.
Here are some ideas regarding how tall should an entry table be and other things to consider before choosing one.
Entry Table Height: Different Types of Entry Table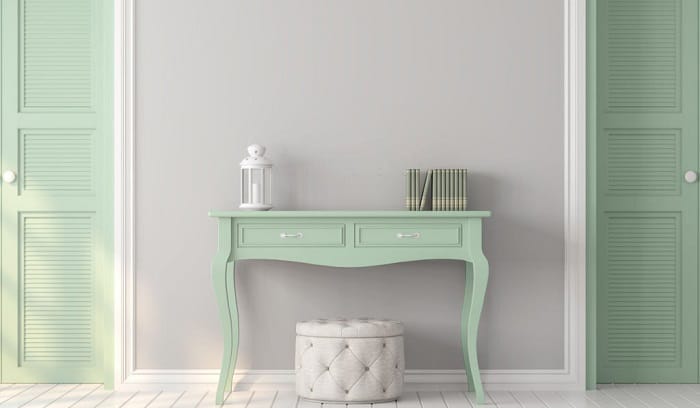 Even though there are other kinds of entry tables, it is still considered a single type of furniture. But there are still some differences in functionality, placement, and sizes (like how long or how wide to think), so here are the entry tables that you may find fitting for your home.
1. Console table
A console table is a long and shallow table usually used in hallways or entryways for extra storage or other home decor displays. Its standard height is 30 inches. Primarily, console tables are for walls, and it has two types – tall and functional.
This type of console table is preferable to a high-ceiling hallway. Its average height can go 35 inches above, which is more than the standard height of a console or entry table, so it may be a bit hard to find.
Functional console tables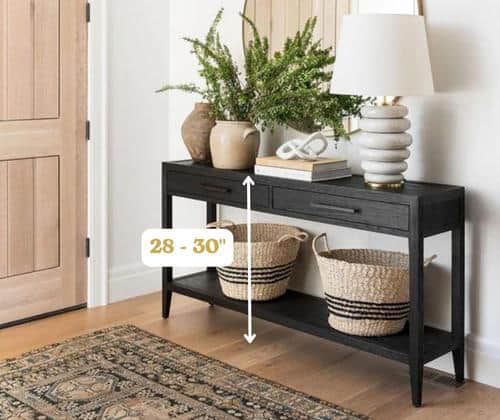 From the word 'functional,' this type of console table is more practical. It has the same standard height of 28 – 30 inches as an ordinary console table. But you can customize and make it functional in your way, like a shoe, hat, or whatever storage you'd like.
2. Foyer table
A foyer table often fills up dead space and extra storage for keys and mail. A foyer table height should be 30 to 36 inches to level a person's hand for easy access.
The popular shape of a foyer table is round foyer table since it is perfectly fitting in the middle of dead space and at the side of the stairs (if you have any).
3. Entryway table
Like other types, which are quite similar, the standard height of the entryway table is 30 to 33 inches, and its purpose is storage. It can be an additional decoration to your home. Just a little bit different regarding its placement.
Other Purposes for Console Table
The console table is the most versatile among the entry tables, which is popular with its perfect options for various functions. Here are some functions you can consider if you want your table for other uses;
Behind the sofa (as a sofa table)
Additional storage for your living room decorations can make the room more lively. Therefore, if you love the classic look of a foyer table to pair with the vintage sofa design, you can place one measuring from 30 up to 36 inches, which is also the standard sofa table height.
As a side table / as a desk
A side table is a rather subtle and low-key addition to your home decoration. Therefore they are often shorter than standard tables.
Many love to use a functional console table, measuring from 28 to 30 inches, maybe shorter for a side desk.
As a replacement for the mantle/fireplace
A mantle can elevate the living with a mantle, especially when you have a fireplace that is the perfect spot. You can pick a standard entry table measuring 32 – 36 inches.
Console tables measuring about 32 inches tall are suitable as bar carts because they are perfect when placed against the wall. It brings out the aesthetic look and calm mood for drinking.
How Do You Choose an Entry Table?
Before anything else, consider the setup you want and what kind of entry table you will use. But if you still haven't decided, here are some tips to help you;
Measure your space
Measuring the available area where you'll put the table and considering the surrounding windows or door is vital to choosing your entry table size.
Decide on the style
You should try to match the decor theme of your house to follow your taste. Table shapes are also a part of this process:
Round Shaped (small – big)
Rectangular Shaped (short – long)
Oval Shaped
Half moon/Semi-circular shaped
Irregular/Unique shapes (Thick tables, C-tables, etc.)
The function you want
Deciding on a function is also a step in selecting your entry table to align your ideas to the actual entry table you will get. You may choose between functional and aesthetic purposes.
Frequently Asked Questions
How wide should an entry table be?
Entry tables often measure 36 – 48 inches wide (90 – 148 cm). Some can be as wide as 84 – 86 inches if your entryways are large.
How long should an entry table be?
The standard depth for an entry table is usually 10 – 18 inches (25 – 46 in cm) and up to 34 inches (86 cm) for large hallways. It may depend on your choice, but if you have a small entry hallway, you should stick with the standard depth.
What are the standard entry table dimensions in mm?
6 mm – 457.2 mm in depth
8 mm – 1625.6 mm in width
762 mm – 838.2 mm in height
What kind of table do you put in a foyer?
The kinds of tables you can put in your foyer are:
Console table (already discussed above)
Hall table – is a practical piece of furniture for storing keys, emails, or placing a lamp.
Accent table – this table is considered more as a function (for being the accent) because it elevates and complements other furniture.
The desk-style table is mainly for displaying vases, books, and extra storage in the foyer.
How tall should a lamp be on an entry table?
The standard table lamp size is 4.8 ft up to 5.3 ft from the floor, and it may also vary depending on what your lamp's purpose is, which may be;
Mood lighting – If you want to set a specific type of mood, small to medium-height lamps can help. You may also use a buffet lamp which is a bit taller (34 to 36 inches) if you have a thin entry table.
Task/Reading lighting – If you want things to get done like work or homework, you'll need a lamp around 24 to 34 inches in height.
Decorative lighting – These lights add up or accentuate the room's overall theme. That's why this requires no specific lamp height. You can do it with different kinds of heights.
Why are console tables so short?
A console table is typically short because its natural placement is against the wall. It also results in easy access to keys, mail, and other things you put above the table. Functional yet stylish is what it's achieving.
Is it essential to find the right height for your entry table?
Yes, it's important because it affects the overall image of the house. Since the entry table is upfront, the measurements and designs must be well-planned. Here are also the reasons why it is crucial:
Balance the surrounding
Set the mood of the house
A place to put small things/stuff
A place to organize
Long-term storage
Conclusion
That's a wrap! I hope this gives you all the ideas you need on how tall should an entry table be. It all comes down to your decision, whether a short or tall round entry table, long rectangular, against the wall or at the center, etc. – your call.
As long as it gives you the results and looks you are achieving, I think it's a win-win situation. So, I wish you luck finding the perfect entry table for your home.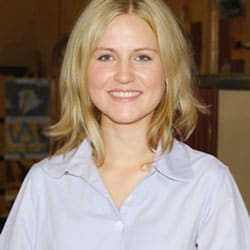 Hi, I am Roseanne Jones, an aspiring home designer that wants to make you feel more at home with your new house.With nearly five years of redecorating old residents and arranging new ones, I am confident that I can give you the best advice on your lovely place.