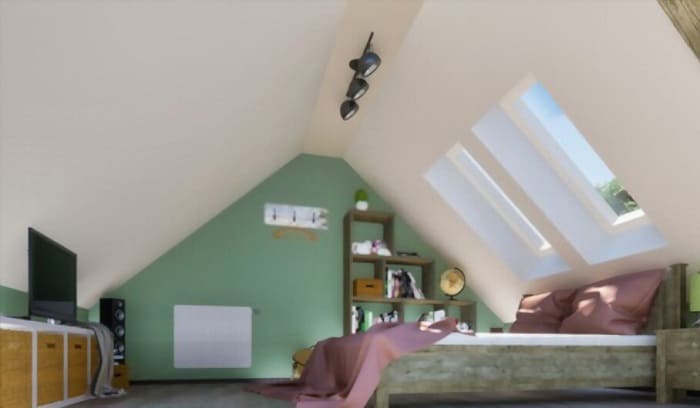 Who says attics with low ceilings can't become the perfect sleeping place? It can be challenging yet fun to transform attics into a cozy space, especially with decent renovation and decoration.
When coming up with low ceiling attic bedroom ideas, there are three key factors to take into consideration. These include space optimization, proper ventilation, and adequate lighting.
With these requirements in mind, this article will suggest TEN ways you can turn your roof space into an attractive bedroom.
Ceiling Attic Bedroom Ideas
Depending on budget and attic layout, some low ceiling small attic room ideas may work better than others. For instance, attics without skylights should have plenty of artificial lighting. In contrast, you can reduce this element in attics with skylights.
1. Add Plants
Plants can make a big difference virtually anywhere. By adding plants to your attic, not only will you breathe life into the room, but you'll also provide the place with fresher air. As a result, your roof space will certainly feel a lot less stuffy.
While it's true you can pick any plants to decorate your room, certain species have proven to be more effective at purifying indoor air. These include ficus trees, Boston fern, rubber trees, spider trees, and palms such as Areca, bamboo, and dwarf date.
With that being said, if you have small children and pets around, it's best that you check whether these are safe for them first. It's also a good idea to choose plants of varying heights to add diversity and a more balanced look to the living area.
2. Install Large Skylights
A large, opening skylight is a must-have on your list of very low ceiling attic ideas. It will give your bedroom better airflow and more natural light. I recommend placing your bed under the skylight, as it'll allow you to gaze into the starry sky when you lie down.
A common issue in attic bedrooms is the claustrophobic sensation that comes with the low ceilings. This is why you should add two skylights and a dormer to the room when doing low ceiling attic renovation to minimize the feeling as much as possible.
3. Paint The Attic White
When it comes to low ceiling attic bedroom paint ideas, white is your best bet. Aside from the fact that it looks good, white offers the illusion of light and space, meaning it can make the room look bigger and brighter than it actually is.
Another reason to consider this option lies in its affordable price. As painting is a quick and economical way of renovation, this is an ideal choice when you have neither the time nor money for a full low ceiling attic remodel.
One minor downside of white walls is their susceptibility to dust and handprints. Adding a layer of gloss or semi-gloss paint will ensure that it's much easier to wipe off any smudges found on your walls.
4. Decorate The Walls With Mirrors
Another fantastic low ceiling small attic room idea to keep in mind is using mirrors as wall decorations. You can hang mirrors above your bed or use them to cover the walls' imperfections such as cracks, irremovable stains, etc.
Like white walls, mirrors can make your room look considerably more spacious. Besides accentuating your bedroom's appeal, mirrors can also increase the brightness in the attic, provided that you hang mirrors directly across a source of light.
Should you pick mirrors as your bedroom's decoration, remember to avoid positioning them where they'll reflect unappealing or cluttered areas. You'll do more harm than good placing the mirrors this way, for it'll bring out undesirable traits of your room.
5. Go For A Modern Industrial Flair
To completely transform your attic, I suggest going for a modern industrial flair. A noteworthy low ceiling attic remodel plan will make your bedroom stand out from the rest of the house with its brick walls and exposed pipes aesthetic.
An advantage of industrial style is that it requires little decoration, meaning this vibe is perfect for minimalists. What's more, spare furnishing and decoration will allow the room to feel noticeably more spacious.
With this specific stylistic choice, there's no need to paint or polish the brick walls, thus saving you a considerable amount. Don't forget to install several Edison bulbs for an emphasis on the modern industrial flair.
6. Choose Metal Railings For An Exposed Loft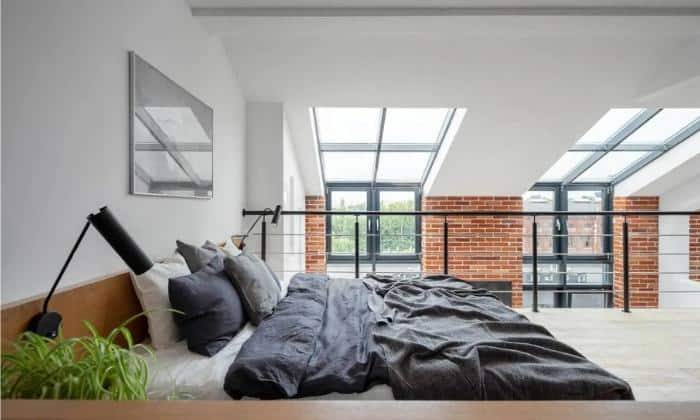 This is a great option for loft bedrooms, especially those with a wooden interior design. Metal railings can bring contrast to the room's wood tones while providing a clear view of lower levels, thus creating an illusion of space.
One aspect I really like about metal railings is that they can be personalized to suit virtually any low ceiling attic renovation. They're durable, resistant to rot and splinter, and exceptionally easy to clean.
To make this look work, you'll need to cover the floor with an oriental rug. If possible, add a few plants, succulents, colorful pillows, and hanging chairs to the room for a charming boho-chic vibe.
7. Wallpaper The Room
Among various very low ceiling attic ideas, a popular one is applying wallpaper to parts of the wall and the adjacent sloping ceiling. With the wallpaper in place, it'd be harder for you to spot where the ceiling begins, making the room appear to be taller.
When selecting wallpapers, go for highly patterned ones that can offer an eye-catching focal point to your attic bedroom. Make sure the rest of the room remains simple so that the wallpaper can be the central feature among the decorations.
Contrary to popular belief, wallpapers aren't that difficult to clean. You can return them to their former glory with a simple sponge. Wallpapers aren't any more expensive than other attic bedroom ideas, as they can also come at an affordable price.
8. Opt For A Foldable Bed
Choosing a collapsible bed or installing a built-in platform bed are two viable low ceiling small attic room ideas that allow you to save space. Without a large bed occupying the room, it's much easier to ensure the place doesn't feel cramped.
If you want to turn the attic into a multipurpose room, a murphy bed is your best choice. It gives you additional storage space, it can be put away easily, and it can still provide the same comfort as traditional ones.
This kind of bed is also a suitable option for other bedroom sizes.
9. Leave Your Brick Walls And Wood Beams Exposed
Exposed wood beams and bare brick walls are a simple but effective stylistic choice. Although the bricks and beams might have some imperfections and inconsistencies, they'll add a timeless touch and distinctive character.
Additionally, exposed brick walls will bring a cozy element to your attic, allowing the place to seem more lived-in and welcoming. Whenever you feel like a change of pace, you can easily paint the wall white for a brighter room.
Wood beams tend to draw people's eyes, giving you the impression that the room is taller and larger. If possible, choose furniture that complements the wood beams' color and add plants as some pleasant contrast.
Conclusion
Selecting the right low ceiling attic renovation might take some time and careful consideration. Whatever you do, remember to ensure that the bedroom is properly lit, has enough fresh air, and doesn't feel too stuffy.
Did you like my suggestions for low ceiling attic bedroom ideas? If that is the case, don't hesitate to leave a comment and tell me what you think! Don't forget to share this article with your friends and family, either!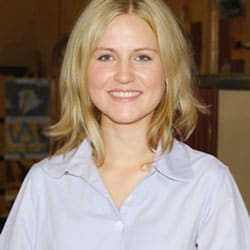 Hi, I am Roseanne Jones, an aspiring home designer that wants to make you feel more at home with your new house.With nearly five years of redecorating old residents and arranging new ones, I am confident that I can give you the best advice on your lovely place.