If you think finding the best color combos between paints and furniture is a daunting task, wait until you learn how to match wall color with wood floor. With various wood floor shades out there, this job may seem downright impossible.
Choosing those perfect living room paint colors is even harder when you take elements such as undertones into consideration. However, as long as you follow our instructions for color combinations, you have nothing to worry about.
Clever Ways You Can Match Wall Color With Wood Floor
To find the best paint colors that go with wood floors, you'll need to identify how light or dark the latter is. Alternatively, you can rely on the wood's type to learn which shade suits it best.
1. Light Wood Floor
In general, it's relatively easy to select paint colors for light wood floors. The best strategy is to pair these floors with crisp white or cool-neutral walls such as charcoal gray.
Also, steer clear of warm neutrals like creamy tan, which bears too much of a resemblance to the floor that you'll end up with a monotonous palette.
As straightforward as decorating the walls with white paint may seem, be mindful to avoid one with warm tones. Similar to creamy tan shades, this tint tends to look tedious when used as a wall color with light wood floors.
White walls should have the slightest blue tints as undertones, which put up a nice contrast to the mellow-hued floor. Moreover, cool white creates an airy space with an upbeat vibe.
White certainly has its allure, but some people might prefer something more exciting. If you also wish for a bolder color scheme without ruining that minimalism style you're going for, charcoal gray is exactly what you need.
Unlike white's airiness, gray has a certain depth that elevates the bright floors. For a more captivating room, don't be afraid to incorporate more accent colors by opting for a combination of grey walls white trim wood floors.
If you want a more cheerful color scheme, try cool hues like blue or green. These crisp shades can effectively combine with airy-toned wood floors for a vibrant and spacious room. In a more traditional interior design, darker cool shades would be the best pick.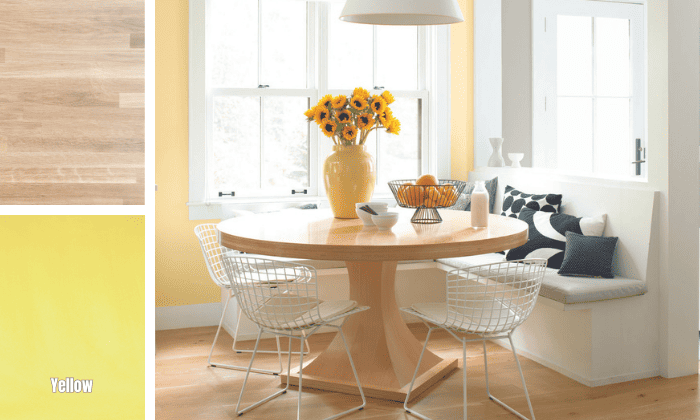 Light wood floors might not match well with warm neutrals, but it's a different story when it comes to warm colors. Red, pumpkin, mustard yellow, and orange are all great paint colors that go with wood floors as they offer a vigorous dynamic to the room.
2. Medium Wood Floors
Aside from the classic white or light beige, there are quite a few invigorating color combinations you should consider for your medium-toned floors. Overall, cool tones and these floor types are closely attuned.
A safe option for guaranteed success, the calming blue tone offsets the floor's warmth. Thanks to its soothing effect, this shade of the sea is suitable for bedroom or living room colors with hardwood floors.
Cool gray is the best choice when you feel the medium wood floor is making your place feel closed-off. This sophisticated color lends a calming vibrancy and lets the room come across as lighter and more spacious.
Gray works well as both an accent color and background. If you decide to select white as your living room color, sprinkle in some gray for more flair. As a backdrop, this silvery shade can easily help the mid-toned floor catch the eye.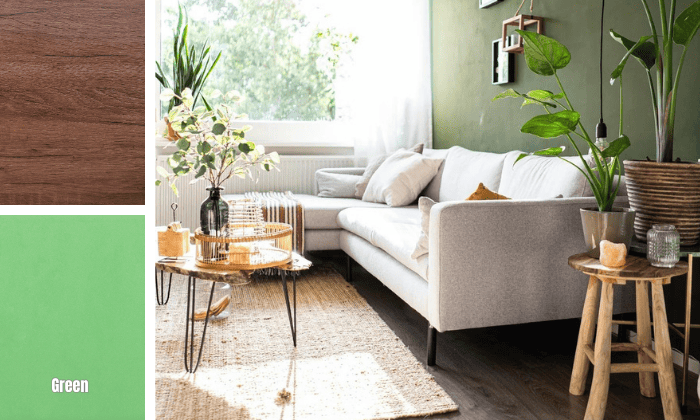 Emerald green and warm wood floors make for visually striking color coordination. The saturated green tone down the floor's intensity. Even so, it still allows the wood tinge to pop out, thus making the overall palette feel daring and full of personality.
3. Dark Wood Floors
The thing about picking wall paint colors with dark wood floors is that it's easy to end up with a seemingly cramped room. It'd be best if you go for bright colors to add more contrast and lessen the floor's intensity.
This color is essential in toning down the dark floor's coolness. What's more, the bright hue can give the illusion of space and a sense of refinement to your interior design. This contrasting scheme works especially well for Boho or minimalist styles.
Similar to white, cream and beige both can make a room feel more spacious. While these two warm neutrals don't provide as much contrast as warm white, they're still enough to complement the dark floors.
Another fantastic color walls goes with dark hardwood floors is olive green. This serene nature-inspired shade can blend seamlessly with the dim floor while still offering enough vibrancy to brighten up the room.
4. Cherry Hardwood Floors
Cherry wood's luscious reddish-brown color means that it's going to be slightly tricky to find a good complementary shade. However, this doesn't necessarily equate to limited wall paint options.
You can count on the brilliant hues of white to let your cherry hardwood floor shine. As one of the top paint colors for warm wood floors, white highlights the surface's rich hues and adds a timeless feel to the room.
Even though neutral white is a safe choice, you'll enjoy better results if you pick one with a warm undertone. Otherwise, the lush red and beautiful mineral streaks might not have a chance to stand out.
A neutral color that evokes serenity, sage green generally pairs well with the natural tones of cherry wood floors. The soft green acts as a backdrop so that the floor can pop without coming across as overwhelming. Thus, this combo works for all design styles.
Other than sage, minty green is a good alternative that can yield the same effects. For a green shade with lower contrast to the wood floors, consider forest green. Although it's much a darker shade than sage, forest green still lends a sense of liveliness to the room.
There are several blue shades that can go with cherry wood floors, resulting in vastly different color combinations.
A deep shade like dark navy blue, for instance, can subtly enhance the rich brown of the floor. Meanwhile, a cheerful cerulean blue provides a more conspicuous contrast, letting the wood surface stand out more.
Lighter blue tints such as Robin's egg blue and pale blue are a great fit for cherry hardwood floors as well. They both exude an air of tranquility, which contrasts nicely with the passionate reddish brown.
5. Oak Wood Floor
To find the best wall color for oak floors, you need to identify whether it's red or white oak first. The dissimilar undertones of these two types mean they have different complementary shades.
The only option that can go with both variations is earthy-toned hues, which can amp up the floor's rustic vibes. Avoid deep colors. Instead, opt for light but luscious tints such as cinnamon to highlight the wood's streaks.
Wall Color For White Oak Floor
Most white oak floors have a bleached appearance, which requires deep and luscious color pairings for a prominent palette. Something like rich gray would be a great fit, considering how it can blend with the wood for a lush and gorgeous room.
Deep pastel shades are ideal for white oak floors as well. As long as the colors aren't too bright, pastels' elegant allure will lighten up the room without whitewashing it.
Wall Color For Red Oak Floor
As is indicated in the name, there are scarlet undertones to red oak floors. Therefore, you should pair them with cooler shades to evoke pleasant contrasts. Some suggestions you should consider include deep blue or dark green.
It's also okay to combine red oak floors with muted yellow, orange, or apricot. Despite their warm undertones, these bright colors won't clash with the scarlet wood. Instead, they offer a buoyant atmosphere.
6. Gray Wood Floors
One trouble you might run into while finding a suitable match for gray wood floors is that it's deceptively easy to end up with a too-cold scheme. Fortunately, this doesn't mean your choices would include hot colors only.
Although gray is a neutral color, its cool hints will look better when paired with warmer shades on the color wheel. Dusty rose's femininity lends a beautiful contrast to the gray's modernity, creating timeless and elegant color coordination.
The cool tones of blue are a fantastic companion to gray's crispness as well. If possible, go for true blue to keep the room's cheerful lightness. Otherwise, you might end up with a somber interior.
To really highlight the floor's colors, go for a pale green color with a hefty amount of gray undertones. This color combination will result in a cool, airy room with lovely pops of serene green.
FAQs
How Can I Know The Undertone Of My Hardwood Floor?
To learn your hardwood floor's undertones, you'll need to compare it against a true color (for example, orange undertones will be recognizable next to true orange).
By doing so, it'll be easier for you to determine whether the floor has predominantly warm (i.e., orange, red, and yellow) or cold (i.e blue and purple) tints.
Another method to determine the floor's underlying hues is by putting it side-by-side with the exact same shade but different undertones. This way, the difference in latent tinge will become instantly noticeable.
Should Floors Be Darker Or Lighter Than Walls?
This depends on the aesthetic you're aiming for. However, experts would recommend that the wall paint should be lighter than the floorn, as it'll allow the room to look more spacious.
The only exception is houses with low ceilings, where lighter floors would make the room appear taller.
At the end of the day, it also comes down to what specific mood you want to set in the room. So long as you opt for color combinations with a pleasant contrast, you're guaranteed to achieve a beautiful palette.
Final Words
Wood floors' classic look adds style and elegance to your home. Their inviting vibes offer a wow factor to rooms that might otherwise appear flat. With the right combination, they can even outlast countless interior design trends.
It can be a struggle at first to figure out how to match wall color with wood floor. However, provided that you're mindful of the floors' undertones and hues, you're already on the right track to that perfectly balanced color coordination.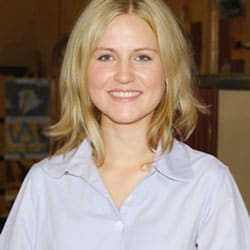 Hi, I am Roseanne Jones, an aspiring home designer that wants to make you feel more at home with your new house.With nearly five years of redecorating old residents and arranging new ones, I am confident that I can give you the best advice on your lovely place.