Using curtains is a staple in a bedroom's look. It blocks sunlight, brings warmth, and makes the room personalized. Due to this, homeowners are torn in choosing curtain lengths. Should bedroom curtains be short or long?
It is simple, if there are cabinets, tables, or any material that will interfere with the curtains from reaching the floor, then you should use short curtains. However, if nothing will interfere with the curtain, use a long curtain instead.
Continue reading, and we'll discuss these in detail.
Should Bedroom Curtains Be Long or Short?
Curtains can make or break the bedroom. So, you would want to decorate it in a way that will bring you coziness and benefits.
Choosing the right bedroom curtains length, whether long or short, depends on several factors: the type of window and the design of the bedroom.
Short vs. Long Curtains
Read more to know what these short and long curtains are, distinguish the two, and determine which curtain length is appropriate for your bedrooms.
1. Short Curtains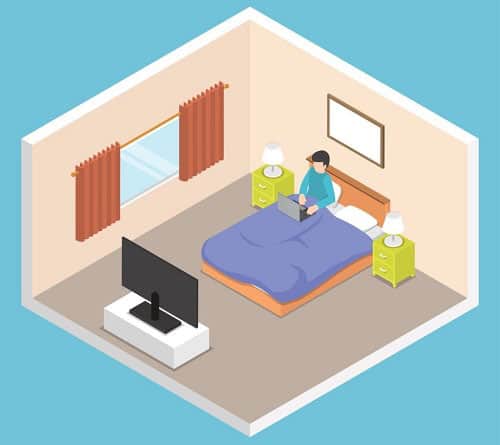 This type of curtain is shorter than 84 inches. Short curtains do not puddle on the floor.
They are sometimes referred to as window sill drapes. This is simply because short curtains are either directly in or just a few millimeters away from the window sill.
Knowing when to use short curtains will help you make the most out of them.
These are two situations where short curtains are needed:
First, when curtains cannot reach the floor since there are objects that can interfere like the following:

The toy racks are typically placed close to the window sill when kids are present.
When using a short curtain length, radiator under the window will be used without interference. If the window has a radiator, you would want to keep the longer curtains away from it.
When you have a study or work desk right at the window, it's more convenient to have a shorter curtain.

The second situation is adding a long curtain would be inappropriate and unclean for certain rooms, such as an attic bedroom. Indeed, it will work better when you choose short curtains for small windows.
2. Long Curtains
Long curtains are ones that end near or reach the floor. It can be 96 to 108 inches in regular size and possibly longer if tailored to your specifications.
If nothing might be in the way, longer curtains are preferable for bedrooms. Furthermore, this type of curtain is frequently utilized in many bedrooms since it offers the interior a stylish and contemporary feel.
If your home faces a lot of light and traffic, it's preferable to have a lengthy curtain for privacy while sleeping.
Tips to Measure Windows for Curtains
To hang the perfect length of curtains, it is best to not only measure the curtain length but measure the windows as well to get a perfect size.
Here's how to measure how wide the curtain width should be:
Measure the width of the window including its trim.
Next, follow the rule of 10. Add 10 inches above the trim. Then, add 10 inches wider than the window width on each side.
But, if you only want to frame your window with a straight and sleek curtain, you can add just 5 inches rather than 10 inches.
For the rod, it should be either at the ceiling, below the crown molding, or above the window trim by 12 to 24 inches.
Curtain Length for Bedroom Windows
Different curtain lengths for bedroom windows are available in the market to meet the needs of consumers.
How long should bedroom curtains be? The following are the different curtain length rules you can check out depending on the style that you are looking for:
1. Sill length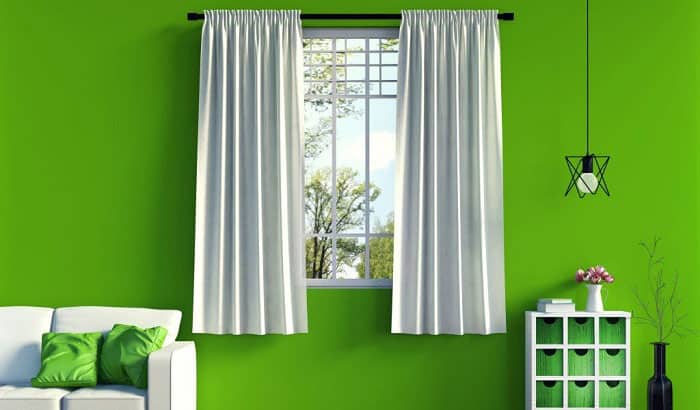 Sill length is the shortest curtain length which is about ½ inch above the window sill. This is the shortest curtain length that you can use in your bedrooms.
2. Floating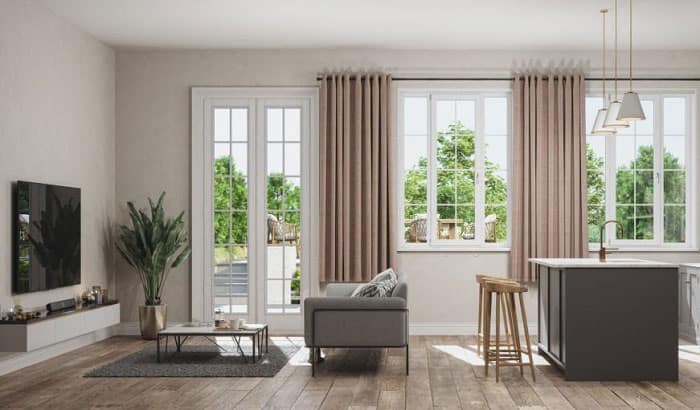 Floating or "float" curtains are ideal for bedrooms to provice privacy. It just hangs beautifully with no break.
This length is called float since it will not touch the floor. Typically, floating is about ½ inch from the floor. However, be careful not to cut it too short or it will look like a mistake and awkward.
3. Grazing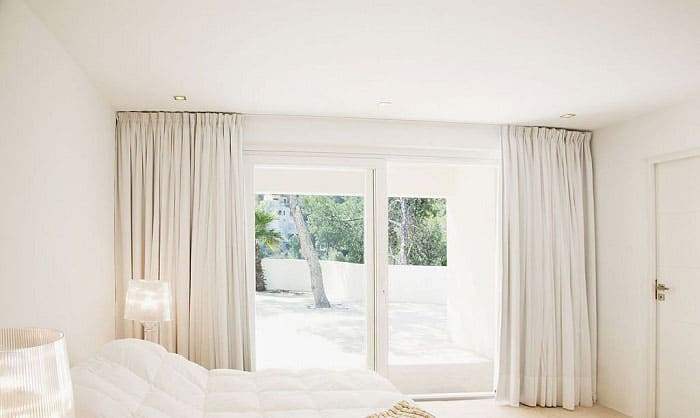 Grazing, otherwise known as kiss, is the length that exactly touches the floor, no more, no less. In this style, you need precise measurements. Therefore, make sure to measure not only the curtains but even the rod and curtain rings so that the curtain length will be cut precisely.
This curtain style gives a formal look and gives an illusion of a high ceiling due to its length. It works for most bedrooms, whichever decoration style is.
4. Breaking
Breaking curtains are curtains that touch the floor. Unlike grazing, breaking has 1 to 2 inches past the floor. It is also a beautiful choice for elegant bedroom.
This curtain does not need a perfectly straight-cut hemline since it is an informal and effortless way to hang curtains.
However, it can easily accumulate dirt and dust.
5. Puddle
Puddle is one of the full-length curtains that are widely used by homeowners. The curtain here is longer to puddle on the floor.
If the breaking has about 2 inches past the floor, the puddle is measured straight to the floor. It extends by at least 6 to 15 inches to create the pooling effect.
This style gives a romantic and modest touch for your bedrooms.
Since this touches the floor, it requires regular cleaning and maintenance as it can easily accumulate dust and dirt. Besides, it takes time to open and close it, so do not put it in a high-traffic area.
Together with breaking, make sure to keep an eye on your kids and pets because there is a high chance that they might play around with it, resulting in trouble like falls and slip.
6. Floor-to-ceiling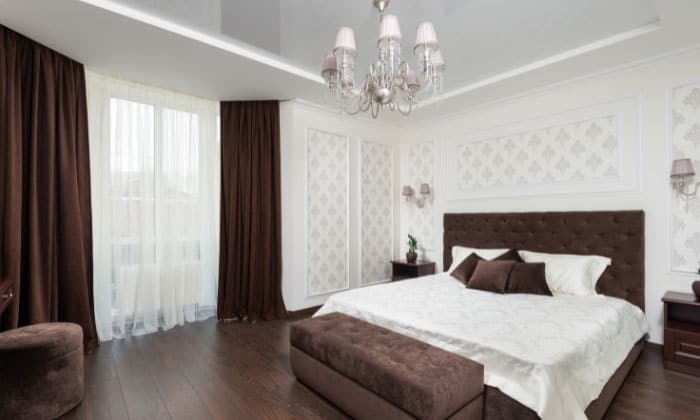 This is another curtain style that is another style to achieve a contemporary look in the bedroom. Floor-to-ceiling is another length that comes from the highest ceiling point and reaches the floor. It makes the room bigger and makes it look like your room has high ceilings.
If your room already has high ceilings, a floor-to-ceiling is a good complement.
However, the downside is the difficult installation. You have to hang it at the right level to create the long, visual aesthetic it is supposed to offer.
Frequently Asked Questions
Do long curtains make a room look bigger?
A lengthy curtain might give the impression that the bedroom is larger. A drape that can touch the floor might provide the appearance of a higher ceiling in a room with a lower ceiling.
Is it better to have curtains too long or too short?
You can use either a short or long curtain, depending on the area and window type. In addition to the options already discussed, you can use short curtains for broader and shorter windows.
On the other hand, using longer curtains will complement your windows if you have longer windows.
Conclusion
Should bedroom curtains be long or short? Well, now you know the answer. If nothing can interfere with the curtain, opt for longer curtains. On the other hand, choose short curtains if there are radiators, kitchen cabinets, or a sink below the window.
Whether it is long or short curtains in bedroom, choose the style that you aim for. You can choose the fabric, color, and style that you like. Be free to complement your window.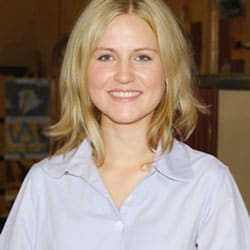 Hi, I am Roseanne Jones, an aspiring home designer that wants to make you feel more at home with your new house.With nearly five years of redecorating old residents and arranging new ones, I am confident that I can give you the best advice on your lovely place.