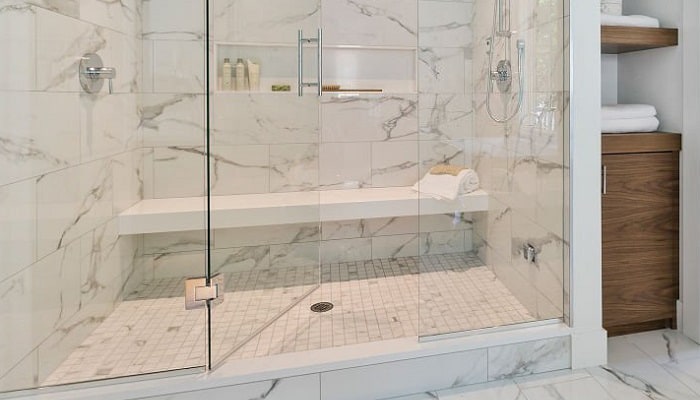 For some people, showering is a luxurious and very personal thing, as it allows us to relax and be comfortable. In fact, psychologists say that relaxing in the shower can even be therapeutic.
Hence, your shower area plays a significant factor in your mood and feelings. That is when the shower bench comes in.
A shower bench has many advantages; it is a good investment in the future and aesthetically pleasing, providing extra storage in your shower area, providing safety, and creating a spa-like bathroom.
Because different shower bench dimensions provide different vibes and functions, you must consider all of your options when selecting shower bench ideas.
Shower Bench Sizes
The standard shower bench size is 17 to 20 inches high with a depth of between 15 to 16 inches. Its length and width should be sufficient to fit your shower wall and give you a comfortable seat.
If you want to install a shower bench, several factors such as depth, width, height, and corner position must be considered.
Let's dive in detail into each of these below:
1. Shower Bench Depth
The depth of a shower bench depends on how you want to use it. Indeed, there is no rule in the minimum shower bench depth.
Still, for the seating area, the typical shower bench depth should be between 15 and 16 inches from the top to the bottom to provide maximum comfort while you are sitting.
2. Shower Bench Width
You are free to decide how wide your shower bench is. For an average-to-small-sized person, the minimum width of the bench is 14 inches. But if you are taller or of bigger size, you want a larger seat.
A wider bench will give you more room to store products without putting them elsewhere before you sit.
3. Shower Bench Height
The standard shower bench height that will allow an average person to sit while keeping their feet on the ground is 17 to 20 inches. Your feet must touch the floor to avoid slipping and getting hurt.
Different Shower Bench Types and Dimensions
Your shower size is the major factor in choosing your shower bench. Aside from that, you must also consider who will use it, mobility functions, weight, and style.
Look at some of the most known shower benches with their sizes, so you can choose the best shower that is most convenient to you.
1. Built in Shower Bench
A built-in bench is a great custom addition to your shower area. It can either be custom fitted to your shower wall or tiled along with the rest of your bathroom.
Typically, they are between 24 and 30 inches wide, 14 to 16 inches deep, and 20 inches high. Of course, if your shower is larger, you may opt to extend the size and make it more customized.
2. Built in Corner Shower Bench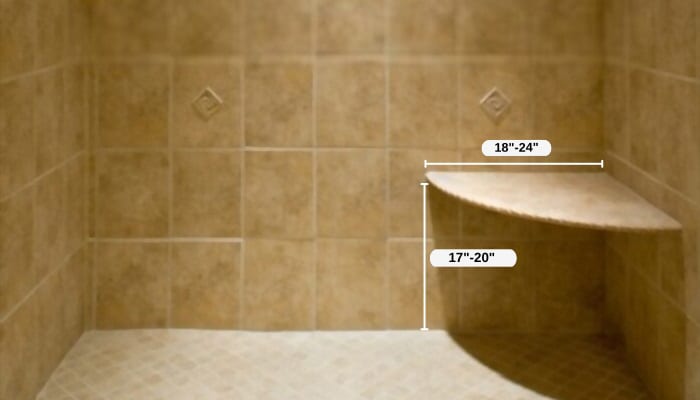 For smaller showers, a corner shower bench is an excellent option. Compared to standard benches, a corner shower bench is much smaller.
It is in a triangular shape to make use of the shower corners. Since it is triangular, it is wider in the front and narrows down at the back.
Its size might be anywhere from 18 to 24 inches wide. This measurement is from one angle to another and is widely used for storage only since its dimensions are not so safe for sitting.
When installing corner benches, the recommended height is 17 to 20 inches from the floor.
3. Freestanding Shower Bench
For a more flexible option, a freestanding shower bench can be a great option. You don't have to install it; just place it wherever you want, and you can move it freely in your shower room.
Usually, this takes up 17 to 19 inches in height and 13 to 15 inches deep, with a width of 15 to 25 inches. These benches are usually made from materials that both resist moisture and water exposure.
It will be a suitable option for an 8×8 bathroom layout.
4. Freestanding Corner Shower Bench
A freestanding corner shower bench is convenient for designing your bathroom. To save more space, use this type of bench, which can be placed or removed at will.
Freestanding shower benches typically use up to 15.5 inches of wall space and 16.5 inches in height.
5. Folding Shower Bench
If space is the issue, worry no more! You can use folding shower benches for your foot rest, leg shaving, or kids' stool since this bench is quite sturdy. You may also unfold it only when you intend to use it, then fold and keep it in the corner when not in use.
Its standard size ranges between 17 inches long and 13.2 inches wide, with a height of 17.6 inches. For compact sizes, it measures approximately 11 inches square and about 12.5 inches high. This 12″ shower bench fits in the most tight areas in your bathroom.
6. Medical Shower Bench
For someone with a disability, mobility issue, or who might just come out of a surgery, a medical shower bench is best used.
Measuring 17.3 inches wide, 10.6 inches deep, and 18.8 inches tall, this medical shower bench is also a space saver. It has a wide-range design, either with backs or deeper seats.
7. Wall-Mount Shower Bench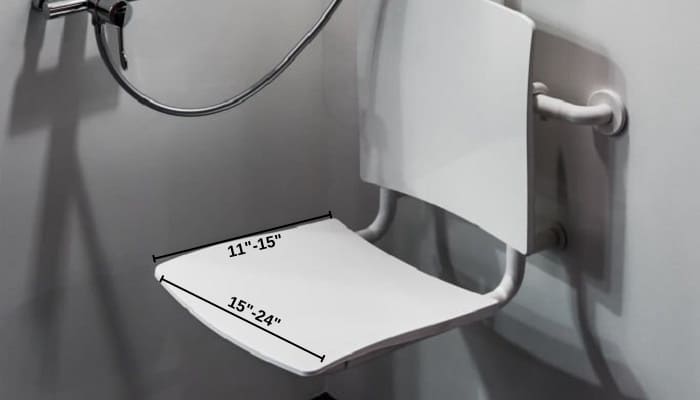 Shower benches that are wall-supported can be folded in and out when not in use to save more space. This can be mounted to a height that is comfortable for you to sit.
Just like other types of benches, its length is between 15 and 24 inches, with a depth of about 11 to 15 inches.
8. Floating Shower Bench
Seeing that floating shower benches are attached only to the wall, it gives more space for storage underneath. This is also a practical and space-saving bench type.
The minimum height is between 17 and 19 inches. Its depth should be 15 to 16 inches, so it won't be hard to sit and stand up, especially for people with disabilities.
9. Steam Shower Bench
In designing a steam shower bench, it must be constructed properly in order to have a personalized bench that is practical, relaxing, and also revitalizing.
Generally, a steam shower bench ranges from 18 inches to 21 inches off the floor and from 14 to 24 inches deep.
Frequently Asked Questions
Where in the shower should the bench be placed?
Shower benches are a very convenient addition to the bathroom, which is why their placement must be planned. Mostly, the bench's placement depends on your preferences and on what it will be used for.
To make shaving and rinsing off easier, experts recommend that shower benches be placed near the shower. This way, toiletries can be easily reached as well.
How deep should the seat of a shower bench be?
The depth of a shower bench should be 15 to 16 inches. This is the standard measurement that is deep enough to give you a comfortable seat but not so deep that it will give you a hard time getting up.
If the purpose of the bench is for shelving or propping your feet for shaving, you can narrow the dimensions. However, if the bench is for sitting, you may want to stay close to the dimensions given.
How big should your shower be to add a bench?
Showers should be at least 30 inches high and 30 inches wide, or 900 square inches. But to accommodate a built-in seat or a bench, the National Kitchen and Bath Association recommends a minimum of 36 inches wide and 36 inches high for an interior shower quarter.
For easy access to special needs, you may want a larger dimension. The size of your shower area determines how big should a shower bench be and what its purpose will be.
How much weight can a shower bench hold?
Depending upon the style of your shower bench, it can hold weights ranging from 200 to 500 pounds.
Wall-mounted shower benches have a weight capacity of 220 pounds. On the other hand, freestanding shower benches can hold a maximum weight of 400 pounds.
What is the recommended shower bench height for people with disabilities?
It was recommended by the Americans with Disabilities Act (ADA) that shower benches must have a height that is at least 17 inches but not more than 19 inches. Since this is the average height of a chair, it is ideal for most people, not only for those who are disabled.
With the use of this bench, it will be easier to sit on it or stand on it.
Conclusion
Shower benches are placed according to their purpose. These are intended for many uses but are mainly intended for people with disabilities and the elderly. Hence, proper shower bench framing is required. This will also ensure that the bench is sturdy enough and does not leak.
Different shower bench dimensions provide different looks and use for you. Not only will it be functional, but a walk in shower with bench creates a luxurious look in your bathroom that you will never want to leave.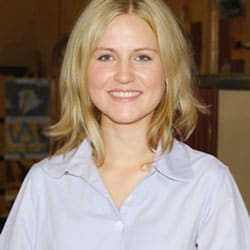 Hi, I am Roseanne Jones, an aspiring home designer that wants to make you feel more at home with your new house.With nearly five years of redecorating old residents and arranging new ones, I am confident that I can give you the best advice on your lovely place.