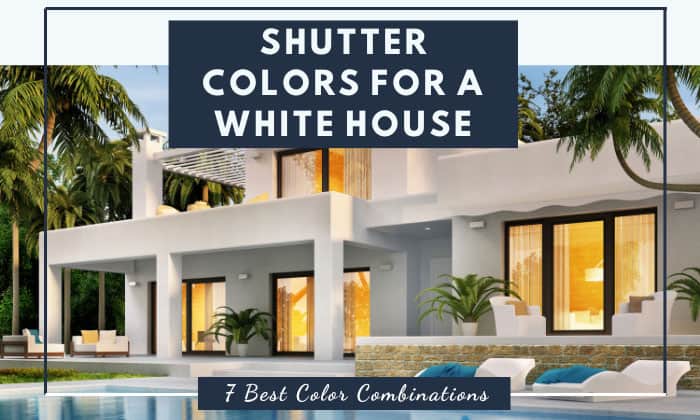 Although simple, white is among the most popular exterior paint colors. Honestly speaking, it's not hard to see why – the pigment's timeless quality can easily enhance a home's curb appeal and make the property easier to sell.
As white is a pure neutral shade, it can be paired with many hues, making it seem like picking a complementary pigment is a no-brainer. However, knowing what effects different combinations offer will help you determine suitable shutter colors for a white house.
Still struggling with choosing shutter shades? Allow us to recommend the best options for your home.
White House Shutter Color Ideas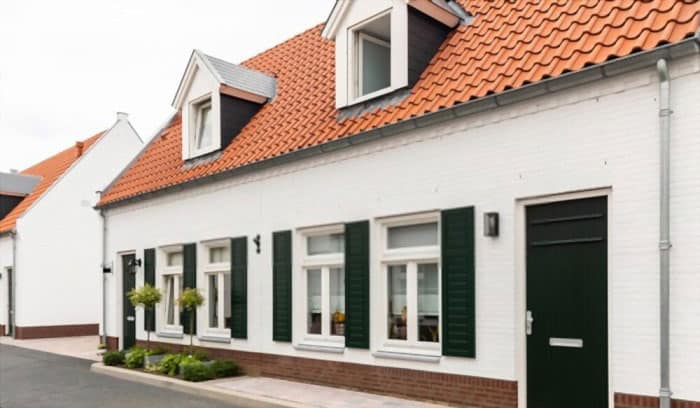 1. Black shutters
A fantastic foolproof combo, white-painted houses and black shutters are considered a classic for a reason. Against the lighter shade, black stands out as the perfect accent color to enhance the contemporary vibes in modern homes.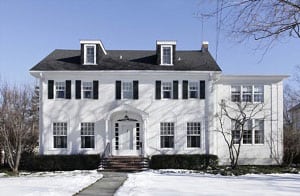 What I like most about the white-black coordination is that it opens many doors for decor styles. You can go for a pale blue front door for a lovely color palette or tile the entrance with red bricks for a charming traditional-style home.
Another advantage of this shutter color is that it doesn't require frequent maintenance – perfect for busy homeowners. And should the shutters ever suffer from dents or scratches, the imperfections won't show so readily.
2. Red shutters
While it might not be among the most popular shutter colors, red will pop brightly against the pristine white for a mesmerizing visual appeal. In fact, I'd say this is a fantastic choice for adventurous souls that are seeking to make a bold stylistic statement.
Depending on the shade of red, the effect can vary drastically. A brownish or burnt red, for example, would be the perfect addition to a rustic charm. Meanwhile, bright red has a cheerful vibrancy that contrasts nicely with black doors – a certain combo to grab one's attention.
3. Blue shutters
Do you want to bring personality to your white house but find red too bold and audacious? If that is the case, blue would be a perfect choice. From light to darker shades like navy shutters, blue is a safe choice to enhance your curb appeal.
One of my favorite design schemes is pairing white houses with light blue and a few plants. Such combinations are the perfect recipe for a fun, breezy coastal look. You can also choose a muted pale blue for a sweet, dreamy vibe.
On the other hand, a deeper shade like navy or loyal blue will bring a rich note and intensity to your home. The contrast between the dark blue shutters and light white is guaranteed to turn heads.
4. Grey shutters
Although not as bright and exciting as blue or red, gray is still a classic choice for white houses with shutters due to its timeless quality. Like many colors on this list, gray has various shades that go with white paint.
Light gray, for example, provides a subtle contrast to a traditional-styled house without breaking your color palette's cohesiveness. Note that the light shutters should still be slightly darker than the paint to prevent the two colors from blending in too much.
A deeper charcoal gray, on the other hand, is the perfect fit for modern shutter colors. In addition, the coordination of two neutral hues would result in a minimalist scheme that is anything but boring.
Read more: What colors go with charcoal gray?
5. Brown shutters
Another neutral on the list that can add an exciting look to white houses, brown shutters are impossible to go wrong with. Again, there are several shades of brown you can choose as your white house shutter colors.
To pair with a white brick home, my go-to choice would be a pure brown, preferably light. This matchup will produce a soft, earthy tone that goes well with a lush green yard for a natural scheme. Also, a vintage light brown wood shutter will look absolutely amazing on a cottage home.
For something more unconventional but no less exciting, I'd pick brown with slight hints of gray and violet. And if you prefer a clearer contrast, by all means, go for dark brown – just make sure to test and see if it'll appear black under different light conditions.
6. Green
Like brown, green is a color closely associated with nature, which explains why it can look so soothing. This, of course, doesn't mean that the color will fade into the background – a rich, earthy green will never fail to grab passersby's attention.
To tie off the nature scheme, don't forget to place plants around the house. Any foliage will look livelier when accentuated by the lush green shutters. Consider adding vibrant flowers as well, as the colorful blooms are the most seamless way to add more hues to the landscape.
A particular reason why I love the white-green combination so much is that it strikes the perfect balance between rustic and modern aesthetics. That said, this effect is only possible when you choose an earthy or forest green. Something like neon or lime green won't work at all.
7. White
White house white shutters might not be the most common combination, but the tone-on-tone aesthetic is still undeniably charming. The simplicity that comes with the color palette offers a cohesive and seamless scheme.
As a white-on-white design will have little contrast, you may want to find different ways to bring diversity to the house. To start off, consider choosing a thick shutter that looks noticeably different from your home exterior for more texture and dimension.
Using the front door as an accent color is also a good idea for this white-on-white palette. To avoid breaking the simple and seamless aesthetic, you can pick a neutral shade, such as light gray.
FAQs
What is the best shutter material to use?
With aesthetics and durability taken into account, composite would be the best choice for shutter material. It can look as beautiful as real wood grain, but it can also withstand harsh weather conditions, from the scorching heat to the blistering cold.
If your priority is affordability, vinyl would be the best option – though composite is quite cheap as well. Despite their low price, vinyl shutters are fade-resistant and weatherproof.
Wood shutters are among the top choices for shutter material as well. Depending on your preferences, you can go for pine, mahogany, cedar, etc. However, all wood shutters are susceptible to moisture to varying degrees.
What are the different types of shutters?
Simple yet classic, panel shutters are well-beloved due to how they can blend with many decor styles, such as French country, Victorian, Ranch, and Greek Revival. As they don't feature any prominent detail, raised panel shutters can look a lot like conventional doors.
The characteristic that distinguishes BnB from raised panel shutters is the (typically) horizontal bars on its surface. In some cases, the middle bar will run diagonally across the panel, forming a letter "Z" with the two horizontal bars.
This shutter type can be recognized by its horizontal slats, resulting in a more defined look. It can be found in traditional or down-to-earth decor, such as Federal, Cape Cod, or Italianate. Louvers can provide privacy without sacrificing sunlight and airflow.
Types of paint colors for shutters?
Because exterior shutters are exposed to sunlight and other weather elements, it's important to choose a durable paint color. Therefore, oil-based paint will be the safest bet, considering its durability and resistance to moisture.
If you're not a fan of the oil-based formula's strong fumes and high VOC level, latex paint is a viable alternative. However, as latex paint is water-based, it can raise the grains in wood shutters.
Should the door be lighter or darker than the shutters?
Either is fine, as long as the door and the shutter coordinate well with each other. So you can pick doors with the same color as your shutter, provided that there's at least one shade difference between the two.
You can also pick doors with a completely different color to the shutter, as seen in many examples above. Just ensure that the hue complements your overall color scheme, and you'll have a front door that stands out.
Conclusion
When picking shutter colors for a white house, you should also pay attention to your exterior decór style. Sleek black or charcoal gray, as mentioned above, are best for modern schemes; burnt red, on the other hand, is best suited to a rustic aesthetic.
Exterior design aside, don't forget to take the window trim color into consideration – it should coordinate with the shutter. If you have trouble picking, remember that opposites attract.
Hopefully, this guide has been helpful to you. Have you decided what shutter color to pick? Feel free to share photos of your shutters and white house with us.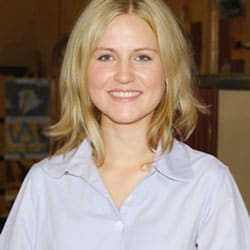 Hi, I am Roseanne Jones, an aspiring home designer that wants to make you feel more at home with your new house.With nearly five years of redecorating old residents and arranging new ones, I am confident that I can give you the best advice on your lovely place.