Curtains are closely correlated with interior décor, from the intimate area of the chamber to the shared environment of the exhibition. A curtain is an ornamental cloth usually hung to limit the emission of light from the window and minimize airflow from the entrance or window openings.
The length of your curtains can enhance or ruin a space. Designers and developers always stick to one hard and fast guideline to acquire the ideal measurements, which is that your draperies should touch the floor. However, if you're unsure how to do so, this article will provide you with several standard curtain sizes to pick one that suits your window requirements.
Typical Curtain Dimensions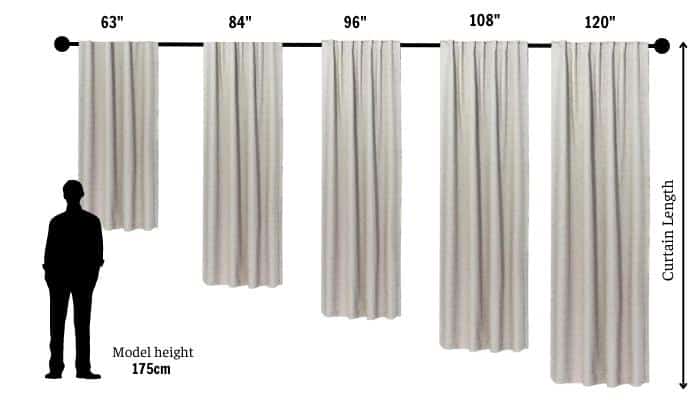 When ordering a fully prepared drape fabric, the size options are restricted to the most often used dimensions. Generally, the measurements of a fully prepared drapery will be the same despite style or design. An exception to this size regulation is if you have curtains to design by yourself. There is no standard measurement in this case since they will be made to your specified requirements. Customized draperies are always an option if you can afford them and have them a few weeks before your moving date.
1. Common Curtain Widths
Since most conventional curtains are 48 inches, around 122cm wide as a universal standard, dimensions vary largely in length. The concept is that if you have particularly large openings, you should be able to put numerous curtains simultaneously. Hence, the main problem is determining the appropriate length of curtains.
2. Common Curtain Lengths
Curtains are present in 5 different lengths. Take a look at this standard curtain lengths chart that shows both inches and centimeters.
| | |
| --- | --- |
| Inch | Cm |
| 63 | 160 |
| 84 | 213 |
| 96 | 244 |
| 108 | 274 |
| 120 | 305 |
Unless you already have shallow ceilings, you should generally avoid 84-inch conventional drapes. For most cases, they do not look appropriate and possibly end up becoming an uncomfortable length. The 96-inch and 108-inch lengths are more suitable for a larger variety of usual areas. Round up to the size that is nearest to your dimensions. And, if in uncertainty, go with the one that is longer rather than the abnormally short one.
Different Kinds of Window Curtain Lengths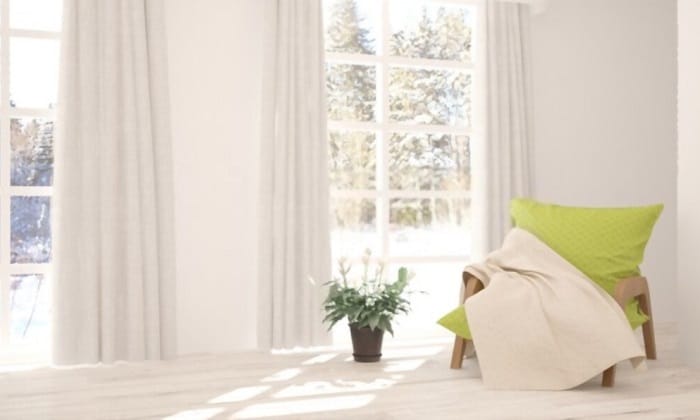 These are the three different ways drapes can be hung in your house. Check out the following curtain length options, as well as their benefits and drawbacks.
1. Floating curtain style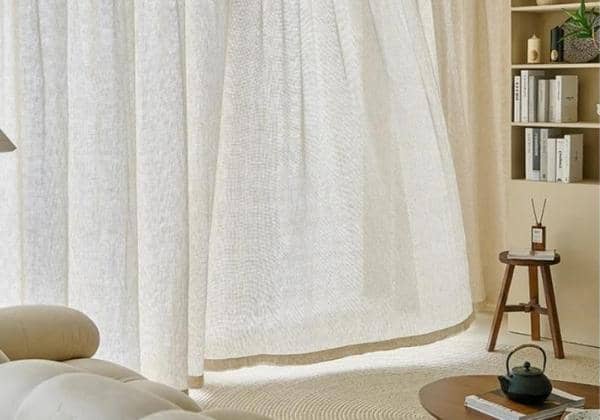 Curtains float can be hung on the edge of a window or a window sill. Since they're the shortest of the regular curtain lengths, they're a great place to experiment with texture or color. You won't get bored of this beautiful decision because it takes up less visual space. Small windows, windows over heaters, countertops, or furniture that would cover full-length drapes, might benefit from these curtains. For kitchen and bathroom windows, sill window treatment lengths are preferable.
Pros and Cons
As these curtains have sufficient room and are not directly touching the floor, cleaning beneath them is approachable.
You should also be cautious when purchasing floating curtains since they might cause your ceilings to look low, making your space even smaller.
Related: Should Curtains Touch the Floor? Steps to Complete Ideal Home
2. Ground drapes
If your room has a high ceiling or requires blackout drapes, you may want floor-length curtains. Those are the longer drapes that "touch" the floor. They may be utilized in any large house area, including living rooms, playrooms, and hallways. This is a lovely and functional alternative that fits well in various settings.
Pros and Cons
These ground curtains will make your space feel bigger by stretching your window. Curtains hang straight since they don't reach the ground. The edge stays clean as well, picking up no dirt, dust, or pet fur. They appear clean and are generally best on small windows.
As measuring them accurately might be challenging, you should avoid endangering the size. Hence, buying custom-made floor curtains might be a smart option.
3. Trouser/ puddle curtains
They are larger than standard curtain lengths and the size required for your window, but they provide a conventional appearance. With a more stunning look, the cloth should be denser and constructed of velvet. Those curtains are mainly associated with older, richer homes' dining rooms. They're opulent and spectacular. When done correctly, this effect is lovely, but it's not suitable for frequently opened and closed curtains.
Pros and Cons
They are stylish and well-tailored. Like a nice pair of trousers, these drapes have a stop at the correct spot, making them seem effortlessly elegant. With crisper, heavier textiles, this looks very fantastic.
They are difficult to wash and keep in good condition. They are also unsuitable for families with children and pets because of their length. It's not a good idea to install these on openings in a dusty environment.
Curtain Length Guide
Designing a room from the paint colors and light fixtures to furniture and accessories is fun. But choosing your window treatments plays an important role in determining the whole room's appearance. However, there are several living room curtain length rules to follow so that you can choose the best style for your space.
Measure: Take measures from the ground to the location where the rod will be installed using your trusty tape. Add a few centimeters to your measurements to make your windows look broader and taller, as they should.
Drill a hole: You should mark the spots for your hooks with a pencil before installing them. Each bracket should be positioned at the height you calculated before, roughly 4 to 6 inches from the window frame's edge.
Hang your curtains: If your curtains are brand new, iron away wrinkles and folds. Put the curtain onto the rod. You might have to insert the rod into the bracket before reinstalling the finial, based on the style of the bracket.
It is critical not to select draperies with the same measurements as your windows while determining an optimum curtain length. This will not adequately cover your window panels, leaving you with partially covered windows. Therefore, when choosing an optimal length, you should assess the height of your ceilings and the impression you would like them to produce in your home. Let's explore the ideal curtain length for 8-foot and 9-foot ceilings!
Placing curtains higher and broader than your windows can keep them from restricting light and air throughout the day. Alternatively, use woven or solar blinds set inside the frame to provide shade as needed, making your windows appear larger and your room appear lighter.
Conclusion
The dimensions of your curtains are essential since they may substantially alter the look of your home. Curtains that are well-placed and tidy may make your space look larger and more spacious. They may also assist you in concealing unsatisfactory areas of your room.
For the greatest outcomes, you should always examine them thoroughly and be certain where you need to set the rods and different curtain lengths. Did you find this article about standard curtain sizes effectively? If so, please leave a comment below and share it with your family and friends.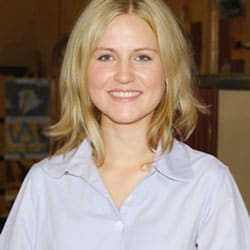 Hi, I am Roseanne Jones, an aspiring home designer that wants to make you feel more at home with your new house.With nearly five years of redecorating old residents and arranging new ones, I am confident that I can give you the best advice on your lovely place.