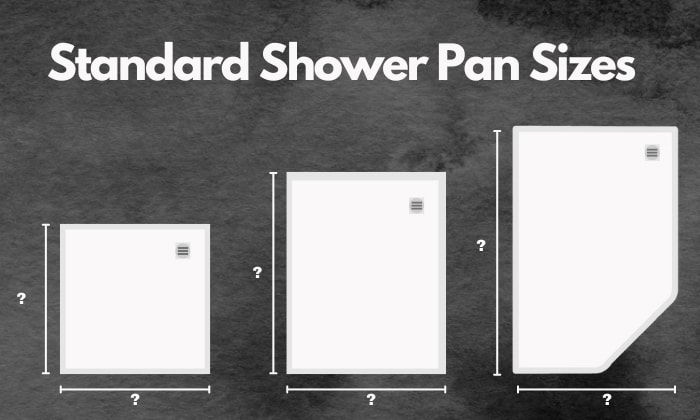 Standard shower pan sizes have been an integral part of bathrooms. Most homeowners who renovate their bathrooms prefer installing shower pans to gather the water and drain it completely while keeping the other floor parts dry.
Indeed, the size of shower pan matters.
In the market, you can find standard shower basin sizes measuring 32″ x 32″ to 42″ x 60″, with around 2″ to 6″ depths from the drain. Read on to determine what works for your bathroom.
Standard Shower Pan Dimensions
Standard shower pans have three standard sizes, and although they are common shower pan sizes, they come in various shapes and differ in their opening.
If there are small, medium, and large sizes, the shower floor pan sizes have the following:
| | |
| --- | --- |
| Standard Shower Pan Type | Sizes |
| Standard Shower Pans (Square) | 32″ x 32″ |
| Standard Shower Pans (Rectangular) | 36″ x 48″ |
| Standard Shower Pans (Neo-angle corner unit) | 38″ x 60″ |
Regarding its depth, all three types of standard shower pans have a thickness of at least 2″ to 6″.
Please take note that a typical shower pan has a standard depth, and it is one factor that constitutes the efficiency of the standard shower pans.
Standard Shower Pans Uses
To better understand the standard shower pan's measurements, we break them into three categories: square, rectangular, and neo-angle corner unit standard shower pans.
Standard Shower Pans (Square)
These are the smallest shower pans that you can get right now. Their vanity sizes are ideal for small spaces and bathrooms like those usually seen in tiny one-bedroom apartments or college dormitories.
Standard Shower Pans (Rectangular)
If you are looking for bigger yet standard shower pans that are disability-friendly, check the rectangular ones. Since the pans' sizes have longer widths and standard vertical depths, these pans will fit perfectly into any disability-friendly bathroom.
| | |
| --- | --- |
| Sizes | Dimension |
| Small | 32" x 48" |
| Medium | 36" x 54" to 36" x 60" |
| Large | 42" x 60" to 48" by 60" |
If you are particular about where the water is heading, you might need extra time to figure out which way you want them to go since the standard shower pans (rectangular) have offset drains on their left or right side.
Standard Shower Pans (Neo-angle Corner)
Don't confuse this type of pan with the standard shower pans (square). This shower pan, like the square ones, might be ideal for small showers, but they are entirely different.
The square standard shower pans fit just right enough to collect all the water and drain them. But, the Neo-angle corner standard shower pan's designs and sizes are for people to move around the pan.
The extra inches of the pan's size allow people to comfortably take a shower without worrying that the waters will splash around.
Also, the companies manufacturing the pans carefully design them to be suitable for a two-wall corner shower room.
| | |
| --- | --- |
| Standard Shower Pans – Corner (Small) | 36" (cross dimension) |
| Standard Shower Pans – Corner (Big) | 60" (cross dimension) |
Are Shower Pans Important?
Some homeowners think that shower pans are unnecessary and will cost them extra. They do not know that standard shower pans offer several significant benefits you must consider.
Safety is the primary benefit you will get when installing the shower pan. However, you must pick the product that best fits your shower space. This way, you won't get any slick, wet or slippery floor, thus, less risk of slip-and-fall accidents while in the shower room.
This makes the standard shower pans ideal for households with children, elderly persons, or persons with disability.
Protects Your Bathroom Tiles
Nowadays, most bathrooms have tiles installed in them. Take note. These tiles are not waterproof, meaning they seep the water. Once the floor tiles start seeping water, it will lead to the accumulation of bacteria and damage your entire shower floor.
The tiles that cover your floor must be protected. Standard shower pans can address this issue, avoid overflowing water, and promote longer tile life.
How Do You Measure a Standard Shower Pan?
Numbers may be overwhelming sometimes but measuring a standard shower pan is not that complicated. It's as easy as 1-2-3. All you need to have to compute the dimension are a tape measure, calculator, and pen and paper for note taking.
A quick reminder, whether it is your first time installing a shower pan or not, make sure that the pan's drainage perfectly matches your existing shower drainage system.
Measure the shower pan's width – Measure the shower pan's outer border. To calculate the shower pan's width, use your tape measure and measure the width from left to right.
Measure the shower pan's depth – Start measuring the depth from the pan's bottom to its opening or top edge.
Measure the drain's location – Now that you have the value of the pan's width and depth, the next thing you need to find is the value of the drain's location. Measure the drain's distance from the outside corners of the shower pans to the pan's drain.
What Are Shower Pans Made From?
After more than 50 years since their initial release, shower pans have evolved from their classic designs to their modern look. Check these shower pan materials that give them a contemporary look today.
Acrylic or plexiglass is known for being impact-resistant, making it one of the best picks to consider.
But don't be surprised if you see that the price tag for this shower pan is a little bit more costly than regular shower pans.
The materials used and the color options, which are aesthetically appealing, are worth it for that price tag.
Choose a fiberglass shower pan if you are looking for functional but budget-friendly shower pans.
Aside from the cost that won't break the bank, you can quickly find them in any home, construction, or supply shop.
The composite standard shower pans are considered the kings of shower pans. Regardless of its shower tray sizes, the composite materials' synthetic polymers, stone, and price will let you experience what it feels like to have a premium product.
Custom tile is another pricey product that can go head to head with composite. The good thing about having a custom tile as a shower tray is you can customize it completely to match your bathroom's design and décor.
However, you need to check the sizes for tile before you customize it. It must match your entire bathroom floor's tiles. Otherwise, it will look off and defeat the purpose of having a beautiful and aesthetic bathroom.
Frequently Asked Questions
Do shower pans come in all sizes?
Yes, ready-made shower pans have sizes ranging from 30″ x 30″ to 48″ x 60″.
Also, you can request custom shower pan sizes to fit entirely into your bath space. You can even customize it to 48″ x 32″.
What's the depth of a Shower Pan?
Standard shower pans may come in different sizes, but they all have a common denominator – at least 2 inches in depth. The standard one í about 2.75 inches.
How do I know what size shower base I need?
The ideal standard shower base measurements must be similar to your standard shower pans, which are 32″ x 32″ to 42″ x 60″. Or you may go with the larger ones at 48" by 32".
Measure or find your shower space's width, depth, and drain location before buying materials for your shower base.
What is the difference between a shower pan and a shower base?
The shower base is made of cement. It refers to the substructure supporting anything on top of it.
On the other hand, shower pans can be fiberglass, stone, ceramic, metal, or stone, which are put on top of the base to quickly collect and drain the water.
What is a prefab shower pan?
The word prefab means prefabricated. This means that a prefab shower pan is a ready-made shower plan that you can easily install in your bathroom.
Conclusion
Standard shower pan sizes are pretty the same, whether you live in the US, UK, or any place in the world. The value of the benefits you get from installing standard shower pans is far more critical than how much it costs.
Homeowners must recognize the importance of choosing the right shower pans to protect their bathroom floors. Most importantly, it protects them from slip-fall accidents.
Thus, check your nearest construction supply store for standard shower pans. They come in different dimensions and designs, and depending on your needs, you may choose from standard shower pans or customize them. Whichever you get, they will protect your bathroom floors from any water-causing damage.
Read more: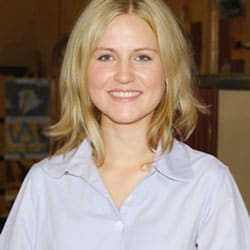 Hi, I am Roseanne Jones, an aspiring home designer that wants to make you feel more at home with your new house.With nearly five years of redecorating old residents and arranging new ones, I am confident that I can give you the best advice on your lovely place.