An increasingly popular choice for kitchen countertops nowadays, Taj Mahal quartzite is highly valued for its durability and aesthetic appeal. Its creamy beige color and mesmerizing gold veins can lend a modern touch to any kitchen it inhabits.
This begs the question, "What backsplash goes with Taj Mahal quartzite?" Let's find out how to bring the best out of this beautiful stone from Brazil. I can guarantee that any pictures taken in your kitchen afterward will be Instagram-worthy.
Best Backsplash to Pair With Taj Mahal Quartzite
To find the best backsplash tile with Taj Mahal quartzite, you'll need to consider the tile color and material. Understanding these two elements will help you decide whether you should go for a match and contrast scheme or a mixed-materials design.
Top Colors That Go Well With Taj Mahal Quartzite
1. White
White is the safest bet when it comes to backsplash ideas for Taj Mahal as this color can complement virtually anything. This foolproof option will never fail to brighten up your kitchen and give it a clean, organized look.
Another reason to pick a white backsplash for Taj Mahal quartzite is the ever-growing popularity of all-white kitchen schemes, which aren't likely to go out of style.
You can also consider a few variations of white such as vanilla, eggshell, cream, and ivory. These shades can all offer an immaculate appearance, making it easier to spot and clean stains.
2. Gray/Blue
Sometimes, you might come across Taj Mahal quartzite with gray or blue undertones. In such cases, a stylish match would be a backsplash with either of these colors. This combination will result in a crisp and airy kitchen space.
In addition, when pairing a blue or gray backsplash with quartzite countertops, the Taj Mahal quartzite can mimic marble's captivating streaks. The cool undertones of these two colors will certainly accentuate the quartzite's soft graining.
3. Beige
Many varieties of Taj Mahal quartzite have warm undertones, which should be paired with natural stones with lighter warm tints. This color palette is excellent for people who want a clean aesthetic like an all-white kitchen with some added warmth.
By matching similar-toned backsplash tile with Taj Mahal cabinets, you'll get a uniform scheme with pleasant visual continuity. Ideal for traditional-styled kitchens, a beige backsplash can be decorated with patterns for a more visually exciting room.
What Tiles Look Good With Taj Mahal Quartzite
1. Stainless Steel
Strange as it may sound, stainless steel and the natural quartzite stone are a match made in heaven. When put side-by-side, the contrasting texture between the two materials will lend your kitchen a visually striking aesthetic that you can't take your eyes off.
What's more, since stainless steel is a metal, it can reflect light, thus making your room noticeably brighter and more spacious. The material is also effortless to clean, allowing you to easily wipe off any stains or dust build-up on its surface.
2. Ceramic
Ceramic is considered to be one of the most popular material choices for backsplash due to its versatility. Because ceramic is available in many colors and decorative patterns, it'd be effortless to find one that makes a great backsplash for Taj Mahal quartzite.
Its affordable price is another reason you might want to consider this material. With how lightweight it is, you can install the ceramic backsplash yourself.
Nonetheless, you should bear in mind that this panel tends to require regular cleaning to keep the tiles and grout spotless.
3. Porcelain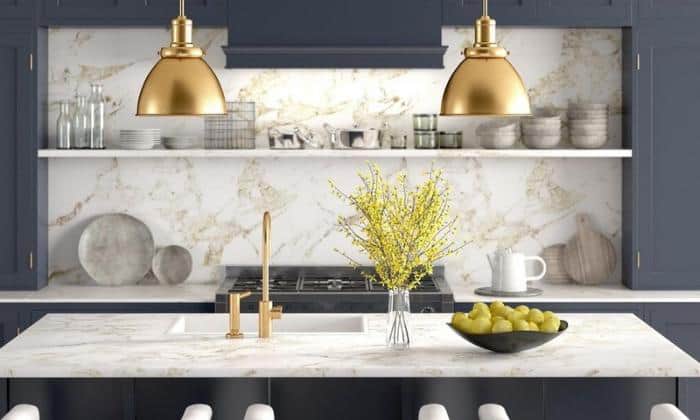 Porcelain might be a rather expensive choice, but it's impossible not to love the luxurious sheen it offers. As porcelain is quite dense and sturdy, it boasts an impressive lifespan compared to the more affordable ceramic.
Generally, porcelain can complement a glossy Taj Mahal quartzite countertop. Go for this material if you want your kitchen to appear high-end and glamorous. However, you may find its options for colors and patterns not as many as its ceramic counterpart.
4. Taj Mahal Quartzite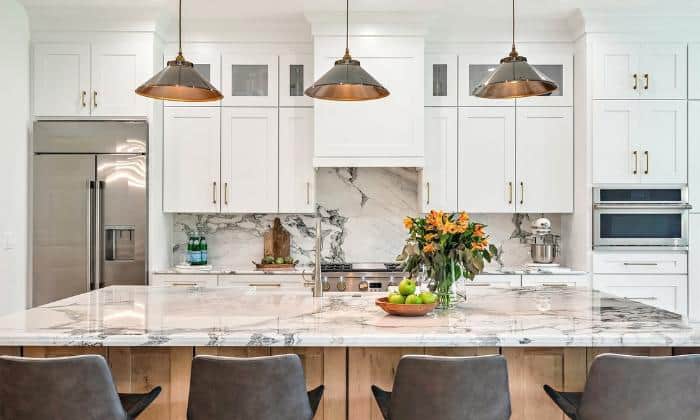 Who says your backsplash can't be the same material as your countertops? In fact, this setup would be a splendid way to achieve a cohesive look without coming across as bland or monotonous.
However, if you want to add more visual interest to the place, you can pair the Taj Mahal quartzite with white cabinets for a pristine-looking room. The white's subtlety will not break up your uniform scheme, but rather add more dynamism to it.
Prefer a clearer contrast? I'd recommend pairing the Taj Mahal quartzite with dark cabinets such as rich wood. This resulting contrast will be a seamless fit in traditional homes, particularly cottages or farmhouse designs.
5. Glass
A glass backsplash can effortlessly attract attention, thanks to its shimmering look. Once you pair the glass backsplash with quartzite countertop, your breath will be stolen away with its show-stopping appeal.
The best thing about this tile is that it can be customized to fit whatever backsplash ideas for Taj Mahal quartzite you have in mind. Because it bounces off light, a glass panel will "expand" your kitchen space as well.
While glass tiles are a breeze to clean, they can pose a challenge when it comes to installation. Their prices aren't cheap either, so a backsplash of this kind isn't the best choice for a tight budget.
6. Travertine
Travertine stone is another backsplash option with an innate distinct and luxurious look. Its rustic charm and classiness truly add to Taj Mahal quartzite's natural beauty, thus bringing a cozy and welcoming atmosphere to any kitchen.
One factor you need to take into consideration regarding the travertine backsplash is its susceptibility to water. Prolonged exposure to moisture can cause damage to this porous stone, so only choose this as a backsplash when you're certain your kitchen is usually dry.
FAQs
What Are Some Finishing Options For Taj Mahal Quartzite?
The three popular finishing options for Taj Mahal quartzite you'll come across are: leathered, polished, and honed. They all come with different advantages:
Perfect for farmhouse-styled or rustic designs, leathered quartzite has a rough yet incredibly intriguing finish that mimics its veining design. It has excellent resistance to fingerprints, watermarks, and scratches.
On the other spectrum is polished Taj Mahal quartzite with its incredibly glossy look, making it a top choice for those who want a luxurious kitchen.
Easily recognizable with its matte finish, honed quartzite comes across as less formal, creating a relaxing ambiance for a down-to-earth kitchen.
Should The Backsplash Be Darker Or Lighter Compared To The Countertops?
There's no definite rule that dictates a backsplash should be lighter than the countertops or vice versa. It all boils down to your favored design scheme. However, it's safe to say that backsplashes often have a lighter color compared to the countertop.
I would recommend picking a lighter-toned backsplash for people trying to brighten their space up. With bright panels, your kitchen will also come across as more spacious and inviting.
Should The Backsplash Have A Glossy Or Matte Finish?
This question doesn't have a clear-cut answer either, as it depends on what aesthetic you're aiming for. However, there are a few pointers to help you decide:
A glossy finish is the best option when you want a glamorous and polished scheme.
Matte should be favored when you're trying to achieve a more cozy and casual feel. It is also noted for its non-slip characteristic.
Does Quartzite Cost More Money Than Granite?
Of these two popular materials for countertops, quartzite is usually the more expensive one. What's more, the price disparity can vary depending on what type of stone you choose and how rare it is.
A typical granite slab will cost you roughly $4o/square foot. For rarer pieces, expect a higher price range of $75 to $100 for every square foot.
As mentioned, quartzite tends to come at a much heftier price tag. Some of the most affordable types fall within the $65-85/square foot range. For Taj Mahal quartzite specifically, it'll cost you roughly $200 for a square foot.
Conclusion
Overall, to find out what backsplash goes with Taj Mahal quartzite, it's essential to pay attention to the color and tile material. Other than that, the backsplash's finish, your budget, and the room's lighting shouldn't be overlooked as well.
Now, let's roll up your sleeves and start designing your dream home. Rely on my advice as well as the aesthetic you favor and go from there. I wish you the best of luck. Don't forget to share with me pictures of your finished work.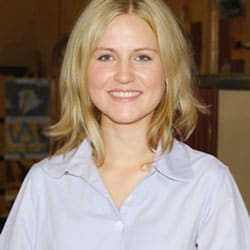 Hi, I am Roseanne Jones, an aspiring home designer that wants to make you feel more at home with your new house.With nearly five years of redecorating old residents and arranging new ones, I am confident that I can give you the best advice on your lovely place.