One of the most popular paint choices for interiors, grey is a lovely neutral color that brings a delightful contrast to other pigments. Highly versatile, this sophisticated shade can go well with a wide array of hues for a beautiful color scheme.
So, what color blinds go with grey walls? For the best visual effects, it pays to be mindful of choices for color curtains, as some will stand out more than others. Read on to discover the best tones for your window screens!
Selecting the Best Color Blinds for Gray Walls
Picking a suitable blind for neutral-colored walls shouldn't be hard. Whether it's for white walls, gray, or beige walls, you'll find that your options are not limited at all. Now, allow us to show you how to choose the right color in order to strike the perfect balance.
1. Pure White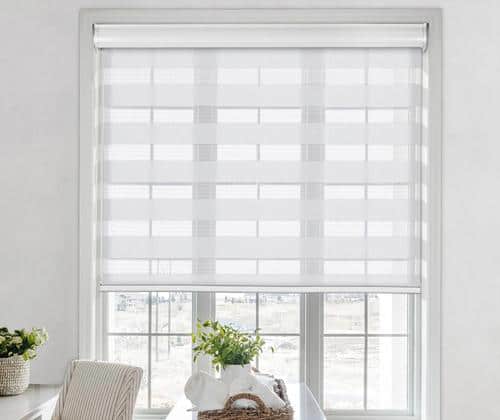 One of the safest color shades with gray walls is white, as it can go with any tone of gray – be it dark or light. In other words, it's impossible to go wrong with this combination, which gives anyone not good at color coordination peace of mind.
Aside from offering a more seamless transition, combining light white and gray can brighten up a room and make it seem more spacious. As a result, you can always rest assured that your interior will always come off as inviting.
Similarly, white is a fantastic companion for dark gray walls because it can offset the latter's intensity and lend a bright pop of color for a more cheerful room. This is a great choice for those who want to liven up their rooms without breaking the neutral color scheme.
2. Black
Most suitable for houses with plenty of natural lights, black might be considered bold curtain ideas for light grey walls because you'll have to balance the two shades carefully. Otherwise, you might end up with a dark and depressing room.
You should only consider this option if your living space is already large and bright in the first place. Alternatively, accent the room with light-colored furniture to balance out the somber pigments.
If done correctly, the aesthetics will certainly be breathtaking, especially in a modern design scheme. The black blinds also provide better privacy from privy eyes.
3. Grey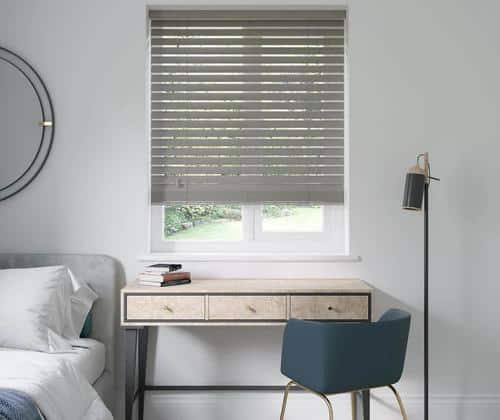 The combination of grey walls grey blinds, while somewhat challenging to get right, will result in an interesting modern aesthetic. For this particular coordination with grey window shades, you'll have two different approaches.
Although most will recommend at least one shade difference between blinds and walls, you can actually pick the exact same color for the two. By letting window blinds match wall color, you'll get a continuous look befitting minimalistic designs.
For a more visually striking monochromatic scheme, pick blinds with prominently different shades compared to the walls.
Get dark gray blinds, for example, if you want them to stand out against light gray walls. In contrast, light grey blinds should be favored in a dark room to add more levity and openness.
4. Blue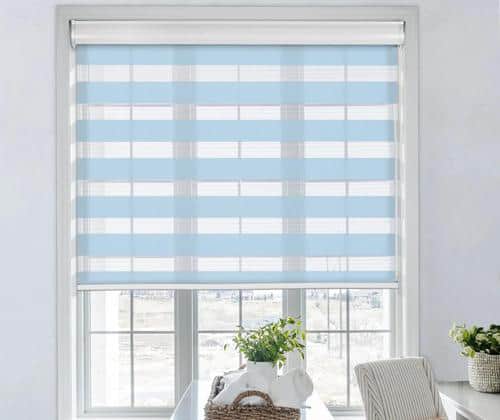 Anyone who wishes for a sense of serenity will find grey walls blue curtains an amazing pair. Ideal for rooms with the same undertones, blue can blend seamlessly with gray while still standing out enough to capture your attention.
In fact, you can say that blue is the missing puzzle to completing gray walls. This color of the sky lends personality to the smoky shade, and it'll bring a part of nature into your home, making it seem much more inviting.
And if you seek to add a luxurious note to your color scheme, something as rich as navy blue will certainly suffice.
5. Cream
Do you love the light neutrality of white but feel that it's a bit sterile? If that is the case, cream blinds might be up your alley. While it's also a neutral color, it possesses a tender softness that evokes warmth as opposed to white's cold crispness.
Similar to white, the cream hue can brighten and open up a space immediately. While the color transition from gray to cream is seamless, it still adds depth and dimensions to the room. In addition, this combo also denotes sophistication for inviting decor.
Another thing I love about the cream and gray combo is how calming it feels. Sitting in a room with this color scheme can lull me into a sense of security, and I'm certain that you will find it easy to relax and unwind when surrounded by such tranquil shades.
6. Yellow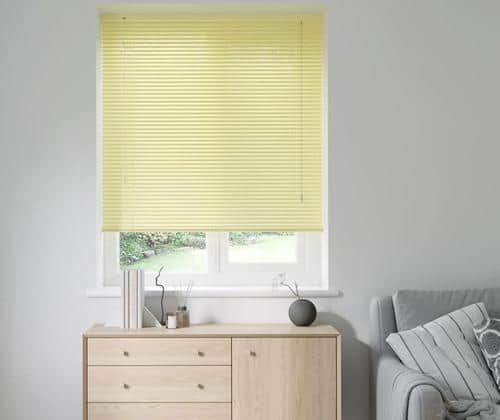 This shade of the sunlight really should be on top of your list if you're trying to add a splash of vibrant color. Bold and energetic, this hue breathes life into an otherwise serious room. Plus, the youthful vibe from yellow can instantly put anyone at ease.
I would recommend selecting a cheerful lemony yellow for a youthful tone. This, of course, doesn't mean a deeper shade like mustard yellow won't be a great fit. If anything, the rich hue can be an exquisite addition to the sophisticated gray.
Thanks to the balance set by the neutral gray, don't worry that the yellow will be too boisterous, as long as you don't go for something as outlandish as neon yellow. That said, you may want to pay attention to color blocks for an intriguing abstract style.
7. Red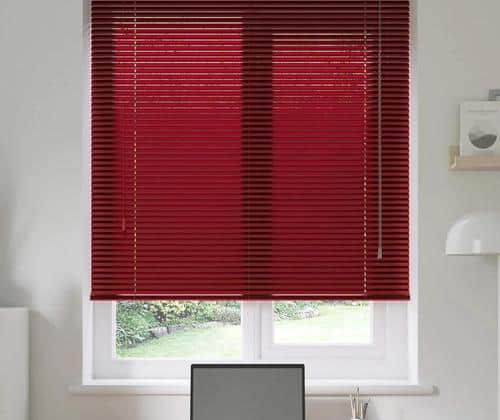 For an incredible focal point, select red as your blind color. The intensity of this passionate shade will demand attention and stand out in the room like a proud statement of style. As a result, it'll be near impossible to tear your eyes off the sight.
In this case, you would want your blinds to be the sole focus. This means sprinkling other pops of reds around is a no-no. Also, it'll be better if the window is particularly large and in the center of the room; otherwise, the visual effect might be less breathtaking.
However, you can sneak in a few minty green accessories around the room to keep the color scheme diverse. Adding a few plants around the space isn't a bad idea either.
8. Green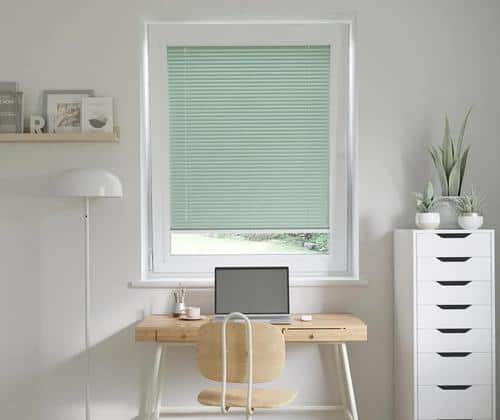 In order for the green and gray coordination to work, there should be a clear contrast between the two. Anything too similar, and it'll be hard to distinguish the walls from the blinds, making the room seem more ill-defined, especially if the gray features green undertones.
Although green is a cool color, it can actually bring coziness to your living space. I suspect this interesting effect comes from how green is often associated with nature, which also explains why the color is so soothing.
FAQs
1. Should blinds be lighter or darker than walls?
Either is fine. What's important is how the curtain hues affect your room. Do you want to brighten up the space and make it feel airier? If so, pick light colors. Are you a fan of striking visual effects? If that is the case, deeper shades are preferable.
Whatever your choice is, make sure there is at least one shade difference between the blinds and walls. And as all key colors in a room should be tonally similar, don't forget to choose matching tones (i.e. cold or warm) for the two.
2. Should grey walls have grey blinds?
There's nothing wrong with selecting grey window shades for walls of the same color, but you should have a clear idea of what you want. It's best to visualize in your head how the scheme should look first before putting on those grey mini blinds.
3. Do all blinds in house need to match?
It's not a strict requirement that window blinds match wall color. Different rooms will have varying functions and requirements, which determines the most suitable shade types.
Instead of choosing the exact same curtain style for every room, coordinate the blinds based on each area's design. And while the shades don't have to 100% match, it still pays to aim for a cohesive scheme throughout the house.
The instance where matching blinds is ideal is when you have an open-plan design. Also, in all window treatments ideas for grey walls, the shades should match the look of the wall when viewed from the outside.
Related:
Conclusion
When it comes to what color blinds go with grey walls, there are a lot of options for you to choose from. Neutral, warm, and cold hues are all viable options you can consider for your smoke-toned rooms.
At the end of the day, the best color combination will boil down to what specific aesthetic you're trying to achieve. With our recommendations, I'm certain you will be able to ascertain the most suitable choice for your interior design.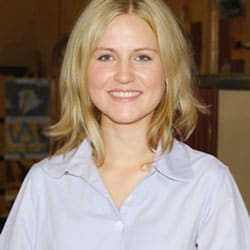 Hi, I am Roseanne Jones, an aspiring home designer that wants to make you feel more at home with your new house.With nearly five years of redecorating old residents and arranging new ones, I am confident that I can give you the best advice on your lovely place.