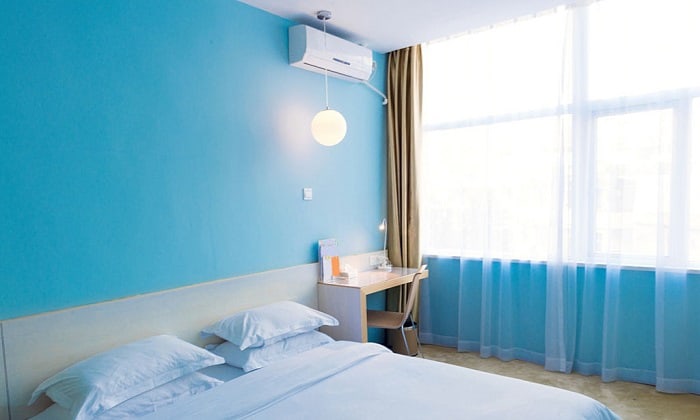 Blue is perhaps the most adaptable on the color spectrum. It symbolizes both the sky and the ocean, which gives people the feeling of freedom, trust, and loyalty. With its varied spectrum of undertones and ability to blend flawlessly with other colors, blue demonstrates the reason why it is a favorite choice among designers.
It is necessary to select a suitable color to match your walls since it may make or break your room's design concept. If you are confused about what color curtains go with blue walls, this post will demonstrate the THIRTEEN best color curtains for blue walls, ranging from cold, neutral to warm tones.
Cold
Blue is an increasingly popular option for home decoration because it can hold its value in various design schemes and situations. There are several hues of blue – bright blues, dark blues, warm blues, cool blues, and so on. Blue, being on the cold side of the color palette, is frequently believed to match well with other cool tones such as green, gray, and silver. Keeping to cooler hues may give your area a degree of stability and calm.
1. Blue Curtains
While blue is widely believed to be a cool tone on the color palette, just one tone up from purple, a blue can be either relatively cold or warm within its spectrum. Thus, selecting a blue curtain is the simplest method to find the ideal curtains for your blue walls. Nevertheless, you should keep in mind to follow simplicity if you want to apply this concept. Its purpose is to ensure that the wall color and the curtain tone are not exactly the same. This is to make the window treatment invisible in the interior design.
With light blue walls, you'll need something to accent them, such as deep or navy blue curtains, since light and light cannot exist together. To put it another way, use a light curtain if your wall is dark and a dark curtain if your wall is light. That's how it goes. The only issue is that you must select the proper shade of blue to contrast the tone and work well with the blue color scheme.
2. Green Curtains
Green is a fantastic color with a much wider visual spectrum than others. To pick the right curtains for your blue walls, you must first decide if your green curtain is cool. Light and dark cool green curtains vary from mint green to deep forest green. Lighter colors match nicely with dark blue walls, while darker tones look fantastic against a sky blue wall.
Another option is to pick green patterned curtains for blue wall paint that is close to the green tone like turquoise. This adventurous combo of sky and forests can create a small nature in every area of the house.
3. Silver Curtains
Silver curtains in a sky blue apartment would look gorgeous. You can achieve a great impression by choosing silver curtains, and they will provide a gentle effect to the color schemes. Although it is a very plain and basic tone, it adds a sense of elegance to your style and brings a modern appeal at the same time when combined with the light blue wall color.
Blue wall colors may always generate a calm and peaceful ambiance in your home. It is especially true if the blue you choose is not too bright, so you will not have to worry about the silver curtains being too flashy, especially when paired with a layer of the white curtain.
4. Grey Curtains
Another option to pick a curtain color to fit with your blue room is grey. As blue and grey are both cool tones, they make an excellent combination while selecting drapes for your walls. Hence, you might want to consider light grey curtains for the living room because this metallic appearance adds a touch of elegance without being overpowering.
In addition, getting linen sheer white curtains paired with medium charcoal grey curtains will be an excellent choice for producing a gentle and stylish room. This is particularly suitable for the bedroom. You may select light charcoal grey curtains that are soft and made of high-performance fabric to efficiently darken the space, minimize noises, and preserve your privacy.
Neutral
What color curtain goes with blue walls except for cold tones? Almost every neutral shade goes well with blue walls, including white, beige, tan, and black. Try changing the tones in your palette when choosing the appropriate color to combine with blue walls. Not only that, but the blue walls will also serve as a standout feature when coupled with other neutral furniture.
1. White Curtains
White curtains are the perfect neutral option that can be paired with blue walls easily. However, the aesthetic they may achieve is unique, producing a quiet and cool ambiance. As a result, you may use it in a location where you can rest, such as the bedroom.
The outcome of the combo might be unpredictable because it is determined by the sort of blue wall color used. For instance, if you have deep blue walls, you may create a more peaceful and pleasant atmosphere. The dark color allows you to rest your eyes. When the blue wall color is lighter and softer, the atmosphere is not just relaxing but it's also rejuvenating.
2. Tan Curtains
As mentioned, a basic blue and white color palette can never go bad. Instead of cold white, choose tan or cream since tan curtains are another calm option for highlighting your blue wall. Both tan and blue colors make any area feel bright and welcoming.
Tan is a warm hue that may combine with either a cool or warm shade of blue walls. To improve aesthetic appeal, match the color of your curtains to the color of your furnishings. Then, notice how the cool blue wall shines out against the neutral furniture without dominating the area.
3. Dark Beige Curtains
Dark brown or beige is a good choice for an edgier appeal. In most situations, the combination of beige and blue is also used in seaside home décor because beige is the color of sand, so it gives a natural summer vibe to the house for the entire year.
4. Black Curtains
Black creates a calm and cool vibe that enhances the light blue look in modern interiors. It is one of the best curtain ideas for light blue walls. The black curtain stands out and reflects a bit of grey color on the navy blue walls to provide both a robust and elegant appearance. It will add a great level of sophistication to the space when combined with black furnishings as well.
Warm
Blue is one of those colors that quickly comforts emotions and adds beauty to any room. It matches nearly every other color and design trend, from basic to warm and bright colors.
On a color wheel, these are the colors that are opposite each other. In this case, it is highly recommended to pick patterned curtains with a complementary colour to your walls because the contrast between the two is fairly strong, creating an incredible impression on your blue room. So, whether your wall is dark or light blue, we have compiled a list of warm curtain colors that pair well with blue to help you get started.
1. Red Curtains
The warm rusty red contrasts nicely with the cold blue walls, bringing in a really attractive concept. The geometric design on the drapes makes them an excellent selection for modern decor, whether in the living room, dining room, or bedroom.
Dark red may emphasize patterns and accentuate the whole space. Just be cautious when selecting a pattern. It should shine out and draw the attention of everyone who walks into the room.
2. Orange Curtains
This second choice is a fantastic color combination. In the example of blue walls, the complementary color is orange, which means their position is opposite in the color wheel. Orange contrasts against blue, adding depth to your decor.
Both of these colors will look nice and set a chilly and pleasant vibe in the space. It is like a mixture of ice and fire. Even though they are opposed, they balance each other perfectly. That is how you perform a balancing act within your room.
3. Yellow Curtains
The bright yellow curtains contrast beautifully with the dark blue walls. Similar to orange, yellow and blue are also complementary colors, meaning that they typically look excellent together. The mustard yellow curtains are made of woven curtain fabric that makes them thick and heavy, effectively darkening the room and allowing you to sleep soundly.
On the other hand, we adore the mix of sun and blue sky, so having the light blue paint and the bright sunny yellow curtain will make your room look stunning and natural. This combination will create an energizing atmosphere, especially if the yellow tone you pick for the curtains is bright and lively.
4. Gold Curtains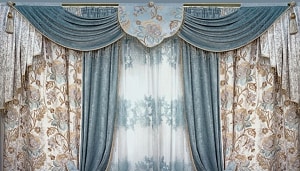 Many individuals are hesitant to embrace gold accents in their homes because they are concerned that it would make the layout appear too dazzling and shiny. However, the dark blue wall can help. The combo of blue walls and gold drapes is intriguing since the gold color gives an image of luxury that is appropriate for any home design.
In contrast, these gold curtains are common in classic and art deco homes, where their gold pattern decoration on a blue backdrop provides a powerful ambiance. In other words, if you want something more luxurious and fancy, you can select a medium gold curtain as well since it is considered one of the best color curtains for light blue walls in both the living room and dining room.
5. Hot Pink Curtains
If you are looking for something, a little unusual, rosy pink may be the choice for you! This vibrant pink and sky blue living room is a color palette dream. The warm pink of these drapes works well with blue walls and offers this space a youthful and fun vibe.
The strong and eye-catching pink color shines out from the deep blue walls, making the room stand out and adding a gentle tone to an overall look. Even though the walls are dark blue, this shade works so beautifully with the soft pink in the girl's bedroom, creating more cheerful and feminine feelings.
Conclusion
Even though there are several options and design inspiration accessible for blue walls, other aspects that go into designing the space should be concerned as well, meaning that there is no right or wrong answer. When selecting perfect curtains to match blue walls, regardless of whether the curtains are light or dark blue, you may need to consider the layout, material, and size to create magical effects in your interior design.
One piece of advice for installation is to place the curtain above the window line to create a sense of height. Was this article on what color curtains go with blue walls helpful to you? If so, please leave a comment and share your thoughts with your friends and family.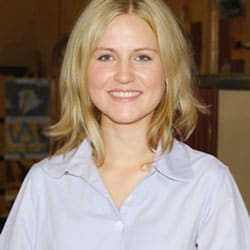 Hi, I am Roseanne Jones, an aspiring home designer that wants to make you feel more at home with your new house.With nearly five years of redecorating old residents and arranging new ones, I am confident that I can give you the best advice on your lovely place.