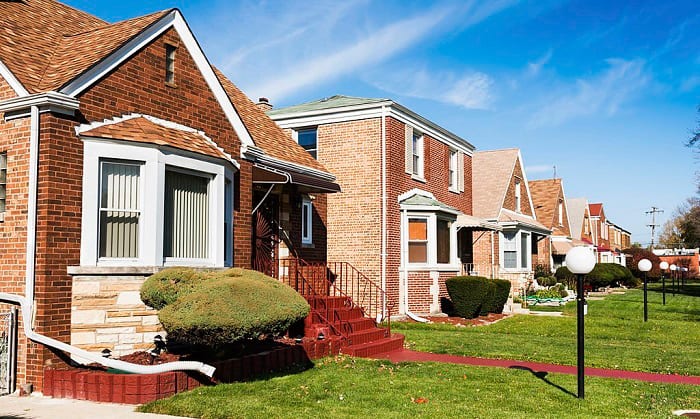 A survey conducted by the National Association of Home Builders in the United States found that 34% of respondents had brick as their material of choice for home exteriors.
Well, who could blame them? The classic look of the orange brick provides an incredible boost to your home's curb appeal, significantly upping its resale value and making it stand out among your neighbors.
Now, the challenge is finding out what color goes with an orange brick house since brick is already intense and full of character on its own.
11 Colors That Go With Orange Brick
Your home's exterior has quite a number of elements: trims, sidings, windows and shutters, front door, roofing, and even landscaping. Their colors must be coordinated in order to achieve cohesiveness in the design.
For an orange brick house, you must consider what elements to highlight and what to deemphasize. For example, the front door can be a vibrant color to make it pop, while the windows can blend in with the brick.
Of course, the colors would still depend on your preference, but here are some suggestions to help you decide:
1. Black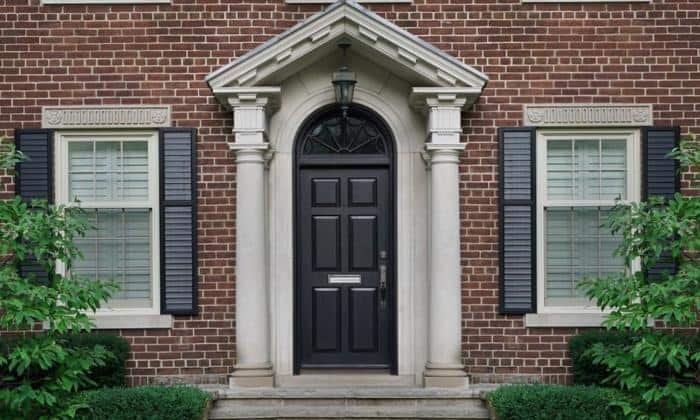 Black has a timeless look to it, and, paired with your orange brick house, the exterior would feel strikingly modern and luxurious.
The shutters and front door in this classic brick house with black trim lend a quiet elegance to it, definitely meriting a second look from the passerby.
This is because black contrasts nicely with the warm tones, making it pop even more. Adding greenery to the facade elevates curb appeal by giving a soft, welcoming vibe.
2. White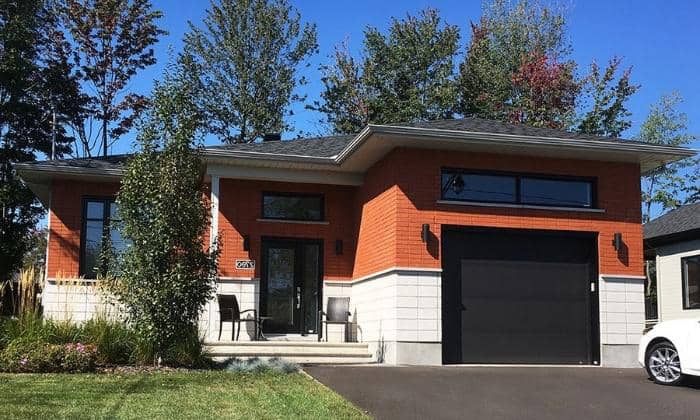 When you feel that you can't get the color right, remember that you can't go wrong with white. This quaint village house perfectly shows that orange brick with white trim works really well.
The white provides a nice, soft contrast with the brick that is easy on the eyes and makes it look fresh and inviting. White highlights the windows and the front door as seen above. The lush green of the lawn completes the cottagecore vibe.
3. Grey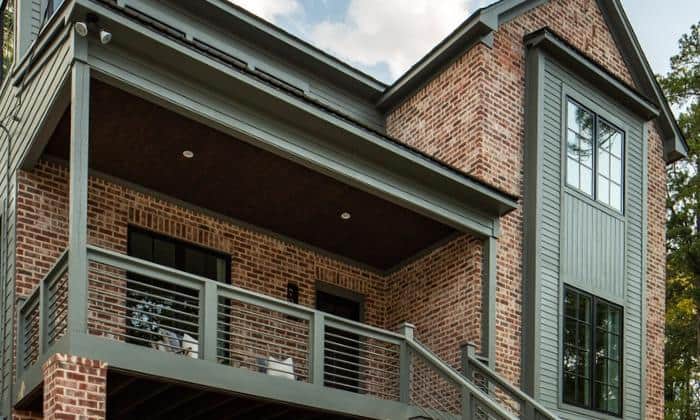 Going with a neutral color such as dark grey is certainly a safe bet. The coolness of grey contrasts well with the warmth of red or orange brick while not being overpowering.
The combination of brick and the grey concrete wall gives a solid industrial and masculine vibe. Sunlight streaming through the tall windows and into the grey couch looks inviting for a morning of easy reading. Potted plants and the white flowers on the desk complete the look.
Grey also lends modernity to the brick. The Boston brick apartment with grey trim above looks more modern than the adjacent brick structure.
4. Beige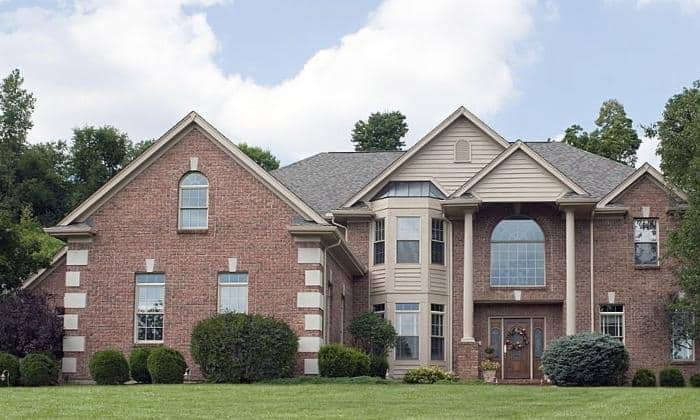 When looking for orange brick and siding color combinations, it is best to go with the neutral shades. Most stone sidings range in color from white, taupe, grey, and black, with beige somewhere in the middle. Orange bricks can have varying undertones, and the warm tone of the beige matches it perfectly.
5. Brown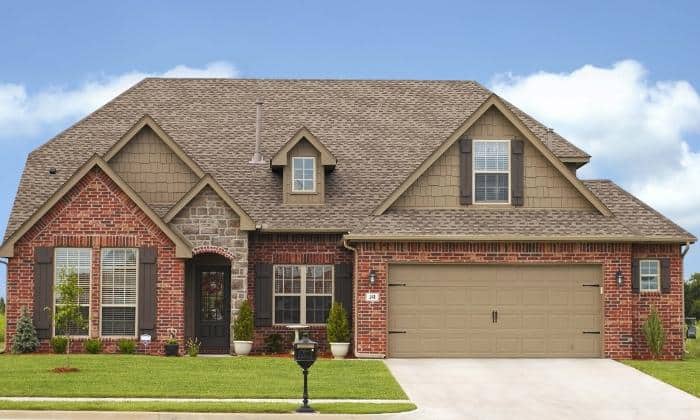 Brown is an amazing choice for your red orange brick house trim colors. It has a variety of shades that share a common warm undertone with brick. When used for the roof, windows, and trimmings, it neatly ties the whole thing together.
The green lawn out front refreshes the eyes, allowing the passerby to appreciate your home's facade even more.
6. Red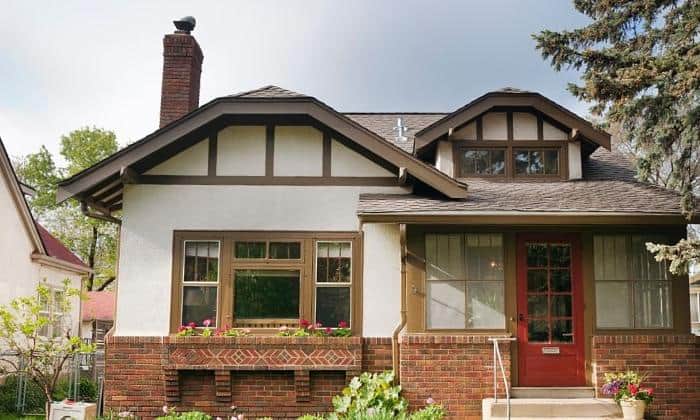 Red isn't just one of the more attractive flower colors. It can be a powerful anchor for the eye when used on the front door, stopping a passerby in their tracks and making them look. Red flowers and small shrubs lend a cozy vibe to the house shown below.
7. Orange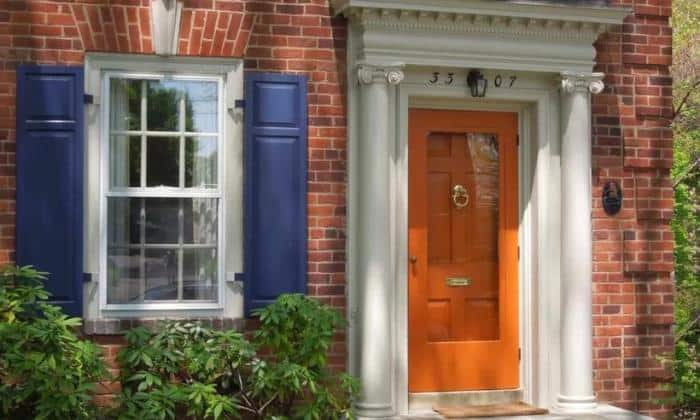 Minimalism is still a trend for 2022, which means choosing a simple, monochromatic palette can be one of your options. The timeless beauty of Fallingwater, designed by the legendary Frank Lloyd Wright shows that monochrome is still in vogue.
As seen in this image, the light orange brick house blends well with the environment while at the same time standing out from the surrounding lush foliage.
8. Yellow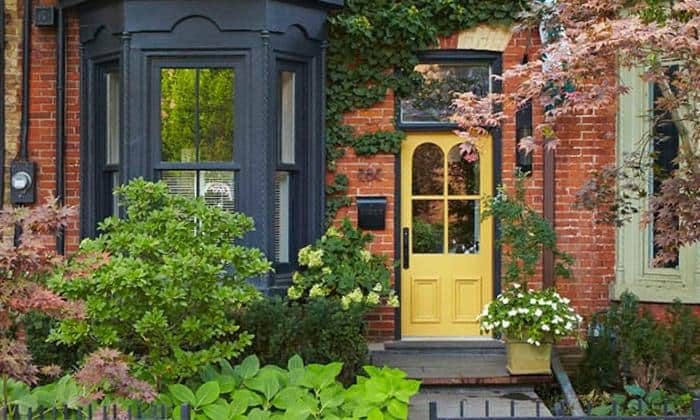 A cheerful color like yellow stands out among the sea of bricks in your facade. It brightens it up, making it look warmer and cozier.
The only thing that's missing in the photo above is matching yellow flowers to further accentuate the charming egg yellow paint on the front door.
9. Green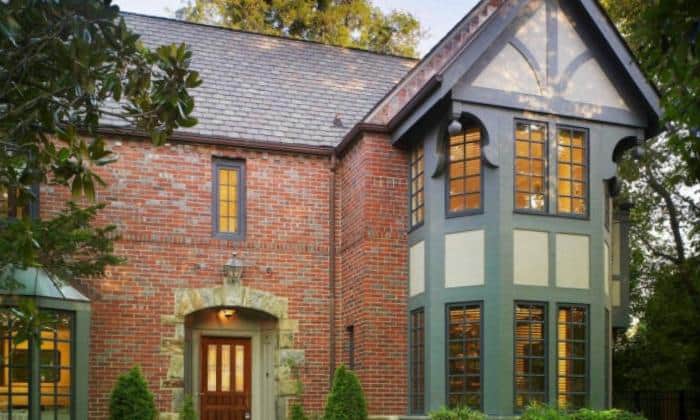 An earth tone like green would certainly soften the intensity of orange brick.
Using green as shutter colors for orange brick house would surely be attention-grabbing. Green sits opposite orange on the color wheel, providing a wonderful contrast.
10. Blue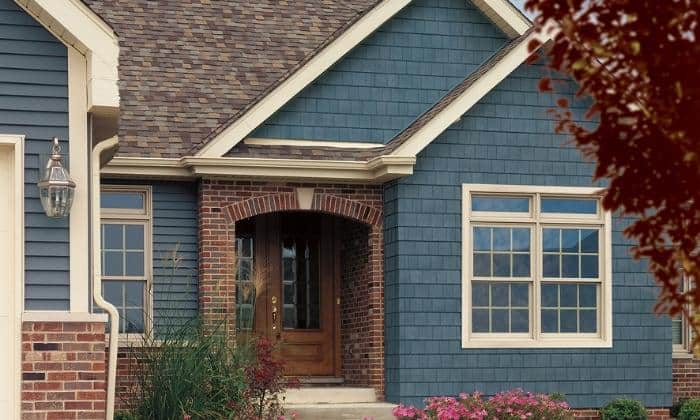 The blue front door and shutters give this otherwise traditional house a playful edge. Because blue is a complementary color to orange, you can never go wrong with this color combination. On days when the sky is blue, your house will be brightened with a feeling of liveliness.
11. Periwinkle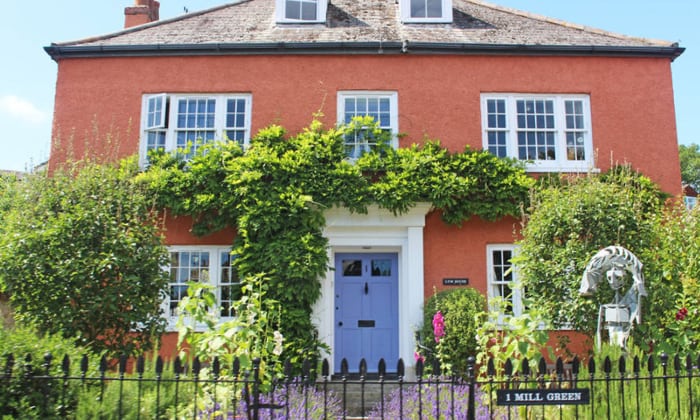 Periwinkle has a calming effect on the fiery hue of orange brick. Furthermore, this unusual color gives the facade a modern upgrade. The white of the door frame provides a nice transition while allowing the periwinkle front door to take center stage.
Orange Brick Exterior Color Schemes
A rule of thumb in design is using a combination of three colors. This allows the arrangement to look cohesive without being overwhelming, giving it the 'wow' factor.
The three color rule consists of the main, the secondary, and the accent color in a 60:30:10 distribution. This is considered the perfect ratio in design.
In this case, the main color is the color of the brick which is in varying shades of orange.
Here are some pictures showing color schemes following the 3-color rule that is guaranteed to work really well depending on what you are going for:
1. Secondary: Brown + Accent: Red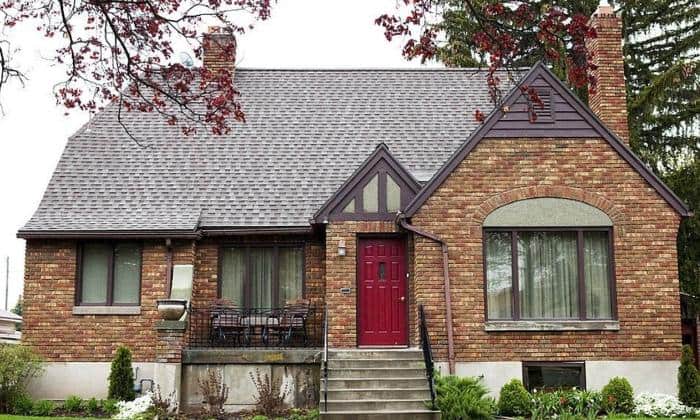 2. Secondary: Grey + Accent: White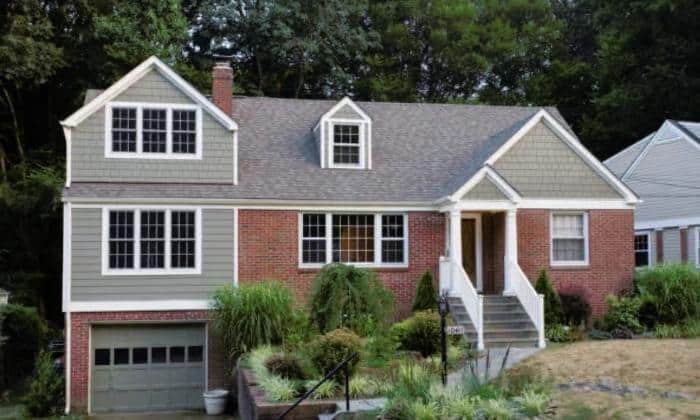 3. Secondary: Grey + Accent: Green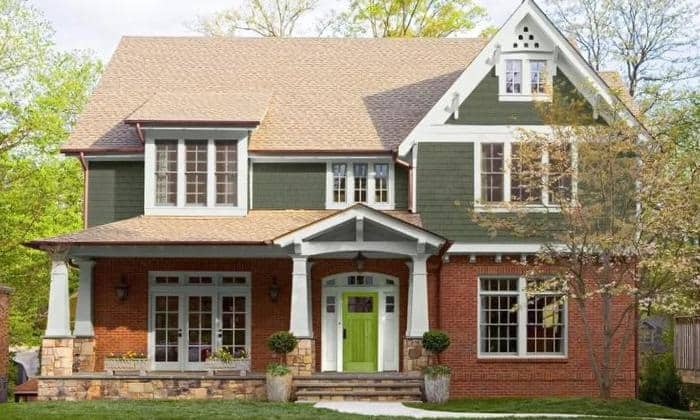 4. Secondary: Orange + Accent: Black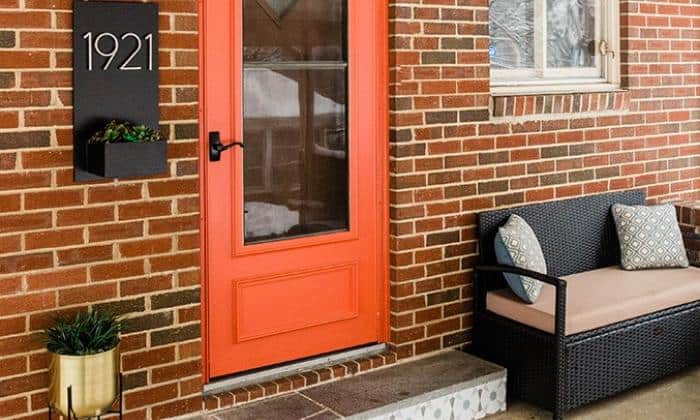 5. Secondary: Grey + Accent: Blue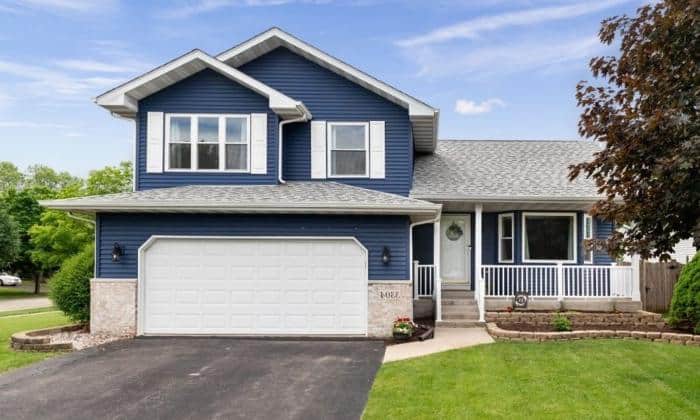 6. Secondary: White + Accent: Blue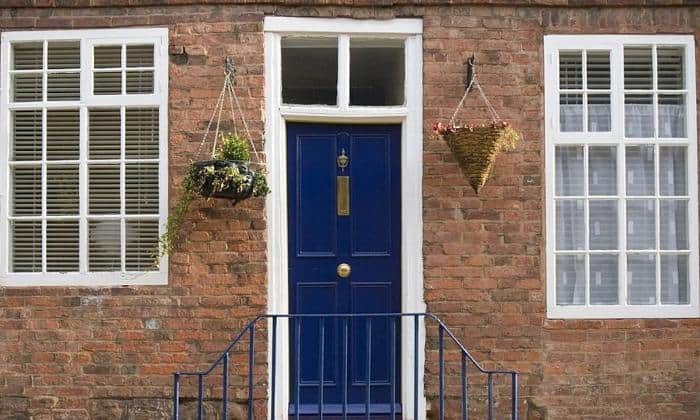 7. Secondary: White + Accent: Yellow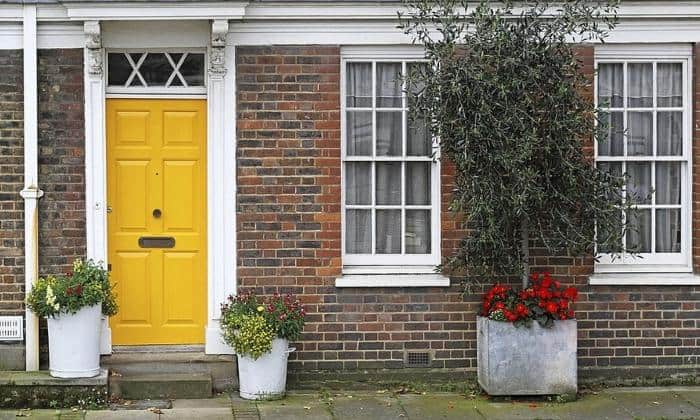 Things to Remember When Choosing Colors for Your Orange Brick House
Orange brick houses are already bold and full of character. It is not advised to use different colors for each element of the house as this could quickly become chaotic and overwhelming.
To ensure a streamlined look, remember that the three-color rule is your friend! As long as you follow the perfect ratio, all will be well.
It would also be helpful to match the paint, trim, or siding swatches side by side with the orange brick to be certain that they are compatible.
Closing Thoughts
There is a wide variety of paint colors that compliment orange brick. If you want your orange brick to be the star of the show, you can go with neutral colors such as white, grey, beige, or orange.
For a rustic vibe, green, browns, or reds will do the trick. Vivid colors like blue, periwinkle, and yellow are both playful and eye-catching. Lastly, black can provide a high contrast and elegant look that could stand the test of time.
Now that you know what color goes with an orange brick house, we hope our suggestions have made it easier for you to choose. Worry not, though, because whatever color you go with, your orange brick house will definitely stand out.
Sound off in the comments to let us know which color or colors you like best!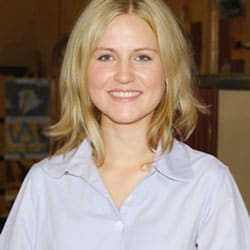 Hi, I am Roseanne Jones, an aspiring home designer that wants to make you feel more at home with your new house.With nearly five years of redecorating old residents and arranging new ones, I am confident that I can give you the best advice on your lovely place.