Granite is among the most popular materials for kitchen countertops due to its durability and high resale value. While somewhat overshadowed by white and black, brown granite is still highly favored with its rich yet natural tone.
To bring out the best of these earthy-hued countertops, you'll need to know what color paint goes with brown granite. Note that as each combination offers different visual effects, it'll serve you well to take into account what interior scheme you'd prefer.
Granite Countertops and Paint Colors
1. White
When at a loss, white is always one of the safest brown granite countertops kitchen ideas. Against the pristine white, it's next to impossible for the darker brown not to stand out and demand attention.
White, particularly creamy white, is ideal for homes with a contemporary design, where the juxtaposition between two contrasting hues results in a lively color scheme. Amid the vibrant palette, you'll be able to spot hints of warmth from the brown granite.
It's also possible to pair brown granite with white cabinets, even in a kitchen painted white. Just remember that the countertop and the cabinet should share the same undertones (i.e., cool or white).
2. Gray
Gray is another safe option for a kitchen with brown countertops. Most suitable for granite with cool undertones, gray lends sophistication to your classic kitchen space. Plus, it's not impossible to find warm gray paint to match your preferences.
The great thing about gray is that it's also suitable for earthy themes, despite usually being the last shade you'd associate with nature. To be specific, gray with subtle hints of green will blend well in a kitchen with brown countertops and cabinets.
Another idea is to combine gray with bright cabinetry and mosaic stone backsplashes, but I'd personally go for a dark slate gray accentuated by metallic accents for an industrial flair. For more diversity, consider adding in a few color accents.
Read more: color furniture that goes with gray walls.
3. Yellow
To bring a sense of youthful exuberance to your space, don't miss out on yellow. As a bright shade, yellow can brighten up any kitchen with brown countertops, allowing the room to come across as more inviting and open.
While pale yellow works best as it can either accentuate or beautifully contrast the darker granite, a deeper yellow can work too—provided that it's paired with light brown. Whatever you choose, don't forget to test how the paint's pigment will change with the lights on.
You can also consider painting the kitchen cabinets vibrant yellow to add a fun pop of colors against the warm white walls and brown granite countertop.
4. Pale blue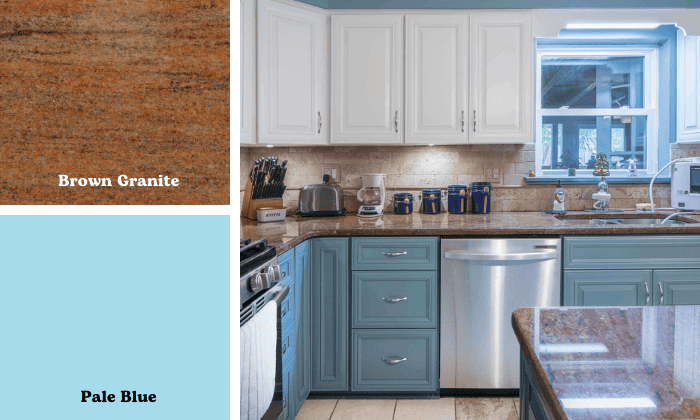 A light hue like pale blue is an excellent choice when you want to enhance the sense of brightness in the room without coming off as too monotonous or bold. Against the darker brown, blue serves as a pleasant backdrop with its peaceful undertones.
Considering that pale blue is also a color of nature, pairing it with earthy brown makes perfect sense. In fact, once combined, these two natural shades can create a coastal vibe realistic enough that you can almost feel the salty sea breeze caressing your skin.
Light blue paint, especially ones with subtle grayish hints, goes well with baltic brown granite, as it contrasts nicely with the deep chocolate shade. Go for this hue if you prefer a wood kitchen rather than a combination of white cabinets and stainless steel.
5. Dark blue
A color best suited for brown granite countertops colors with the slightest hint of blue, dark navy blue evokes a striking visual interest that you can't help but look at. A deep saturated blue, for instance, will surely take the spotlight away from the granite.
If you prefer something milder, pairing navy cabinets with brown granite countertops and a bronze backsplash will result in an intriguing yet harmonious color scheme. That said, deep dark blue only works when the granite has warm shades rather than cool.
6. Brown
Who says you can't choose brown paint colors for kitchen with brown granite? This monochromatic scheme, plain as it may initially sound, can actually make a kitchen warm and inviting due to the numerous earthy hues.
To make this combination work, the paint color's hues and undertones need to be noticeably different from the countertop. As an example, cool light brown granite countertops should go with a darker paint color with warm undertones.
There are many ways you can add personality and style to this scheme. Adding copper accessories, such as a decorative fruit bowl, is a good start. In a spacious and bright space, you can even pick wood and black cabinets for a flair of the dramatic.
7. Orange
Right off the bat, orange can evoke a sense of cheerfulness that beckons the eyes. The color will make any kitchen feel cozier and more peaceful. For an awe-inspiring palette, be sure to pick a timeless orange and a minimalist design scheme.
That said, it's not a bad idea to place a few plants around the kitchen to lend some lush green to the kitchen. To stick to the minimalist scheme, it's best that you go for broadleaf houseplants, such as Elephant Ear or Jungle Drum.
In addition, orange is another noteworthy choice when it comes to what color cabinets go with brown granite countertops. If you think painting the entire room orange is too big a commitment, why not go for cabinetry instead?
FAQs
How do I upgrade my kitchen with tanned brown granite?
Look around the kitchen and determine if there are any mismatched color combinations. Does the area around the granite countertop look too bright or too gloomy? For either case, find a new paint color, such as choosing paint with a creamy hint for cabinets.
The problem may also be due to the granite itself. To address the issue, hone the granite for a matte finish by sanding with 100, 200, and then 300-grit sandpaper before coating an enhancer layer on top.
Are the cabinet knobs, faucets, and other kitchen accessories in tune with the granite and overall design scheme? If not, remove everything that is out of place.
How to choose backsplashes for brown granite countertops?
Overall, you'd have to start by thinking about the specific color and style you'd want. While the backsplash doesn't necessarily have to be an exact match for the brown granite, it should contrast or coordinate with the countertop.
Afterward, think about what material you want. It should come at a reasonable price and can be cleaned easily. Below are a few suggestions for backsplashes that go with brown granite countertops:
Backsplashes with the same brown granite as the countertop.
Creamy travertine with a clear difference in color compared to the granite.
Green or gray ceramic tiles. The latter will work especially well with Venetian Gold granite.
Glass tiles with the same shades as the granite.
Backsplashes with copper or brass
Light tan tiles to pair with baltic brown granite.
Light mosaic tiles.
Is brown granite out of style?
While it may not be as popular as white, black, or gold, brown granite is definitely still in style.
That said, as long as you successfully mix and match various elements in the kitchen, I doubt brown granite going out of style will affect you that much. After all, what's important is how great your kitchen look, not design trends that may be forgotten comes tomorrow.
How to tone down busy granite?
As tearing down your existing granite is usually not an option, you'll need to change other aspects in the kitchen to tone down busy granite:
Switch to a simpler backsplash. This means the color shouldn't pop out too much, and the tiles shouldn't have any complex patterns. In this case, neutral tones will work best in toning down busy granite.
Go for larger backsplash tiles, as smaller ones can make an area look busy as well.
Switch to open shelving and keep it clutter-free. Open shelving's minimalistic approach will keep your kitchen looking airier.
Paint the cabinets with a simple shade, such as an off-white color. Alternatively, for wooden cabinets, you can consider staining them to a darker shade.
Conclusion
Regarding what color paint goes with brown granite, your option can range from neutral shades like white to a vibrant pop of color such as yellow.
While the options mentioned here are all fantastic, you may want to order paint samples to see how the color would look in your kitchen. As we may perceive colors differently in different light conditions and decor styles, it's always better to be safe than sorry.
Did we answer your question? Do you need some other brown granite countertops kitchen ideas to enhance your interior decor? Don't hesitate to reach out to us via the comment section below.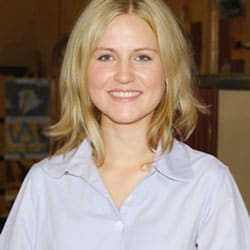 Hi, I am Roseanne Jones, an aspiring home designer that wants to make you feel more at home with your new house.With nearly five years of redecorating old residents and arranging new ones, I am confident that I can give you the best advice on your lovely place.