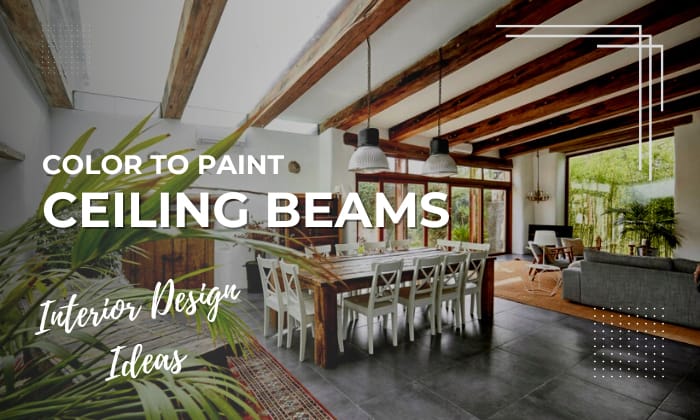 Picking the right shade for ceiling beams is just as important as harmonizing color between furniture and wall paint. Despite being so high up, these supporting beams can actually make or break your overall decorating scheme.
What color to paint ceiling beams can seem like a no-brainer. However, there are many factors you need to keep in mind in order to select the right paint.
Ideas for Painting Ceiling Beams
Try out the ideas below to enhance your room's appeal. From white ceiling with wood beams to black beams in living room, there are many ways you can decorate these supporting structures.
1. White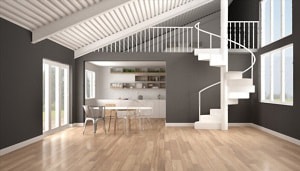 It's impossible to go wrong with white—this color can blend with virtually any shade. Due to how easy it is to incorporate bright neutral tints into interior designs, white is usually the go-to choice when it comes to painting ceiling beams.
Additionally, white has a classic look that transcends time and fleeting trends. Suitable for both low and high vaulted beams, its vibrancy will brighten up your room without stealing the spotlight of your prized centerpiece.
2. Gray
For a visually interesting ceiling without relying on sharp contrasts, choose gray. Similar to white, gray is a neutral shade, meaning it can fit with several colors.
If your home design follows a coastal or rustic style, the silvery beams will be an even better fit.
I especially recommend grey painted ceiling beams when the rafter is made from wood. This hue complements the wood tones rather well and can let the timber's beautiful mineral streaks shine through.
3. Black
It can be slightly tricky to integrate black beams in living room. As is the case with darker shades, black tends to make the ceiling feel lower. Additionally, it'll give the impression that the room is smaller as well.
However, this color is not completely off the table, particularly for a minimalist design or an industrial flair. The shade is also suitable for homes with wooden brown ceilings.
Generally, you should go for black beams only if your room is spacious and tall. What's more, your ceiling should also be a bright color. In such a case, the dark tone will amp up the place's coziness rather than stifling it.
4. Blue
A fantastic way to break up the monotony of your ceiling is by painting its supporting beams blue. A color closely associated with freedom and serenity, blue goes well with white ceilings with wooden beams.
Considering how blue comes in several shades, there are many approaches to decorating with this color. For instance, you can combine dark blue beams with gray ceilings for a breezy nautical theme.
For blue ceilings, paint the beams with a slightly darker shade. If small children are in your house, it'd be great ideas to sketch in some additional puffy clouds. The resulting design will evoke the sense of an open blue sky over your head.
5. Green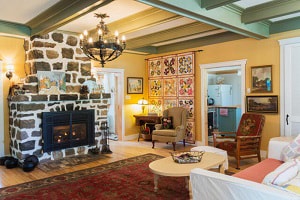 Similar to blue, green is a great candidate for matching wooden beams. As green is considered a color of nature, it allows you to bring the outside into your house for a vibrant and refreshing living space.
Admittedly, some people might feel that green can create too stark a contrast. Then, grey-greens such as sage tones will be a better alternative. Thanks to the cool gray undertones, the green can appear more subdued without losing its personality.
6. Dusty Rose
Other than white, dusty rose is a terrific vibrant color to brighten up your ceiling. The timeless elegance that comes with this feminine tint is an effortless match for dining rooms, kitchens, as well as nurseries.
Compared to the bolder pink, dusty rose lays claim to more soothing properties. Because dusty rose is technically a neutral shade, it can go with just about anything, including wooden ceiling beams.
This pastel blush tint might look subdued; however, it's anything but boring. Painting ceiling beams with a dusty rose hue will lend a floral and airy feel to truly liven up the space.
7. Muted Yellow
You can bring more brightness into your house by going for muted yellow ceiling beams. Despite being a rather subdued shade, this matte color still offers an animated atmosphere to almost any room it occupies.
Not unlike the playful dusty rose, muted yellow bears a breezy and flowery flair. Try accenting this shade against neutral white walls or ceilings. The ensuing color scheme, with its calm but cheerful undertones, is definitely nothing to scoff at.
8. Wooden
You don't always have to paint your wooden ceiling beams. There's nothing wrong with leaving the woodwork as it is or only applying a layer of transparent paint.
It may not be obvious at first, but the wood's natural warmth complements rustic vibes quite well, especially in older country houses. Homes with unpainted wooden beams tend to have a cozy atmosphere and a classic aesthetic.
If you've already painted the timber beams, don't remove the pre-existing color layer. It'd be much more cost-effective to apply an additional layer of faux grain finish.
To achieve the perfect faux finishing, you might need the help of a professional painter. However, it's worth the investment, considering how stunning the before after change is.
Another advantage of faux wood grains is that they're quite durable. A seasoned painter can easily replicate the exotic look of a rare wood that will last for years to come.
Important Aspects For Best Ceiling Beam Color Selection
Aside from discovering ideas for painting ceiling beams, let's check out other elements that you should not overlook.
1. Your Room's Dimensions
Smaller and lower rooms shouldn't have dark-colored ceiling beams, which always make a space feel more compact.
Instead, you should choose bright colors like white or dusty rose to give the illusion that the place is airy and spacious.
In contrast, it's not always a good idea to paint large rooms with bright shades, particularly when you're trying to make them feel cozier. For high ceilings, you might want to consider making the supporting beams a deeper color.
You'll also need to take the ceiling's paint into consideration if you want to create the optical illusion that the room is bigger. By picking a contrasting beam color compared to the ceiling, you'll find that these supporting structures look noticeably further away.
2. The Paint Itself
Although there are five types of paint finishes (matte, satin, eggshell, semi-gloss, and high-gloss), the two most commonly used for ceiling beams are matte and semi-gloss.
I'll get into more detail about which option you should choose between the two of them in a later section. For now, the general gist is that it's harder to hide imperfections in paints with a matte finish, whereas glossy bright paints will reflect lights.
The paint should also be of high quality as well. You can check how fade-resistant and durable it is. For DIY projects, pick products that are easy to apply and touch up.
3. Interior Design Scheme
At the end of the day, you'd want the ceiling beams to be a part of your interior design, not an ugly eyesore. Therefore, make sure the paint color complements your overall scheme for a uniform but aesthetically gratifying look.
FAQs
1. Should Ceiling Beams Match The Floor?
Not necessarily. In fact, it'd be far better to paint the ceiling beams with a complementary color to the ceiling.
Generally, your floor would have a deeper shade compared to the ceiling. The upward transition from dark to lighter colors would make the room feel taller and airier.
In contrast, painting the overhead beams with colors such as black when your floor is already dark to begin with can result in a heavy and oppressive room.
In short, while it's not strictly prohibited to match ceiling beams' color with floors, you'd get much better results when you pair the rafter with the ceiling itself.
2. Should Ceiling Beams Be Painted Flat Or Semi-Gloss?
This depends on what finish your ceiling has. To be specific, ceilings with a flat finish should be paired with a glossy beam for an aesthetically pleasing contrast. Similarly, shiny ceilings need to go with matte planks in order to look more eye-catching.
The majority of ceiling finishes nowadays are matte, so it's usually a safe bet to pick semi-gloss paints for your supporting beams.
3. What is the Average Cost to Install Ceiling Beams?
The total cost basically comes down to your location, the quality of the beams, and the contractor's pricing.
As of the time of writing, an entry-level decorative beam near my place would cost $7.5-$7.8 per linear foot to install, with higher-end products coming at $9.4 to $10.5.
In between these two ranges, many contractors would expect $8.25-8.35 for every linear foot.
In total (if you include material costs), basic decorative beam installation will require $14.05 for a linear foot on average, whereas premium-quality material and contractors can cost you up to $18.86.
4. What Kind Of Paint Do You Use On Wooden Ceiling Beams?
You should always go for durable wood paint like acrylic interior dyes. Though oil or water-based paint is okay too, it'll require you to apply a base layer of paint primer beforehand.
If you must pick water-based paints, choose latex, which is affordable, relatively easy to apply, and can dry at quite a fast rate. Latex is also less likely to fade or yellow, meaning it's very durable as well.
Conclusion
Long gone are the days when you have to paint beams the same colors as your ceiling. Now, it'd be much better to break the monotony by opting for accent colors so that even the overhead planks can be part of the house's aesthetic appeal.
Overall, when it comes to what color to paint ceiling beams, you need to consider your room's height and size, the paint's quality and finish, as well as the overall scheme.
So long as you remember these factors, you're guaranteed to have a successful paint project.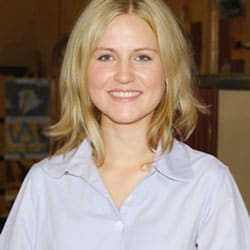 Hi, I am Roseanne Jones, an aspiring home designer that wants to make you feel more at home with your new house.With nearly five years of redecorating old residents and arranging new ones, I am confident that I can give you the best advice on your lovely place.