The luxurious beauty and mesmerizing richness of dark cabinets can truly add style points to your interior design. And what could be better than tying everything together with beautiful wood flooring?
Then, what color wood floor with dark cabinets creates a sophisticated look? For both the floor and the cabinetry to form a harmonious scheme, you may want to look at some of our suggestions below.
Best Color Wood Floor for a Perfect Space
1. Grey floor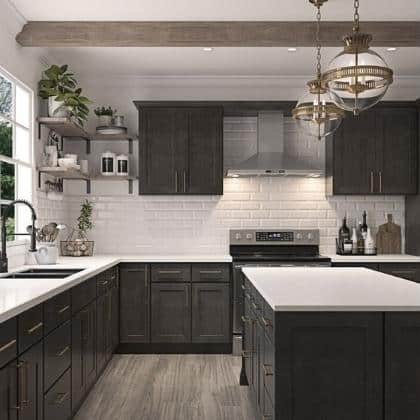 Grey is a refined neutral color that brings a contemporary look to almost any scheme. Plus, it possesses a timeless quality that suits many interior designs with a more traditional look.
Given how versatile this shade is, it makes perfect sense for the color to belong in a modern kitchen with sleek black cabinets. However, you'd want to avoid dark gray. Instead, opt for a light wood floor in order to create visual interest.
As I've pointed out, grey is also a great color flooring for a traditional setting. However, the kitchen flooring and dark wood cabinets both need underlying warm tones. Without these right elements, you may find the effect less striking.
That said, an alternative for those who don't like warm tones are cool color combinations. For instance, you can pair grey wood tiles with dark blue cabinets. The soothing and contemporary vibe from this setup is hard to beat.
2. White floor
If you want your kitchen to come across as bright and pristine, even with dark brown cabinets, white flooring would be the best choice. Plus, the clear contrast between the lighter wood floor and the dark cabinetry will make the room more visually exciting.
This neutral pigment is usually my go-to recommendation for owners of espresso cabinets, as the light wood flooring will further enhance the dark wood's rich accents. Add a granite countertop and white walls (or neutral color paints) for the perfect palette.
When pairing white hardwood floors with dark brown cabinets, you can choose whatever tone of white you want. For a cozier space, go for warm oak. Alternatively, pick cold white for a crisp room – especially if it has plenty of sunlight.
3. Bamboo floor
Most ideal for contemporary and Scandinavian settings, bamboo flooring will offset the dark oak cabinets to create more balanced color schemes for kitchen. Except for engineered varieties, these floors can be refinished for a more eye-catching color palette and durability.
Although light bamboo floors usually fit wood cabinets best, they can also complement dark green cabinets in a nature-oriented theme. In addition, they pair well with black cabinets and white countertops if a pleasant contrast is what you have in mind.
Bamboo floors come in many colors, so you'd want to pay attention to what choice you pick – lighter ones like natural tones would be best. Compared to hardwood floors, bamboo ones are cheaper, so it'd be easier to find a suitable option within your budget.
It's also important to note that while bamboos are easy to clean, they're also prone to scratching. In other words, they might not be the best flooring choice if you don't have time to regularly sweep or vacuum the surface to protect it from scratches.
4. Light cherry wood flooring
One of the best companions for dark cherry cabinets, light cherry wood floors also have the same reddish tint to accentuate the dark kitchen cabinets further. That said, the warm tones in this lighter flooring also go well with a deep dark grey.
To pull off the cherry wood floor and cabinet combinations, the former should be noticeably lighter. Despite the clear contrast, the color scheme will still look cohesive throughout your living space. Add in some stainless steel appliances for more visual appeal.
When choosing cherry as laminate flooring to match dark cabinets, keep in mind that they can deepen into dark wood colors when exposed to harsh sunlight. If keeping the floor away from UV radiation is not possible, a high-quality marine varnish can help.
Another way you can address the issue is by opting for oak floors stained with cherry colors. These wood floors are actually very popular alternatives due to their lower price and better durability.
5. Maple wood flooring
Maple is an excellent flooring for dark kitchen cabinets that can bring about both a traditional and modern look. Aside from their natural bright tones, these wood floors boast beautiful fine grains to subtly accentuate any space they're in.
You can stain the flooring into dark tones, but I think it's far better to let its natural beauty shine in its creamy white or light brown shade. After all, it's the wood's hue that sets it apart from other light colored floors, thus creating a unique contrast against the dark cabinetry.
Another advantage to leaving the wood color as it is lies in its timeless quality. You'll never have to worry that the floor will go out of style or end up looking dull. And given the wood's durability, you can expect your flooring to last a long time.
You should only stain the wood when you really want your kitchen with dark cabinetry to look warmer in a rustic scheme. However, staining maple would be a difficult process that may result in inconsistent plank colors.
6. Oak floor
When it comes to natural wood tones to pair dark cabinets with, oak is another good choice that comes to mind. Aside from its beautiful color and mesmerizing grains, oak can always create a more vibrant and inviting space.
You can choose from two types of oak flooring – red or white varieties. The former always has a reddish hue and more notable grains, whereas the latter has more consistent mineral streaks and darker tones due to the vaguely brown tints.
As both red and white oak are lighter shades on the color wheel, they naturally offset the dark cabinets and bring more levity to the room. While you can aim for a cohesive theme by pairing the flooring with wood cabinets, painted drawers are fine too.
Unlike maple, oak is very absorbent and, thus, excellent for staining. The process also highlights the wood's grains on the light floors, making it even more impressive in contrast to dark cabinets.
7. Dark wood floor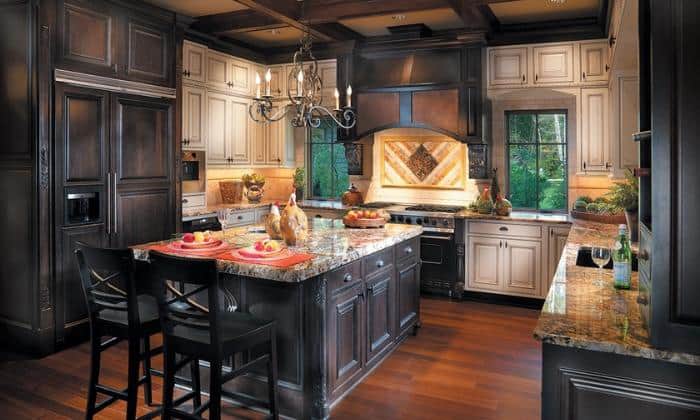 You need to be very careful when pairing dark cabinetry with dark wood floors. For instance, this color scheme doesn't really work in a small space without decent natural light, as the room might end up feeling dim and gloomy.
That said, if done correctly, dark wood floors can make a kitchen with dark cabinets and glass accents look luxurious and cozy at the same time. So if you feel that your space is too big and lacks character, a deeper flooring color may rectify that.
To accentuate the modern style, don't be afraid to incorporate some metallic accents from stainless steel appliances, for example. You can also lighten up the dark cabinets and floors with some bright accessories that are more vibrant on the color wheel.
Keep in mind that the floor and cabinetry should be similar in tone. For instance, mahogany dark cabinets have warm hues, so you should also select flooring with the same undertones, such as dark-toned cherry.
8. Black floor
As is the case with pairing dark floors and dark cabinets, black flooring can dim a room considerably. In other words, you'd want to tread carefully with this approach, especially if your room is not well-lit.
In this specific palette, it'd be wise to make sure the flooring and the dark cabinets' finishes and undertones are the same. Rest assured, you can add variety to the space with grey or metallic accents. Copper lamps, for example, would be a great addition.
What's more, you'd want other elements in the kitchen to be in lighter shades. Specifically, it'd be a good idea to paint the wall a pale tone and go for bright tiled backsplashes.
FAQs
How can I brighten my kitchen with dark cabinets?
A kitchen with dark cabinets doesn't necessarily have to be gloomy. Here are a few ways to add other details for a brighter space.
Add mirrors or other reflective surfaces for lights to bounce off of.
Accent the place with bright colors, such as white, light gray, or pale blue.
Incorporate more artificial lights, particularly overhead ones with 100-watt bulbs.
Install LED lights under the cabinets. Ensure that the kitchen has three layers of lights: ambient, accent, and task lighting.
Sprinkle bright accents around the kitchen, such as metallic appliances for modern vibes or white backsplashes.
Choose open shelving if possible. However, you must keep the shelves clutter-free.
Are darker or lighter wood floors better?
It all depends on what effect you're aiming to create, your existing interior decor, and your personal preferences. In other words, the best flooring option depends a lot on your circumstances.
For instance, dark colors are a good choice if you have light-colored walls and furniture, as there will be contrast for visual appeal. They also work when the area is spacious and well-lit.
In contrast, lighter wood floors should be favored when you don't want dirt to show easily, which is why they're better for households with pets. The brighter shade will also make your place more open and upbeat.
What color floors never go out of style?
In general, hardwood floors will never go out of style. Among them, the most popular choices that are most likely to stand the test of time are oak, birch, hickory, and maple.
While staining the flooring is a viable option, you may want to refrain from doing so, as natural hardwood tones' timeless qualities will allow them to stay in fashion for years to come.
Other than that, white and black are two colors you don't have to worry about falling out of favor. These opposite shades are perfect for kitchens, bathrooms, or anywhere you want to set up a distinct look.
Conclusion
What color wood floor with dark cabinets? Depending on your existing decor and preferences, you can go from a crisp white to the other end of the color wheel – black.
Note that while lighter shades will open up a space and make it more down-to-earth, darker ones can lend a sense of coziness or luxury to a kitchen. They all can fit your dark cabinets, so long as you know how to balance the colors in your scheme.
I hope you're happy with your choice. Have fun decorating.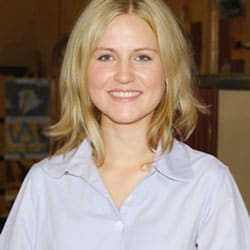 Hi, I am Roseanne Jones, an aspiring home designer that wants to make you feel more at home with your new house.With nearly five years of redecorating old residents and arranging new ones, I am confident that I can give you the best advice on your lovely place.