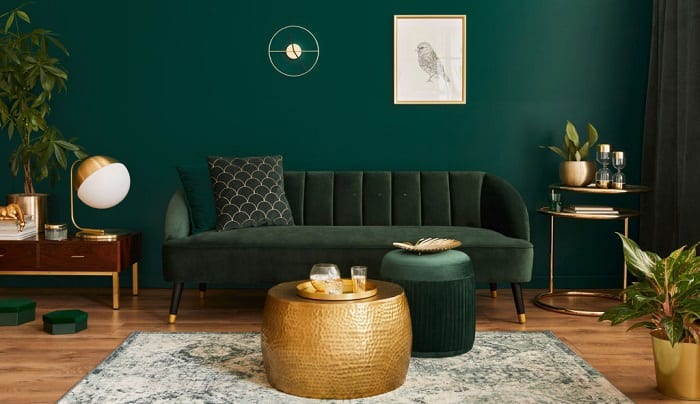 Gold has a distinct rich appearance, so golden items are frequently highly valued. Due to the high cost of gold and its scarcity, it is impossible to make gold goods at a fair cost. However, gold color is a top choice for decorating as it provides an everlasting appearance of refinement with a sense of sparkle.
If you would like to add a touch of elegance to your interior to make gold accents or use gold as a primary color, look through our list of color schemes that go with gold for some suggestions.
This article will answer the question "What colors go with gold?" by presenting complementary and neutral colors and providing you with suggestions about what you should and shouldn't do when using gold in your home.
Gold With Complementary Colors
Gold accents give any place a feeling of wealth and grandeur. Metallic gold tones are on the warm side of the color spectrum and blend well with a wide range of colors. They look especially good against deep-toned backgrounds or when paired with intense sunset colors, rich jewel tones, and gloomy neutrals, which bring out their glitter.
1. Blue & Gold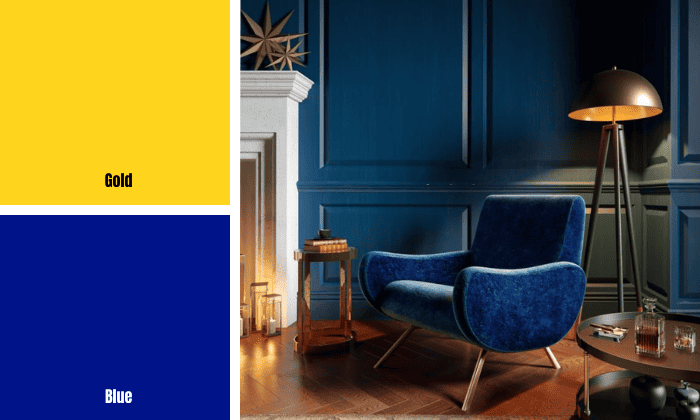 Blue is the color of the sky or the ocean and one of the best colors that go with gold. If you are wondering what shades of blue color match with gold, the answer is that any shade of blue will work. The colors blue and gold complement each other well.
However, you don't have to paint an entire room with these two colors if you are not a big fan of bright colors. Instead, add one or two gold items as an accent, such as a pillow or rug. It's generally a more straightforward method to introduce vivid colors without going overboard or making an expensive error.
2. Red & Gold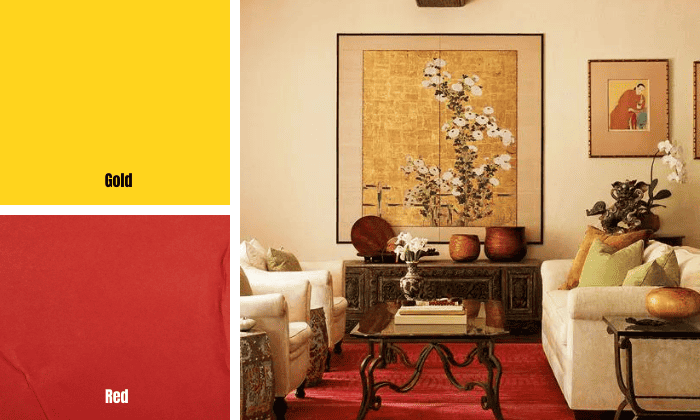 This color combination, by itself, triumps any other. Adding golden highlights makes it even more striking. From trendy to vintage, red and gold may be used in practically every style. Your room can be mixed with red and gold accents to get an ideal appearance.
Red is associated with fire, great luck, and pleasure in many culture. It is the hue of joy and is reserved for special occasions. Gold, unsurprisingly, represents prosperity and success. Together, they'll transmit the spirit of good luck and wealth to everyone. Therefore, red is always dominant and outstanding among the colors that go best with gold.
3. Black & Gold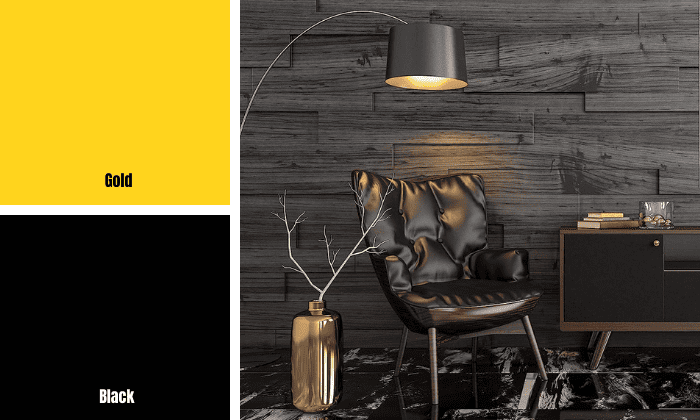 Crude oil is sometimes referred to as "black gold." Originally, the term was invented to represent coal. In any case, it's a good metaphor. Oil, coal, and natural gas are fossil fuels that symbolize humanity's most basic source of wealth: energy.
Black is a mysterious color that conjures images of elegance and complexity. It is linked to energy, authority, and strength. As a result, combining these two hues will give your area a stylish and contemporary look, particularly in the living room where family and friends usually gather.
4. Purple & Gold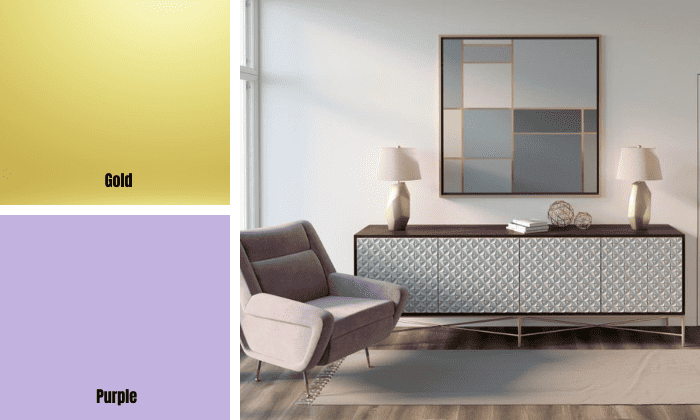 The combination of purple and gold creates a striking visual that conveys feelings of elegance and glamor. This combination of two vivid hues is not for the faint hearts, yet it works beautifully for interior locations and nighttime weddings.
If you find this mix too flashy, you can also combine a lighter shade of purple with gold, such as lavender. This color and gold, when combined, create an amazingly feminine and gentle look. Loads of rich delicate flowers in gold pots create a magical garden vibe, making your customers feel as if they've walked into a lovely antique garden.
Related: 10 best colors that go with purple you should try
5. Pink & Gold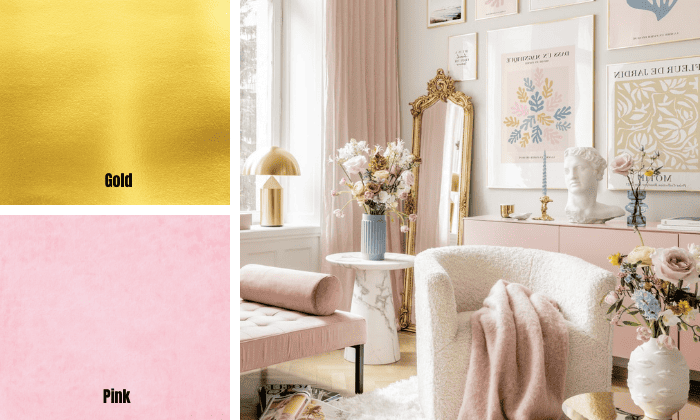 Concerning colors that compliment gold, pink and gold are a popular choice, especially in weddings because of the vast range of tones and versatility available. Plus, both colors can be used at any time of year. Apart from weddings, this is a trendy color combination for bedrooms, bathrooms, or even kitchens.
Gold elements in a pastel pink setting will quickly elevate a space and prevent it from looking childlike. Depending on the aesthetic you're looking for, you may go for a shiny and contemporary gold or a more antique bronze-gold when painting a room in baby pink and gold. If you would like to add a sense of luxury to a kid's bedroom, you may add gold accessories.
Related: 10 colors that go with pink 
6. Green & Gold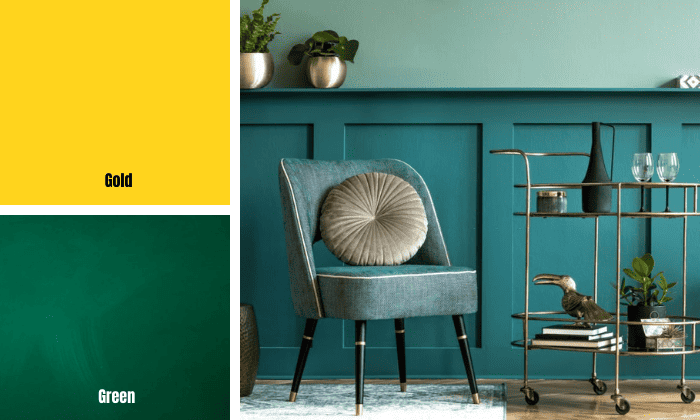 Gold is essentially an organic substance collected from the soil, despite its status as a beautiful metal. To make a dramatic statement, use vivid colors of green with gold. Gold and green are dominant players in your home, whether you do it with paint, fabric, or simply by introducing lots of greenery.
If the combination of high-gloss gold and deep green is too much for you, try warm olive green and polished bronze as alternatives. Not many people think about this mix but any shade of green colors match with gold. They work well together, representing images of scattered golden sunlight and green woods.
Gold With Neutral Colors
Walking into a light-filled, inviting living room is a rejuvenating experience. The inside is incredibly bright and well-lit, resulting in a fantastic balance of quiet and colorful style. The tranquility does not interfere with the space's overall joy. For colors that match with gold without being flashy, you can take a look at these neutral shades.
1. White & Gold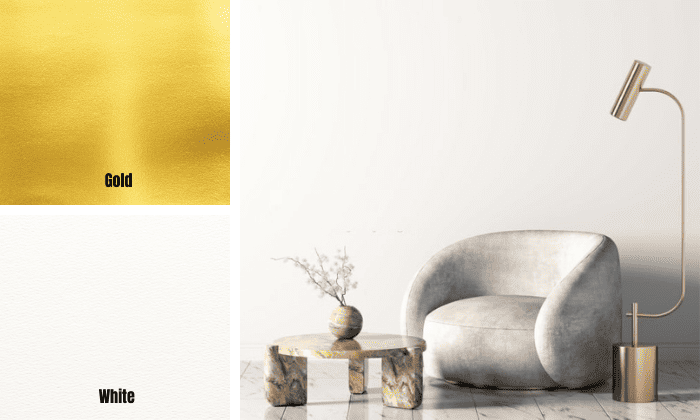 One of the most elegant color combinations ever is white and gold. White interiors are like a blank canvas with unlimited opportunities, while gold is instantly associated with luxury design, wealth, and uniqueness.
When you combine the two, you will get nice clean spaces that are easy to customize and where the colors complement one another. A pure white interior with gold accents, which bring out all of the features on the design components, may be used to accentuate the sophisticated white interiors.
2. Beige & Gold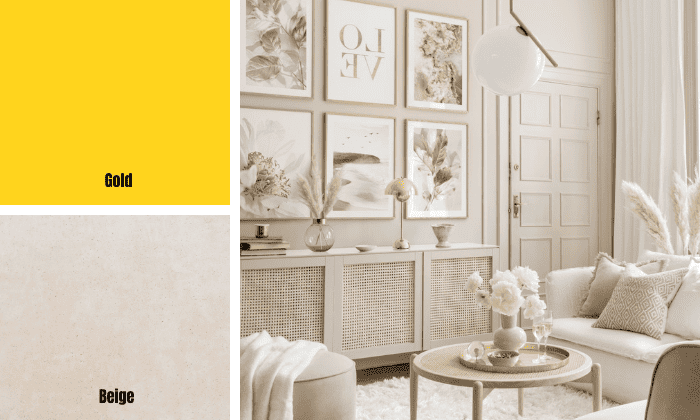 The natural choice for such an interior is white, but it makes the whole thing quite predictable. If you're looking for one with a bit more personality, beige is one of the colors that look good with gold.
The room is brilliantly diverse because the sofa, armchair, and coffee table are all different shades of beige. The most appealing aspect of a beige living room is how effectively it interacts with natural light. It can make the space feel cozier while still being bright!
3. Brown & Gold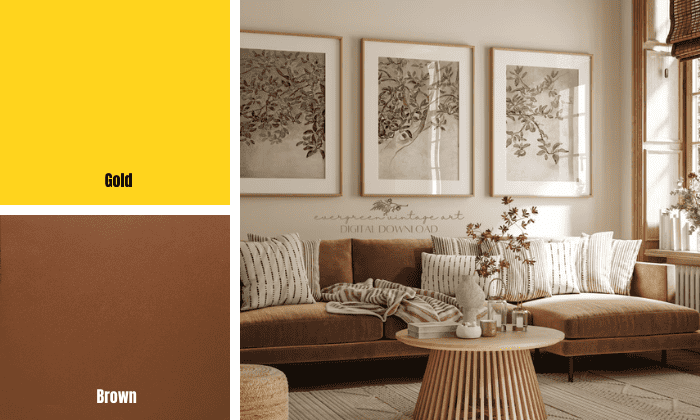 To build a striking palette for a place, gold may be used with nearly any dark color. If you believe the color gold to be too overpowering and loud, one of the greatest ways to tone it down is to pair it with a dark brown shade. When you match the brilliant and appealing qualities of gold with the warmth of dark brown, your house will automatically feel more vibrant, polished, and classy.
To get the ideal effect with the gold and dark brown color palette, use gold-toned accessories, such as table lamps, silver furnishings, and decorations, with a dark brown backdrop or furnishings.
4. Gray & Gold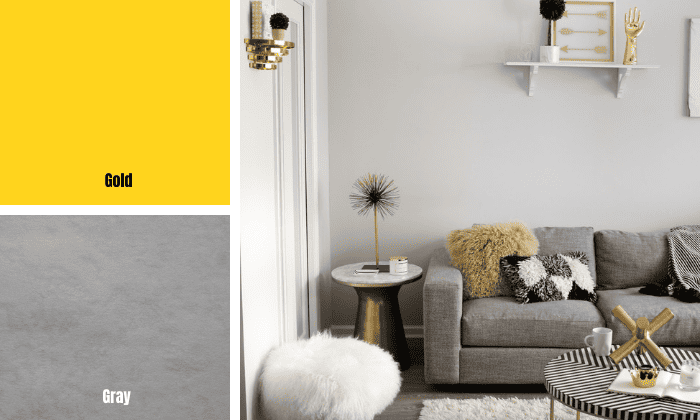 The wide and airy luxurious residential room is a refined ensemble of designer objects that have been brought together within one color scheme. Powdered gray hues are drawn down by gray walls and draperies, while black furniture spans the scheme's foundation.
Two black and gold accent chairs stand to the side of the luxury sofa in the lounge, as if guarding a glass wine shop. A gold unit cuts through the contemporary sofa's seat cushions, creating a useful coffee table and journal storage area. The exquisite metallic accent is complemented with golden-hued scatter pillows.
Related: 7 colors that go with charcoal gray
5. Silver & Gold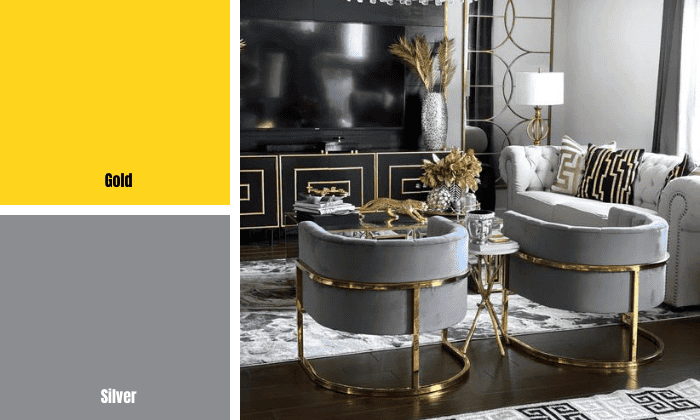 Though it was formerly forbidden to blend gold and silver in fashion, such restrictions are now widely disregarded, and home design is no exception. When blending gold and silver, you are combining a warm color and a cold color, so they should be mixed and matched properly. For instance, if your household appliances are stainless steel, you may add rubbed bronze hardware for a flash of warm color.
What Should And Shouldn't Do When Decorating With Gold
What you should do
Decide on a dominant material and color
When one tone serves as the central focus of a space, it is called the dominant color. The color has a higher intensity than other colors in the interior design, and it tends to draw the viewer's attention right away. Choose a wall style and color that you adore as the main focus of your room, then add one or two golden tone accessories to finalize the appearance.
Use raw iron as a balance
Iron is the metallic world's neutral. It's a dark addition to a spectrum that needs to be balanced or toned down and a contemporary industrial touch. It won't compete with other metal elements and serves as a bold splash of color for warmer metals like gold and bronze.
At most, use one or two more metals with gold
It's advisable to keep to one or two accent metals with one main metal. If you choose three different metals, make sure they are evenly distributed, especially in the decorative accessories. You may also add diversity by mixing different finishes, such as a brighter silver with a more rustic one.
Even though silver and gold are present, the two metals never fight for attention. The various metals provide interest to an otherwise harmonious space.
What you shouldn't do
Don't be scared to combine warm and cool colors
You shouldn't be afraid of mixing warm and cool colors together in your room because they always go well with each other depending on how to mix and match them. Let's think about adding a cool-hued metallic element, such as a splash of stainless steel to a gold piece of equipment, to let your golden accessories sparkle. Just make sure one color is the highlight metal and the other is the dominating color.
When mixing metals, pay attention to the texture
The nice part about combining metals is that it's the easiest way to bring a touch of sophistication to any space. In a setting with various metals, texture can make a big difference. To achieve a visually rich ambiance, combine smooth, glossy, and hammered surfaces. If you don't pay attention to the texture of the metals you're combining with gold, your space will be more likely to become chaotic.
Conclusion
Complementary colors with gold might be risky, but they can create a vibrant and attractive space. You don't have to repaint your entire house to appreciate gold's beauty. You can simply add a few gold items to your area to give it a new appearance because gold goes with almost any hue and produces a magnificent effect.
You may also use the list provided in this article on what colors go with gold to pick colors to pair with gold. Did you find this article effective? If so, please leave a comment below and share it with your family and friends.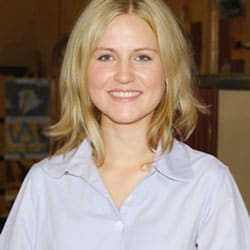 Hi, I am Roseanne Jones, an aspiring home designer that wants to make you feel more at home with your new house.With nearly five years of redecorating old residents and arranging new ones, I am confident that I can give you the best advice on your lovely place.