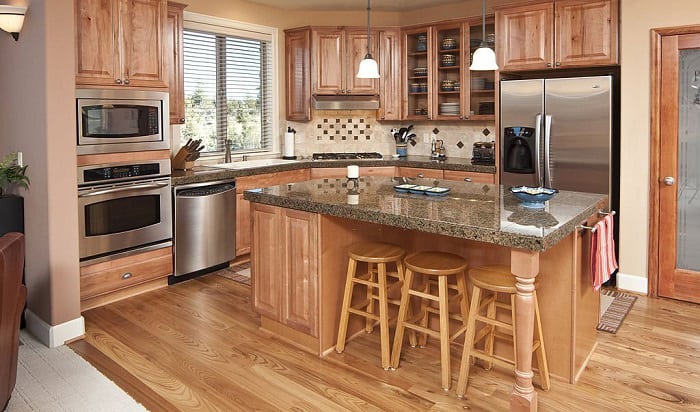 Oak has always been popular for use in interior construction, particularly flooring, cabinetry, and furniture. Because of its durability, sturdiness, flexibility, and aesthetic beauty, it costs more than other materials. Indeed, they come in different hues, which you need to complement to make the design stand out.
From ancient history until today, oak has been used and loved by many. No need to doubt your choice, find out what flooring goes with oak cabinets below.
List of Flooring that Goes with Oak Cabinets
Most of the time, when deciding what type of flooring and cabinets to put in our house, we can only think of. Let's get to the important part where we choose the right materials for flooring to match oak cabinets.
1. Tile Flooring
Since the 90s, tiles have been popularly used for flooring in many homes. Since it is durable and can be maintained easily, it has been used until now.
Tiles come with plenty of colors and possible designs that work well together with oak furniture. Here are two types of tiles to consider for a contemporary look: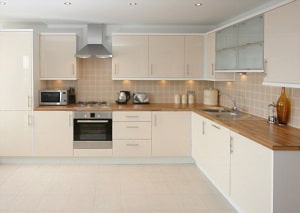 Because they can tolerate high temperatures and moisture, ceramic tiles are usually utilized for kitchen flooring.
Ceramic tiles are created by combining clay with natural ingredients such as sand, quartz, and water. Ceramic tiles that look like stone, slate, wood, or any other material are available in various textures and hues.
Your oak cabinet will look great with neutral colors like white, beige, gray, or natural stone colors. You can choose a hue or a slightly deeper color for dark oak cabinets. You may also use a color that is two to three shades lighter than your oak cabinets to add contrast.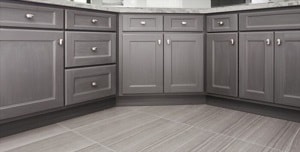 Porcelain tile is made at high temperatures; hence, it is stronger and heavier than ceramic tile. It is also widely used since it is waterproof and extremely durable. Its diverse designs allow you to make your dream kitchen and bathroom a reality.
In choosing the color that will complement your oak cabinets, you must consider the veining of the porcelain tile.
For dark oak cabinets, you must choose cool-toned or lighter porcelain tiles to add a contrasting effect. Dark floors and cool-toned porcelain tile work well with white oak cabinets.
2. Vinyl Flooring
Vinyl flooring is made up of numerous layers of various materials layered together to form a floor cover that is durable, affordable, and practical.
It has a wide range of colors that you can choose from to match any color of oak cabinets.
White oak cabinets are best combined with gray floors or vinyl flooring with bluish undertones. These colors will tone down the oak cabinets' heavy designs.
Several kitchen vinyl plank flooring options, such as those in beige or almost white, also coordinate with white oak cabinets. It creates a subtle and minimalist look.
To create a dramatic look, you can pair your red oak cabinets with vinyl floors with almost the same tones or a dark color.
There are three types of vinyl flooring that you can choose, such as: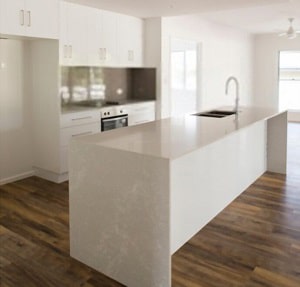 Luxury vinyl planks give a real hardwood look and a seamless appearance. It can resist stains and scratches, is easy to maintain and clean, and lasts a long time.
Coordinating luxury vinyl plank flooring with oak cabinets will give you an authentic and warm feel.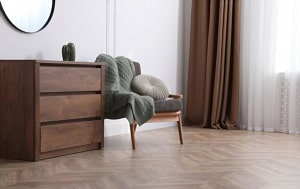 Luxury vinyl tile is another type of vinyl that is intended to look like natural floorings like woods and tiles.
If your bathroom has oak cabinets, you must consider using luxury vinyl tile. Aside from being waterproof, it offers a variety of shades as well.
You can complement or contrast it by pairing lighter or darker floors with oak cabinets.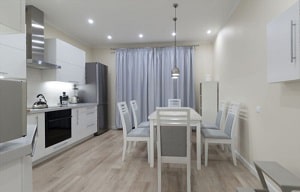 The most affordable flooring that everyone loves is the vinyl roll. It comes in a flexible sheet and limitless styles. Also, this can be easily installed in every area of your house.
Since it comes in timeless to playful designs, you can choose a design that will contrast with your oak cabinets.
3. Hardwood Flooring
If you love the traditional kitchen look, using hardwood flooring for oak kitchen cabinets will give you the look. Since both oak cabinets and hardwood have the same brown undertone, you only need to choose what complements or contrasts with the other.
Here are several wood options you can match with oak cabinets:
For a kitchen with an oak theme, red oak floors are a great find. This is a very traditional wood and comes in medium brown to red brown shades. Since this is warm-toned, this flooring looks good with honey oak cabinets in your kitchen.
If your oak cabinet is white, it is best paired with lighter floorings like maple or with warm grey floor for a soft and clean look. This creamy color will also contrast your dark oak cabinets if you have one.
This hardwood is softer and offers different tones, but yellow birch is the most popular of its tones.
If the contrast between your dark oak cabinets is what you are looking for, you may want to go with light wood floors or hardwood with a yellow birch tone.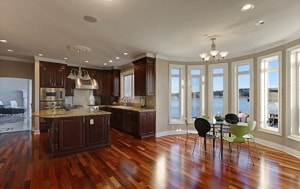 For dark and golden oak cabinets, you can pair them with dark wood floors. This Brazilian cherry comes in a dark wood color, which when exposed to light will give you a medium-toned floor.
3. Laminate Flooring
Because laminate floors are constructed of a particle board wood foundation, an image layer, and a transparent wear layer, they are classified as hybrid floors. This is a long-lasting solution for rooms such as the kitchen. It is easy to maintain and has a natural wood look, which is why most people prefer this design.
It comes in a range of hues that may be used to complement or contrast with your oak cabinets. Choosing a neutral hue will allow you to match your oak cabinets with other natural colors. For example, a white oak cabinet can be paired with grey wood floors.
Frequently Asked Questions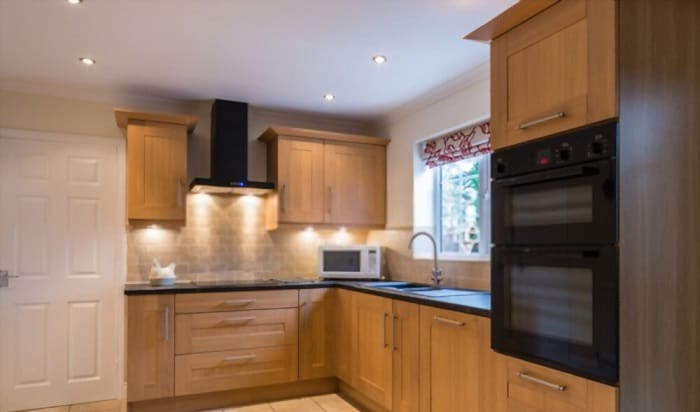 Should flooring be lighter or darker than cabinets?
Flooring doesn't have to be lighter or darker than your cabinets; it depends upon your preferences. What's important is not to go too far to avoid getting overwhelmed by the colors.
Lighter floors will make the room feel more spacious, calmer, and cozier. It is also best paired with dark-colored cabinets because it contrasts with each other, which makes the cabinets more noticeable.
However, darker floors make the room smaller and give it a dramatic and intimate look.
Whether you prefer lighter or darker flooring, both are brilliant choices.
What floors match honey oak cabinets?
You might have asked what flooring to go with honey oak cabinets. Here it is.
Honey oak has a shade of golden yellow, which is closer to the color of natural wood. It comes in a variety of shades, from light to dark. Yet it has a natural shade, which is why it can be matched with any color.
The safest way is to pair your honey oak cabinets with flooring that has neutral shades. But it doesn't have to be just neutral. The flooring mentioned above can be paired well with honey oak cabinets as well.
What flooring goes with oak trim?
You can choose all the flooring suggested above, like tiles, vinyl, hardware, and laminate flooring. All these floors can be paired with oak trim.
You don't need to match their colors by using the same color. To maintain balance, you should choose a floor that is slightly lighter or darker than the shade of the oak trim.
Conclusion
Oak cabinets are timeless and classic. Since it is durable, it can last a long time. But it comes at a price. That is why everyone wants to highlight this in their kitchen, living room, and even bathroom.
With this, choosing the right flooring that will complement and make the cabinets outstanding should be taken into account.
Now, you probably know what flooring goes with oak cabinets. So, what are you waiting for? Do the decor.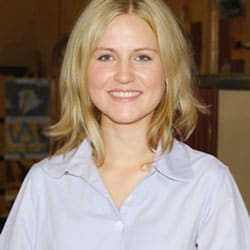 Hi, I am Roseanne Jones, an aspiring home designer that wants to make you feel more at home with your new house.With nearly five years of redecorating old residents and arranging new ones, I am confident that I can give you the best advice on your lovely place.